Last updated on July 25th, 2022
How much does it cost to remove a chimney stack?
Whatever the reason for removing your chimney, we've compiled the following guide to give you all the information and cost guidance you need.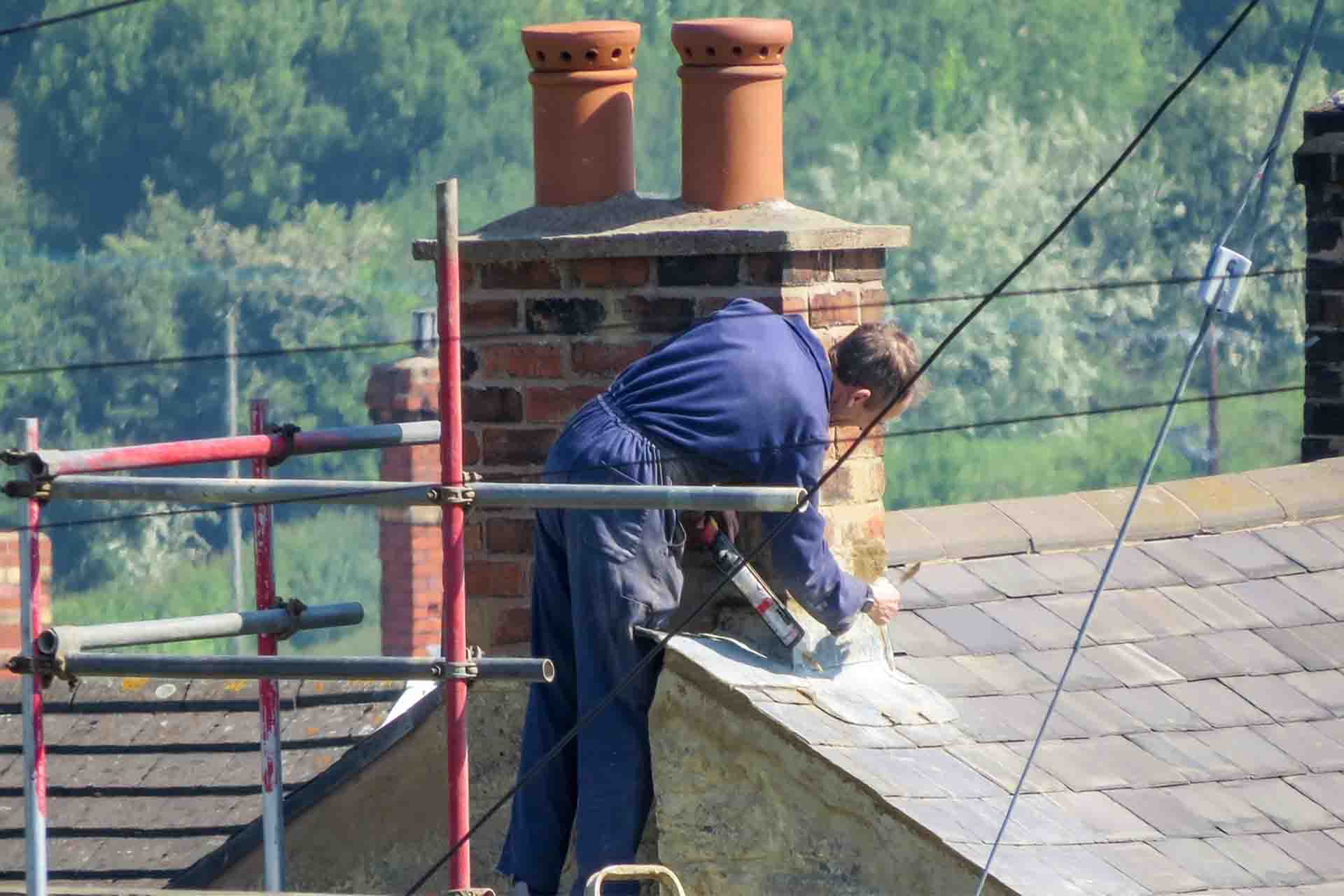 Why remove a chimney?
With the large variety of chimneys available it's no surprise that one persons' feature piece is another persons' eyesore. Whilst the aesthetic of the chimney is important, its ability to function effectively is essential.
Ongoing chimney repairs can be very pricey and as such you may choose to remove an old chimney thus quickly eliminating the issue.
Another benefit of removing a chimney is added floor space, which can be tempting especially in smaller homes where space is vital.
How much does it cost to remove a chimney?
The cost of removing a chimney can vary and the total is made up of the chimney breast removal cost, the cost to remove a chimney stack, plus labour. You may also incur fireplace removal costs.
The average cost of removing a chimney stack is £300 per metre or £1,800 per project. The average timescale to remove a chimney is 5 – 8 days.
Cost provided item
Unit
Cost + VAT
(low range)
Cost + VAT
(high range)
Average UK cost
Chimney breast removal (chimney stack to remain)
Per project
£1,750
£3,250
£2,500
Chimney breast removal (non-load bearing)
Ea
£400
£600
£500
Removal of chimney stack
Per m
£260
£340
£300
Labour costs
Per day
£220
£300
£260
Making good
Per removed chimney breast
£150
£210
£180
Parts of a chimney
A chimney is made up of many parts, not just those on show. To help you understand the way in which your chimney functions we have compiled the below list of the main components with a brief description of each: –
Chimney stack: This is the part of the chimney that you will see on the roof of the house. It can be made of various materials and can be different heights.
Hearth: With endless design options, the hearth is the area surrounding the fireplace. It is heat resistant and protects the rest of the room from stray ashes and embers.
Chimney breast: This surrounds the flue and is the part you see from inside and sometimes outside the house. It is a long tunnel that spans the height of the house and opens up into the hearth on one or both floors of the house.
Flue: The flue is an integral part of the chimney as it is a tube starting at the lower fireplace and travelling up to the stack. It is how the heat and smoke from the fire travels up to the chimney stack and is encased by the chimney breast.
Fire cradle: Created from metal slats or mesh, this contains the coals and embers.
Chimney pot: The pot sits on top of the stack and extends the height of the stack, therefore making the chimneys' draught more efficient.
See the tradespeople we've checked and recommend for your job
Common types of chimney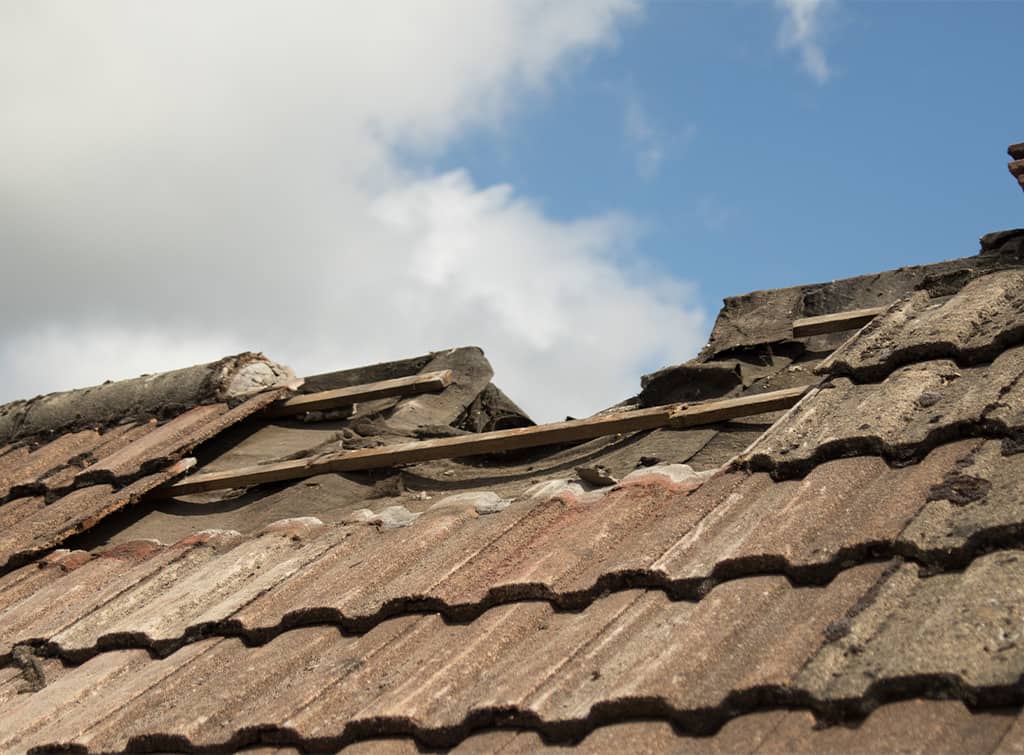 There are a multitude of chimneys available today, each with their own costs and benefits, the most common are as follows: –
Masonry: These are probably the most common type of chimney, being made of brick, stone or mortar. These chimneys are effective, especially in cold weather as the bricks are able to diffuse heat into the other rooms of the house. They are aesthetically pleasing, adding value to any home and if maintained properly they are very durable.
Metal: With a modern, high tech look, these chimneys offer excellent heat conduction. They can be double or triple walled and are durable plus they don't corrode or rust.
Pre-fabricated: Manufactured in a factory and with clever fireplaces designed with sheet metal, these chimneys are usually found in new build homes and are less pricey than stone chimneys.
Wood burning stove chimneys: Free standing or otherwise, these stoves are connected to certain masonry chimneys. Commonly used in the 1800s, they use wood as a fuel source and are highly efficient plus make an excellent focal feature.
Fireplace insert chimneys: Designed to fit into a masonry fireplace using fireplace inserts, these stoves directly connect to a chimney with a stainless steel liner.
Factors affecting chimney removal cost
When deciding to remove a chimney there are many variable costs that affect the price. The below list is made up of the most common costs you will face when deciding to remove a chimney: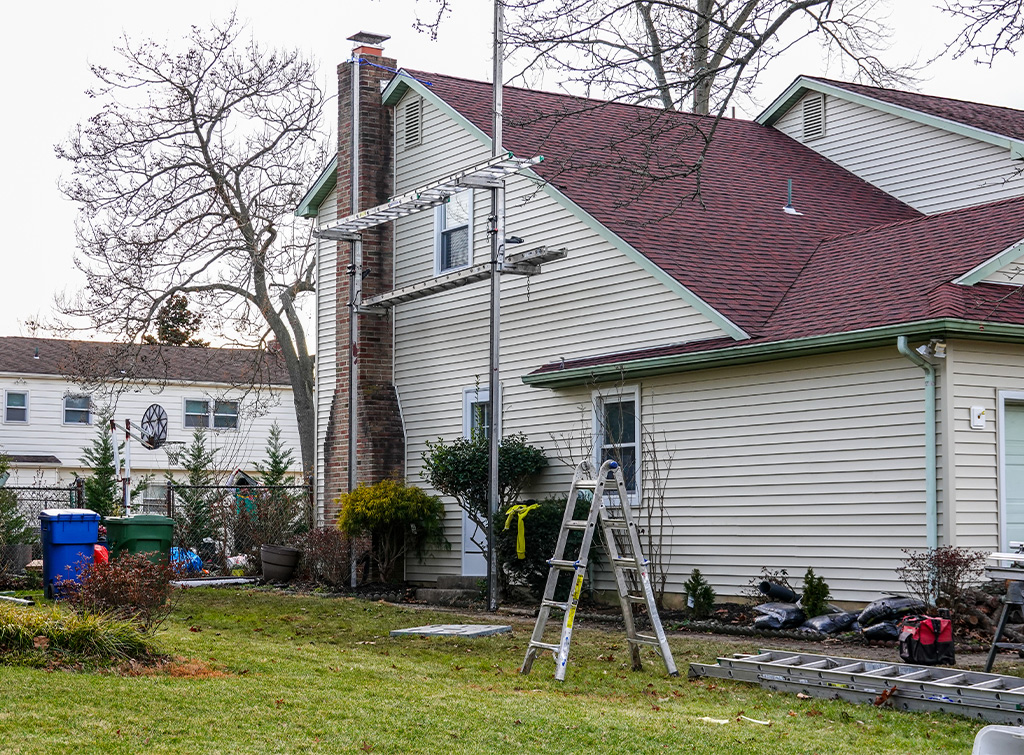 Type of chimney: Whether made from masonry, metal or a different type of material, this will affect the cost. Usually the more difficult it is to break down the material the higher the cost will be.
Total or partial removal: The chimney is not just made up of the stack you see on top of the house. It also has a breast that often opens up to fireplaces over two floors which will may also need to be removed and will increase the total cost.
Chimney condition: The cost of chimney removal may depend on the current state of your chimney. For example, if the chimney has holes which have led to rotting or damp, this will also need to be remedied, adding to the total cost.
Planning permission: When taking on large alterations to your home such as removing a chimney you will need to ensure that the work done complies with building regulations and (if applicable) obtain planning permission, which you will need to budget for.
Scaffolding: With any project that involves roof access, scaffolding is used for safety and efficiency. This can be very costly.
Repairs: If any damage occurs when removing the chimney this will need to be fixed in order to prevent future issues with damp and leaks.
Finish: Consider the finish you wish to achieve following your chimney removal. You may wish to just remove the stack and cap off the top or you may need a full-scale removal job which will need to be correctly finished and painted for a pleasing look.
See the tradespeople we've checked and recommend for your job
How much does it cost to remove a chimney breast?
Your chimney breast removal cost depends on whether your current chimney breast is spread over one or two floors, for example in a living room and the above bedroom. On average the cost to remove a chimney breast on a load-bearing wall is £2,500 and the cost to remove a chimney breast in a non-load bearing wall is £500.
How much does it cost to remove a chimney stack?
The chimney stack (the part of the chimney you see on the roof) can be removed and capped off without the extra expense of removing the chimney breasts. The average cost to remove a chimney stack is £300 per metre.
Can I remove a chimney myself?
In short, it is not a good idea to remove a chimney yourself. Firstly, you risk structural damage to your home which may mean unstable walls or holes which cause leaks and rot. Chimneys are heavy and cumbersome plus you would need to access the roof, all of which may lead to serious injury to yourself and your family.
The building regulations surrounding jobs such as this are very strict and you risk breaking the law and invalidating your home insurance if your renovations are not up to code. Finally, unless you are skilled in removing chimneys and similar jobs, you are unlikely to end up with a professional and aesthetically pleasing finish.
We would strongly recommend hiring a professional for this job. To find a local, reputable, tradesperson in your area and get a personalised cost to remove your chimney use our free search tool.
Do you need planning permission to remove a chimney stack or breast?
As a general rule, you don't need planning permission to remove a chimney stack or a chimney breast from a property in the UK as it's considered a Permitted Development. That's for properties that aren't listed buildings or aren't in a Conservation Area. Also, you need to make sure any repairs or infilling work that is done to the roof uses materials that match the rest of the property.
Though you don't need planning permission, the structural work of removing a chimney will need to comply with Part A of UK Building Regulations. To have the work approved you can either notify the local authority or hire an approved inspector to check the work, with the latter being the faster option.
If you decide to hire an inspector to approve the work, you'll need to pay a fee. The average cost of having your work approved and a certificate being issued to prove all legal requirements have been met is around £200 + VAT.
You may need to get permission from other parties, depending on your property and the location of the chimney. If you're the leaseholder then you'll need to get permission from the freeholder before you carry out any structural work. And if the chimney is part of a shared wall then you'll need to consult with your neighbours for approval, under the Party Wall Act.
One other important factor to consider is any other specialists tradespeople that you might need to involve in the project. If a gas appliance is involved in any part of the chimney removal process, you'll need to make sure that the appropriate works are carried out by an official engineer on the Gas Safe Register.
If there are any electrics and/or wiring elements to consider, you'll need to hire a trained electrician to deal with those. Always make sure you hire tradespeople with experience and who are affiliated with a recognised national body, such as NICEIC, NAPIT or ECA.
Is a chimney breast a load-bearing wall?
As chimney breasts are often part of a building's structure, they very often need to be treated like a load-bearing wall – particularly in older houses. Whenever dealing with load-bearing walls, you need to always ensure you're maintaining the structural integrity of your property.
If you're unsure as to whether your chimney is load-bearing or not, we recommend you consult with a structural engineer before carrying out any work. For any projects involving a chimney that's a load-bearing structure this it's absolutely not a DIY job to remove it – always seek professional help.
It's also important to mention that any structural changes are likely to come up in a survey when you come to sell your home, so you'll want to make sure any work has been done to a good standard and in line with Building Regulations.
Key takeaways for chimney removal costs
The chimney is made up of the stack, the breast and any fireplace or stove.
There are several types of chimney that can affect the chimney removal cost.
It is essential to obtain planning permission and ensure that you comply with building regulations.
It is possible to remove one component of your chimney without removing the rest.
Unless you are a professional it is extremely unwise to risk removing a chimney yourself.
See the tradespeople we've checked and recommend for your job