How to make an old home energy efficient
Do you live in an old house? Was it built in the early 20th or even the 19th century? Then it's probably not as energy efficient as it could be.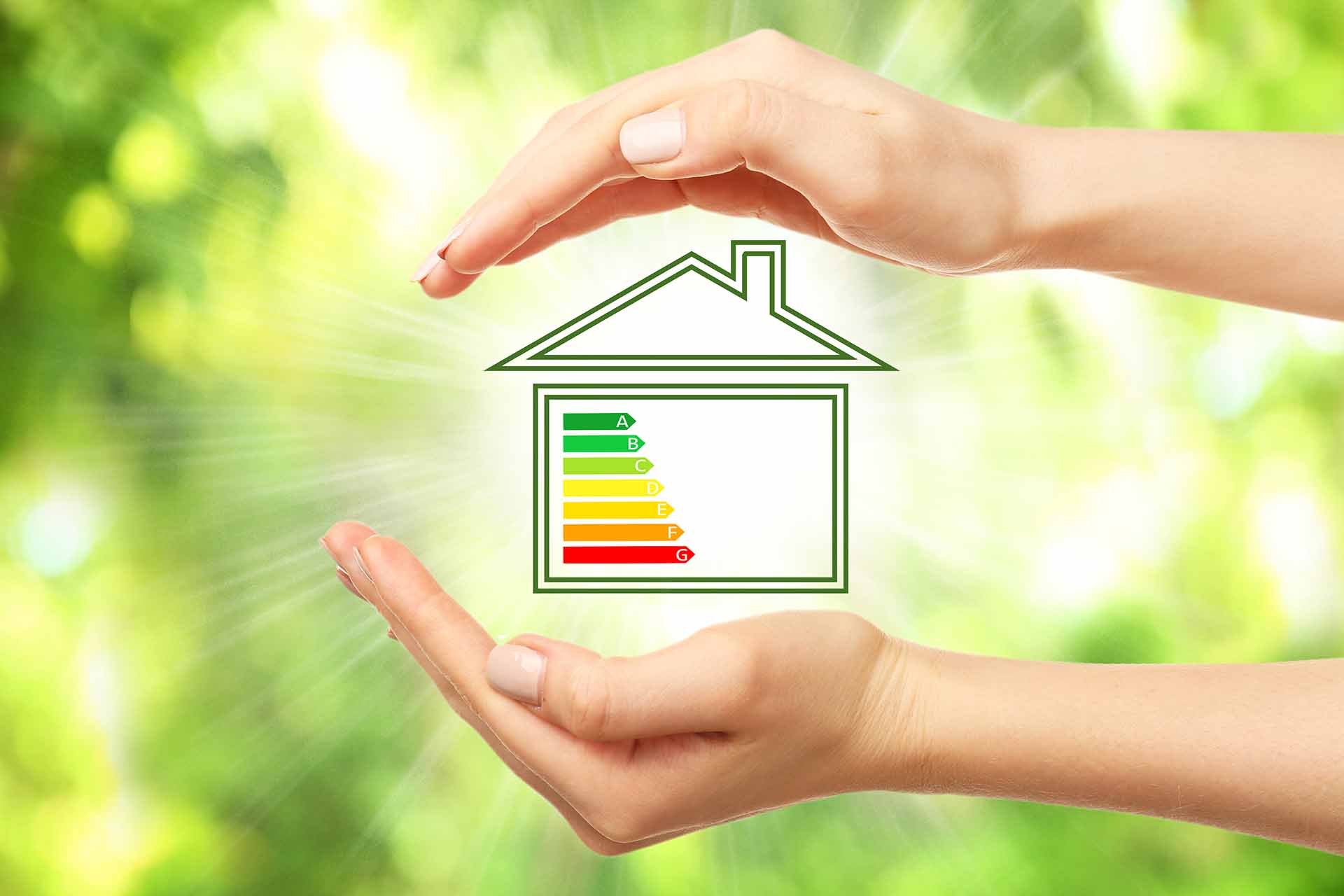 With energy bills skyrocketing, it's never been more important to reduce the energy you use and therefore save money on your energy bills. Luckily, there are some effective ways to make an old home energy efficient.
Insulation
Insulating your house is the first step to making an old home energy efficient. A well-insulated house will trap the heat in during those cold winter days, meaning you can stay toasty in the home without using as much energy.
Wall insulation
When it comes to wall insulation, the type you need will depend on when your house was built.
External wall insulation
Most houses built pre-1920 will have solid brick or stone walls. Although these types of houses are strong enough to last for centuries, their insulating capacity is often sub-standard to today's requirements.
There are two ways to insulate a solid external wall: internally or externally.
Insulating externally is when you fix a layer of insulation to the outside of your external wall. Normally, this is done using mechanical fixings and adhesive before covering it with protective layers of render or cladding.
On the other hand, insulating internally involves fixing a layer of insulation to the inside of your external wall. Timber studs are attached to the wall with a strip of damp-proof membrane to separate the two layers. A layer of insulated plasterboard is then fixed to the battens, and the surface can be finished with plaster.
Insulating internally is the cheaper option, and it won't alter your property's appearance from the outside as insulating externally would. However, it will reduce the size of your rooms by bringing in the wall by around four inches. Our dedicated guide has more information on external wall insulation costs.
There's a large range of insulating walls available, of different thicknesses and that attach to your walls in different ways. An insulation expert will be able to help you select the right method for your property and budget.
Cavity wall insulation
Most interwar houses (those built between 1920 and 1940) feature cavity walls.
Cavity walls are essentially made up of two walls with a gap between them. Luckily, this makes them quick and easy to insulate – and much cheaper than insulating solid walls. Usually, this is achieved using a method known as 'cavity wall insulation.'
Cavity wall insulation is installed by drilling small holes into the exterior property wall. Insulating material such as mineral wool, polyurethane foam or polystyrene beads is then injected into the holes to fill the cavity. Finally, the hole is cemented shut.
The cost of cavity wall insulation is around £400 for a flat and £1800 for a detached property. However, according to 2022 statistics from the Energy Saving Trust, installing cavity wall insulation can save £285 per year on an average semi-detached home, so you could quickly make that money back.
UK properties often featured cavity walls up until the 1990s. This means that there are thousands of homes across the country that could benefit from cavity wall insulation.
Roof or loft insulation
Heat rises. That means a well-insulated loft is key to preventing heat from escaping your home through the roof. In fact, the Energy Saving Trust states that a quarter of heat is lost through the roof in an uninsulated home.
There are many different types of loft insulation that could help you make an old home energy efficient. These include:
Blanket loft insulation – Blanket insulation is a roll of insulating material such as fibreglass, mineral fibre or sheep's wool. It's very easy to install.
Loose-fill loft insulation – Loose-fill insulation is commonly made from cork granules, mineral wool and cellulose fibre and is great for ensuring an entire area is covered.
Sheet loft insulation – Sheet insulation is used on the sloping sides of roofs, which makes it a good option for loft conversions.
Spray foam insulation – Spray foam is a liquid insulating material that's sprayed into place. Just be aware that some mortgage lenders will refuse to lend for houses that have spray foam insulation as it can restrict the air circulation in the loft and lead to condensation. It's also less suitable for draughty lofts, so often not the best option for older homes.
For more information about the different types of loft insulation available and their prices, read our loft insulation cost guide.
Floor insulation
Lots of old properties have suspended timber floors – that's a timber ground floor suspended above a ventilated sub-floor. While this adds lots of character to a home, floors built above unheated spaces like this can get cold quickly. Underfloor insulation can combat this problem and help you reduce your energy bills.
A professional will place insulation material between the joists under your floorboards. Often, this will involve lifting the floorboards, which can be a delicate job as it's easy to damage old floorboards in this way. However, if you have a basement or cellar, you may be able to add insulation from below instead.
Suspended timber floor insulation typically costs around £105 per m2, although it could come to more if you have to replace damaged floorboards. Our floor insulation cost guide has a more detailed breakdown.
See the tradespeople we've checked and recommend for your job
Replacement windows and doors
Replacing your windows and doors can be expensive. In the long run, however, you'll enjoy a warmer, more comfortable home and save money on your heating. In fact, the Energy Saving Trust recently revealed that installing A-rated double glazing could save you around £145 per year on your heating bills.
Replacement glazing can also help to improve a home's acoustic performance. If you live near a busy road or airport, triple glazing can significantly reduce exterior noise penetration.
Upgrading your home's windows and doors is a significant undertaking. Average costs for a full glazing upgrade on an average semi-detached house are around £24,000. This might be a large initial cost but is worthwhile for the energy savings and improved comfort you'll enjoy.
If your budget doesn't yet stretch to upgrading your glazing, a handy alternative could be to invest in insulation window film. Insulation window film is a film that's applied directly to window glass in order to control the heat entering and exiting your home.
It prevents heat from escaping by up to 50%, helping you to keep your home toasty and reduce your energy bills during winter. Meanwhile, it also blocks up to 70% of solar heat gain, helping you to keep your home cool during the summer months. It's a much cheaper alternative to window replacement while still having a big impact on your home's energy efficiency.
Low carbon heating systems
Gas central heating systems are currently being phased out, thanks to the government's commitment to bring all UK greenhouse gas emissions to net zero by 2050.
According to the National Grid, heating systems are responsible for as much as 20% of UK carbon emissions. Low carbon heating systems are also known as renewable heating systems. They're heating systems that release little or no carbon into the atmosphere – unlike traditional gas and oil boilers, which release carbon in order to heat the home.
Not only can these heating systems help to reduce your carbon emissions and future-proof your home, but they'll also enable you to cut down on your energy bills. After all, you'll be extracting heat from sustainable sources, like the sun, the ground, plants or the air, rather than from burning fossil fuels.
Air source heat pumps
Air source heat pumps are being viewed as a realistic and effective alternative to fossil fuel heating.
They work by extracting heat from the air outside your home and directing it inside. The heat is then absorbed into a fluid. This passes through a heat exchanger into a heat pump which increases the temperature and transfers the heat to water.
Air source heat pumps can be used to heat the water inside radiators, underfloor heating, and water in a water cylinder. This means you'll have the potential to more than make back the initial air source heat pump cost in the long run.
Ground source heat pumps
Ground source heat pumps work similarly to air source heat pumps. However, instead of harnessing energy from the air, they harness solar energy from the ground to heat your home and hot water on demand.
Ground source heat pumps cost a lot to install – around £8,000 – and they do need electricity to run. However, the heat they absorb from the ground is being renewed constantly. That means they generate more energy than they use, which could save you a significant amount on your energy bills.
Biomass boilers
A biomass boiler is similar to a gas or oil boiler. But instead of burning gas or oil, it burns a fuel such as wooden pellets, chips or logs to provide central heating and hot water.
Although they do produce carbon, biomass boilers are sold as carbon-neutral heating systems. This is because they only release carbon that's stored in trees when they burn – and trees can be replanted.
Biomass boiler costs aren't insignificant. The cost of installing a biomass boiler, including installation and delivery, ranges between £5,000 (for a small domestic boiler) and £20,000. However, with gas and oil prices currently through the roof, they're a valid alternative if you're looking to minimise your reliance on these expensive (and environmentally harmful) fuel types.
See the tradespeople we've checked and recommend for your job
Renewable energy
We've looked at renewable heating systems, but what about renewable electricity?
Solar panels
Solar panels are the most popular method of renewable electricity production in UK domestic properties. The cost to install solar panels can be expensive, but the potential savings can be significant. Fitting solar panels can also help you to future proof your home against rising energy costs in the future.
If you're considering solar panels for your home, there are two types to choose from. Photovoltaic (PV) panels are used to convert the sun's UV rays into electricity. Solar thermal panels use the sun's rays to generate energy for heating water and central heating systems.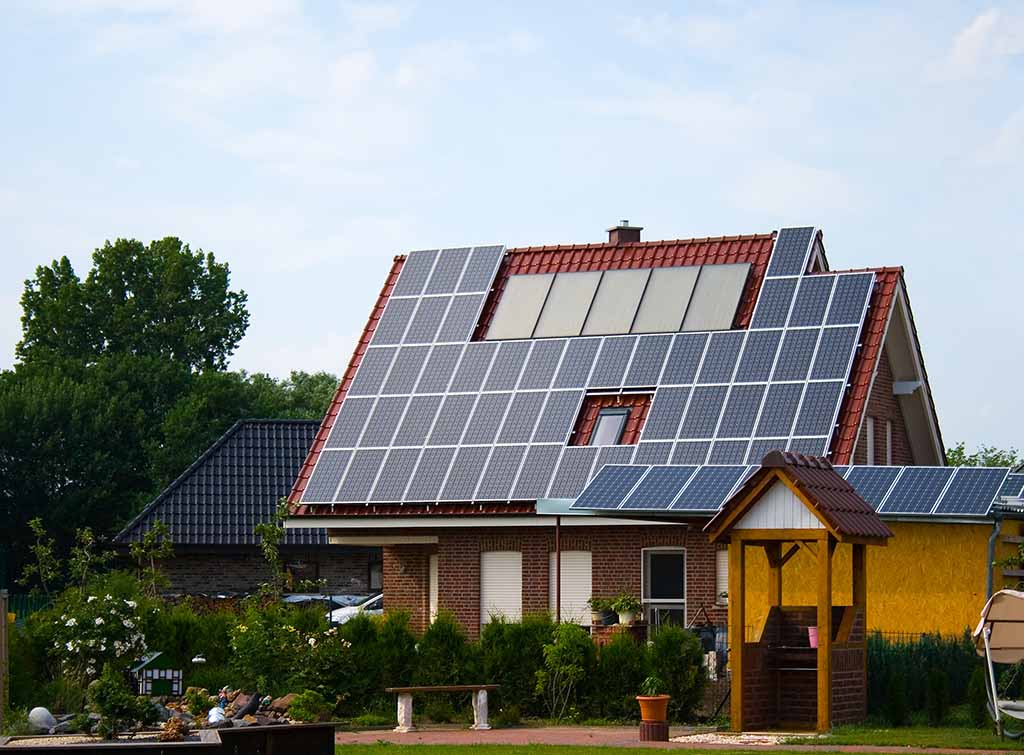 Domestic wind turbines
40% of all wind energy in Europe blows over the UK. So, a domestic wind turbine could be a great way for you to reduce your electricity bills by harnessing the power of the wind – especially if your home is unsuitable for solar panels.
There are two main types of domestic wind turbines available: roof-mounted and freestanding.
Freestanding wind turbines are the most effective and are best if you're thinking about going fully renewable. However, they can be expensive. Going for roof-mounted could be a good way in if you're looking to reduce your wind turbine installation cost and you don't need to produce as much electricity.
Financial support for energy efficient home improvements
The government has lots of commitments to uphold in terms of helping to reduce climate change. So, they want to encourage you to make your home more energy efficient to help them reach their goals. That means you might be able to get financial support to make your old home energy efficient.
The Energy Company Obligations (ECO) scheme
Energy suppliers that have more than 150,000 customers have to offer energy efficient home improvements under the Energy Company Obligations (ECO) scheme. This means that there are thousands of pounds up for grabs in grants and freebies – although they're only available to people who get certain benefits and have an income of £16,190 or less.
Many energy suppliers are offering boiler grants through the scheme, which could see you get a massive price saving on a new boiler (or even get one for free!). You could also get free loft or cavity wall insulation if you're eligible.
To apply for the scheme, you'll need to contact participating suppliers individually – you can see a list of those participating on Ofgem.
The Boiler Upgrade Scheme (BUS)
Looking to install a low-carbon heating system like those we told you about earlier? Look into the Boiler Upgrade Scheme (BUS).
You could get a grant of up to £6,000 towards the cost of replacing your traditional heating with an air source heat pump, biomass boiler or ground source heat pump. Just be aware that you can't apply to the scheme directly – instead, you'll need to find an MSC certified installer to carry out the work, and they'll apply to Ofgem for you. Use our free search tool to get started.
The Green Deal
The Green Deal is a government loan that helps you to make energy-saving improvements to your home. You might be able to get a Green Deal loan to help pay for things like:
Heating
Draught-proofing
Solar panels
Heat pumps
Double glazing
Insulation
Just remember that this is a loan, not a grant – so you'll need to pay it back.
See the tradespeople we've checked and recommend for your job
Smart technology
Smart technology uses a variety of sensors to improve your home's thermal performance. Some effective Smart inventions include:
Smart thermostats are connected to your phone and can be operated remotely. They can be pre-programmed to heat your home when needed and set at an ambient temperature to reduce heating costs.
Smart light bulbs work in a similar way to Smart thermostats. They can be controlled remotely, programmed to come on and off at set times, and dimmed to save energy.
Smart appliances interact directly with your phone. Your Smart fridge or washing machine can send notifications to your phone to tell you if a problem has occurred or to suggest the best time to use your appliance to benefit from off-peak rates.
Smart devices are revolutionising the way we interact with our homes. They are helping homeowners to cut costs by improving energy efficiency.
Simple home hacks
Most of the energy saving methods mentioned so far will need to be installed by a qualified professional. There are, however, several ways that you can help to improve your home's energy efficiency yourself.
Fit thicker curtains.
Use draught excluders.
Turn down your thermostat.
Unplug appliances at night.
Take shorter showers.
Use LED or energy saving light bulbs.
Leave the oven door open after cooking to generate heat.
Always use the ECO setting on your dishwasher.
Turn lights and taps off when not in use.
These may seem like small things. When you do them regularly, however, and they become part of your routine, you can make noticeable savings on your heating bills and help to make your old home more energy efficient.
FAQs
Why are old homes less energy efficient?
Lack of wall insulation, gaps in floorboards, and single-glazed windows are the main reasons why old homes are less energy efficient.
How can I tell if my house is well insulated?
The best way to gauge the insulation of your house is to check how well it retains heat. If your home quickly goes cold when the heating's turned off, it's not as well insulated as it should be.
What temperature should your house be?
According to the UK government, 18 – 21 degrees Celsius is the perfect ambient temperature for a home's interior.
See the tradespeople we've checked and recommend for your job