Our homes are our safe spaces, our havens, and our personal storage solutions. Most things we own are tucked away in our homes – tidied or otherwise – and stored for safe-keeping. After a few years of buying, cherishing and storing our belongings, space can quickly become something we need more of.
We tend to hold onto nostalgic items. They are usually the things we want to keep but not necessarily display, and so we store them for safekeeping. One popular solution is to keep them boxed up in an attic, which is only possible if loft boarding is installed first.
Whether you're looking at loft boarding prices to make your attic a usable space, or you're looking to add value to your property, use this loft boarding calculator to help you make an informed decision.
What are loft boards?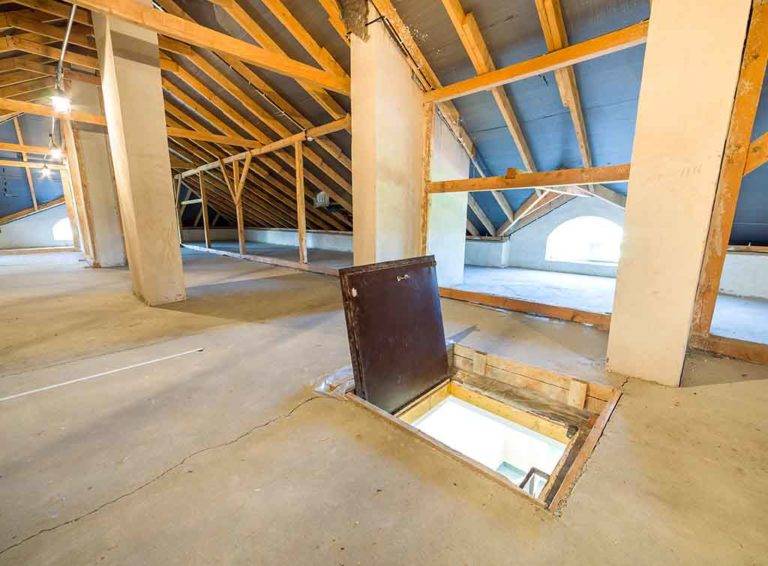 You can use loft boards to create a barrier in your attic to stop heat from escaping and you can add loft insulation at the same time to maximise the effect. Loft boards are fitted by laying and securing them to the existing boards on the attic joists. If they touch the insulation, they lose their effectiveness, so ensure they are fitted high enough.
Badly installed loft boards can increase your monthly bill, so it's important to get them right the first time.
Benefits of boarding your loft
There are six key benefits to boarding your loft, which include:
Prevention of heat loss and maximisation of insulation.
Creation of extra storage space.
Improvement of existing storage solutions.
Increased value of your home.
A cheaper alternative to external storage solutions.
A potential renting option that can help you make extra money.
Find a loft boarding tradesperson
Cost provided item
Unit
Cost + VAT
(Lower range)
Cost + VAT
(Higher range)
Average cost
Loft boarding
15 m2
£1100
£1500
£1300
Loft boarding
20 m2
£1500
£1800
£1650
Loft boarding
30 m2
£2350
£2500
£2425
Loft boarding
40 m2
£3000
£3250
£3125
Loft boards
Materials only, per m2
£11
£50
£30.50
Install pull-down aluminium ladder
Labour and ladder
-
-
£325
Relocate loft hatch (including repair of old hole)
Labour
-
-
£225
Lightbulb and switch installed
Labour
-
-
£75
How much does it cost to board a loft?
Factors affecting the cost of loft boarding
Before you commit to the costs of boarding a loft, there are various factors to consider that can mean a higher final price. These include:
The size of the space
Whether the area is insulated or not
The type of loft access
The type of space you want to create (basic storage or a more useable space)
Loft boarding cost calculator
Calculating loft boarding prices requires the following considerations:
The square metre of your attic
The quality and price of your chosen materials
The purpose of your loft boarding (space or storage)
Whether an access ladder or hatch is needed
What electronics are required
On average, loft boarding costs per 15 m2 are £1,300
When omitting the price of labour, board out loft costs average around £30.50 per m2 for materials only. We recommend you measure the area you're looking to board out and work out a rough estimate. This will save you from any potential surprises further down the line.
Average loft boarding cost per m2 (materials only) is £30.50
Find a loft boarding tradesperson
How long does it take to board a loft?
Depending on the size of the area and the ease of access, most loft boarding jobs take between one and two days to install. Most professional tradespeople will charge you per m2 on top of the cost of materials.
Additional costs to consider
Although most loft boarding jobs are relatively straightforward, there are a few additional costs to consider. These include:
Installing a pull-down ladder for ease of access
The potential relocation of a loft hatch
Any light or electronic installation requirements
Waste removal
Upon consultation, your chosen tradesperson will discuss all your options with you. This will help you make an informed decision about what is needed and the final board out loft cost.
Key takeaways
The average loft boarding out cost is £1,300 per m2. However, this figure decreases as the m2 increases, which means you make cost savings on larger rooms.
Ladders, loft hatches and lightbulbs are all added costs.
The average time it takes to install loft boarding is between one and two days.
Installing loft boarding is a delicate undertaking that is best performed by a professional.
Loft boarding is an ideal and cost-effective, space-saving solution.
Find a loft boarding tradesperson
Tell us what you think
What others think of this article:
Need More Information?
Related posts