Last updated on May 30th, 2022
How much does it cost to replace a main water pipe?
Replacing a water supply pipe can seem like a daunting job for some homeowners. We've put together this main water pipe replacement cost to help you understand what's involved and plan your budget for the project.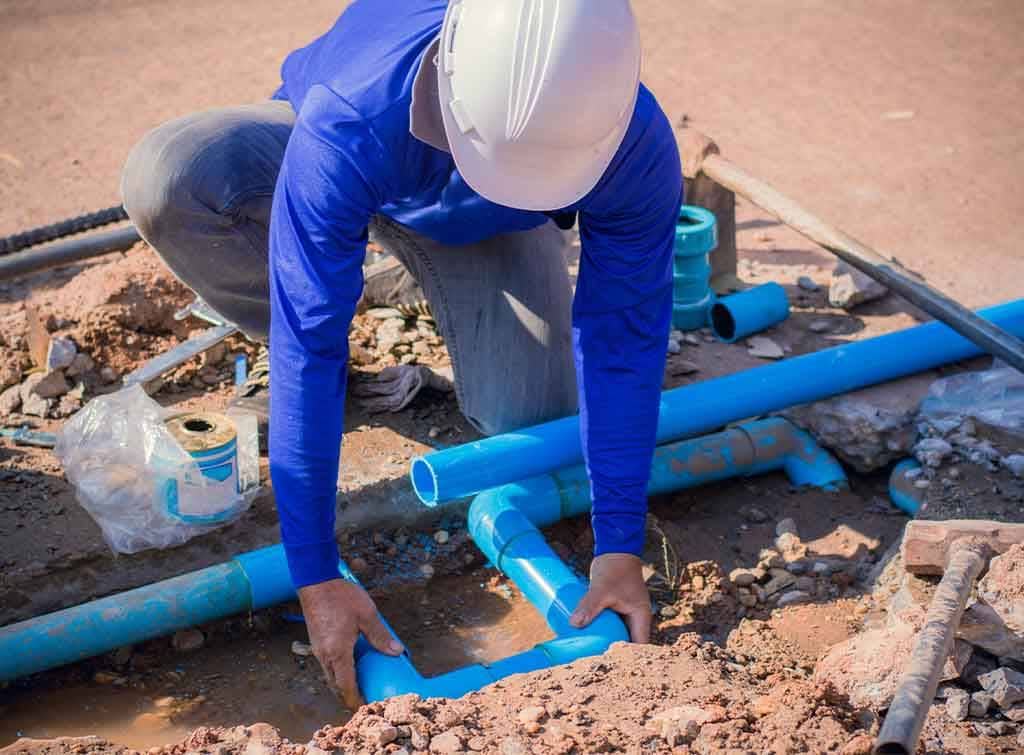 Upsizing or relocating the water supply, replacing lead piping, poor water quality, and insufficient water pressure are some of the reasons you might be looking to replace your main water pipe. Whatever your reason, it's important to know where to start and work out how much mains water pipe replacement costs.
| Item | Price range | Average cost |
| --- | --- | --- |
| Main water pipe replacement (20m pipework) | £500-£1,000 | £750 |
| Water pipe replacement: stopcock to house (water company) | £200-£400 | £300 |
| Water pipe replacement: stopcock to house (private plumber) | £400-£600 | £500 |
| Lead water pipe replacement | £350-£750 | £600 |
How much does water supply pipe replacement cost?
From our research, it's quite difficult to get an accurate cost for water supply pipe replacement. This is mainly because it can vary considerably from region to region in the UK.
Average main water pipe replacement cost: £500 – £1,000 (20m of pipework)
In general, the material costs for the pipes themselves are relatively low. The main cost of the new water supply pipe will be the labour involved and how long the job takes, as it will often involve excavating work to access pipelines.
Factors affecting mains water pipe replacement cost
Length of piping
Type of piping
Route of pipework
Location (prices vary from region to region)
What does replacing the water pipe involve?
The two most common ways of replacing your water pipes are by using trenches and moling.
Digging trenches
Digging a trench requires excavating the entire length of the pipe that needs to be replaced. With some properties this is impossible, in which case you'll need to use the moling method.
If you need to dig up under a public footpath you'll need permission from your local council first, under the New Roads and Street Works Act 1991.
Moling
Moling is used as a quicker and less disruptive way of renewing a water main pipe, often used where it's not possible to carry out trenching. Moling is the process of firing pipework in a straight line from one pit (called the 'launch pit') to another (known as the 'reception pit'). Using this method involves minimal surface level disruption.
The main benefits are:
Less disruption than excavating trenches
Lower cost due to fewer excavations
Quicker and less labour intensive
Reasons to replace a main water pipe
The main reasons that motivate British homeowners to replace a main water pipe are:
Lead or iron pipes
Leaks
Insufficient water pressure
Poor water quality
Home renovations that require moving the mains supply
Why do lead water pipes need to be replaced?
The main problem with lead water pipes is that traces of lead can get into your drinking water and lead to lead poisoning. This can lead to a number of health problems, including high blood pressure, abdominal pain, miscarriage and memory loss.
Find plumbers your neighbours recommend
Main water pipe replacement costs
When calculating the cost of your new water supply pipe, it's important to know that you're responsible for the pipework from your property up to the main stop tap in the road.
Always speak to your local water company first to understand what the situation is with your property, and what work (if any) they will carry out for you.
Many water companies will cover subsidised rates for replacing pipes. Some may even replace lead pipes for free, though generally, this can take some time as this work is not a priority.
It's also worth checking with your housing insurance, in case they will cover the costs of lead water pipes replacement.
Average main water pipe replacement cost from mains to house:
Water company – £200 – £400
Private plumber – £400 – £600
Lead water pipes replacement cost
Although lead pipes haven't been in use for over 40 years, in older properties some service pipes may be made from lead. If this is the case with your property, it's recommended to replace lead pipes with modern plastic pipes to avoid drinking water with traces of lead in it.
Some water companies will do a free lead or iron replacement in the road and connect you back up free of charge, though you'll be responsible for replacing pipes within the boundary of your property.
Average lead water pipes replacement cost: £350 – £750
Benefits of replacing your main water pipes
There are a number of benefits that come with replacing your main water pipes:
Save energy thanks to improved delivery of water to appliances.
Increase flow rates provided by more flexible, larger modern pipes.
Better water quality due to durable, non-contaminating plastic pipes.
Environmentally friendly as purer tap water reduces the need for bottled water.
FAQs
How long does it take to replace main water pipes?
On average, it should take somewhere between 0.5 – 3 days. This can vary considerably depending on the length of your water pipes, their location and how easy access is to replace them.
Can I replace my mains water pipe myself?
Due to the nature of replacing water pipes, we highly recommend using a professional plumber or water pipe expert to carry out the work.
Useful water pipe replacement checklist
Contact your local water company to find out what work (if any) they will carry out.
Enquire about financial support schemes for replacing pipework.
Check with your house insurance to see if they cover water supply pipe replacement cost.
Speak to local water pipe replacement experts for professional advice and accurate costs.
Always shop around for fair and competitive prices.
When hiring a professional tradesperson always check that they have suitable experience and the relevant qualifications/accreditations.
Find plumbers your neighbours recommend