Last updated on June 19th, 2022
Media wall cost guide
Media walls are a popular interior design feature in modern homes, creating a focal point that combines entertainment with style. This guide looks at the average media wall cost in the UK.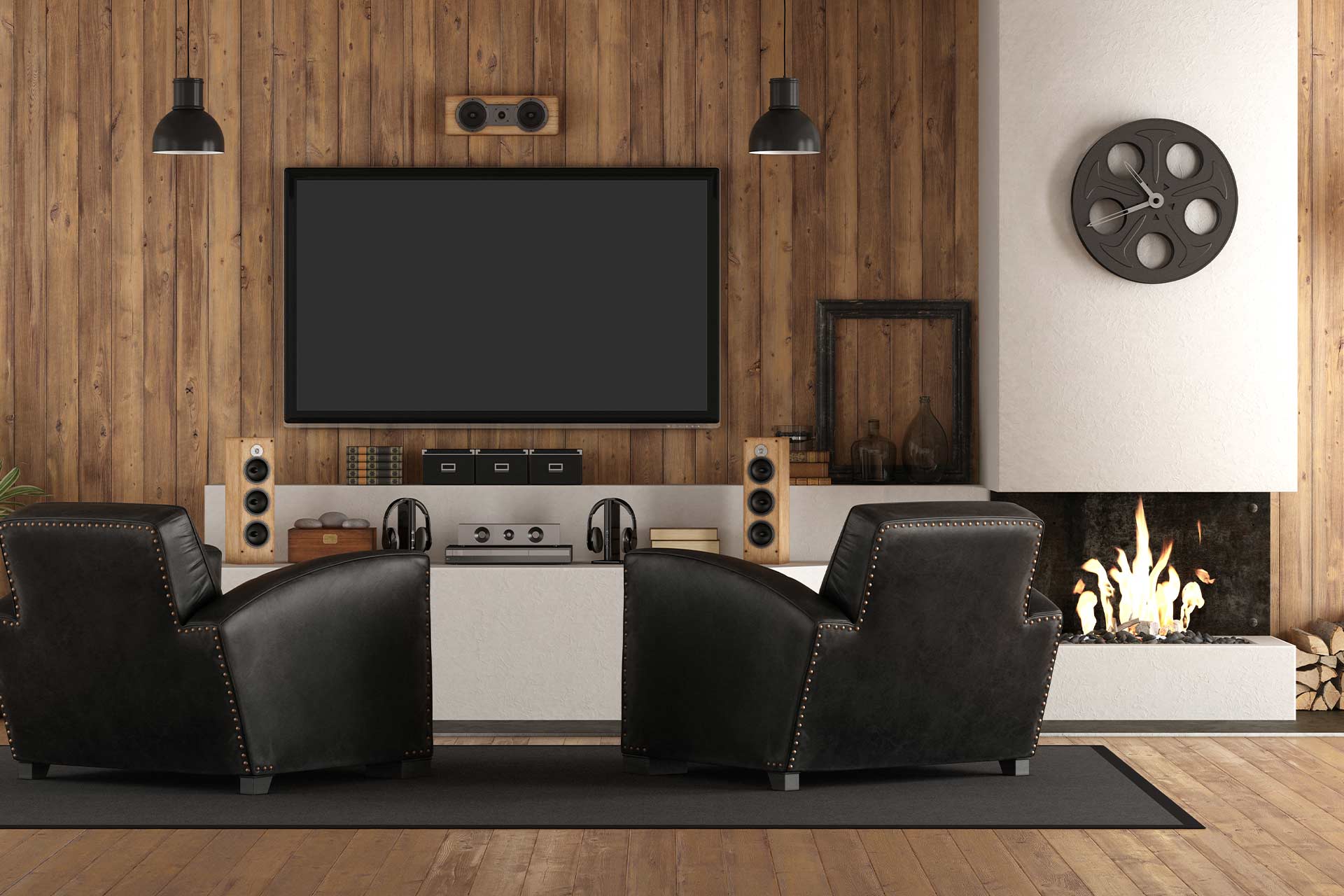 What is a media wall?
When we talk about media walls, we don't mean a giant wall covered in multiple television screens like you see on TV. Instead, we're usually talking about a wall in a home that combines various media equipment including a large television and often a fireplace – and sometimes a music or other entertainment system too.
In fact, they've become so popular that you can now often get deals for media walls that will include a variety of different entertainment packages all in one – including equipment supply and installation.
| Item | Range - Low | Range - High | Average cost |
| --- | --- | --- | --- |
| Media wall with fireplace (supply and installation) | £2,300 | £3,500 | £2,800 |
| Build stud wall for media wall | £1,700 | £2,000 | £1,850 |
| Create false wall (per m2) | £55 | £65 | £60 |
How much does a media wall cost?
As with many projects that involve tech and entertainment equipment, it's hard to put a specific figure when asked, "how much is a media wall?". Specifications of the equipment can vary massively, which then affects the cost – ranging from basic smaller installations through to luxury media walls.
That said, the average media wall cost for a standard setup in the UK is somewhere in the region of £2,000 - £4,000+, for supply and installation.
Media walls with fireplace
Most media walls come with the option of a fireplace, with an average cost of around £2,300 - £3,500. The exact price you pay will depend on the specification you choose.
For accurate prices of media walls with (or without) a fireplace, we always recommend speaking to local media wall specialists who can provide you with options and a breakdown of the costs.
See the tradespeople we've checked and recommend for your job
How much does it cost to build a TV wall?
False wall for TV and fireplace cost
If you're looking to create a false wall for your TV and fireplace, the average cost is around £55 - £65 per m2 for building a partition stud wall. That price is based on creating a stud wall with plasterboard and includes plastering, skirting and electrics.
For more information on creating a new wall in your home, check out our guide to partition wall costs. And if you have a period property, you might want read our planning guide for removing a chimney breast to open up a period property
Factors affecting TV wall cost
There are a number of factors that will affect how much your media / TV wall costs, including:
Size of the wall
Any prep work needs, such as building or reinforcing a wall
Quality of materials used
Size, make and model of TV, fireplace and/or other media equipment
Complexity of installation
Where you live
Media wall quotes
We always recommend obtaining at least three quotes from our trusted tradespeople. Our request a quote feature is perfect for getting quotes – you post details about the job you want doing and we'll send it out to local tradespeople in your area. Try it out!
FAQs
How deep should a media wall be?
A decent depth for a media wall is around 20 – 24 inches. Due to the nature of a media wall, you'll need to make sure the wall is deep enough to house the various cables, wiring, entertainment system and fireplace.
If wires are an issue in your home, take a look at our tips on how to hide TV wires.
See the tradespeople we've checked and recommend for your job