The fireplace was essential in period properties as it was the only source of warmth, but when central heating came along, the need for a working fireplace gradually diminished. However, that's not to say a fireplace isn't a beautiful focal point and a precious extra form of heat source for some homes.
But, if you feel like your chimney breast is taking up valuable space in your home, you may be thinking about removing it. To help you out, we've put together everything you need to know about chimney breast removal to open up your period property and maximise space.
What is a chimney breast?
A chimney breast is the brickwork which surrounds the chimney. Usually, the chimney breast is inside the property, leaving two alcoves either side. With terraced and semi-detached properties, chimney breasts are often built back-to-back and will have multiple chimney pots on top of the stack that will be shared by adjoining properties.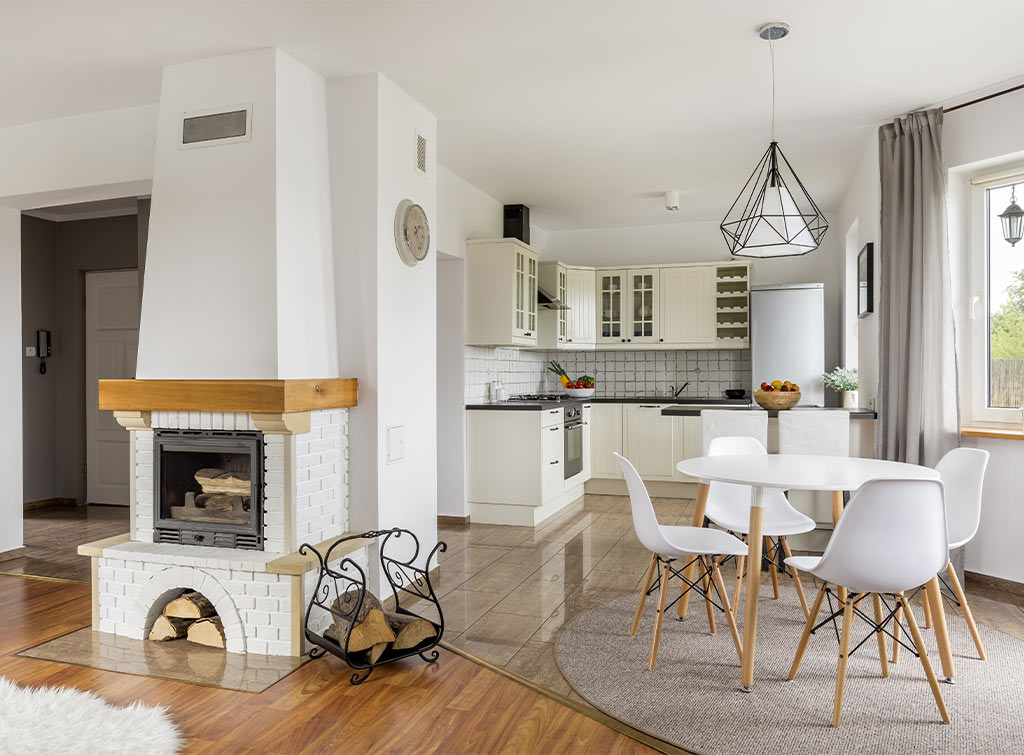 Why do people remove chimney breasts?
Removing a chimney breast can help to free up significant space in a home, which is especially valuable in built-up areas, such as London. Many people simply don't need a fireplace anymore with thanks to central heating, and they just consider it wasted floor space.
What problems are involved when removing chimney breasts?
A chimney breast is part of the overall structure of a property, so you can't just simply remove it without careful planning and preparation. If you don't take care when removing a chimney breast, you could cause structural distress to your property, which could even result in detrimental damage and partial building collapse.
How do I remove a chimney breast?
To remove a chimney breast, you must work with a professional to ensure the job is being carried out safely, correctly and in line with regulations. A structural engineer will come to your property and create a plan of action, determining whether you will need structural supports put in place.
If your chimney stack is going to be left in place, the brickwork will need to be supported by something such as a rolled steel joist. You may also need your roof timbers extended depending on how much of the chimney breast you're removing.
When planning for a chimney breast removal, you must also remember that all of the planning and designs need to adhere to the rules and regulations of your local building control office.
If your chimney breast is on a party wall, you also need to follow the Party Wall Act, which involves your neighbour's approval before any work can begin. Once the work is complete, a local building control officer will inspect the work carried out. If they deem it a satisfactory completion, you will be issued a completion certificate.
The rules and regulations for removing chimney breasts
When working with a professional, they will ensure you meet all of the rules and regulations for removing a chimney breast. These include:
You may not always be required to have planning permission, but you should always ask the question.
You must be compliant with building regulations to ensure the safety and structure of the work being carried out.
This is only necessary in England and Wales if your chimney breast is connected to an adjoining neighbour's wall, i.e. a party wall.
If your property is a leasehold, you will also need a Landlord's Licence.
How much does chimney breast removal cost?
If you want to remove part of a chimney breast in a single room and have the space made up, it can cost between £1,750 to £3,250, on average. For more information about the costs, read our fireplace removal cost guide here.
Ideas and inspiration post chimney breast removal
Once your chimney breast has been removed, you will be surprised at how much more spacious your room may feel.
How you could use your new and open space
Without a chimney breast, you can change the layout of your space and add extra furniture, such as a sideboard or a larger media unit. You could even make room for additional seating areas. If the removal is in a bedroom, it's a great idea to add fitted wardrobes to maximise storage space.
When you remove a chimney breast, you will have a space that needs new flooring. This is an excellent opportunity to update the flooring in your room or to restore the floorboards you have and add reclaimed boards where the chimney breast and fireplace hearth once was.
You may see your room in a whole new light when you remove your chimney breast. Rather than an old fireplace acting as your focal point, you could add a feature wallpaper or wall mural.
If you're thinking about removing your chimney breast, you must work with a professional and make sure you meet the relevant rules and regulations.
To do this, use our simple Checkatrade Search to find local and trusted tradespeople in your area who are vetted and monitored. You can find multiple trades and people who will come and give you a quote for the work needed, as well as provide you with a professional service you can trust.
Tell us what you think
What others think of this cost guide:
Need More Information?
Related posts