Last updated on May 30th, 2022
Roof tile replacement cost
While roof tiles are designed to withstand the weather, constant exposure to the elements eventually takes its toll. No matter how resilient, all roof tile materials are susceptible to cracks and deterioration over time.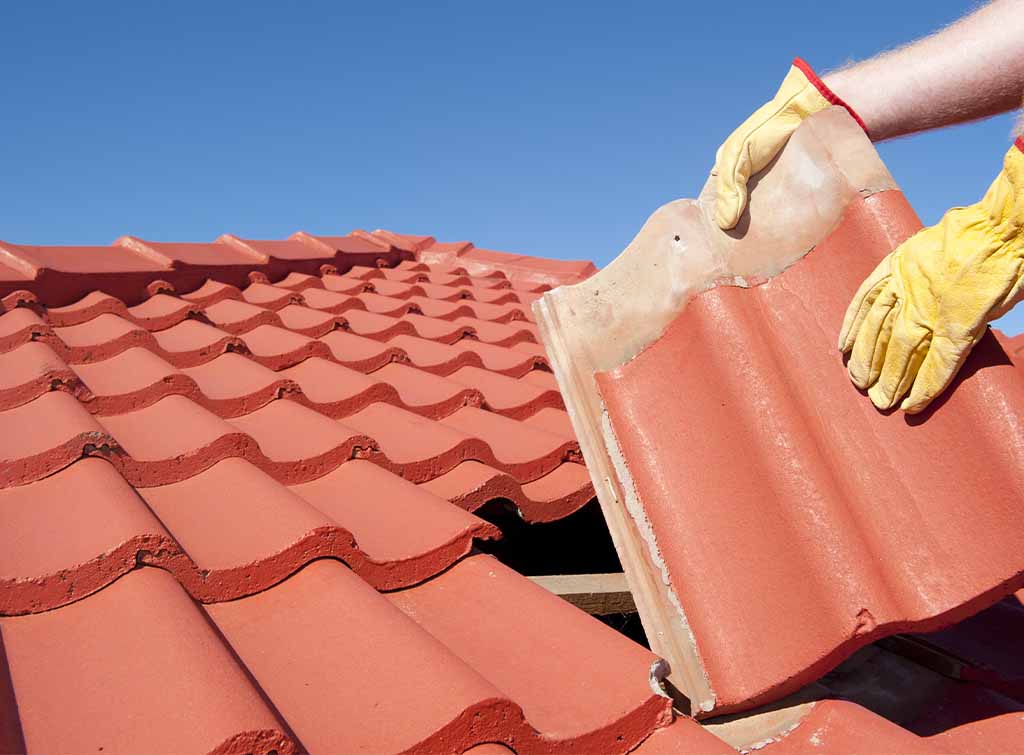 If left unchecked, rainwater can leak through the cracks and cause structural damage to your home. In short, if your tiles have been damaged either during or after installation, it's best to get them replaced without delay.
While the cost of individual tiles may be cheap, the job of replacing them requires skill and specialist equipment such as scaffolding. To give you an idea of pricing ahead of hiring a tradesperson, we've put together a practical guide outlining the average roof tile replacement cost.
| Level of access | Number of tiles | Average cost |
| --- | --- | --- |
| Tiles easily sourced and no access issues or scaffold | Up to 5 tiles | £170 |
| Roof ladder and cement bedding required | Up to 5 tiles | £225 |
| Difficult access requiring scaffold plus hard to find tiles | Up to 5 tiles | £500 |
| Complete tiled roof replacement | Full roof replacement | £10,000 |
What is the cost of replacing roof tiles?
The average roof tile replacement cost is £170 for up to five broken tiles, presuming the replacement tiles can be easily sourced and there are no access issues.
Depending on the condition of your roof and your budget, you may choose to have the entire roof replaced or simply have a tradesperson replace the damaged tiles. As well as the cost of materials, the quote provided will reflect the amount of work needed and how easy your roof can be accessed.
When hiring a roofer, it might make sense for them to carry out a full inspection in case there are other areas that need attention. For example, if roof tiles at the bottom of your roof have been damaged, the fascia board that sits underneath them will get damp as a result and begin to decay. This is especially concerning for older properties that have wooden soffits and fascias.

Reasons roof tiles might need replacing
They may be long-lasting by design, but roof tiles are fragile and can get damaged or broken in a number of ways. Exposure to adverse weather such as heavy winds and harsh frost, long-term usage and moisture eventually causes the asphalt to weaken and the protective coating to wear away. Often, high winds can dislodge tiles completely from the wooden batten they sit on.
The cost to repair a slipped roof tile professionally tends to sit at £170, though costs can increase to £225 when cement bedding and roof ladders are needed and up to £500 if scaffolding is required.
Upon inspection, you or the contractor may notice tiles with hairline cracks. The most common causes for these are protruding nails from under the tiles or weather damage during severe storms.
Cracks can easily be overlooked, but the more they widen, the more vulnerable the interior of your roof to water damage. When the crack runs across the length of the tile, it's advisable to get them replaced rather than repaired.
Cost of replacing roof tiles
The cost of replacing roof tiles will depend on the level of work required.
For a complete replacement of a tiled roof, you can expect an average total cost of £10,000. Individual roof tile replacement will naturally be a lot cheaper, with prices starting at around £170 for up to five tiles. Quotes will be calculated upon inspection as there may be access issues that drive up the total cost.
Factors affecting the cost of roof tile replacement

When hiring a roofing contractor to repair or replace roof tiles, the total roof tile replacement cost they quote for the job will be determined by several key factors, including:
Ease of access to the roof
Depending on the size of your property and the accessibility of your roof, it may be necessary for health and safety precautions for professionals to use cement bedding and roof ladders to complete the job. For five tiles replaced using a roof ladder, the cost is approximately £225 to cover labour and equipment. In some cases, it may be necessary to erect scaffolding, which will increase the time taken and increase the final price to roughly £500.
Location
As with most home renovation or repair work, you can expect roof tile replacement costs to be higher in London than the regional average.
Number of damaged tiles
Simply put, the more tiles that need replacing, the higher the total cost. If the budget allows and your roof is in particularly poor condition, it might be worthwhile to have the roof replaced entirely to give you peace of mind in the future.
General condition of the roof
When roof tiles lose their protecting coating and become weakened from long-term exposure to weather, it's common for them to crack, break or even come loose. If your roof has more than a handful of slipped, cracked or damaged tiles, the job of replacing them without causing further damage will be more challenging and therefore cost more.
| Type of tile replacement | Number of tiles | Average cost |
| --- | --- | --- |
| Ridge tile replacement | Up to 6 ridge tiles | £180 |
| Re-bed ridge tiles | Up to 10 metres of ridge tiles | £500 |
| Roof valley tile replacement | Up to 4 metres of roof valley tiles | £500 |
Type of tiles
Cost of replacing ridge tiles
When ridge tiles come loose from the roof, getting them re-cemented is essential in stopping further damage from weather exposure. The process of re-bedding ridge tiles involves taking them off, cleaning and re-fixing them firmly in place.
Depending on the condition they're in, you may need to have the ridge tiles replaced altogether. The average cost for six ridge tiles is £182.50, based on a range of roughly £140 - £225.
Cost of replacing roof valley tiles
A roof valley is where two sloping roofs meet together, where rainwater flows from the roof to the gutter. Typically made from lead, concrete tiles or fibreglass, the placement and function of roof valleys make them more susceptible to damage than the rest of the roof.
Depending on the condition of your roof valleys, the job could involve a small repair or a full replacement. The average cost of replacing roof valley tiles is £500, based on four metres of roof valley including fibreglass trough and underlay.
Roof tile replacement cost calculator
The best way to calculate the cost of roof tile replacement for your home is to work out how many tiles need to be replaced and what size and material they are. Once you know the material costs you'll need to add the cost of the labour for a roofer to carry out the work. The more tiles and the more complex the roof structure, the higher the tile replacement cost will be.
Roof tile replacement quote
We always recommend obtaining at least three quotes from our trusted tradespeople. Our request a quote feature is perfect for getting quotes – you post details about the job you want doing and we'll send it out to local tradespeople in your area. Try it out!
Want to know how to hire the best roofer for the job? Check out our guide to hiring a roofer.
Roof tile replacement hourly rates
The average cost for a roofer is around £18 to £25 per hour. The exact price you pay will depend on the individual roofer, their experience, and where you live in the country. For more information about prices check out our roof installation cost guide.

How long does it take to replace roof tiles?
The timescale for roof tile replacement will inevitably depend on how many tiles need replacing.
It should only take two hours for a professional roofing contractor to replace up to five tiles, assuming your roof is easy enough to access. If the job requires a roof ladder and some cement bedding, it will take an average of three hours, while a job that requires scaffolding will be more like five hours.
For an entire roof to be replaced on a three-bed house with medium or large concrete roof tiles, you can expect at least three to four days for the roof replacement itself, though additional work such as replacement of roof rafters, guttering, soffits and fascia boards will increase the time taken to a week or up to two weeks if access requires scaffolding.
Can I replace my roof tiles myself?
Due to the hazardous nature of this work, we strongly recommend hiring a qualified and experienced tradesperson to repair or replace roof tiles. Professional roofing contractors undergo training to perform roof tile replacements safely.
The cost of replacing roof tiles professionally varies, but it's a worthwhile investment in protecting your roof from further damage and risking injury through a DIY approach.
Roof tile replacement cost overview
No matter how resilient, roof tiles get damaged over time. Getting them replaced can prevent structural damage to your property.
The costs for replacing individual roof tiles ranges between £170 - £500 for five roof tiles; the main factor driving this cost is access to the roof and need for equipment.
Re-bedding 10 metres of ridge tiles costs an average of £500.
To re-bed four metres of roof valley tiles including fibreglass trough and felt underlay, the average price is £500.
Roof tile replacement is a dangerous job with a high risk of accident and injury, so we strongly recommend calling on the services of a professional roofer who is trained and insured to handle the job.
Good jobs, guaranteed
Get covered when you book with Checkatrade.