Last updated on March 31st, 2022
Smart toilet cost
Did you know that using the loo could be made easier and more hygienic? It's true. Find out more about smart toilet costs and features.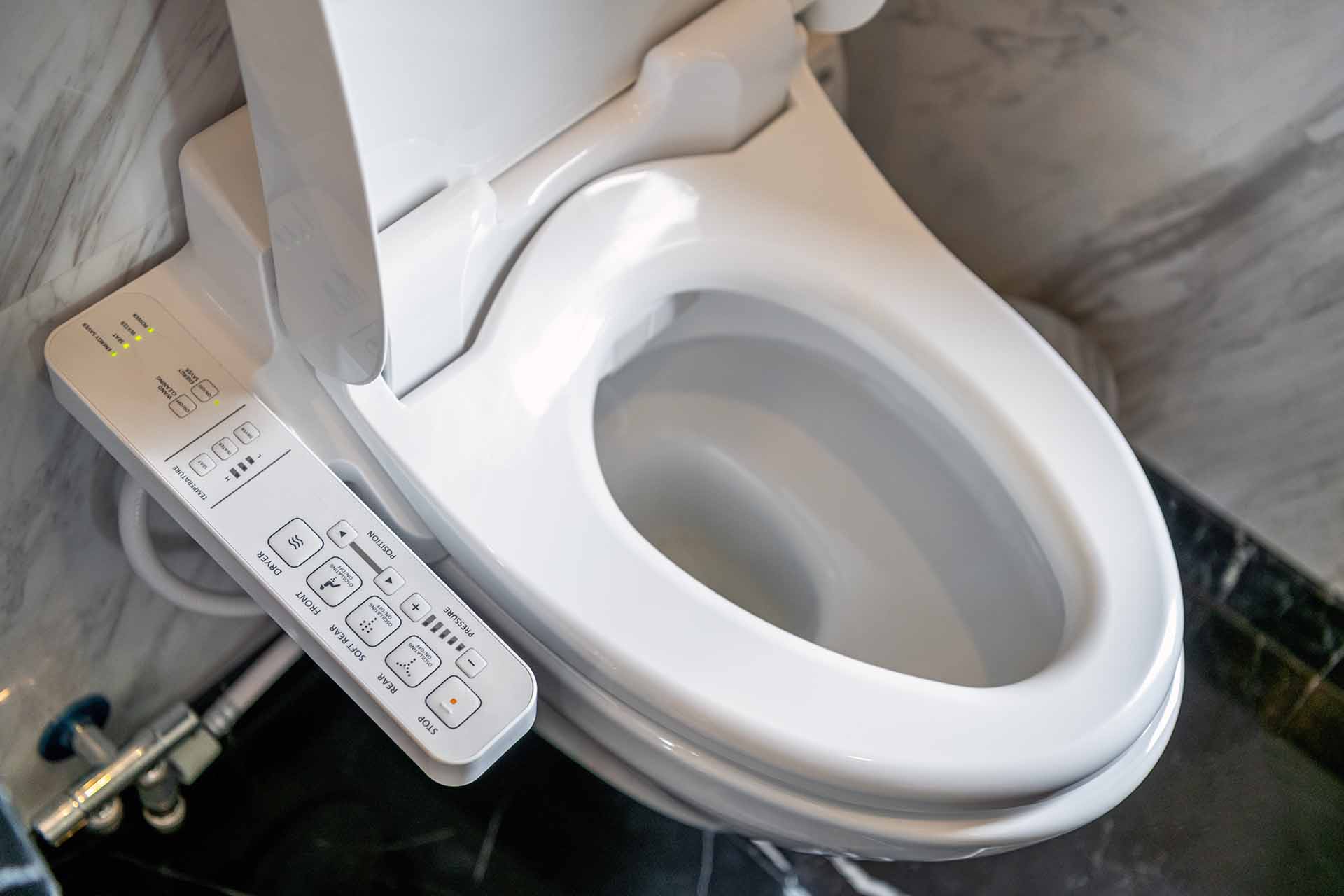 If you're planning to install a new toilet in your home, a smart toilet (also known as a Japanese toilet) might have come up as a possible option. And, if you're looking for a smart toilet cost, we can help.
What do smart toilets cost?
Smart toilet prices can range from anywhere between £320 – £6,500, depending on the features you want. That, however, is the supply-only cost, so you'll pay extra for labour.
| Cost provided item | Unit | Range - Low | Range - High | Average cost |
| --- | --- | --- | --- | --- |
| Smart toilet cost | Per toilet | £320 | £6,500 | £3,410 |
| Smart toilet installation cost | Per fitting | £100 | £400 | £250 |
| Smart toilet electricals | Per fitting | £50 | £70 | £60 |
| Removing and disposing of the old toilet | Per toilet | - | - | £75+ |
Depending on the type of smart toilet, you could spend around £100 – £400 on installation charges. You will be paying the plumber an hourly rate of £40 – £60 for installation. Plus, you may also need to pay an electrician to connect it to the electrical system.
What's included in the smart toilet seat price?
A smart toilet, or more accurately a smart toilet seat, combines a toilet and a bidet. There is a small shower attached to the seat that shoots out a jet of water. Instead of using toilet paper, you use the shower.
Since washing with water is widely considered more hygienic than paper, you get a cleaner toilet experience.
You can also opt for more features to make it even more germ-free and easy to use!
See the tradespeople we've checked and recommend for your job
Smart toilet features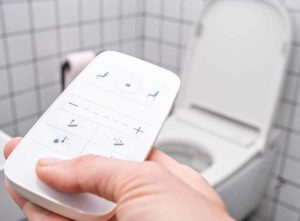 Automatic flushing: One of the features you can opt for is automatic flushing. The toilet will flush as soon as you get up. So you won't need to touch any surfaces in the loo. You can also get a contactless flushing feature where you wave your hand in front of it to flush.
Front and back wash: Whilst the standard smart toilet only has a back wash jet, you can opt for one that offers front jet as well.
Comfortable temperature: Smart toilets can be programmed to have warm seats so you don't sit on a cold surface on a winter morning. You can also 'tell' them what water temperature and water pressure you find comfortable.
Night light: If you go to the loo in the middle of the night, you either stumble around in the dark or turn on the bathroom light, potentially disturbing other people. With a smart toilet, on the other hand, you can have a night light feature that will provide you with enough light to find the toilet without waking up everyone else.
Deodoriser: This feature reduces the smells in your toilet.
Air dryer: If the idea of getting up from the toilet wet does not appeal to you, smart toilets also come with an air-drying feature.
Automatic cleaning: Smart toilets can help you keep a clean toilet without a toilet brush. You could get self-cleaning toilets that clean the bowl as well as the jet nozzles periodically.
Smart toilet price quotes
The price of your smart toilet will depend on the features you want. For example, you'd pay more for extra automation. Installing a smart toilet is relatively easy for a plumber, and similar to a regular toilet. However, with the exception being whether you need an electrician or not, as some smart toilets may need to be wired in.
In order to get a competitive smart toilet installation quote, you should ideally get estimates from at least three toilet installers. It's best to let them know the type of toilet, whether it's a concealed cistern or not, and the features it has so they can give you the most accurate price.
(Pro tip: try out our request a quote feature to get installation rates from plumbers in your area).
See the tradespeople we've checked and recommend for your job
FAQs
Are smart toilets good for the environment?
Smart toilets use electricity to operate (although they do come with a power saver mode to conserve power). So although they aren't completely eco-friendly they do use water in a more controlled way and save on toilet paper too.
Are smart toilets sanitary?
Since smart toilets use water to wash, they give you a better clean than paper. As well as this, a smart toilet offers hands-free flushing and auto cleaning.
How do I control my smart toilet?
Smart toilets can be operated using a remote control or even an app on your phone for more advanced ones.
See the tradespeople we've checked and recommend for your job