Last updated on November 15th, 2022
How much does underfloor heating cost?
Imagine waking up in the morning and stepping onto a floor without the need to wear slippers. With underfloor heating, that could be a reality. Find out how much underfloor heating costs.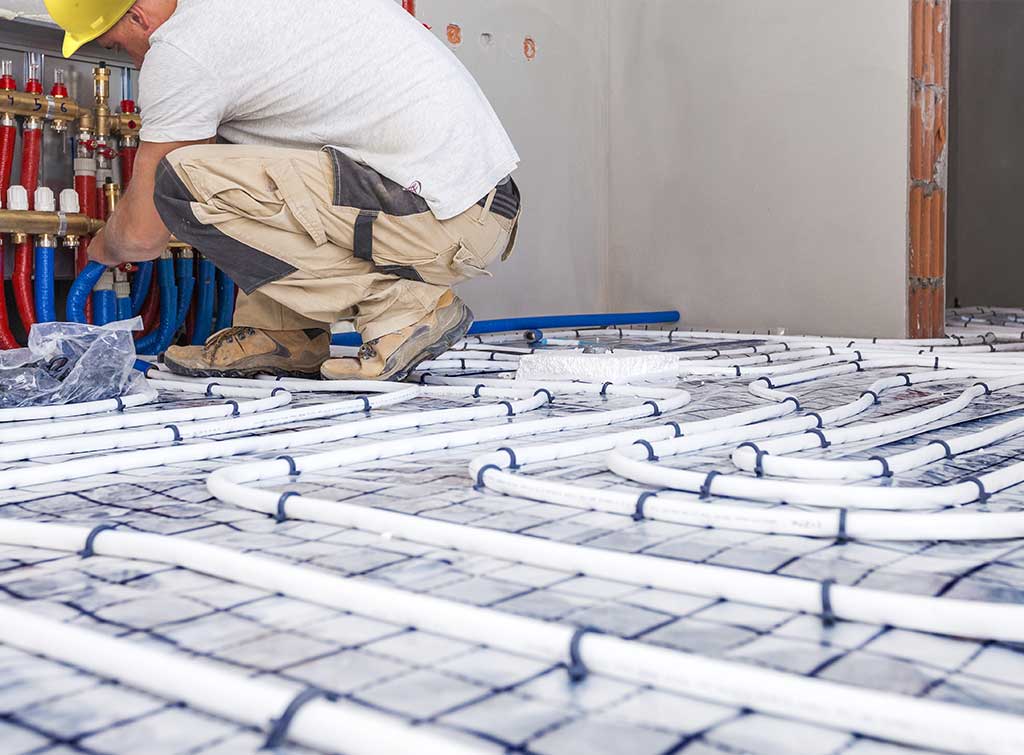 How much does underfloor heating cost to install?
| Underfloor heating system and property type | Average installation cost per m2 |
| --- | --- |
| Electric in renovation | £60 - £85 |
| Electric in new build | £50 - £75 |
| Wet in new build | £120 - £135 |
| Wet in renovation | £135 - £185 |
As a ballpark price guide, underfloor heating installation and materials from a professional will cost anywhere between £500 – £8,000.
See the tradespeople we've checked and recommend for your job
What's the underfloor heating installation cost per m²?
Electric underfloor heating cost:
New build install: £50 - £75 per m²
Renovation property: £60 - £85 per m²
Wet underfloor heating system cost:
New build install: £120 - £135 per m²
Renovation property: £135 - £185 per m²
Estimated quotes for electric and water underfloor heating
An estimated average price to install electric underfloor heating: £800 (10m²)
An estimated average cost to install water underfloor heating: £1,200 (10m²)
Underfloor heating cost calculator
Your underfloor heating installation cost depends on a variety of factors, like:
The size of your home
The age of your property
How many rooms are having the underfloor heating installed
Additional labour work required on top of the install
The underfloor heating system you choose to be installed
To get an accurate quote to install underfloor heating, we recommend you reach out to at least three recommended flooring professionals near you. You can search for Checkatrade underfloor heating installers in your area or you can use our handy request a quote tool.
See the tradespeople we've checked and recommend for your job
What underfloor heating system options are there for a UK home?
There are two types of underfloor heating available: water and electric.
The option most suitable for your needs will vary on several factors, such as how old your property is and how much of a budget you have for the installation.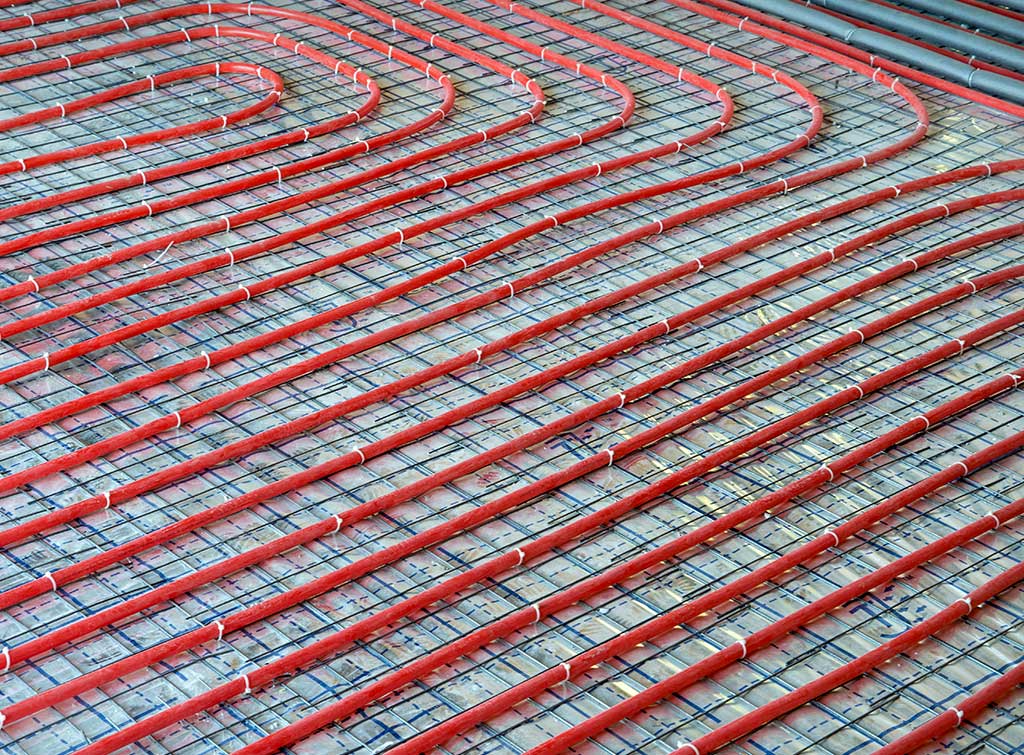 Electric underfloor heating
The more modern alternative to wet underfloor heating is the increasing popularity of 'dry', or 'electric' heating, which uses wiring beneath the floor to heat your home.
This is suitable for all areas of the home and is generally simpler to install as it comes in the form of ready-made mats for the most part (although loose-fit wiring is available for those difficult to reach or particularly small areas).
In many cases, installing electric underfloor heating is cheaper than water-based because it's easier to install and, therefore, less time-consuming.
Warm water underfloor heating
Warm water underfloor heating involves a series of pipes that are linked to your boiler. The boiler then helps to heat up and pump hot water around the property.
They require expert installation as incorrectly fitted pipes could leak or cause other problems across your property. In some cases, it may even be that the floor levels need to be raised a little to accommodate them.
Underfloor water heating offers more efficiency than radiators, due to the fact that the water inside them doesn't need to heat to such a high temperature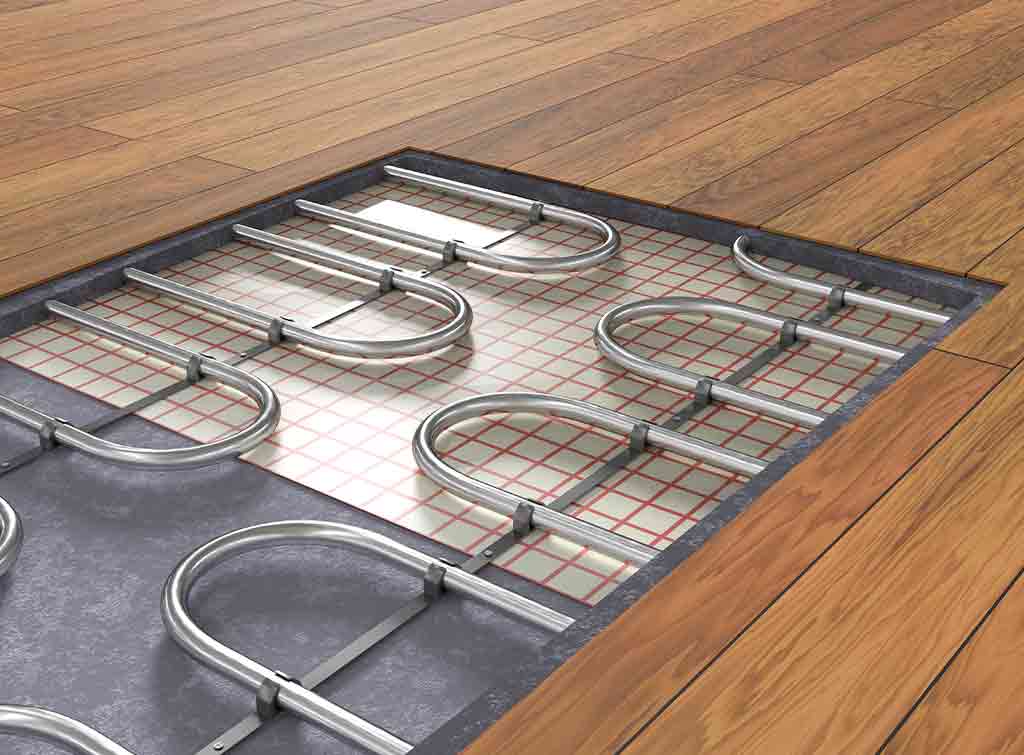 What does conservatory underfloor heating cost?
For underfloor heating installation to a new conservatory, you can expect the cost to be around £50 – £75 per m2 for electric and £120 - £135 per m2 for wet underfloor heating.
Underfloor heating pros and cons
Before you commit to installing underfloor heating it is always good to take a look at the pros and cons. We've listed some below:
Advantages of underfloor heating
Works with many floor coverings
Energy efficient
Easy to run
Design freedom
Disadvantages of underfloor heating
Installation cost
Installation time
Increase in floor height
Underfloor heating is popular as not only does it make your home cosy and warm, but it is incredibly versatile and provides energy saving benefits.
The initial cost and installation time can be high but with a project like this, it's important to see it as an investment for your home in the longer term.
Why should you invest in underfloor heating systems?
Underfloor heating offers many benefits. Not only will you be able to comfortably walk around barefoot all year round, but you will notice that your home is much warmer. Underfloor heating effectively distributes heat across the home evenly. Something that not all wall radiators can do.
A suitably sized underfloor heat system can heat a larger area more effectively than a radiator in a room can. Even better, most underfloor heat systems can heat a room more effectively on a lower heat too, saving you money over time.
Another benefit of underfloor heating is that you could actually remove your wall radiators. You wouldn't need them anymore. Removing your radiators means you can make your home more spacious.
Underfloor heating is also versatile and can be installed below stone, tile, wood or carpet, meaning it can suit almost every room in the home. With a reputation for being high spec, it can increase the value of your property.
See the tradespeople we've checked and recommend for your job
How much does it cost to run underfloor heating?
It would cost around £26.60 - £30 per month to run underfloor heating on a 10m2 floor area for up to 4 hours per day.
However, these underfloor heating running costs will vary depending on the size of your home, the floor space where the underfloor heating is, how well insulated the floor is, how often you have the system running, and your energy provider to name a few of the factors.
How to choose a qualified underfloor heating installer
Whether you opt for a wet or electric system, you should always consult with a specialist, qualified professional who will be able to help you make the right decision for your home. Remember it's not just the product itself you're paying for, but the skills and expertise of the tradesperson you hire.
They'll not only supply and fit the product, but also any necessary materials surrounding it. They'll provide the perfect fit which will suit the needs of your home, offer you the best possible finish, and ensure that you have an underfloor heating system that will run efficiently for years to come.
What to look out for with your underfloor heating expert
The floor construction under the heating system should have good insulation. Otherwise, the heat will be lost through the floor.
How much is DIY underfloor heating?
If you're comfortable undertaking most of the installation work yourself, you can get underfloor heating for under £1,000.
The DIY underfloor heating cost per m² with heat mats is around £20 - £50. You'd also pay a bit over £100 for additional items like heating controls, screed and insulation boards.
If you're not confident about hooking up electricals, electricians charge around £45 per hour.
Warm water underfloor heating DIY kits are available for £500 or more. These generally have materials and pipework for 20m².
Additional considerations for underfloor heating installation
There are huge benefits to installing underfloor heating, and if it's something you are considering then spend some time giving these points some thought.
Electric vs Wet underfloor heating – Electric systems are cheaper to install but more expensive to run. They also tend to be easier to retrofit into existing homes. Whereas wet systems are more complex and are usually better suited to new build homes but will offer more energy-saving benefits.
With any underfloor heating project, all the floors will need to be removed which is a labour-intensive job and can be costly.
If your home has large rooms, bear in mind that underfloor heating might not be able to cope with heating your room enough to make it feel as warm as you might expect. For larger rooms, a wet underfloor heating system offers more power as it is connected to your boiler, and will help your rooms to feel warmer.
Interested in getting a quote for installing new underfloor heating?
You can easily see who your neighbours recommend for underfloor heating installation by entering your postcode below.
See the tradespeople we've checked and recommend for your job
FAQs
Can I install underfloor heating myself?
It is possible to install electric underfloor heating yourself but you would need the help of an electrician to ensure all thermostats and other wiring are safely installed and connected. Wet systems should only be installed by a professional underfloor heating specialist.
With any job that involves electricity or water, we would always recommend seeking the help of a professional.
Is underfloor heating cheaper than radiators?
In modern homes with a condensing boiler, underfloor heating can be up to 25% cheaper to run than traditional radiators. Ultimately the running costs will also be influenced by how warm you like your home to be. Every home and installation is different, so if running costs are a deciding factor for you then it is important to speak to a professional who can help you with estimated costs.