The best bathtubs for small bathrooms
Are bathtubs for small bathrooms out of the question? Not at all, as there are more options for a space saving bath than you might think.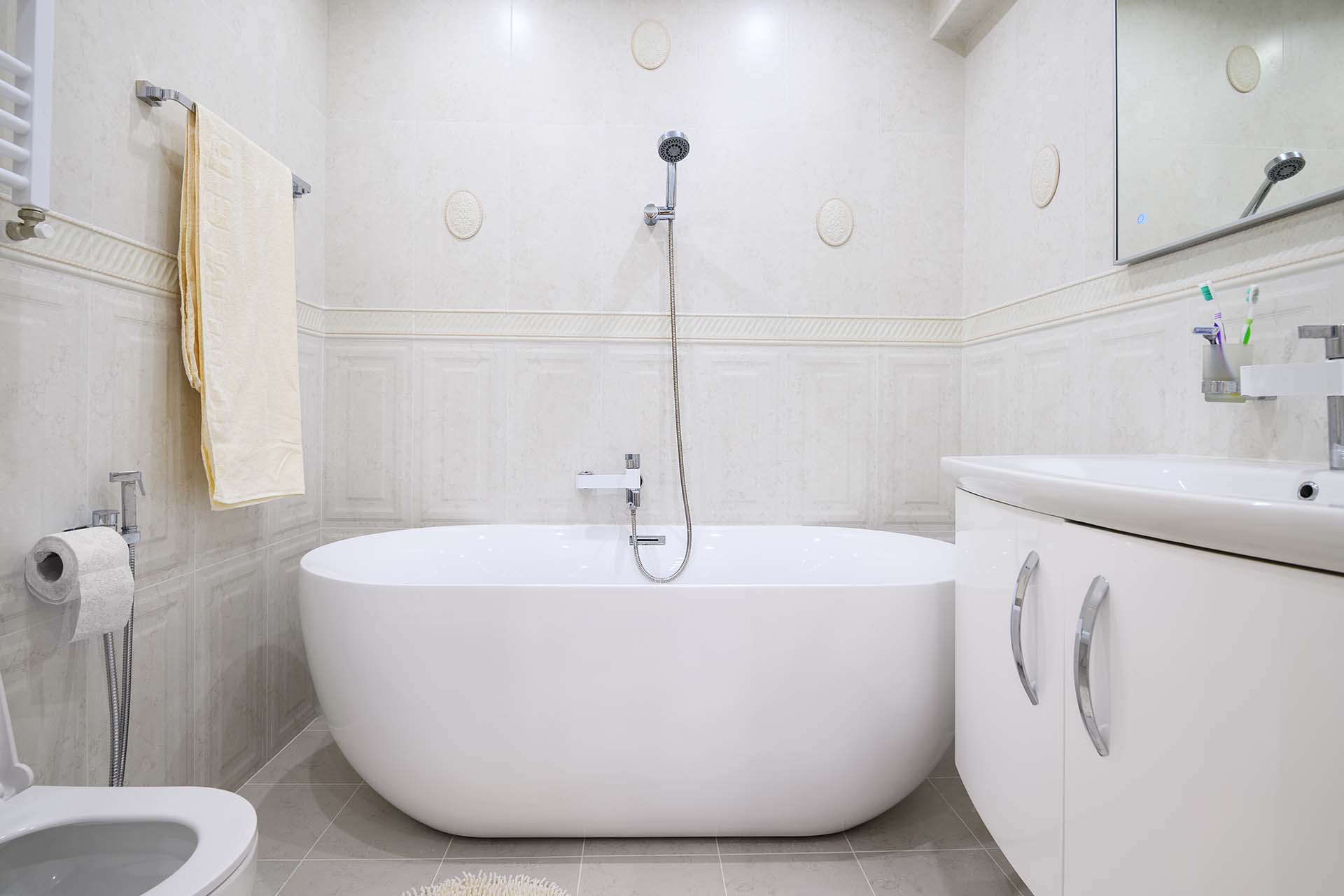 There's nothing like a warm bath at the end of a long day. If you have a smaller bathroom you might feel that a bath is out of the question. However, there are more options for a space-saving bath than you might think. Let's take a look at the best bathtubs for small bathrooms.
Bathtubs for small bathrooms
Having a smaller bathroom doesn't mean you have to lose out on a soak in the tub. Most standard bathtubs measure up at 170cm long by 70cm wide and fit 'wall to wall' in smaller bathrooms, but more compact baths measuring 150cm by 70cm are available.
Some bathtubs are also available in 180cm lengths so there are a few standard options for wall to wall options. If your bathroom measurements are a little awkward and you can't get your bathtub to fit wall to wall, you could also consider having a stud wall or partial stud wall built, or have a custom storage area added to fill any oddly sized gap.
If you're stuck for inspiration, take a look at our small bathroom ideas on a budget.
Space-saving bath ideas
When looking at bathtubs for smaller bathrooms, there are three different bathtub styles that can help you save space.
Oval bathtubs – If you're looking for a space-saving bath but want the illusion of a full-size tub, then an oval bath is a great choice. Oval bathtubs are more readily available in smaller sizes but give off a big bath feel.
Slipper bathtubs – A slipper bath has a unique shape, with one end of the tub having higher sides and a tall back. These tubs tend to be deeper and have a luxury feel of a roll top style but with a shorter length thanks to the extra depth.
Sunken bathtubs – Rather than having your bath stood in the room, you could opt for a bath that is sunken into the floor. This might seem like a wildcard option, but if you are working on a self-build project, or undergoing extensive home renovations where you can spare the extra depth required, this is both a stylish and space-saving bath idea.
Thinking about a new bathroom? Check out our new bathroom cost guide.
See the tradespeople we've checked and recommend for your job
Baths for small bathrooms
If you're after a more traditional style bathtub for small bathrooms, you can still luxuriate in a bath but with a slight twist. A shaped tub keeps the classic bath experience but with clever, space-saving designs.
D shaped bathtubs – A D-shaped bath is flat on one side against the wall, with a curved edge extending into the room. This is a good option if you have a small bathroom that is more rectangular in shape.
Tapered bathtubs –  A tapered bath has a full-sized width at one end that narrows towards the other. Some have a more gentle curve, whilst others have a sharper, more diagonal angle. These bathtubs are great for small bathrooms as they can help to allow for extra clearance room for moving around toilets or sinks.
All of these choices could be a good option for an en-suite bathroom. If you're looking for a bath for small en-suite bathrooms then take a look at our small ensuite ideas. If you're still stuck then speak to a bathroom design specialist who can help with ideas.
Bathtubs for small spaces
If your bathroom is a really unique shape, you might want to consider an unconventionally shaped bathtub. Bathtubs for small spaces can come in some interesting shapes including J, P and L shapes. As you might expect, these bathtubs mimic the shape of the letter and can offer an interesting take on a classic bathtub design.
If you have a small or quirky-shaped bathroom, the great news is you don't have to miss out on a bathtub experience. We have plenty of small bathroom ideas to give you inspiration. If you're ready for your dream bathroom, simply fill in our request a quote form with details about your job.