The best way to clean block paving
Keeping your block paving in tip-top condition and removing any stains or dirt is a matter of maintenance and know-how.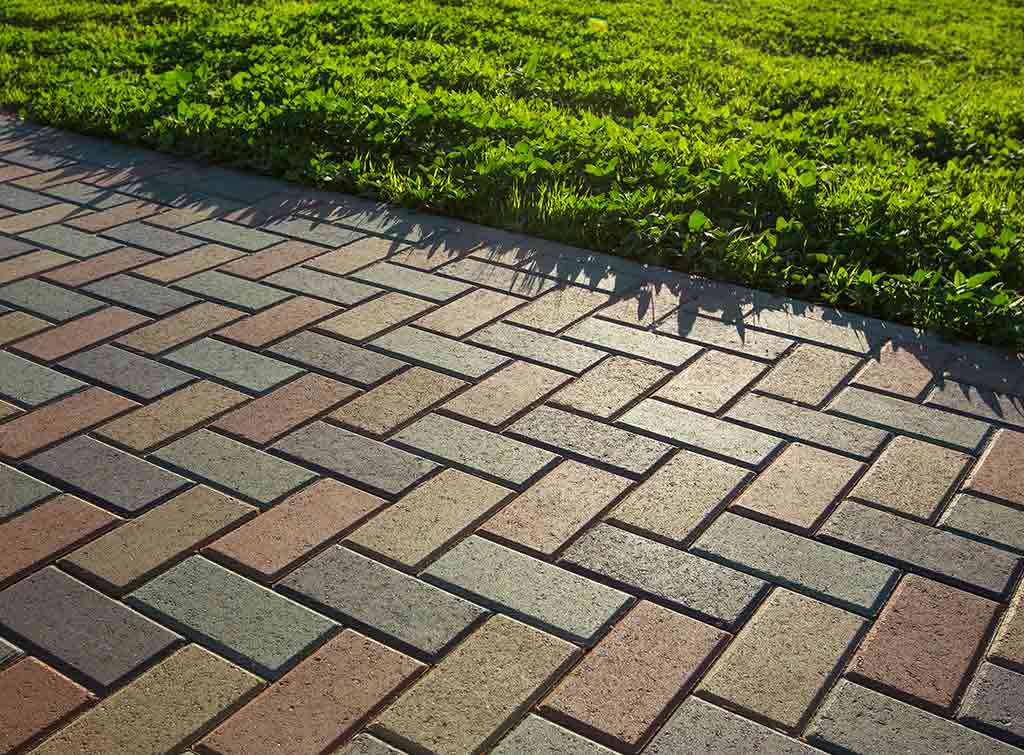 Block paving is a popular and attractive design feature created by using different shapes and colours of brick.
Keeping block paving in tip-top condition and removing any stains or dirt is a matter of maintenance and know-how. There are several methods you can use, but the best way to clean block paving depends on the type of stain or dirt you're dealing with.
Read on for everything you need to know about how to clean your block paving driveway.
The best way to clean block paving
Unfortunately, spillages, wear and tear, tyre marks, and efflorescence happens with block paving.
Maintenance and prevention are better than cure, which is why topping up your joints with sand after your paving is first installed is so important. If you don't do this, you risk flushing out the jointing sand (especially if your pavement is on a slope) and damaging your pavement's foundations.
As for general block paving maintenance, regular cleaning with a medium-stiff broom, an outdoor brick cleaner, and/or weed killer is advised. This is to ensure the longevity of your driveway or patio.
Here are our top tips on how to keep your block paving clean:
Buy a medium-stiff-bristled broom and specialised paving detergent.
Invest in a strong weed killer/deterrent and apply it to the joints between your paving slabs.
If you want to use a power washer, do not use it on the maximum setting. Angle it at 30 degrees and run it on the lowest force possible.
Wash down your block paving to make sure there's no cleaning product residue, which can cause discolouration.
Re-sand or re-point any paving joints as required.
Seal or resurface your block paving for extra durability, especially for high-traffic areas.
For more information, take a look at our guide to Sealing a driveway. For more information on costs, check out our guide to seal coat driveway costs and the cost to resurface a driveway. 
See the tradespeople we've checked and recommend for your job
Best way to remove moss from block paving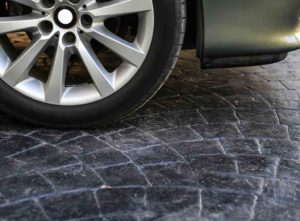 The most tried and tested way to get rid of moss or green algae from block paving is with bleach. This versatile cleaning agent works on a multitude of stains and problem areas, helping to restore your decorative paving to its former glory.
How to clean block paving with bleach
Mix one part bleach to ten parts warm water in a bucket.
Dry brush the pavement and dispose of any loose debris/moss/dirt in your garden wastebin
Pour the bleach mixture onto the stained or mossy area and leave for fifteen minutes to half an hour.
If required, use a medium-bristled brush to rub the solution into more stubborn stains.
Repeat as needed.
Thoroughly rinse with warm water.
Top tip: Don't overuse bleach as most block pavers are porous and will become discoloured over time. Also, if you want to preserve your plant life, opt for white vinegar instead, which is less caustic.
How to remove cement stains from block paving
Some products containing cement often exhibit temporary discolouration after being installed. This is known as efflorescence and will disappear over time. However, to help speed the process up or limit the severity of the natural discolouration, you can wash your patio using a propriety biodegradable citric acid-based cleaner. Never use chemicals and never use wire brushes on clay bricks.
Simply apply the solution and follow the manufacturer's instructions. Ensure you rinse off any residue so your block paving slabs aren't unduly affected.
Top tip: Be sure to channel any cleaning product through your driveway or patio's drainage system. Once dry, check your joints and re-sand or point as required.
How to remove oil from block paving
Oil is a tricky substance to remove due to how easily it's absorbed by other materials. However, most oil stains on block paving slabs can be removed using household products. All you need is the following:
Washing-up liquid
Baking soda
White vinegar
Laundry detergent alternative
Washing up liquid is good for removing oil stains as it absorbs and breaks down its composition. Alternatively, baking soda is a natural cleaning agent and will absorb the oil if left on for a few hours.
For an extra boost, apply white vinegar to the baking soda to create a natural chemical reaction. Finally, opt for bio laundry detergent and leave it on the stain for at least half an hour before scrubbing off and rinsing with warm water. Please note, that what treatment works best will depend on the type of stain.
Top tip: Identify the source of the issue – such as rust from a gutter or an oil leak from your car – and fix the issue so it doesn't stain your paving again.
How to remove tyre marks from block paving
For decorative driveways, tyre marks are often unsightly and difficult to remove. Most of the time, they come off through weathering and general wear and tear, but it depends on the severity of the mark.
Removing these annoying stains with hot water and your chosen detergent should do the trick, but they'll likely require scrubbing with a soft-bristled brush. If this doesn't work, you can also use a power washer to remove the tyre stains.
How to jet wash block paving
Be warned: pressure washing can damage your block paving. It mimics the effect of weathering and is therefore not recommended for consistent use on your driveway. If you really can't stand the sight of the stain, make sure you angle the washer at 30 degrees on the lowest pressure setting until the marks disappear.
How to clean block paving without a pressure washer
For lighter dirt, grime, and stains, wash your paving with warm soapy water and rinse with clean water to remove all residue. Alternatively, a biodegradable cleaning product specifically designed for block paving is worth the investment.
Did you find this article on the best way to clean block paving helpful? If so, read our blog for more expert advice, top tips, and how-tos.