Cleaning a stained patio – everything you need to know
We're going to take a deep dive into what causes patio stains, what to do in an emergency, and how to resolve the blight on your landscaped garden with minimal fuss.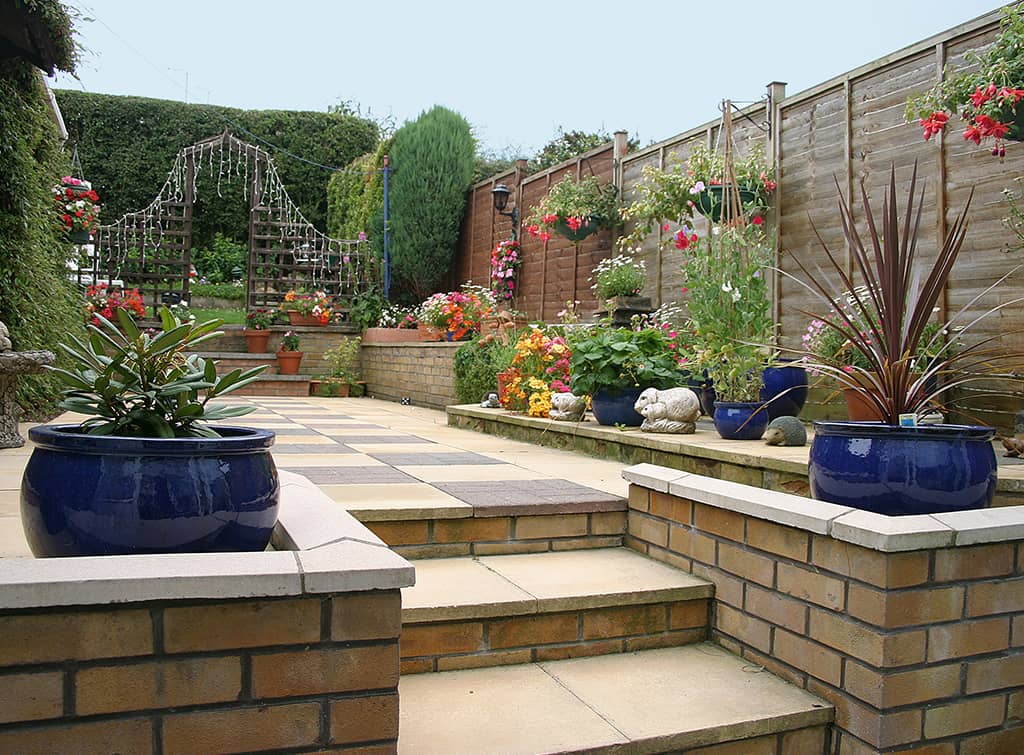 Accidents happen, mess accumulates, and having to read guides about how to clean a stained patio is sometimes necessary.
There's nothing lovelier than enjoying a cool summer beverage as the sun sets on your patio or deck. However, if it's stained or covered in dirt, it's hardly a tranquil experience.
Of course, the solution to the issue will depend on the cause, but that's why we've put together this expert advice guide.
Time to take a deep dive into what causes patio stains, what to do in an emergency, and how to resolve the blight on your landscaped garden with minimal fuss.
What causes patio and decking stains?
There are many reasons your patio might be stained:
Grass or leaf stains from shedding fauna
Black spots caused by lichen
Moss or algae build-up
Wine, oil, gasoline, or other liquid stains
Regardless of the reason for the stain, preventing it from occurring is always better than curing it when it happens.
This is why cleaning your patio or decking, performing regular maintenance, and using appropriate sealants are worth the investment.
The longer stains are left to accumulate, the harder they are to remove.
That's why, in the case of an emergency such as a large spill, leak, or overgrowth of mould, hiring a professional to treat your patio or decking is your best bet. They have the tools, know-how, and expertise to return your patio or decking to its former glory.
Read our following how-to guides for further information:
In some cases, a stained patio is beyond repair due to the chemicals or materials that caused the stain. If this is the case, it might be time to replace your patio slabs or consider a new design for your current one.
Alternatively, read on for our expert advice about cleaning your patio yourself.
See the tradespeople we've checked and recommend for your job
How to remove stains from your patio
In the following section, we're going to break down the best methods for removing stains from each type of patio.
How to clean a concrete patio
The most common stains associated with concrete patios are caused by water, mould, or mildew. One of the best ways to get rid of these marks is to use a pressure washer.
If the stains persist, a stronger solution is needed.
Add half a litre of bleach to four litres of hot water and use a hard-bristled brush to scrub the patio clean. Leave it for 15 minutes before rinsing off with the pressure hose. We'll cover how to jet wash your patio in a little bit.
Top tip: Water your plants or grass afterwards to limit bleach damage.
How to remove stains from a sandstone patio
Moss and algae love sandstone because of its porous nature. However, that's also why it's so easy to clean.
Combine an equal amount of water and bleach and pour it onto your beautiful sandstone patio slabs, then leave the solution to do its job for around 30-minutes.
Wash off the mixture using a hard or stiff-bristled brush, then hose down the area to make sure the bleach dissipates.
How to clean a brick patio
Brick patios are notorious for attracting debris, dirt, and leaves. Use a garden rake or hard-bristled brush to sweep the patio and remove as many stains as possible through dry-brushing. This usually solves most issues.
For stubborn stains, you can always mix one-part bleach with ten parts of water, pour it onto the bricks, and then scrub them clean.
As always, when working with bleach, make sure you rinse it off as thoroughly as possible with a garden hose.
How to get rust off a patio
There are three tried and tested ways to remove rust from your patio depending on the severity of the problem.
Method one: Mix baking soda and water for moderate levels of rust and apply with a cloth. Let it sit for around 15 minutes before cleaning it off.
Method two: Mix baking soda and hydrogen peroxide to make a paste. Apply the paste onto the rusted areas and leave it to sit for 20 minutes before cleaning it off.
Method three: Use an industrial rust remover specifically designed for patios (such as WD-40 or Zep Calcium) and follow the manufacturer's instructions.
How to get paint off patio slabs
Paint accidents happen when you spruce up your garden or home exterior; for example, when you're repainting the outhouse or reinvigorating your fences.
If paint splashes or spills onto your concrete patio slabs, you can try to clean it off using soapy water and some elbow grease. Otherwise, a paint stripper and some gentle scrubbing with a medium-hard brush will do the trick.
Top tip: If your patio is made of sandstone or brick, consider using a jet washer instead. For stone pavers, opt for a gentle paint stripper to avoid damaging the stone.
See the tradespeople we've checked and recommend for your job
How to jet wash your patio
Most jet washers come with the option to add detergent into the machine.
Before you add your chosen product, moisten the patio on the lightest setting first.
Once your patio is coated, add the detergent and spray the patio on the 'mix' or 'low' setting.
Try not to focus on one area too long to avoid unnecessarily eroding the slabs.
When you're finished, leave the mixture to sit for around 10 minutes before rinsing it off. Repeat as necessary.
How to clean your patio without a pressure washer
If you want to avoid pressure washers or want to learn how to clean a patio without chemicals, there is one strong (yet smelly) solution: white vinegar. Mix a half and half solution of vinegar and warm water and pour it onto your stained patio.
Leave it to get to work for around an hour, then use a stiff brush to remove the dislodged dirt from the slabs.
Rinse with a garden hose or bucket of water and buff with a garden brush. Leave it to dry and repeat if the stains persist.
Cost to clean a stained patio
The cost to hire a professional to clean your stained patio will set you back around £250 for a jet wash on a medium patio and £300 to clean and seal a medium driveway.
For more information on the cost to clean a stained patio, check out our cost guide.
Did you find this blog helpful? Let us know in the comments!
For more expert advice, how-tos and cost guides, read the latest articles on our blog.