Colour blocking walls: A great way to make your walls pop
If you've heard of the latest interior design trend on the block and want to get going with some fun paint-blocking techniques, read our expert advice before getting started.

What is colour blocking in painting?
Colour blocking is a style that pairs together colours on the opposite sides of the colour wheel to create striking combinations. It's said to have originated from the artwork of Dutch painter Piet Mondrian and has become a fashionable interior design trend that really makes a wall 'pop'.
Colour blocking paint technique
There are various ways to apply a colour-blocking technique to your walls. One of the more common ways is to leave a wall white or neutral at the top and paint a bold 'block' colour up to the halfway point. It's popular because it divides the room, adding interest and separation for a space-enhancing optical illusion.
However, there are other applications, from simple to complex, which we'll explore.
Colour blocking walls ideas
If you're thinking about a colour block bedroom or living room and want some ideas, we're going to hit you with some inspiration in this next section. Although we always recommend hiring a painter/decorator to do a stellar paint-blocking job, it's possible to DIY colour-block walls yourself using stencils and a steady hand. However, it's worth asking a professional for the more complicated artistry seen below – especially if you're not an artist!
If you're the rebellious type and still want to give it a go, read our how to paint a wall guide for some expert advice. We wish you well!
See the tradespeople we've checked and recommend for your job
Colour block painting for kitchens
This fun pastel clash makes a real eye-popping statement. Whether you opt for full-on Kawaii or keep it bubblegum-neutral, there's no denying a kitchen colour block turns your home hub into an upbeat sustenance station. The diagonal lines require a steady hand and some accurately-place stencils, but the result is worth the time and effort.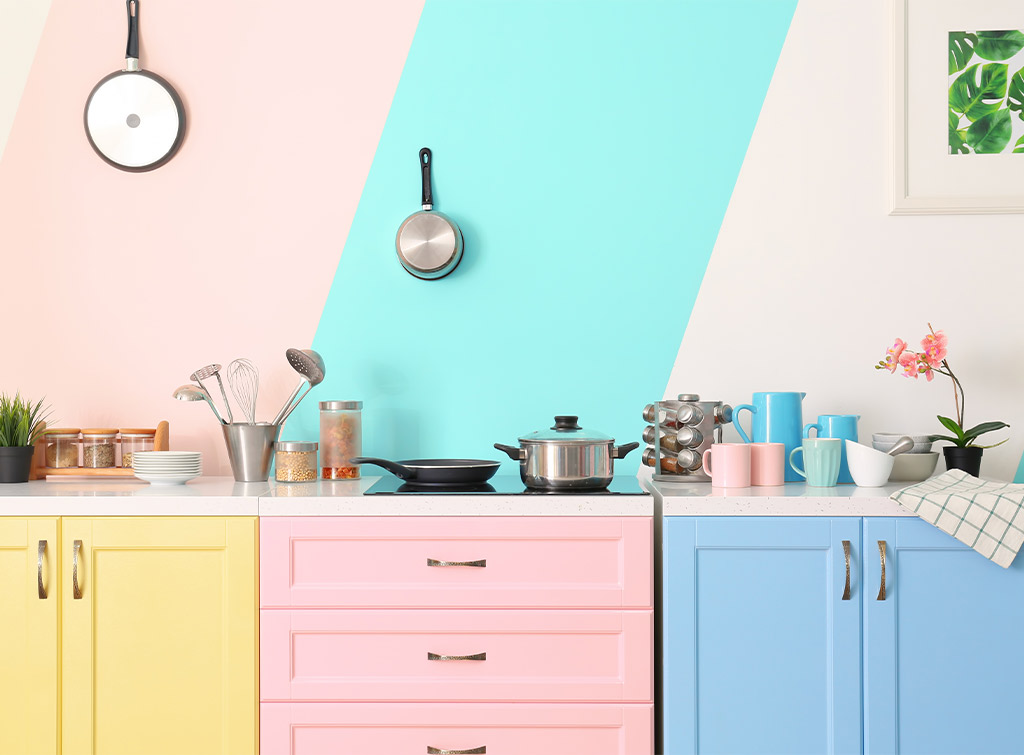 Colour block living room idea
If you're the minimalistic and muted sort, colour-blocking your walls can still work for you. All you need to do is pair two complementary but opposite tones to create interlocking shapes or murals.
This sage-green arch set back in a terracotta wall is the perfect example of working with what you have to create an interesting aesthetic. Perhaps you have a feature wall or some oddly-shaped alcoves? Why not pick a bold tone and colour-block it, so it stands out?
Colour block painting ideas for a child's bedroom
You don't need to confine your colour-blocking technique to patterns. Why not get arty and interlace blocks that create a mural or piece of art? This child's bedroom features complementary colours that tie in with the rest of the bedroom. However, it manages to build blocks of colour that depict a mountain landscape, creating a sense of wonder and imagery.
If you'd like to know what a mural like this might set you back, read our mural painting cost guide.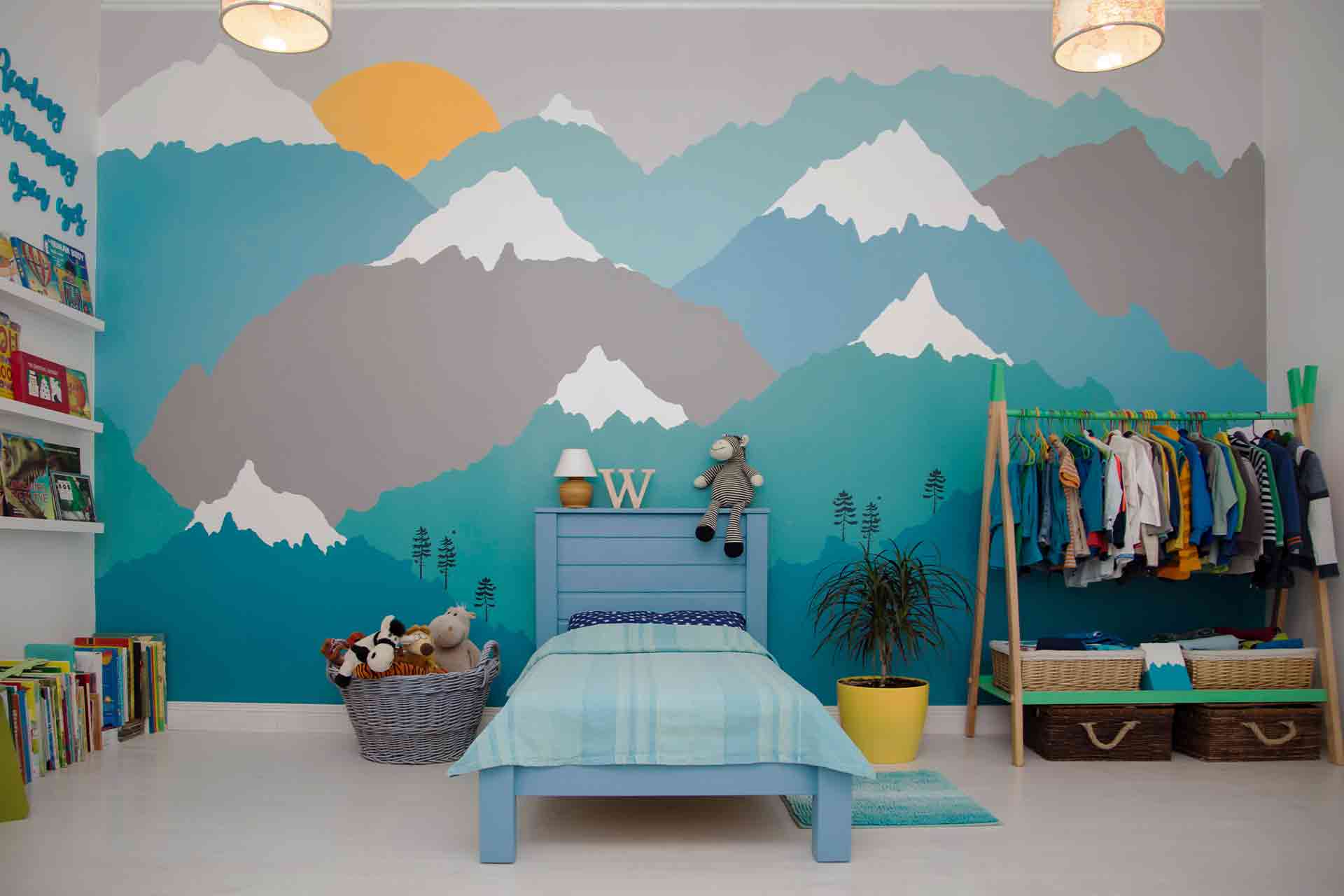 Colour block accent wall technique
One of the easiest ways to block colour a wall is to add it to one area of a room. This might be a feature wall, an alcove, or even a ceiling. The trick is to keep the rest of the room muted and choose a bold colour that really makes a pop. However, before you add this technique to any old wall, really think about where you want to feature the colour. What's the best place for it to make a statement? Do you want to divide a room or warm up a particular space? For example, the bathroom pictured opted for an emerald green on the wall next to their slipper bath, which adds luxury and warmth to an otherwise cold space.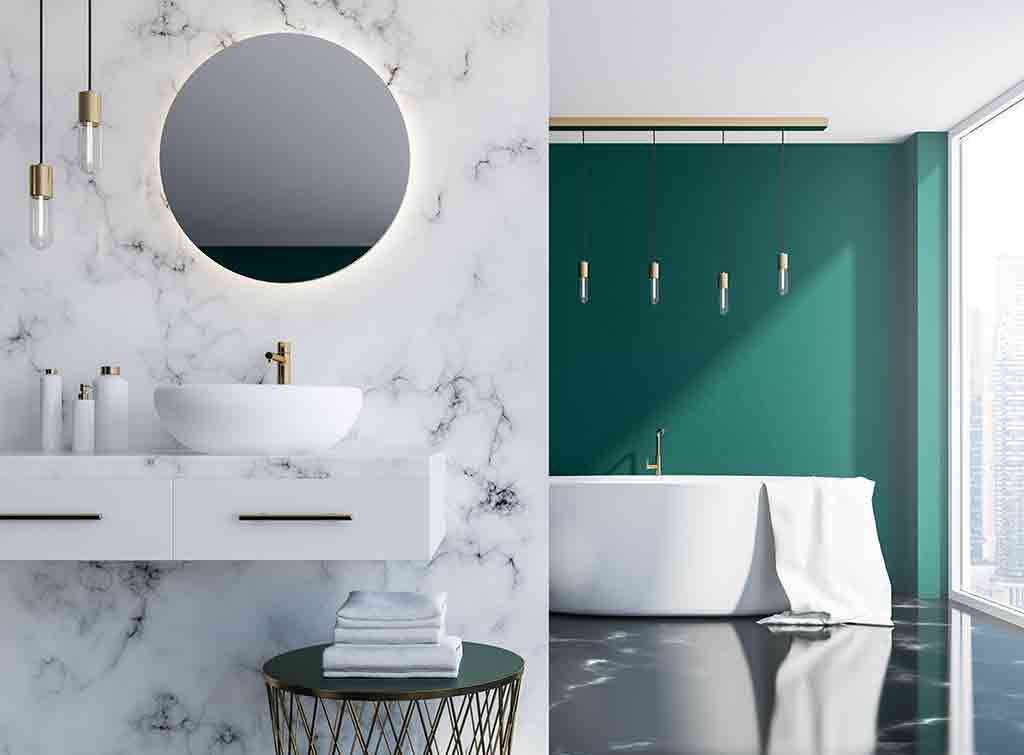 Cost of colour-blocking walls
The cost of your project will depend on a few factors, such as the size of your room and the amount of prep work needed.
The average day rate of a painter and decorator is £230 per day.
For more comprehensive painter and decorator prices, read our blog. It's also worth noting that colour-blocking is a specialised technique, so make sure you know how to pick a trustworthy painter and decorator before getting started.
FAQs
How do you colour-block a wall?
To colour block your walls, you need to decide on your complementary colour combinations. Try to choose colours on opposite sides of the colour spectrum for maximum impact. Once you've picked your favourite colours, work out where you want to paint them. Is it halfway up your wall? A geometric feature wall? A lonely alcove? Perhaps you're opting for a large mural or interlacing block shapes? Whatever you choose, make sure you use tape and pencil to define the edges of your design. Once you're happy with how it's going to look, start adding the paint in designer blocks!
What is colour blocking in interior design?
When interior designers talk about colour blocking, they're referring to a painting and colour-matching technique inspired by Dutch painter, Piet Mondrian.
See the tradespeople we've checked and recommend for your job