Working from home has fast become the norm for many of us since the pandemic. Reckon you're lacking space? Chances are you have more room for an office than you realise. Playing tricks with lighting and getting creative is key. If you're coming up short on ideas, here's some inspiration for how to make a home office in a small space.
Top tips for creating a home office in a small space
Get clever with lighting
Play with height
Pick the right colour scheme
Tidy office clutter
Divide spaces up
Maximise storage space
Get a fold-down desk
Choose wall-mounted furniture
Change the living room layout
Double-up furniture
Get clever with lighting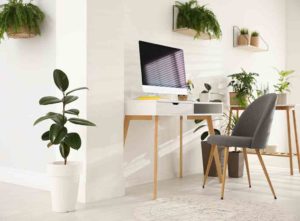 Windows, lamps and overhead lights are your friend! Even if you don't have access to natural sunlight, ensure you keep the place bright with artificial lighting. This will not only make the space feel more positive and help keep you awake, but it will also make it feel bigger.
In fact, getting clever with lighting is one of the most important small room ideas.
Some top tips:
Don't rely on a single light source in the middle of the room – spread it around
Get the right-size lampshade (tall and thin can help make rooms feel bigger)
Hang a mirror to bounce light off it
Get a desk lamp
Play with height
So, you're short on space? You might well have more than you realise: look up. There's likely unutilised space you haven't taken advantage of. High shelving can make for great office storage without taking up too much valuable space. For example, alcove shelves can provide storage while making a space feel bigger.
Pick the right colour scheme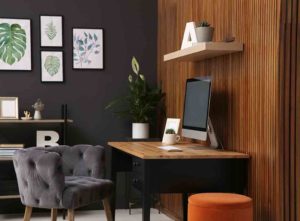 The best office spaces use colour to their advantage. Try to pick colours you associate with productivity, rather than chaotic, clashing colours.
In a small room, softer, more neutral colour schemes can often work better. However, that doesn't mean you should be afraid of a feature wall. A bold wallpaper can add a sense of style and personality while creating the illusion of space.
It can be easy to get bored staring at the same four walls working from home all day, but playing with colour is a simple aesthetic idea that can give a room a refresh.
Tidy office clutter
Messy, cluttered spaces will feel smaller and may heighten stress levels while you're trying to work. But, small rooms don't have to be untidy.
Tuck any cables and wires away, or use cable organisers to ensure they're neatly out of sight. Use a desk organiser to keep your workspace as clear as possible. If you don't have any cupboard space, utilise any free space under the desk for storage.
Divide spaces up
Don't have a dedicated room for a home office? Many of us don't – but there's still plenty you can do.
To create a sense of privacy and better designate 'zones', you could use room dividers. These can help break up an area or create a study room, without having to compromise on space.
See the tradespeople we've checked and recommend for your job
Maximise storage space
Get creative when it comes to storage:
Reuse jars (e.g. for pens or office stationery)
Utilise hangers
Designate a specific drawer or part of the wardrobe for office bits
Get multi-sized storage boxes
It's key to have everything close by, so you don't have to keep moving around the house to find everything you need for work.
Get a fold-down desk
Don't have room for a desk? A fold-down desk can be a great way to utilise any dead wall space while providing a handy solution. This can be folded away when not in use so as not to take up precious space.
Choose wall-mounted furniture
If you don't have the floor space you need, you have plenty of options. Go for wall-mounted:
Bookshelves
Mirrors
Cupboards
Lighting
Change the living room layout
For some, the living room is the biggest space in the house. So, why not create a designated area in the living room for your home office?
You could put a desk behind the sofa to create a multi-use space. A window sill can also make a great area to work from home.
Or, why not turn an unused corner into a workspace?
Double-up furniture
Office desk by day, kitchen table by night. Living room cupboard, or handy storage solution? Instead of buying a single purpose desk chair, why not double-up a bar stool or kitchen chair?
Creating a home office in a small space sometimes needs careful planning and little creativity, but it can be easier than you might think. It's likely you have everything you need to create a comfortable working environment, you just need to look at things a little differently.
Check out Move iQ for more unbiased property advice and services.
See the tradespeople we've checked and recommend for your job
Tell us what you think
What others think of this article:
Need More Information?
Related posts