Give your home a much-needed refresh with these aesthetic room ideas.
An aesthetically pleasing room is ultimately somewhere that brings you joy and happiness, however, there are few key interior rules that you should stick to.
Firstly, ensure the colour scheme creates a welcoming and inviting feel so you'll want to spend time in it. Secondly, there should be plenty of storage so clutter is kept to a minimum for a calm, fuss-free ambience. Thirdly, there should be plenty of comforting textures throughout the room, including the flooring, furniture, and accessories, to guarantee a relaxed setting. Combine these key factors and your room will be a success.
For more inspiration, scroll through these images of aesthetic room ideas, then use our free search tool to find a local decorator who can help you create a home that you'll love.
Like what you see? There's more where this came from. Check out Checkatrade's blog for more tips, ideas, how-tos, and inspiration.
Create a home you'll love with these decorating ideas for every room.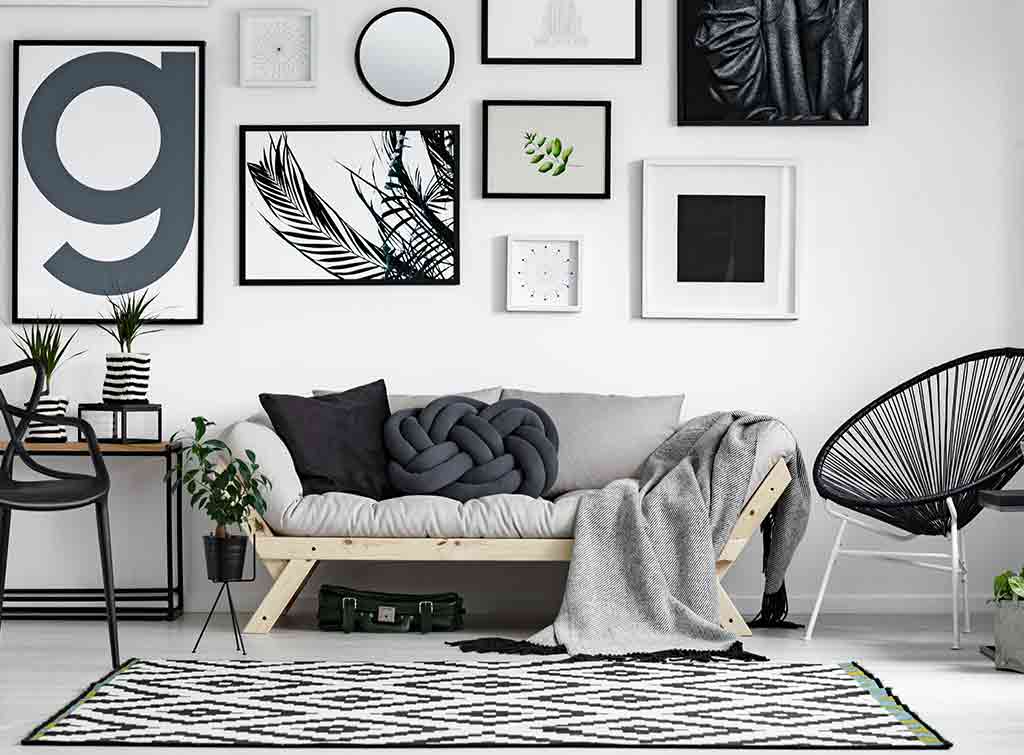 Aesthetic room decor
For the ultimate sleep sanctuary that's restful and relaxing, create a connection with nature by teaming calming earthy tones with soothing organic textures.
Opt for a serene green palette and use varying shades around the bedroom for a peaceful setting. Richly grained timber, chosen for features like a headboard and bedside tables, will create a bold design statement, while natural textures, like rattan and wicker, add layers of cosiness and warmth.
Aesthetic room decor ideas
Sticking to a sleek monochrome palette is aesthetically pleasing thanks to the clean, minimal feel it evokes. In spaces with limited colours, try playing with a mix of pattern, bold shapes, and textures to bring interest and energy.
Looking to create a focal point on a plain white wall? Experiment with an electric collection of prints in different sizes and frame styles, and arrange them together for a striking gallery feature. The key to a successful and cohesive display is to pick a colour or theme that ties each print together.
Take a look at our picture hanging cost guide to find out how much it would cost to get the look.
Aesthetic room ideas for small rooms
Want to make your tiny home office more inspiring? Go for light, bright walls that will create a sense of spaciousness and a positive vibe to encourage your energy levels.
Maximise every inch of the room with storage, such as shelves on the wall walls and the space below the desk for baskets. This will ensure your small room stays tidy and orderly, and you can feel super-productive in your smart setting.
Room aesthetic ideas
Lighting is crucial for an aesthetically pleasing room scheme. Too bright and the room will feel stark and cold, too gloomy and the space will feel unwelcoming.
The key to a successfully illuminated space is to layer the lighting with a combination of pendants, lamps and floor lights that can be used independently to create different types of ambience. For example, a kitchen dinner requires good task lighting, such as pendants, above worktops and an island for cooking, as wells as mood lighting, such as lamps, in the entertaining and dining zone.
Find out how much lighting design costs.
See the tradespeople we've checked and recommend for your job
Tell us what you think
What others think of this article:
Need More Information?
Related posts