Dog proof fencing: Creating a dog-friendly garden
Are you a recent, or soon-to-be dog parent? As a responsible owner, it's important to keep your dog safe in the home and your garden with dog proof fencing.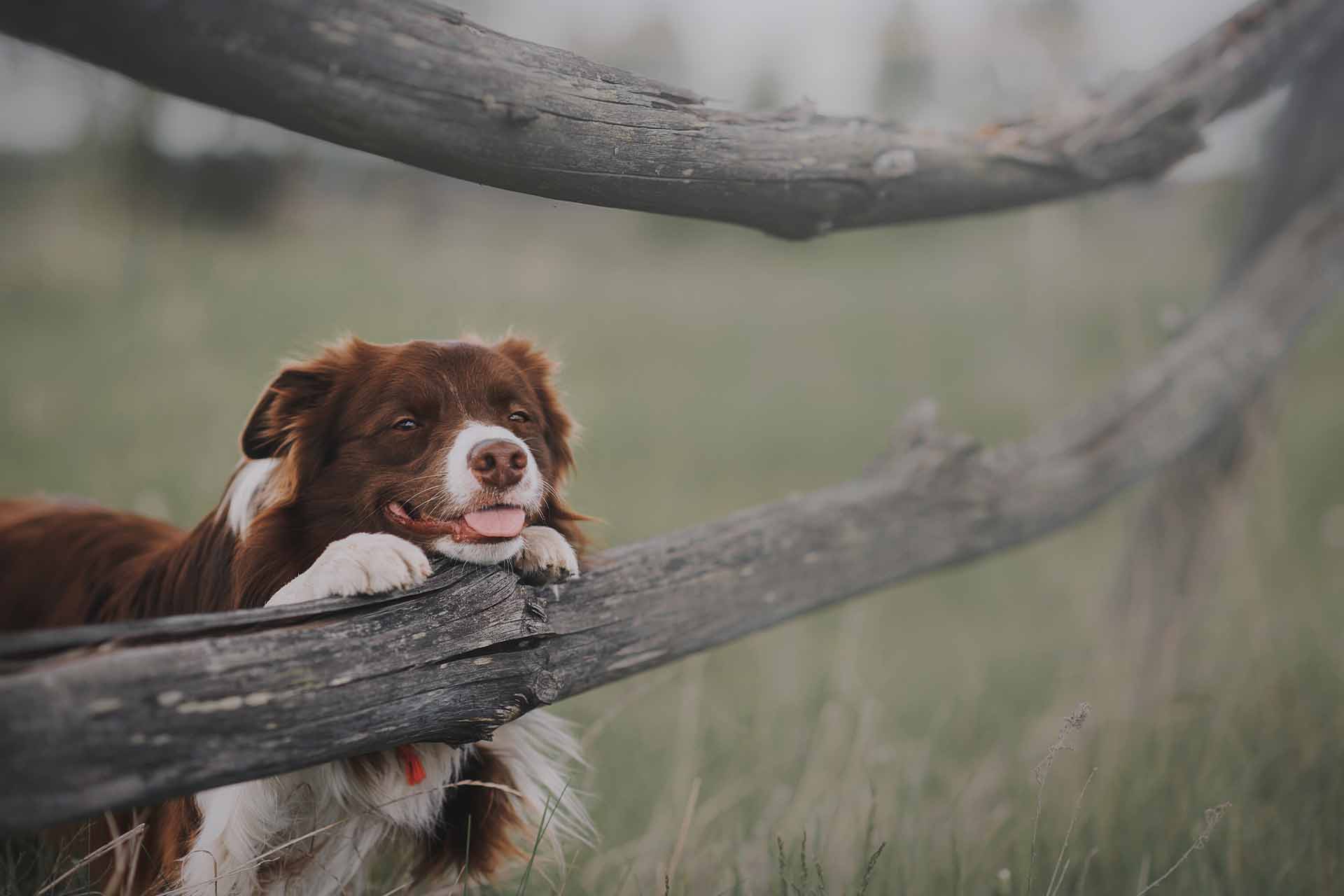 Are you a recent, or soon-to-be dog parent? Dog ownership has exploded in the last 18 months, and as a responsible owner, it's important to keep your dog safe in the home and your garden with dog-proof fencing. Read on to find out what puppy proof fence options there are.
Why do I need dog proof garden fencing?
Your garden is an excellent opportunity for your pooch to get some exercise and have fun, but it's also important to keep them out of harm's way.
By installing dog-proof fencing you can keep your dog safe and allow them that little slice of freedom. It's a great opportunity to create a dedicated area for your dog that is stimulating for them as well as being a safe haven.
Dog-proof fencing is also a means of preventing or deterring dog thieves. It's something all dog owners worry about, so if you plan on letting your furry friend loose in your garden, proper fencing is a must.
Main considerations when choosing dog proof fencing
Size, breed & temperament of your dog
Your location
Garden design and layout
When you're considering installing dog-proof fencing you need to think practically about not only the size of your dog but its behaviour too. If you have a small breed such as a dachshund or terrier your requirements will be different than if you have a german shepherd or a labrador.
Your dog-proof fencing needs to be tall enough to stop them from jumping over it, but also needs to take into consideration how playful or curious they are.
If you have a dog that is anxious or easily spooked by other dogs, cars, or other animals then solid panel fencing is a must. If you have a more placid or highly sociable dog that needs stimulation and company, then you can consider fencing options that allow more visibility.
A huge factor for the type of fencing you need is where you live. If you're in a city or suburbs with roads and pathways nearby, your dog proof fencing needs to keep your dog safely enclosed and away from danger.
If you live in the countryside, think about how easy it is for your dog to escape or come into contact with other animals such as horses, rabbits, and birds.
The final consideration is what type of garden you have, or want to have. Maybe you want your dog to have free roam of your outside space, or perhaps you need to protect your vegetable patch or keep your dog away from poisonous plants? For more ideas and inspiration take a look at our blog on dog friendly garden ideas.
Dog proof fencing ideas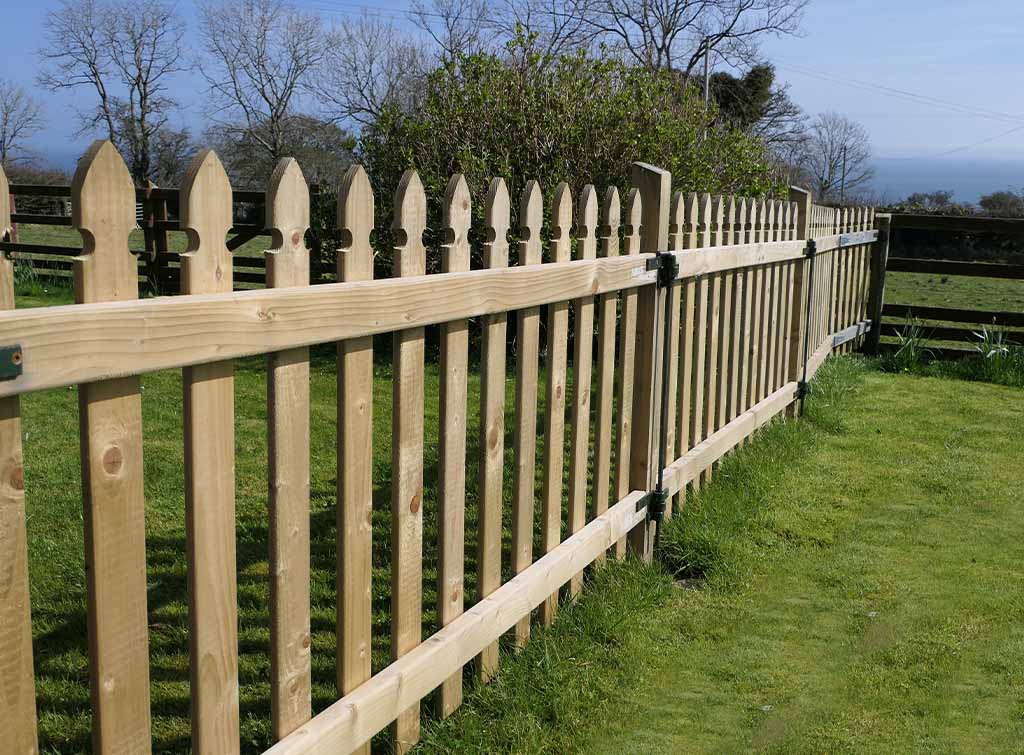 Once you've considered the factors above, it's time to look at the options available. They can be categorised into these options below:
Solid timber – This kind of fencing is your typical garden fence. A good standard option for a perimeter fence to keep your dog safely enclosed in your garden. If your dog is prone to digging it is worth considering adding additional foundations to prevent them from escaping underneath the panels.
Picket fence – A picket fence is functional and also more decorative. Picket fencing could be used in a front garden or for sectioning off a dog-friendly area in a small or average-sized back garden. This type of fencing is really only suitable for smaller dog breeds that aren't too prone to jumping. It's also good for small dogs that like to be nosey!
Stock fencing or chicken wire – Stock fencing is a type of wire fencing that comes in different grades or strengths and is most commonly used in agricultural settings. Stock or chicken wire fencing is a great dog-proof fencing option if you have a digging dog on your hands. This type of fencing could be used in a rural setting as a perimeter fence, or to cordon off a specific area in a larger garden.
Post and rail fencing – Similar to stock fencing, post and rail fencing is ideal for countryside locations. This fencing comprises of upright posts, with wooden rails running horizontally to create the barrier. This type of fencing is very open so is the least secure option. Some people choose to add a layer of chicken wire or mesh on one side to act as a protective panel to stop dogs from escaping or allowing smaller animals in.
If you're planning on constructing or adding dog-proof fencing to your garden it's always a good idea to consult with a tradesperson to get the best advice.
See the tradespeople we've checked and recommend for your job
Dog-friendly garden design ideas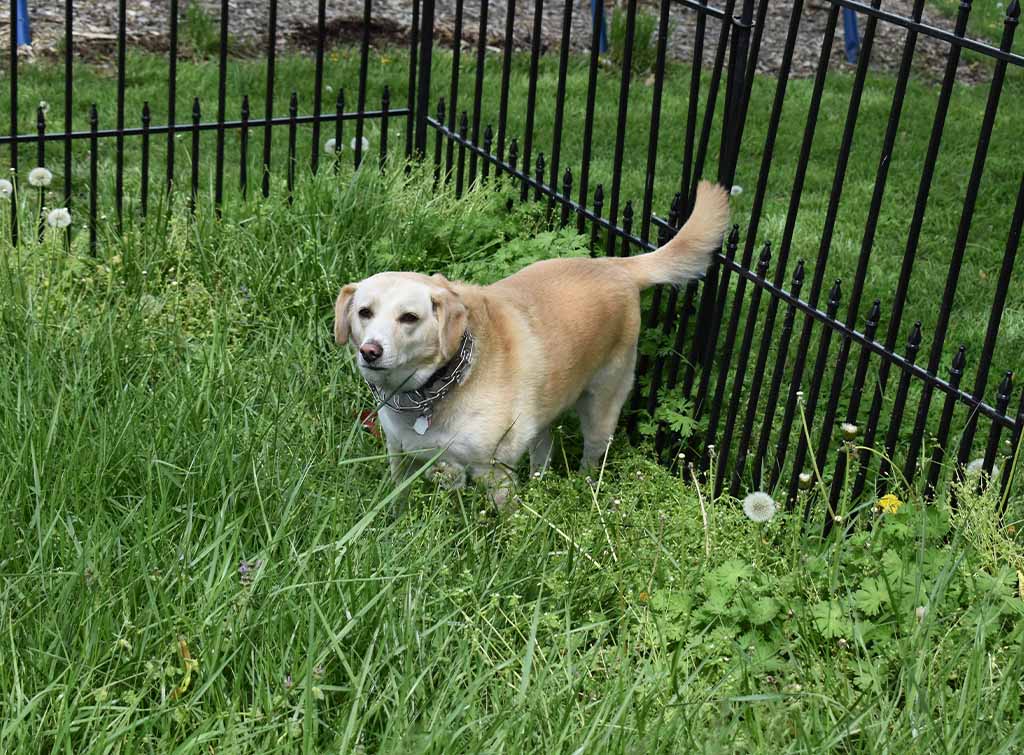 Adding dogproof fencing doesn't mean your garden needs to become less attractive. Some alternative solutions for dog-proof fencing include:
Getting creative with dog-friendly hedge planting
Consider temporary runs or pens made from steel
Create a digging zone
Consider going lawn free
Create areas of shade
Add quiet space for your dog to retreat – Give your dog their own sanctuary outside by building a kennel
Fence off or cover ponds or water for safety
Whether you're looking to make a permanent change to your garden or simply want a temporary dog-proof fencing solution, we hope this guide is helpful. If you're still unsure, speak to a local fencing expert that comes highly recommended.
FAQs
How tall should my dog-proof fencing be?
At least 6ft for larger dogs, or lower for smaller dogs or breeds that aren't known for jumping high.
How much does it cost to build a dog-proof fence?
For a closed board timber fence for a small garden, you can expect to pay £38 per metre installed. The average cost is £700 – £1,000 for eight fence panels. For more info on fence installation costs see our fence installation cost guide.