Eco roofing: What is the most energy efficient roof?
Eco roofing is a great way to upgrade your home's energy efficiency and improve its environmental credentials. Stay ahead of the curve by upgrading your roof with sustainable building materials and prepare to save some pennies! Keep reading for a full breakdown of everything eco and roof related.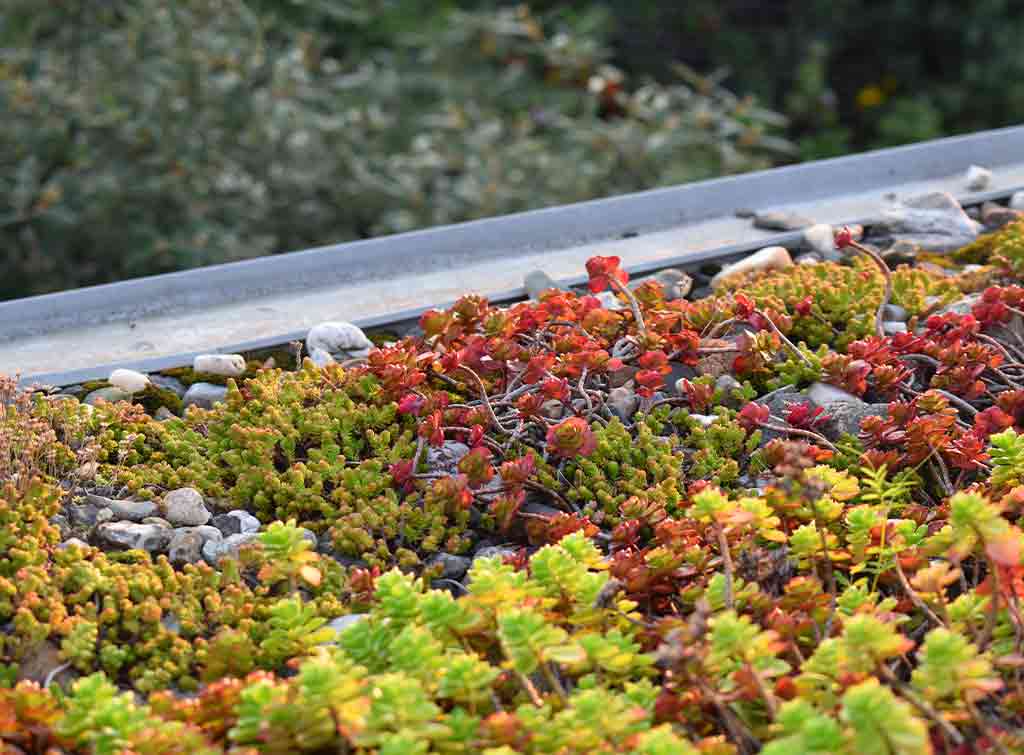 In today's sustainability-conscious world, eco roofing is a great way to future-proof your property. However, with so many options on the market, knowing what green and eco-friendly roof options are available will help you make an informed decision.
Thankfully, due to the concerns around climate change, an increasing number of homeowners are looking for sustainable options, resulting in eco-conscious builders meeting demand by finding ways to reduce the carbon footprint of their operations and lower energy costs. This includes during construction, what materials they use, and the smart designs they employ.
Keep scrolling for our expert advice on everything you need to know about eco-friendly and energy-efficient roofing.
What is eco roofing?
When people talk about eco roofing, they're referencing a sustainable roofing system designed to minimise your home's environmental impact.
The design refers to (but isn't limited to) factors such as:
Reducing your roof's energy consumption
The sustainable materials used to build your eco roofing
How stormwater runoff is managed
What is the most energy-efficient roof?
If you're looking for some energy-efficient and eco-friendly roofing options, there are plenty to choose from. However, just keep in mind factors such as their durability, energy efficiency, and sustainability. It's worth noting that some materials are more appropriate for certain climates or building styles.
Thankfully, a professional roofing expert will be able to help you choose the best eco-friendly roofing material for your building and budget.
In the meantime, let's take a look at the most popular eco-roofing options and their environmental benefits.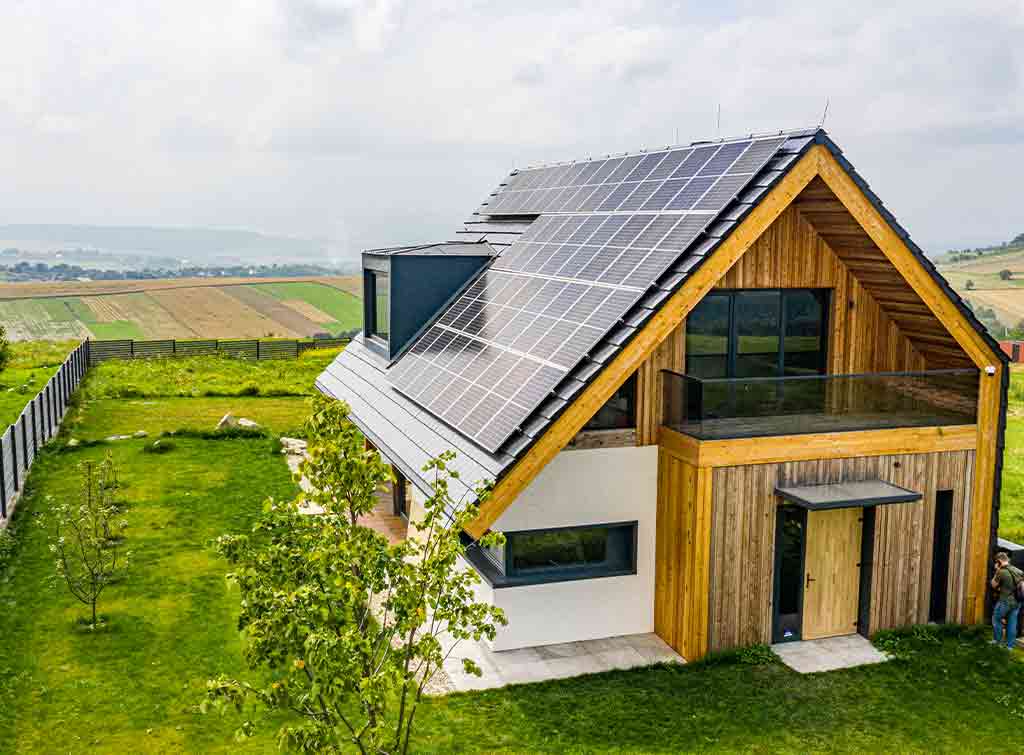 Eco-friendly roofing materials
Eco roof panels
Typically made from recycled materials such as plastic or metal, eco-roof panels are designed to provide insulation and reflect sunlight, which helps to reduce your energy costs.
Solar panels are a popular type of eco roof panel. They are designed to generate electricity from the sun which helps to power your home. As a result, it reduces your reliance on the national grid and can help you to save money on your energy bills in the long term.
Solar panels are commonly made from photovoltaic cells to convert sunlight into electricity. You can install them on various types of roofing materials.
Read our solar roof tiles cost guide for more information.
Clay tiles
Clay tiles are highly durable, fire-resistant, energy-efficient and can be recycled. This means fewer of them end up in a landfill.
When they reach the end of their lifespan, you can reuse clay tiles for landscaping your garden or in other decorative projects.
Eco slate
Slate is a highly durable and long-lasting natural stone. It's also energy-efficient and helps to reduce energy costs by providing insulation benefits.
Slate is also a natural material that's easily recycled or reused for other purposes at the end of its lifespan as a roof.
Eco metal roofing
Metal roofing is highly durable and energy-efficient. Eco-roofing versions are made from recycled materials and coated with reflective materials to further increase their energy efficiency credentials.
Eco rubber roofing
Made from sustainable materials, rubber roofing – aka Ethylene Propylene Diene Monomer (EPDM) – is considered an environmentally friendly option for roofing because of its long lifespan and energy efficiency.
However, it's important to note that EPDM roofing isn't biodegradable and also releases toxins when it's burned. Therefore, you need to properly dispose of or recycle it at the end of its lifespan.
See the tradespeople we've checked and recommend for your job
Eco-friendly roofing options
Now we'll take a look at some roofing options that are good for the environment, lower your carbon footprint, and save you money on your heating bills.
Eco green roof (aka, living roof or eco flat roof)
Aptly named because they're covered in vegetation, green roofs are both attractive and extremely useful. They provide insulation, absorb rainwater, and help to reduce the 'urban heat island effect' because of your and your neighbours' proximity.
Green roofs are either:
Extensive with a thin layer of soil and low-growing plants; or
Intensive with a deeper layer of soil and taller plants
You can also install them on a flat or sloped roof.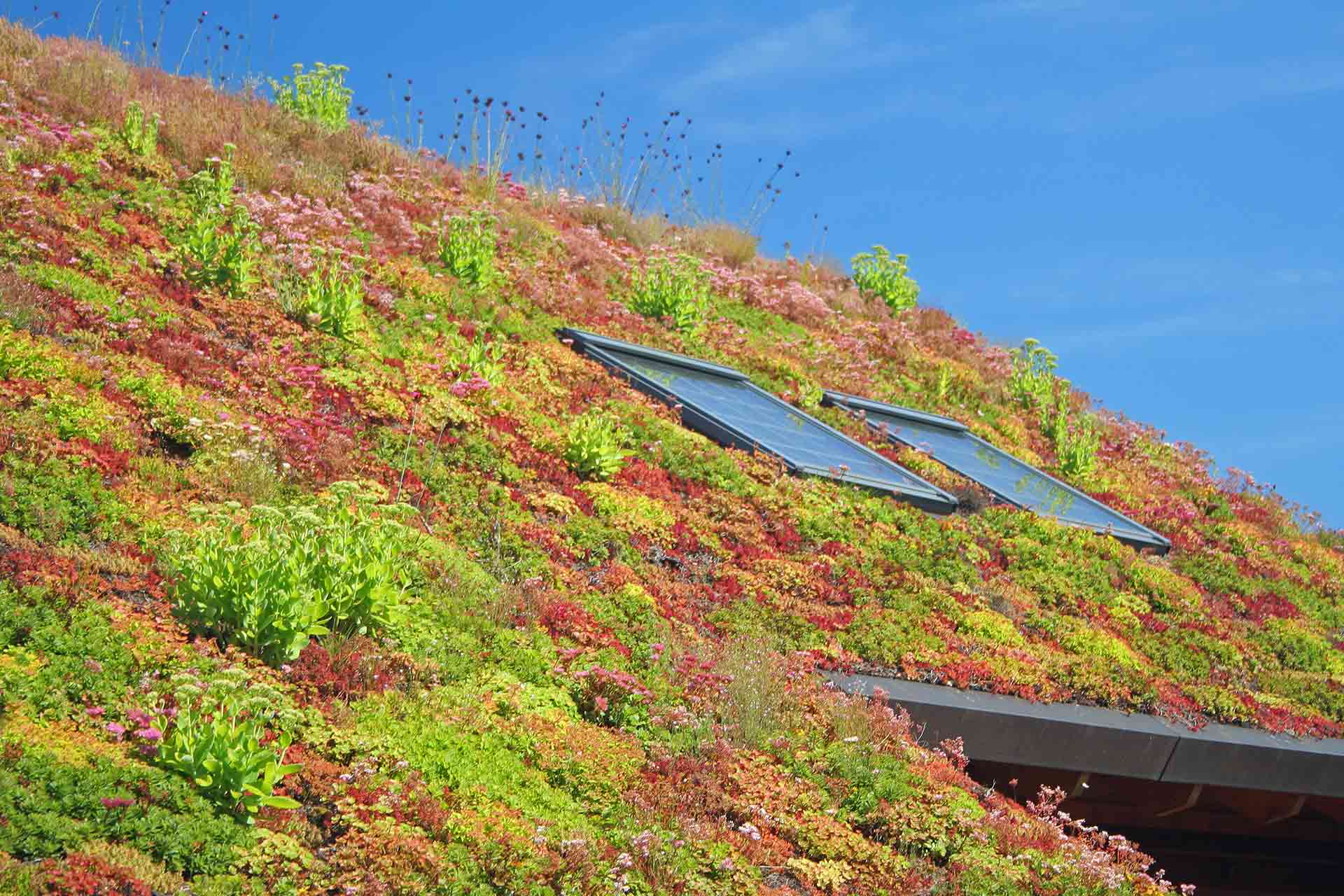 Metal roofs
Metal roofs are lightweight, durable, and fully recyclable. They're also long-lasting and energy-efficient due to the way they reflect sunlight and heat. This helps keep your home cooler in the summer months.
Tile roofs
Tile roofs are made from clay or concrete and are extremely durable. They're also energy-efficient because they provide insulation, helping to keep your home cool in the summer and stopping the heat from escaping in winter.
Tile roofs are also resistant to fire, insects, and rot, which is why they're one of the most popular roofing materials on the market.
White roofs (aka, cool roofs)
Made from a reflective material that reflects sunlight and heat, white roofs keep your home cooler in the summer. This reduces the need for air conditioning and is why you see many of these roof designs in hotter countries.
White roofs are mainly made from white or light-coloured materials; for example, TPO, PVC, or EPDM.
Final thoughts
It's worth noting that some materials aren't suitable for certain climates or building styles. For example, a green roof may not be practical in an area with frequent droughts or where the building can't support the weight of the soil and plants.
We recommend consulting a professional roofing expert who's knowledgeable about sustainable roofing materials. They'll help you determine the most sustainable option for your building and budget.
FAQs
What is the most sustainable roofing material?
As mentioned above, metal, clay, slate and living roofs are all sustainable options. Alternatively, PVC is one of the most sustainable roofing materials due to its strength, versatility, and Energy Star and Cool Roof building ratings.
What is the most energy-efficient roof?
It depends on a variety of factors, such as the climate you live in, your home's location, and your local building codes.
For example, green roofs are an excellent choice for reducing energy consumption and managing stormwater runoff. Metal roofs are a great option for their reflective properties and long lifespan, and white roofs are a good choice for hot climates where air conditioning costs are high.
Is rubber roofing environmentally friendly?
Although it's durable and lasts a long time, rubber roofing isn't biodegradable and therefore not as green as some of its natural alternatives (e.g., slate).
See the tradespeople we've checked and recommend for your job