Everything you need to know about landscaping planning permission
Make sure you don't get on the wrong side of your local authority by knowing everything you need to know about landscaping planning permission.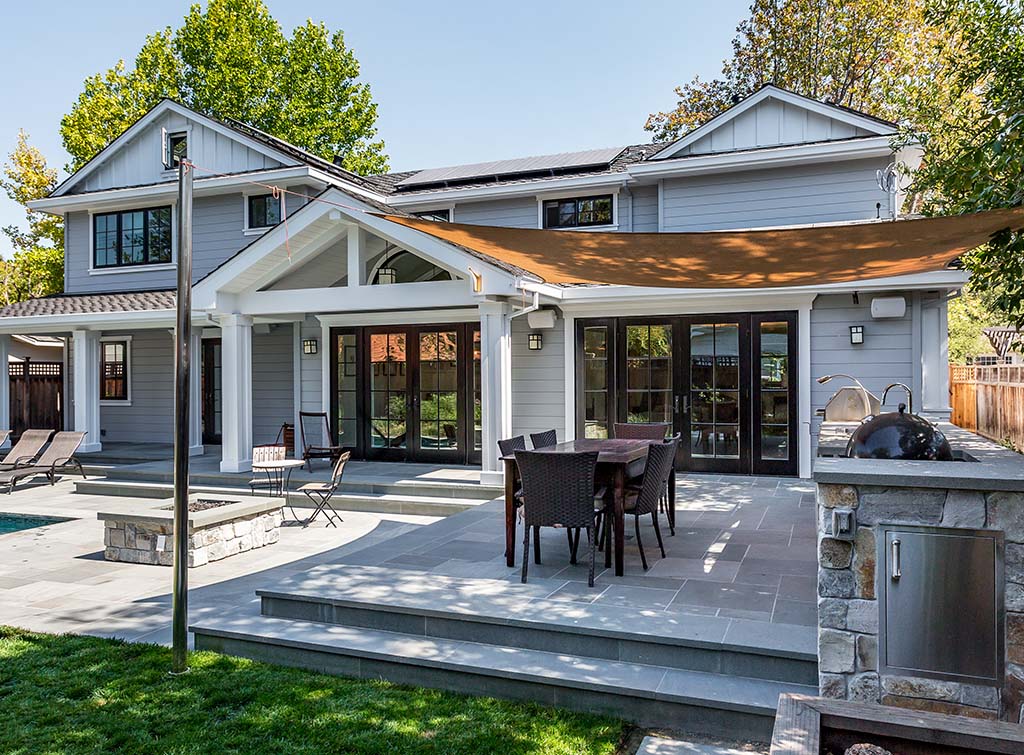 Realising you need landscaping planning permission halfway through digging up your garden is every homeowner's worst nightmare. Every local authority has its own regulations, but the same legislation almost always binds them. So, making sure your garden design doesn't fall outside of approved planning laws lets you implement your vision without the fear of legal ramifications.
It's worth noting how people wrongly assume their gardens don't need planning permission or aren't subject to buildings control. However, as any good landscaper will tell you, rules and regulations are worth following to avoid getting into trouble. Good garden designers and landscape contractors understand the rules and regulations and are also familiar with CDM regulations for when work begins. If they're not, run a mile! You've likely just hired a cowboy landscaper.
Do you need landscaping planning permission for your garden?
The short answer is: in some cases. We're going to cover what those cases are below. However, the best advice we can offer is to build your garden around the rules to avoid backlash.
Top tips:
Hire an experienced garden designer who knows the local rules and regulations in your area
Go onto your local authority's website and check the planning rules and building regulations yourself
Choose permeable surfaces wherever possible (pavers, turf, gravel etc.)
Use caution when it comes to the height of your boundary walls or fences (stick to under 3 metres)
Hire a certified electrician to install any exterior electrics
Don't uproot any healthy trees – incorporate them into your existing design
Make sure your landscaper is aware of CDM regulations
Speak to your neighbours as a courtesy before you start work
Remember that planning permission and building regulations are there to protect you, the character of your neighbourhood, and the environment in general. That's why it's always worth considering what's approved before you start work and incorporating any adjustments into your design. IF you're in any doubt, check with your local planning department before starting your landscaping project.
See the tradespeople we've checked and recommend for your job
Planning permission for a driveway or patio
Parking spaces are a premium these days, which is why homeowners install driveways in their front gardens. You don't need planning permission to pave your front garden using porous materials like concrete pavers, gravel and soakaway systems. This ensures proper drainage and reduces the likelihood of overwhelming the system with rainwater. In short: the water needs to soak into the ground naturally.
If you want to install an impermeable surface (e.g. tarmac) that's over 5 square metres; you'll need to seek planning permission. However, if you're looking for durability and longevity, consider a resin-bound driveway or patio, which is both permeable and aesthetically pleasing.
Planning permission for a garden room, shed, or summer house
Before you hit "buy now" on your new chill-out pad in the garden, make sure you do your research on garden room planning permission rules; start here. Then if in doubt, it's worth checking with your local council planning officer. That said, as long as you're not sleeping in it, including a small structure (no larger than 15m2) in your back garden is fine. So, if it's storage or an entertainment shack you're after, go ahead! You just can't build alternative accommodation without securing planning permission first. In terms of building regulations, you won't need to apply for planning permission if:
The square footage is between 15m2 and 30m2;
It's at least 1m away from any boundary, and
It's constructed of predominantly non-combustible materials.
The structure should also remain under 3m, not impact your neighbours, and not cover more than 50% of your home's curtilage (including any extensions or outbuildings already built).
NB: If you want to add a building or structure to your front garden, you'll need to check whether your planning department is happy with that. f you want to get a quick look at planning permissions relating to sheds, then check out our article.
See the tradespeople we've checked and recommend for your job
Planning permission for changes to the ground level
Do I need planning permission for decking?
You can add decking or elevate areas in your garden as long as it doesn't extend higher than 30cm from the current ground level. It also can't cover more than 50% of your home's curtilage.
Do I need planning permission to install a swimming pool?
Suppose you want to build a swimming pool. In that case, this also falls under permitted development, as long as it doesn't exceed 50% of your home's curtilage, which includes any shed, extensions, outbuildings etc., in the calculation. This is good news for those with big gardens but potentially bad news for those with a smaller amount of roaming space.
Garden utilities planning permission
Do I need permission to landscape around drains?
When it comes to planning permission for your garden utilities, you don't need permission to landscape around manholes or drains. That said, understanding who the drains belong to and who's responsible for their upkeep is essential. Your local water board should be able to answer this for you, and it's always worth finding out before you make any changes to your garden. This is because changes or additions to your drainage system require approval under building regulations. You'll need permission and what's known as a CCTV drain survey.
Furthermore, the Environment Agency expects homeowners to follow certain rules when working near septic tanks, cesspools, coastal defences, floodplains or watercourses.
Do I need to get planning permission for exterior electrics?
Although you can build an outhouse based on the aforementioned guidelines, hiring an electrician to install your wiring is a building regulation you can't skip. This is especially important when it's outdoors. Adverse weather is a huge safety risk for any electrics that aren't properly installed or certified.
Garden wall planning permission
If you want to install a fence, gate, or wall, some circumstances require you to obtain planning permission. For example, if your new barrier is over 1m tall and you want to install it next to a path or road, you'll need planning permission. If it's over 2m tall, you'll need planning permission regardless of where you're putting it. Some developments have rules about whether you can or can't install a fence or gate. Therefore, it's always worth checking with your local authority about any rules. Alternatively, take a look around your neighbourhood to see if anyone has a design similar to the one you're hoping to achieve.
NB: If your house sits on 'designated land,' such as a national park or conservation area, planning permission is more limited. These restrictions also extend to grade-listed properties. Please read our guide on: Listed building consent: What you need to know for more comprehensive information.
Did you find this article helpful? If so, we have plenty more expert advice, how-tos and cost guides over on our blog.