The complete guide to patio doors
Explore our comprehensive guide to choosing patio doors. Including different types of patio doors, how to choose patio doors and a handy installation guide.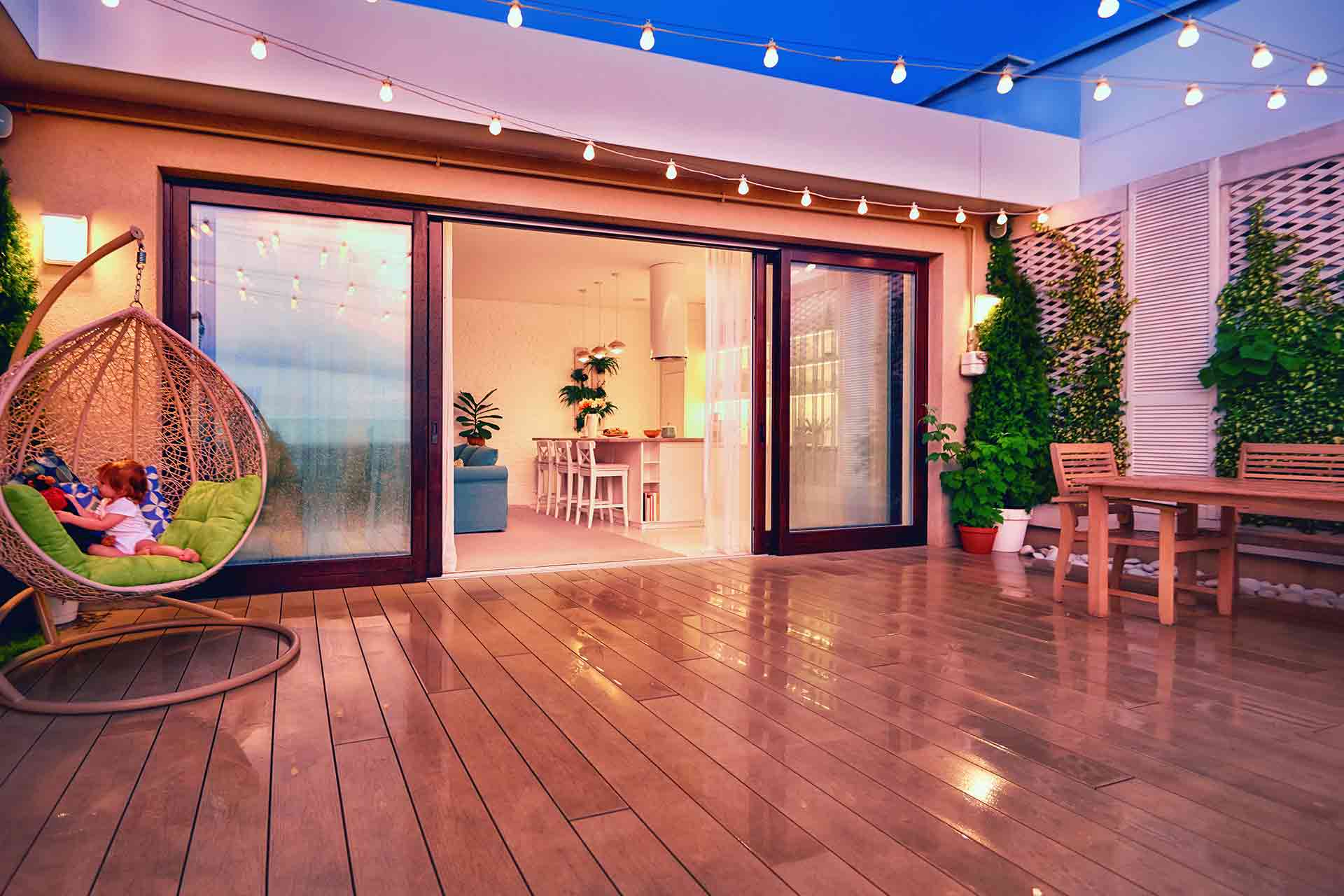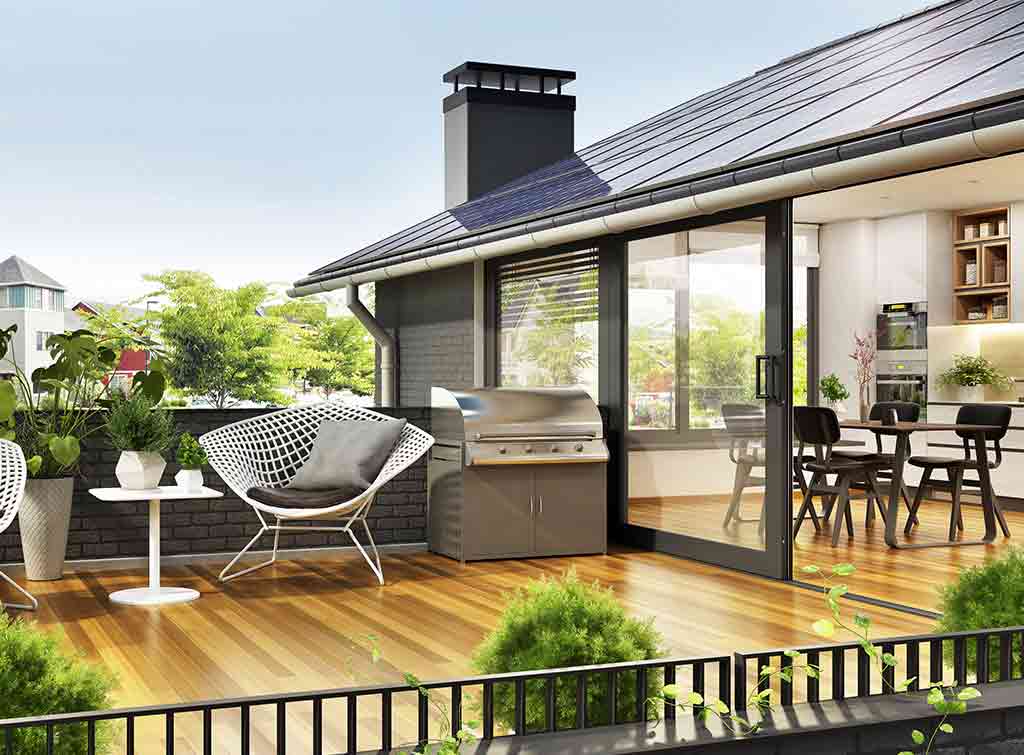 For those of us lucky enough to have a rear garden, patio doors are a fantastic choice. These versatile doors help to infuse our homes with light, maximise on outside views and create a seamless transition from home to garden. But what are the best patio doors?
In this article, we aim to answer this question as well as dive deeper into the fascinating world of patio doors. We will be looking at everything from different types of patio doors to common installation mistakes and even how to install patio doors.
Curious? Keep reading to discover more.
What is a patio door?
Generally, the term 'patio doors' cover all types of doors that open out either onto your garden/patio area, into your living area or simply slide open/closed. These are usually glazed and come in a variety of options including different styles, colours and materials.
What are the different types of patio doors?
Depending on the style and layout of your home, plus your requirements, you have a range of options to choose from when purchasing patio doors. You may be wondering about the different types of patio doors, and the most popular styles sold are bifold, sliding, French and Crittall/Belgium doors.
Below we will look into each type in more detail.
See the tradespeople we've checked and recommend for your job
What are bifold doors?
Bifold doors are ideal to create a continuous flow from indoors to outdoors. But exactly what are bifold doors? They can fold onto themselves and can open up entire walls letting your home flow out into your garden.
Bifold doors are great for flooding rooms with natural light and taking up a minimum amount of space when open. However, bifold doors can be quite 'frame' heavy when they are closed.
What are sliding doors?
Popular in households in the 1960's & 70's, sliding doors are experiencing a resurgence. They let in plenty of natural light and are available with narrow frames to maximise garden views. They can also slide back on themselves and even into cavities within the walls, to blur the line between indoors and outdoors.
What are French doors?
These are more traditional styled, hinged, double glass doors and are available in wood, aluminium, and uPVC. They can be designed with a single pane of glass per door for a contemporary feel or multi panelled glass for a more traditional effect.
These doors are ideal for smaller openings, however, with the addition of side lights they can be used in bigger openings too.
What are Crittall style doors?
Many people haven't heard of Crittall style doors but they are actually quite common. Traditionally these doors are black, metal/steel framed, with multi glazed panes. Popular for their industrial/art deco feel, they are now even available in multiple colour choices.
Crittall or Belgium style doors are hung with matching glazed side panels/walls. These doors are also a great source of natural light.
What materials can patio doors be made of?
With such a wide range of material options available today, it may be a little confusing when it comes to choosing the best doors for your home. Below are the most common materials used:
uPVC: Affordable and durable.
Aluminium: Modern, energy efficient and strong.
Softwood: Beautiful but can be affected by warping if not protected.
Hardwood: Perfect for period homes but will need to be sealed or painted.
Steel: Strong and great for industrial themes.
What are the benefits of patio doors?
Not only are patio doors a practical option, they come with a whole range of benefits. Below are the main advantages of installing patio doors:
Appearance:
Patio doors allow your home to flawlessly transition from inside to outside. The large expanses of glazing flood your living space with natural light, allowing views over the garden/patio.
Modern types of patio doors minimise the size of the frame to maximise the amount of glazing. Choosing patio doors can also help to enhance the style and decor of your home. What's more, bifold and sliding doors are great additions to a contemporary or minimalist home.
Alternatively, Crittall doors give a strong art deco and industrial feel and are very popular right now. Or if you prefer multi glazed panel French doors, they will be a great addition to a traditional home, while single glazed panel French doors lend themselves to a more contemporary style.
Efficient:
With more natural light flooding your home, there is less need to use artificial light during the day. Patio doors are also energy efficient which means less heat loss and lower energy bills. These doors can even help your home stay cool on long summer days.
Security:
Despite the amount of glazing, patio doors can be very secure with multi-point locking systems.
What are the best patio doors?
Now you know the different options available to you, choosing the perfect patio doors for your home should be a little simpler.
Still wondering what are the best patio doors for you? Consider the following points:
Style: What design theme is used throughout your home. E.g., for modern homes, choosing doors with slim frames made from aluminium is a great decision. Alternatively, for a more industrial home style, why not choose Crittall doors with a steel frame?
Function: How do you want your patio doors to work for you? Sliding doors are easy to use and can quickly open up your home for entertaining, while French doors can work well in smaller spaces.
Colour: Choosing the best colour patio doors for your home will again depend on your home colour scheme as well as the finish you want to create. Black or silver frames are very modern, while green or wooden finishes work well with natural or traditional homes.
How much do patio doors cost?
It can be tricky to accurately estimate the cost of patio doors as there are so many different factors affecting the price. These include style, size, material and the colour of the patio doors.
Generally, for bifold patio doors, you will pay between £1,800 and £6,000, with sliding patio doors costing between £900 – £4,375 and French doors costing between £500 – £1,950.
For more costs and information about professional patio door installation, please see our door replacement cost guide and our patio door replacement cost guide.
For more specific prices, please see our cost to install bifold doors guide and our average cost of French doors guide.
Do I need planning permission?
Planning permission is a legal requirement and before undertaking any project, you will need to check whether or not you need to obtain this. You will not usually need planning permission for the following:
Insertion of new windows and doors that are of a similar appearance to those used in the construction of the house (note – a new bay window will be treated as an extension and may require permission). If new windows are in an upper-floor side elevation they must be obscure-glazed and either non opening or more than 1.7 metres above the floor level.
Occasionally, you may need to apply for planning permission for some of these works because your council has made an Article 4 Direction withdrawing permitted development rights.
Top tip: If you live in a listed building, you will need listed building consent for any significant works – internal or external. Plus, if your house is in a designated area (conservation area, national park, area of outstanding natural beauty) there may be additional restrictions in place. 
In all these cases, you are strongly advised to check with your local planning authority before carrying out any work.
What is a Building Regulations Compliance Certificate?
Whether you are planning to fit the doors yourself or would prefer to hire a professional, you may need a building regulations compliance certificate. Below is further information regarding both scenarios:
Fitting patio doors yourself
You should inform your local office of the work intended, and then make an appointment for an inspector to check the quality of your work and issue a certificate, for which they will charge a fee.
Top tip: If you do NOT have this in place, it can cause problems if you ever want to sell your property.
Employing a contractor
Should you decide to use a professional tradesperson to carry out the work, check if they are registered under the Competent Person Scheme and FENSA registered. In this case, there will be no need to refer to the local planning office as your new French doors will automatically be deemed to meet building regulations.
Top tip: FENSA is a government-authorized scheme that monitors Building Regulations compliance for the replacement of windows and doors.
What are the common mistakes people make when installing patio doors?
Taking on patio door installation yourself can be an exciting process, however, there are a wide range of mistakes that many beginners make. Avoiding these will help your project to be a success, with great results. Always:
Ensure your measurements are correct before ordering/buying your patio doors.
Ensure there is a solid structure to fix frame jambs to and that there is a lintel above the frame.
Carefully research and plan the job before beginning. Make sure you have everything you need, ready to hand prior to starting work.
Check if you need planning permission. Most replacement doors and windows do not need planning permission (unless you are planning on knocking out part of a wall to enlarge the opening or unless you are working on a listed building).
Ensure you obtain a building regulations compliance certification.
Ensure you do not tackle the project alone. This is heavy work, and you will need an extra pair of hands. This will enable you to finish the project quicker and stay safe.
Only start the job if you know you can finish it on the same day. You do not want to be leaving your home unsecured overnight.
Remember, if you are widening the opening or replacing a window with French doors, this may involve knocking out the brickwork below the old window. In this case you should employ a builder to do this work. You don't want your house to collapse around you because you removed a load bearing wall or to find you've cut through electrical wiring.
Store your French doors in a flat position, prior to installing. They should be on a level surface and kept clear of the floor on at least three level bearers.
How to install patio doors
Top tip: While it is possible to install patio doors yourself, we would recommend using a competent, FENSA registered tradesperson. There could be structural, safety hazards and not fitting correctly could result in a defective end product that is not fit for purpose. 
Preparation and planning
Key to the success of any DIY job, preparation and planning will determine the quality and durability of your project. Before beginning:
Check that your patio door kit includes all fixings and door furniture, if not, ensure you have them available for when you are planning to begin installation.
Carefully read the fitting instructions provided with your new patio doors.
Ensure that you have any additional materials required.
Tools and materials
Gather the following tools and materials so you have everything you need close by during your door installation:
Carpenter's square
Power drill
Phillips-head screwdriver
Flat-head screwdriver
Hole cutter
Pry bar
Flush cutting saw
Rubber mallet
Paddle bit
Hammer
Standard drill bit
Long level
Utility knife
Safety glasses
Nail punch
Tape measure
Chisel
Sealant
Step-by-step installation guide
Ok, you are ready to begin. Follow these step-by-step instructions to achieve an excellent finish:
Top tip: Always follow your patio door's manufacturers guidelines.
Measure the opening: You must measure the block/brick opening, not the old doors and frame. Measure brick to brick in three places for the width – at the top of the opening, in the middle, and at the bottom. Then measure in three places for the height – near the left side, in the middle and near the right side. Remember to take each measurement twice and get someone to help you hold the tape measure straight and taut. Use the smallest measurement in each case.
Sizing: When deciding the size of patio doors to purchase, take 10mm from your final height and width measurements to allow for accurate plumb and square fitting into the aperture. Spacers and filler can then be used to secure the frame into place and fill any gaps.
Floor: Check the floor is level. If not, insert packers to ensure that the frame is entirely straight when you fit it. Time and care taken at this stage will make life easier later on in the installation process.
Preparation: Patio door kits usually come as a complete system, with doors already hung in the frame. This means that the fitting should be fairly straightforward once you've prepared your opening.  Always make sure nothing remains of the old patio doors and frames and that the brickwork is secure.
Sealant: Seal around the entire opening with a suitable waterproof caulk/sealant. Follow manufacturer's guidelines for drying times.
Installation: Centre your new doors in the gap. This is where you will need assistance as the frame and doors are heavy. Slide them into the threshold bottom first, gently tapping the top of the frame slightly with the rubber mallet to get it firmly into the opening.
Checks: Ensure the whole installation is plumb (level). Once fixed in place, you won't want to take it out and start all over again, so take your time and get it right the first time.
Fit: If you find the doors don't open smoothly or don't fit together evenly, gently tap in wedged packers or spacers to ensure the frame is entirely level, and measure as many times as required to get this completely accurate. Check that the doors open and close properly.
Secure: When you are satisfied that all is correct, follow the manufacturer's instructions to secure the door in place with the supplied fixings.
Finish: Seal around the edges of the frame to ensure the door is properly insulated, fill in any gaps around the wedged packers you may have used to create a plumb and straight fitting. Use waterproof sealant suitable for outdoor use. Replace any mouldings or architraves. Finally, attach any door furniture if not already in place.
Professional patio door installation
Hiring a tradesperson to fit your new patio doors guarantees a quick and high-quality installation process. It is important to hire a FENSA approved installer to ensure your patio door fitter:
Complies with Building Regulations
Is registered with the local council
Is backed by guarantee insurance
Top tip: To find a fully vetted, FENSA approved installer in your area, please use our free search feature.
Choosing and installing a new set of patio doors can be a difficult process and you may feel a little out of your depth. If that is the case, speaking to a friendly, reliable tradesperson can help you through this project as well as ensuring your new patio doors look great and last for years to come.
Use our free search feature to connect with a professional today. Another way to learn more is to explore our other door cost guides. They are bursting with helpful information and prices, so click below for more information: