How to become an HMO landlord
If you've ever wondered how to become an HMO landlord and the HMO landlord responsibilities you can expect to have, then this comprehensive guide is for you.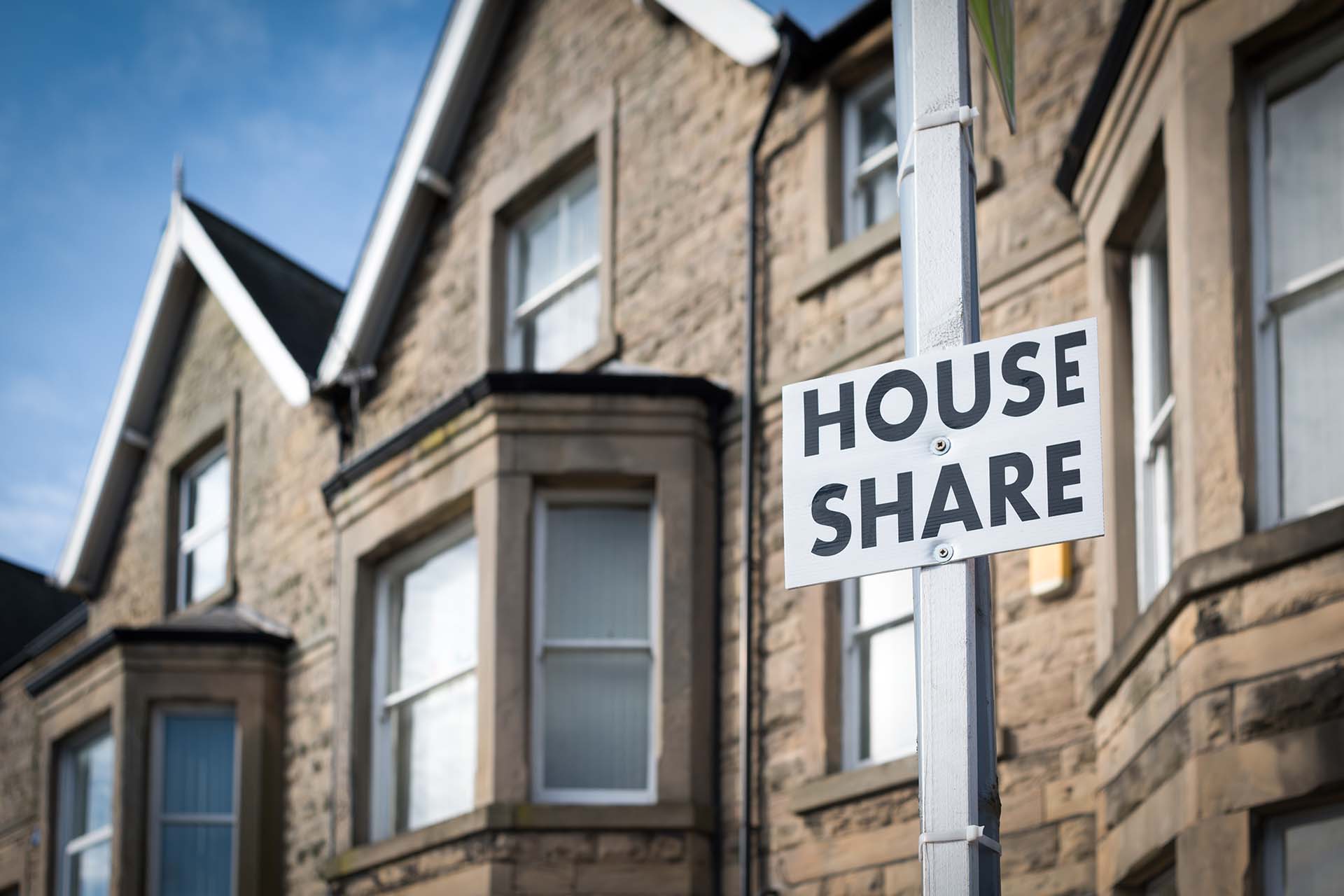 If you've ever wondered how to become an HMO landlord and what the HMO landlord responsibilities are, then this guide is for you. We've created a complete overview with support from the British Landlord Association.
What is an HMO?
An HMO is also known as Houses of Multiple Occupation. A student house or a house share is the perfect example. The definition of an HMO is a property where three or more unrelated people live there as at least two separate households – for example, three single people with their own rooms, or two couples each sharing their own room.
To be classed as an HMO, the property has to meet certain HMO requirements which we'll cover in more detail in the guide below. One of the defining features of an HMO is that all occupants share basic amenities, such as a kitchen or bathroom.
In a situation where five or more tenants from the same household live together in a rented property, this is classed as a large HMO. Hostels and B&Bs that are not just for holidays and leisure use can also be licensed as an HMO.
HMO requirements
If you're considering becoming an HMO landlord, you should contact your local authority to find out what license is required. There are some basic and some quite specific HMO requirements which are:
The house must be suitable for the number of tenants, meaning it should be of the appropriate size and have enough of the right facilities.
As the manager of the house (you or an agent) must not have a criminal record and must not be in breach of landlord laws or the code of practice.
To display information and guidance in the common areas.
In accordance with the Housing Act 2004, to be defined as an HMO, the building must fall within one of the following categories:
A building or flat in which more than one household shares a basic amenity, such as bathrooms, toilets, or cooking facilities. This is known as the 'standard test' or the 'self-contained flat test'.
A building that has been converted and does not just comprise of self-contained flats: this is known as the 'converted building test'.
A building that is declared as an HMO by the local authority.
A converted block of flats where the standard of the conversion does not meet the relevant building standards and fewer than two-thirds of the flats are owner-occupied: this is known as a section 257 HMO.
Once obtained, an HMO license is valid for a maximum of five years and if you have multiple HMO properties, you will need a separate license for each.
See the tradespeople we've checked and recommend for your job
HMO license cost
HMO landlords that operate without a license risk an unlimited fine. Aside from the financial implications, obtaining an HMO license is also important for safety reasons.
There are two main categories of licensing. The first category is for a small HMO, where at least three people who are not from the same household live together and share facilities. In this scenario, you may not need an HMO license but you should check with your local council as the regulations vary dependant on your location. The cost of this license will also vary.
Your local council can implement a 'selective' licensing scheme for HMO properties that are not subject to mandatory licensing. This can include properties in certain geographical areas, such as student houses close to universities, and also blocks converted into self-contained flats.
For HMOs where five or more people share facilities and form more than one household to form a 'large HMO' a license is mandatory. Local councils decide their own fee for how much to charge for mandatory HMO licenses, so the cost will vary according to your location. HMO license fees should not be excessive as they should only cover the cost of running the licensing scheme.
When you want to submit an HMO license application, you will need Gas Safety and Electrical safety certificates for the property, as well as the floor plan of the property. You can apply for a license on the government website. If you submit an application for an HMO license and your HMO license application is turned down, your application fee will be refunded to you.
HMO council tax
If you're considering becoming an HMO landlord then you may be wondering who is responsible for paying the council tax? This ultimately depends on how your HMO set up fits within the Regulation 2 Council Tax (Liability for Owners) Regulations 1992.
If you let your rooms as bedsits or operate using license agreements (this is less common) then you as the landlord are responsible for paying the council tax. If you have a contract or tenancy agreement where a group of tenants shares the property together then the tenant is responsible.
The tenant is also responsible if your HMO rooms are let on a room-by-room basis where each room has its own council tax band. In this situation, each room is classed as its own separate dwelling, and therefore each tenant is responsible for paying their own council tax.
To make sure all parties understand, it is worthwhile having a clause in your tenancy agreement to say who is responsible for the council tax.
HMO mortgage
If you plan to run an HMO and you require a mortgage, specialist buy-to-let mortgages have some key differences:
HMO mortgages are usually linked to rates like LIBOR (London Interbank Offered Rate) rather than the Bank of England base rate.
To be successfully offered a buy-to-let mortgage, landlords have to prove their experience of borrowing before taking one out
Maximum loan to value (LTV) is typically between 60-75%
HMO mortgages can be more expensive than typical mortgages due to the LIBOR rate and additional fees. This is something to bear in mind if you plan to become an HMO landlord as it can eat into your profits.
For more information, take a look at our buy-to-let guide for landlords.
HMO expenses
As an HMO landlord, you will of course have to pay the usual landlord expenses such as property upkeep and maintenance, utility bills and letting agent fees if you use a letting agent.
Additional HMO expenses are the cost of the license and any associated legal fees that may be required to successfully become an HMO landlord.
See the tradespeople we've checked and recommend for your job
HMO management regulations
HMO landlords are also required to meet certain HMO management regulations. These include:
Ensuring appropriate fire safety measures are in place, including working smoke alarms.
Ensuring annual gas safety checks are carried out.
Checking the electrics every five years.
Supplying enough cooking and bathroom facilities for the number of tenants living there.
Providing communal areas and shared facilities that are clean and in good repair.
Making sure the structure and exterior of the house are safe and in a good state of repair, including the walls, window frames, and gutters.
Supplying enough rubbish bins to safely dispose of household waste.
Keeping the gas and water pipes in good working order and serviced regularly.
Maintain and service any fixed heaters (such as radiators) and water heaters.
Ensure the property is not overcrowded.
HMO fire regulations
In addition to the regulations above, HMO landlords also have to comply with the following fire regulations.
As an HMO landlord you must:
Most newer homes now have smoke alarms that have a mains powered back up which offers a higher level of safety and protection. If your smoke alarms are battery-powered you must make sure to check and test them regularly.
When getting your gas appliances and electrical appliances serviced, you must ensure that you use tradespeople who possess the correct qualifications and accreditations – such as a gas safe registered heating engineer to service your boiler.
HMO minimum room size
Part of the HMO management regulations relate to providing enough space for people to live comfortably and safely.
If you plan to become an HMO landlord then you need to ensure that your tenants' rooms comply with the minimum room sizes below. Your local council may have individual standards so if you are applying for an HMO license you should check before making your application.
6.51 square metres for a person aged 10 or over
10.22 square metres for two people aged 10 or over
4.64 square metres for a child under 10 years old
HMO planning permission
If you are looking to turn an existing property into an HMO, the existing 'use class' will influence whether or not you need planning permission. The main use classes for residential properties are C3 for a primary or secondary dwelling, C4 for an HMO, and Sui Generis for a large HMO.
HMO regulations are always changing so it is important to seek professional advice before beginning any work.
HMO insurance
As an HMO landlord, you will also need a specialist HMO insurance policy – a standard landlord insurance policy does not provide adequate cover. HMO insurance policies provide public liability insurance as well as building and contents cover.
When looking for HMO insurance you need o look for a policy that is appropriate for the type of HMO license that you hold e.g. a standard HMO or a large HMO. If you have more than one HMO property it may be possible to add multiple locations to one HMO insurance policy, so shop around when looking for quotes.
The total cost of your HMO insurance will depend on the location, type, and size of your property, as well as the number of tenants and number of households living together. Larger houses in a city with more than two households will have a higher premium as they will be seen as more likely to present a risk.
HMO inspection
In the same way that any landlord would carry out an inspection of their property, an HMO landlord is also required to do the same. Under the Housing, Health and Safety Rating System (HHSRS), HMOs are required to have an inspection.
As HMO properties are also considered to be a higher risk, they are also subject to additional regulations to protect the tenants. These include Management of HMO Regulations 2006 and 2007 and Regulatory Reform (Fire Safety) Order 2005.
There is a formal list of 29 hazards that an HMO landlord should be checking for in their HMO property that fall under these categories:
Dampness or excess of cold or heat
Pollutants such as asbestos, carbon monoxide, or lead
Lack of space, security or lighting, or exposure to excessive noise
Poor hygiene, lack of and condition of sanitation, sufficient clean water supply
Accidents that could be caused by falls, electric shocks, fires, burns, scalds
Risk of collisions, explosions, or structural collapse
FAQs
How do you get an HMO license?
To get an HMO license you will need to apply on the gov.uk website. You will need to have specific paperwork about your property in order to apply.