The most economical way to use central heating
Central heating is no doubt one of the essentials in our homes, but with rising costs, lots of people are wondering how they can reduce their bills. Fear not; we're here to help. Make yourself a cuppa, cuddle your hot water bottle, and keep reading for the most economical way to use central heating.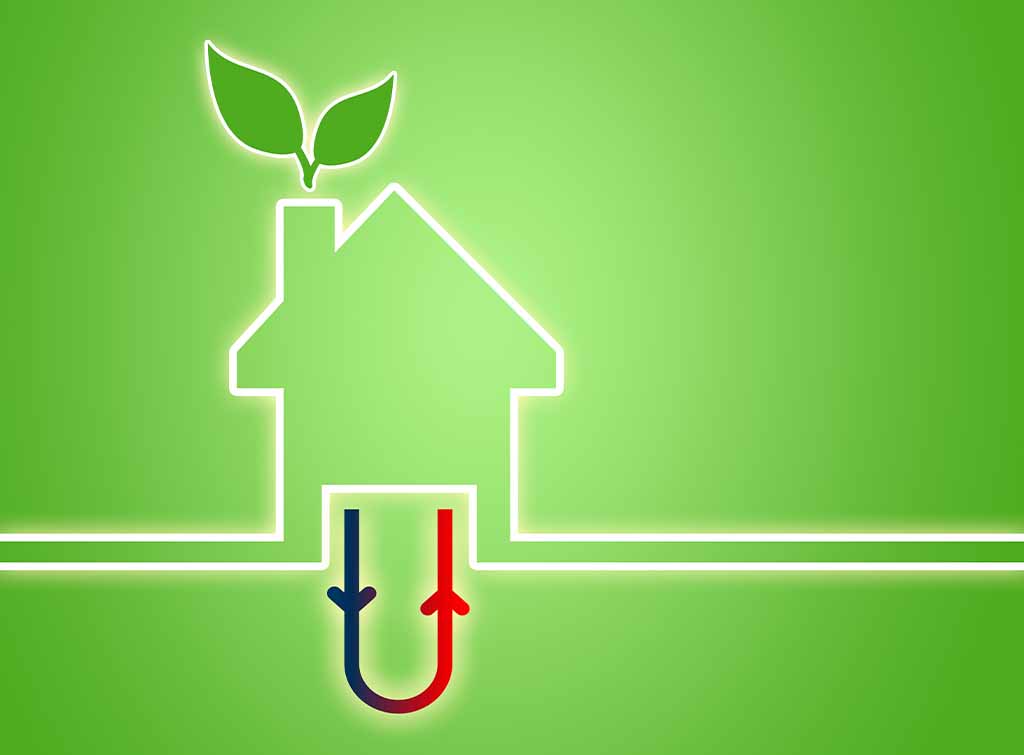 We're all looking for the most economical way to use our central heating. With gas bills skyrocketing and hot water bottles making a comeback, it's no wonder keeping warm and toasty on a budget is a hot topic (pun intended).
Thankfully, there are several ways to maximise the effectiveness of your central heating and keep costs lower. Keep reading for our top tips on the most economical way to use gas central heating.
Most economical way to use central heating
Use a programmable/smart thermostat
Smart thermostats are a great way to help reduce your heating.
A programmable thermostat lets you set the temperature of your home according to the way you live your life. You can set the temperature to a lower degree while you're out, at work, or fast asleep. You can then automatically increase the degree for when you're home or awake.
Using a programmable thermostat can help to cut down on unnecessary heating, so you're using your heating more efficiently.
Seal any leaks and draughts
Keeping warm air locked inside your home is key to maintaining a consistent temperature. If there are leaks or draughts, it uses more energy to maintain a consistent temperature.
As a result, one of the most economical ways to make sure your central heating is performing efficiently is to seal off those pesky leaks or draughts. They are commonly found around your windows, doors and in lofts or basements.
Use weatherstripping, caulk, or foam sealant to plug up the draughty patches and keep the heat prisoner in your home.
Shut your curtains and consider thermal alternatives
Glass isn't known for its warm and fuzzy nature. It's a stark and transparent material often linked to cold stares and frozen castles.
That's why you need to cover it up with curtains or blinds when you're cold, both of which help you insulate your home and prevent the expensive and precious heat from escaping through your windows.
Of course, on sunny days, you can open your curtains to welcome the natural sunlight – a friend to glass – and heat your home that way, but be sure to close them at night to keep the heat in again.
For extra heat-maximising benefits, choose curtains with a thermal lining to lock in the warmth.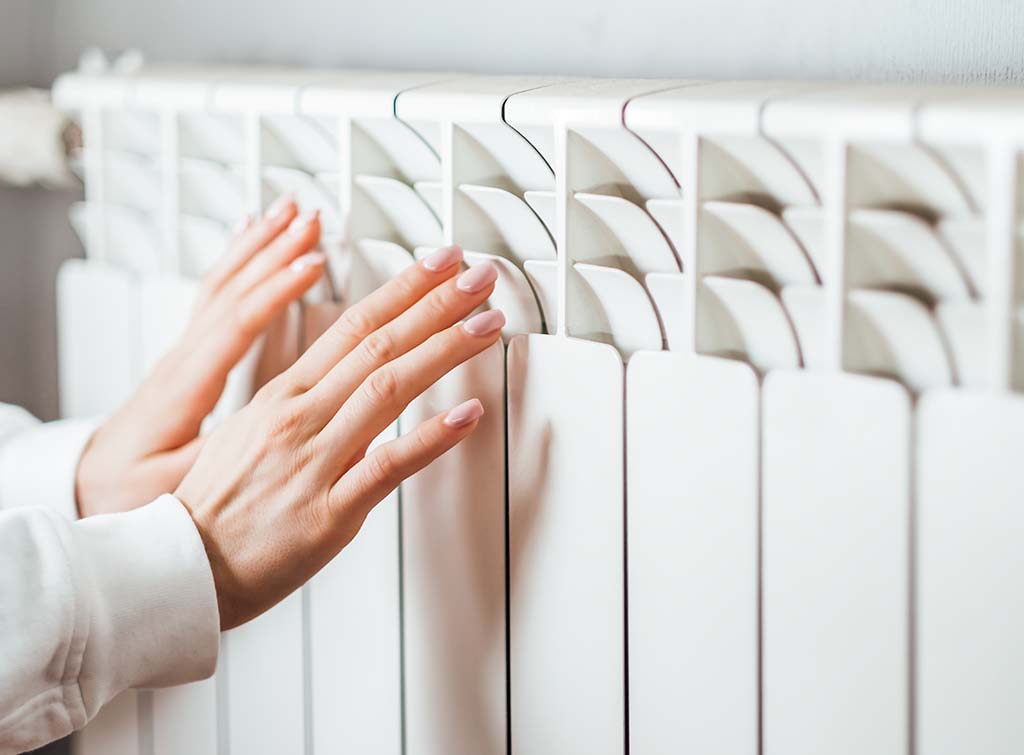 Close your doors to keep the heat in one room and out of others
Closing the doors to the room you're hunkering down in reduces the amount of space that needs to be heated. Just make sure you've turned off the radiators in the other rooms you're not using – or use your smart thermostat to programme this.
Similarly, if you're not using a spare bedroom/office/storage dump, keep its door closed to prevent the heat from dispersing into a space you barely use.
Consider using alternative heating solutions
If you're looking for alternative and cost-effective heating solutions, there are several options worth considering. The first is a space heater, which can be used to heat a specific area of your home. Space heaters are powered by electricity or natural gas, but they're only more efficient than central heating systems if you use them sparingly.
Another option is a pellet stove, which uses compressed wood pellets to produce heat. Pellet stoves are a popular alternative to traditional wood stoves because they're more efficient and produce less CO2. (Win-win!) However, not all homes are eligible for this green heat alternative. For example, if you live in a flat, it's likely a no-go.
Increase your boiler efficiency
Understanding how well your system converts energy into heat is the key to understanding how to increase your boiler's efficiency. A good boiler service engineer will be able to tell you this. Improving its performance will reduce energy costs and lower greenhouse gas emissions.
Along with choosing the best boilers for central heating, consider these tips for maximising your boiler's performance:
Schedule a boiler service (at least once a year)
Adjust/upgrade the burner
Maintain the fuel and air filters
Fine-tune the combustion process (or hire someone to do this!)
Keep your boiler and pipes well insulated
Preheat the water before it enters the boiler using a boiler feedwater economiser
See the tradespeople we've checked and recommend for your job
What's the cheapest time to put the heating on?
The cheapest time to put the heating on tends to be during off-peak hours when your local energy rates are lower. The specific time may vary depending on your energy provider and location, but generally, off-peak hours are overnight and during the early hours of the morning.
Many energy providers offer discounted rates during off-peak hours, such as Economy 7 or Economy 10 tariffs, which can help you save money on your heating bills. These tariffs often require you to install a specific meter, and the discounted rates may only apply during certain hours. So, it's important to iron out the details with your energy provider before choosing this option.
In addition to heating your home in off-peak hours, you can also save money on your heating bills by setting your thermostat to a lower temperature when you're not at home or while you're sleeping. Even one degree lower makes a significant difference to your heating bills.
How much does it cost to have the heating on all day?
The cost of having the heating on all day depends on several factors, including the size of your home, the efficiency of your heating system, the type of fuel used, and where you live. However, it's obviously more expensive to put the heating on all day vs. only putting it on when you're home.
If you only heat your home when you need it, the cost of heating an average-sized house with gas central heating is approximately £1,554 per year (as per the October 2022 Ofgem price cap). However, if you leave your heating on all day, your bill could increase by as much as 50%. The cost could be even higher if you use electric heating, which is generally more expensive than gas heating.
Read our guide on the cost of running gas central heating for more information.
Best heating schedule for winter
Your daily routine and preferences will guide how often you turn on your heating. However, let's take a look at some general guidelines to help you save money whilst staying toasty.
6 – 8 am: Set your thermostat so your heating turns on half an hour before you wake up. That way, your home will be warm and comfortable when you manage to climb out of bed.
8 am – 4 pm: While you're at work or out and about, set your thermostat to a lower temperature, such as 18-20°C. This will help you save money on your heating bills and also keep your home above freezing.
4 – 10 pm: For a warm welcome, set the thermostat so your heating comes back on around half an hour before you're usually home. You might also want to set the thermostat to a slightly higher temperature, such as 20-22°C, for when you're home in the evenings.
10 pm – 6:00 am: Set the thermostat to a lower temperature, such as 16-18°C, while you sleep. This will help you save money on your heating bill and keep your home warm enough for a comfortable night's sleep.
Some programmable thermostats also allow you to control your heating when you're out and about, giving you greater control over when the heating is on or off. However, there's something to be said about automating your heating schedule; for example, it lets you set your preferences and forget about them.
Do TRVs save you money?
Yes, thermostatic radiator valves (TRVs) are a great way to help you save money on your heating bills. TRVs let you control the temperature of individual radiators, which helps you reduce your heating costs by only heating the rooms you're using at any given time.
Here's how TRVs can save you money:
Zoning: TRVs allow you to create heating zones in your home, which means you can heat the rooms you're using and turn off the radiators in the rooms you're not using
Temperature control: TRVs let you set the temperature for each radiator individually, helping you avoid overheating certain rooms and wasting energy
Flexibility: TRVs are easy to install and can be retrofitted onto existing radiators, making them a cost-effective way to improve your home's heating efficiency
Combing the use of TRVs with a programmable thermostat is the most effective cost-saving solution. This is because they let you tailor your heating to your specific needs and patterns of use.
See the tradespeople we've checked and recommend for your job
FAQs
Does a smart thermostat save energy?
Yes. As programmable and smart thermostats let you control your home's temperature, even when you're not at home, they're a great way to save on your energy bills. Some models also allow you to create 'zones' in your home, which means you can have some radiators on and others off depending on what rooms you're using at any given time.
What is the most economical way to heat a house?
There are several ways to use central heating in the most economical way possible. By using a programmable thermostat, sealing leaks and drafts, using curtains, closing doors, and considering alternative heating solutions, you can reduce your heating bill significantly. So, make sure to take these tips into account to help keep your home warm and comfortable without breaking the bank.
What's the best setting for central heating?
Setting your heating to between 18 – 21 degrees Celcius is seen as the optimal temperature to stop your pipes from freezing while keeping your home warm. However, it depends on your personal preferences and factors like how cold or hot it is outside. Warmer outdoor temperatures mean lower heating bills.
Does turning off radiators in unused rooms save money?
Yes, as you're using less energy to heat rooms you're not using, your heating bills will be lower.
Related: Gas vs electric heat cost: which is cheaper?
See the tradespeople we've checked and recommend for your job