DIY tiling vs Professional tile installation
Can't decide whether you want to try and fit new tiles yourself, or hire a professional? This guide will outline the pros and cons of DIY vs hiring a professional for tiling. Tiling a space yourself could save money, but it will require some preparation before you get started.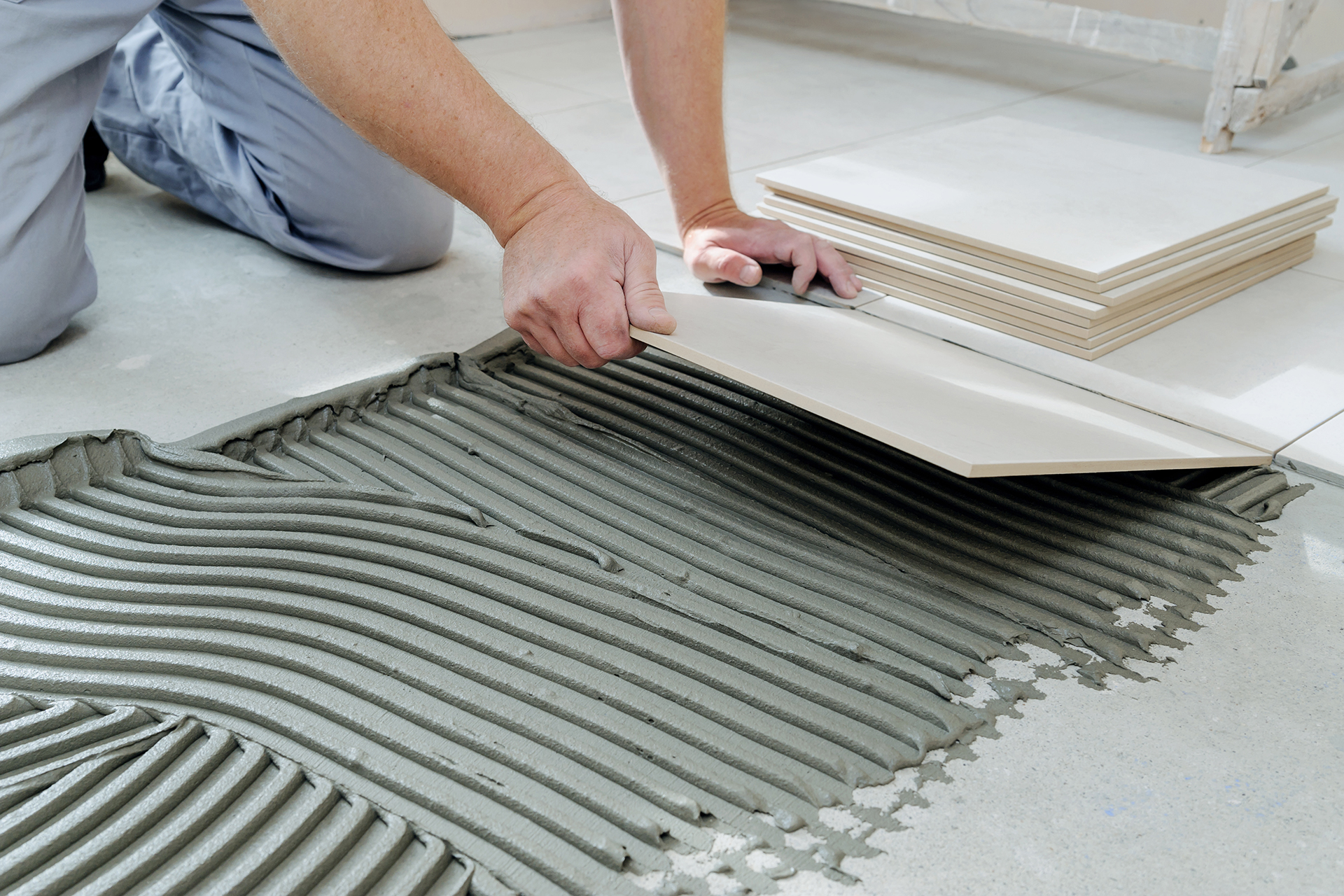 Can't decide whether you want to try and fit new tiles yourself or to hire a professional tiler? This guide will outline the pros and cons of DIY tile installation vs professional tile installation.
Tiling a space yourself could save money, but it requires a lot of skill and preparation before you get started.
DIY tile installation considerations
Installing your own tiles could save you money. But if you lack the skills and patience required, it could end up costing you more in terms of time and cash to get the job done right.
Tiling is a potentially tricky job that can take longer than anticipated, especially if you end up breaking a couple of tiles as you get to grips with the job. Most people have the potential to fit or lay some tiles, but very few people have the experience to install tiles that look great.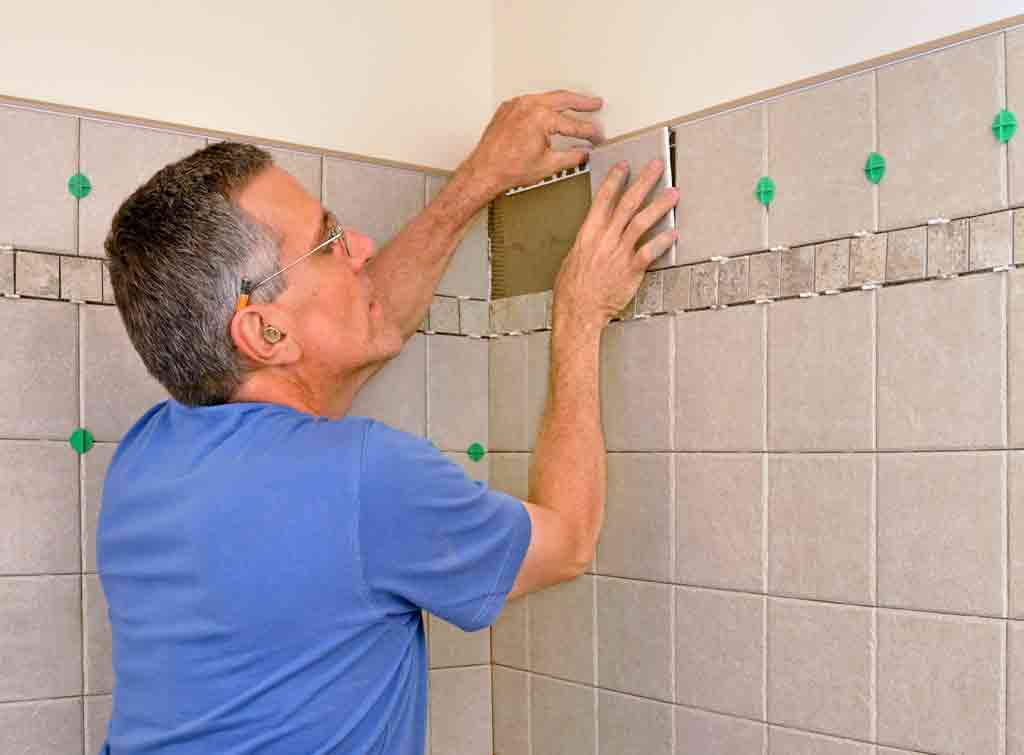 Things to consider before doing a DIY tile installation:
Time – If you work full time or have lots of time-heavy obligations, such as children, consider whether you'll have the time, energy and patience to fit this job in around your other commitments. You may be able to feasibly achieve the results over a few nights, but be prepared to put things on hold.
Inconvenience – Unless you're tiling a very small, square space, it probably won't be done in one go. Are you happy with the idea of having tools and tiling paraphernalia in the way? If you're tiling a bathroom, are you and your family going to be comfortable stepping around an in-progress DIY tile installation? Can you get the job done in a single weekend?
Cost – In terms of labour costs, you probably will save money, assuming you can get the job done right on the first attempt. But you'll need to purchase all of the tools required too, which can eat into any cost savings you've achieved.
Risk – You might sail through the DIY installation process with no problems, but it's not guaranteed. It's important to measure the risk and safety to yourself, your family, your home, and your sanity if things do go wrong.
Skill – When you hire a professional tiler, you're not just paying for their time, you're paying for their experience. Any qualified tradesperson will have gained a huge amount of know-how and hands-on experience through training and hours spent on the job. In fact, they've even learned from past mistakes committed by customers and maybe even from themselves. Professional tilers will know exactly how to solve any problems that do arise on the job, ensuring nothing catastrophic happens.
Are you still committed to tiling on your own? Here's what's involved in the job
There's a lot of preparation required before you even begin picking up your tiles and grout.
In fact, we've written instructions on how to tile a floor. We've covered the step by step process to tiling, as well as the tools needed for the job.
The common errors made by DIY tilers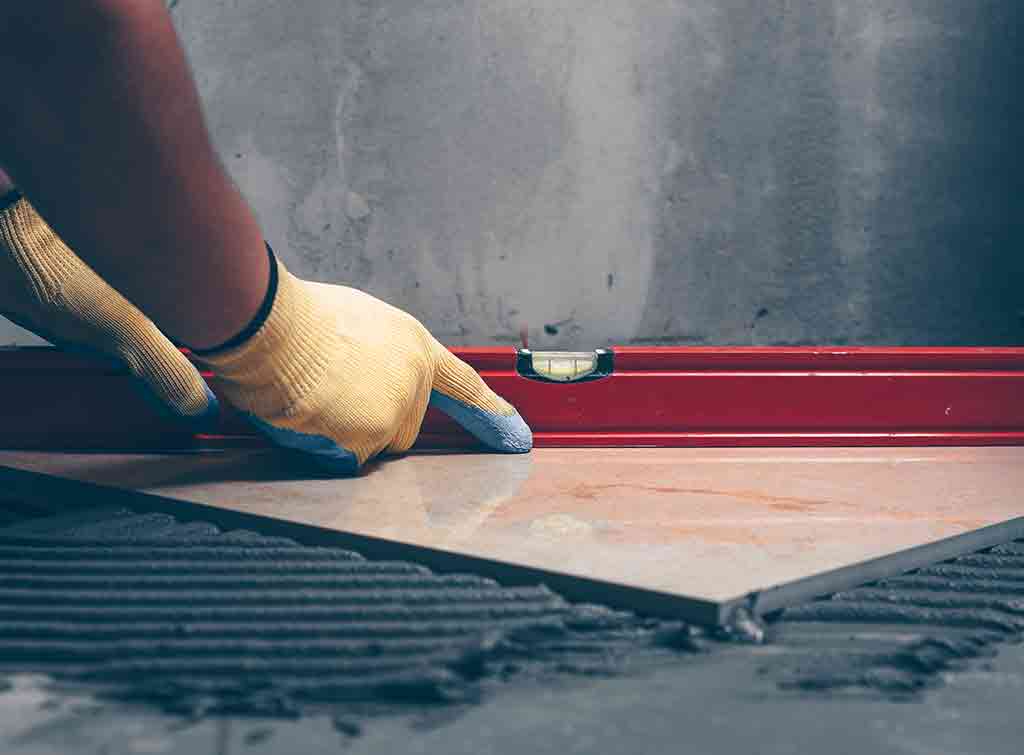 Tiling is one of the tricker DIY tasks you can do in your home. Here are some of the most troublesome aspects of DIY tiling:
Wrong measurements: It sounds easy but people often slip up here because there is no room for error. A tile that's cut 1mm too small will leave a gap. 1mm too big means it won't fit and will need filling.
Poor cutting/injury: This requires precession and experience with the tools. Tile cutting is messy work, but it also has the potential to cause great harm to you should you not wear protective equipment or misuse your machinery. On top of your personal safety, wrongly cutting your tiles can mean wastage and a poor finish.
Poor fitting: Sometimes tiles don't line up. This can be due to uneven surfaces or using too much adhesive. A good tiler will be able to 'impose' a tile, using just the right amount of force. An experienced amateur may not be able to do the same, breaking the tile or fitting it wonky.
Removal of spacers – undoing your good work at the last hurdle: Spacers make this job easier, but they're tricky to remove. If you don't have the delicate touch of a professional, you might end up botching the job at the very last hurdle.
See the tradespeople we've checked and recommend for your job
Tips to help overcome common DIY errors
It's well worth noting that these tips may mean that your DIY tiling project will take slightly longer. But we hope that it helps you to complete the project with no major issues (as mentioned above).
Make sure to practice and be patient with yourself
If the room you want to tile is quite small, you could practice your tiling skills here. Measure out your space carefully and have a go at laying your first few tiles. Get used to the tools, tiles and application of sticking your tiles down.
If the room however is a bathroom, has multiple fixtures, or is an odd-sized space, you will not be able to avoid tile cutting. Every tile around your sink or fixture will have to be custom cut precisely, or your tiling will look uneven.
We recommend measuring the space precisely, then slowly and gently shaving each tile down to fit the grooves. You can also trace the area you want to tile with pen and paper and use this as a pattern for tile cutting. Whilst it is recommended you order 20% more tiles than you need to account for breakage, depending on your skill level, you may want to increase this to be on the safe side.
Ensure you have the correct equipment and materials before starting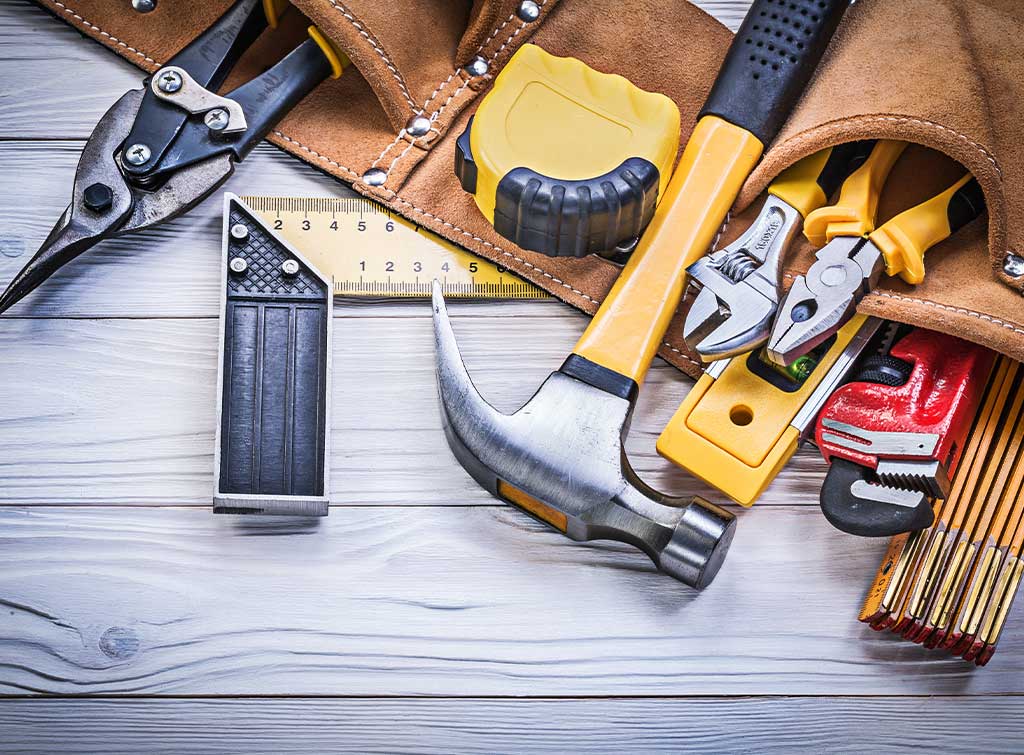 Fitting your own tiles requires a lot of materials and equipment.
Aside from your chosen tiles, you will need adhesive, grout and sealant. For equipment, you will need:
Grout finishing tool
A rubber mallet
Masking tape
A pencil
A tile cutter
Spirit level
Spacers
Sandpaper
Dustpan and brush
If you are worried about the cost of hiring a professional, you may end up saving very little after purchasing the equipment and materials needed for the task ahead.
It's also worth noting the personal protective equipment you will need. Tiling is a very physical job, it can easily hurt your knees and back as you are leaning across a hard surface.
You will need:
Kneepads
Steel toe-capped boots
Gloves
Plan and plan again where your tiles are going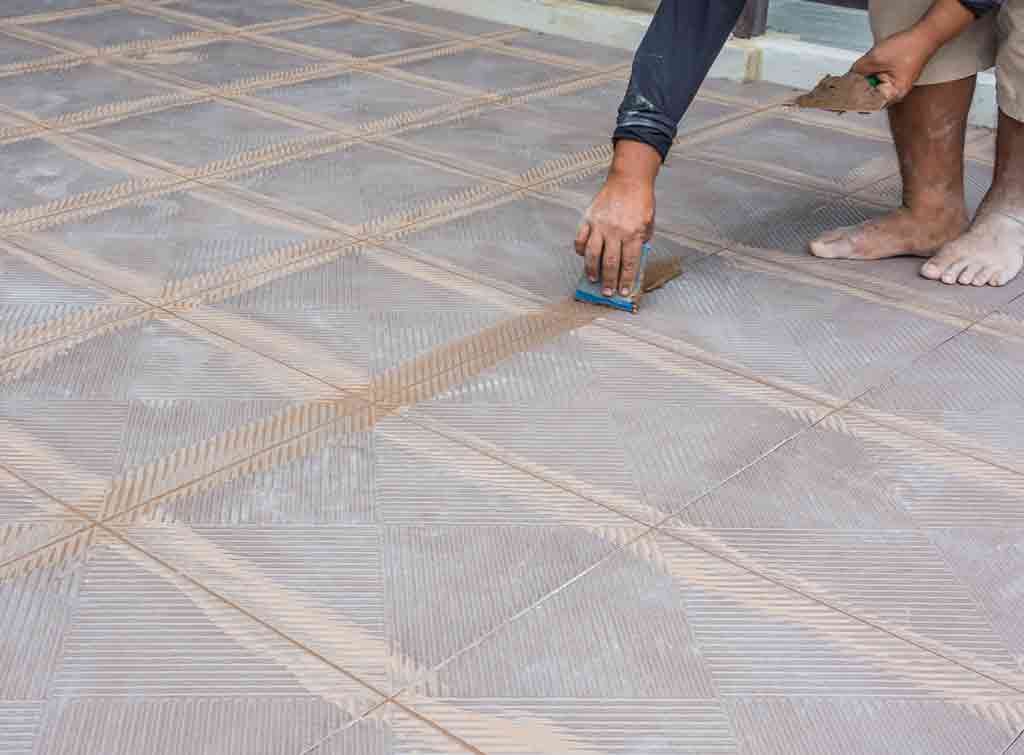 Each tile needs to be placed perfectly in line with another to achieve the desired uniform effect. Do draw out on your floor or wall exactly how you want your tiles laid, and the layout if you're going for a pattern. This will identify where you will need to cut tiles on the edges or in any tricky areas.
You can use spacers to secure your tiles in place in the adhesive, ensuring even space between each tile. You will need to check if your tiles are level, a spirit level to assess the flatness of your tiles. If a tile is not laying flat, you will need to remove and re-adhere it while the adhesive is still wet.
Why opt for professional tile installation
A professional tiler will be experienced and accredited in their field. They will be able to efficiently complete your tiling job to a high standard. Tiling is a technical skill that requires precision, and a professional tiler will have the ability to complete your job to the highest standard. They'll ensure you look at your tiles with pride, not with a critical eye acknowledging all the imperfections of a botch job.
You gain that professional's experience and knowledge
Hiring a professional tiler for your installation means you gain their years of experience. Professional tilers will know exactly what's involved in your job, and even better, they'll know how to solve any problems that do arise on the job. Even better, they can advise you on how to achieve the best finish!
A professional will save you time and stress
Any type of home renovation can be very stressful and hard to manage. Hiring a tiler will allow you to concentrate on other things, saving you a lot of time and hassle.
A professional will be able to complete the job quicker, and to a higher standard than you completing the project. It will take an amateur much longer to get to grips with the process. For a tiling job that takes a professional 8 hours to do, it could take an amateur over 16+ hours to complete.
A professional will use their own specialist equipment
Tiling requires a variety of specialist equipment, all of which a tiler will already own. If you DIY, you will have to find and rent the equipment, and learn how to use it. This may be risky if you're learning on the job by cutting your new tiles. If you're DIYing, do consider practising cutting old tiles you don't mind throwing away.
A tiler will also need fewer surplus tiles, as they're likely to make fewer mistakes. The cost of a DIY project could end up being quite expensive if you have to order even more tiles to account for breakage.
Decided tiling is best left to the professionals?
That's ok, we recommend working with a professional tiler too, especially if you lack tiling experience.
When it comes to finding a professional tiler to work with, always work with someone who has great authentic reviews and is vetted by a reliable company, like Checkatrade.
To get started, enter your postcode below to find professional tilers near you. We recommend that you obtain quotes from at least three different tradespeople.
If you're lacking time to search, post your job requirements here and we'll get three tiling professionals near you to get in touch.
See the tradespeople we've checked and recommend for your job
FAQs
How long does it take to tile a bathroom?
Depending on the size of your bathroom, a professional should be able to tile a bathroom in around 6 to 8 hours. You will need to allow time for the tiles to set also.
How many tiles should I order?
We recommend ordering up to 20% more tiles than you need, to account for tile breakage, cutting and human error. Running out of tiles could be a nightmare, and could add a lot of extra time to your project. If this is your first time tiling, you may want to purchase more than this to be safe.
How much does a tiler cost?
A tiler costs roughly £200 a day. To tile a medium-sized bathroom, it will cost around £850. For a more accurate quote, contact your local tiling specialist.