Can a scratched wood floor be easily fixed?
Looking for tips on how to repair a scratched wood floor? Whether you have hardwood, laminate or wood effect vinyl flooring, here's our guide to keeping them looking fresh.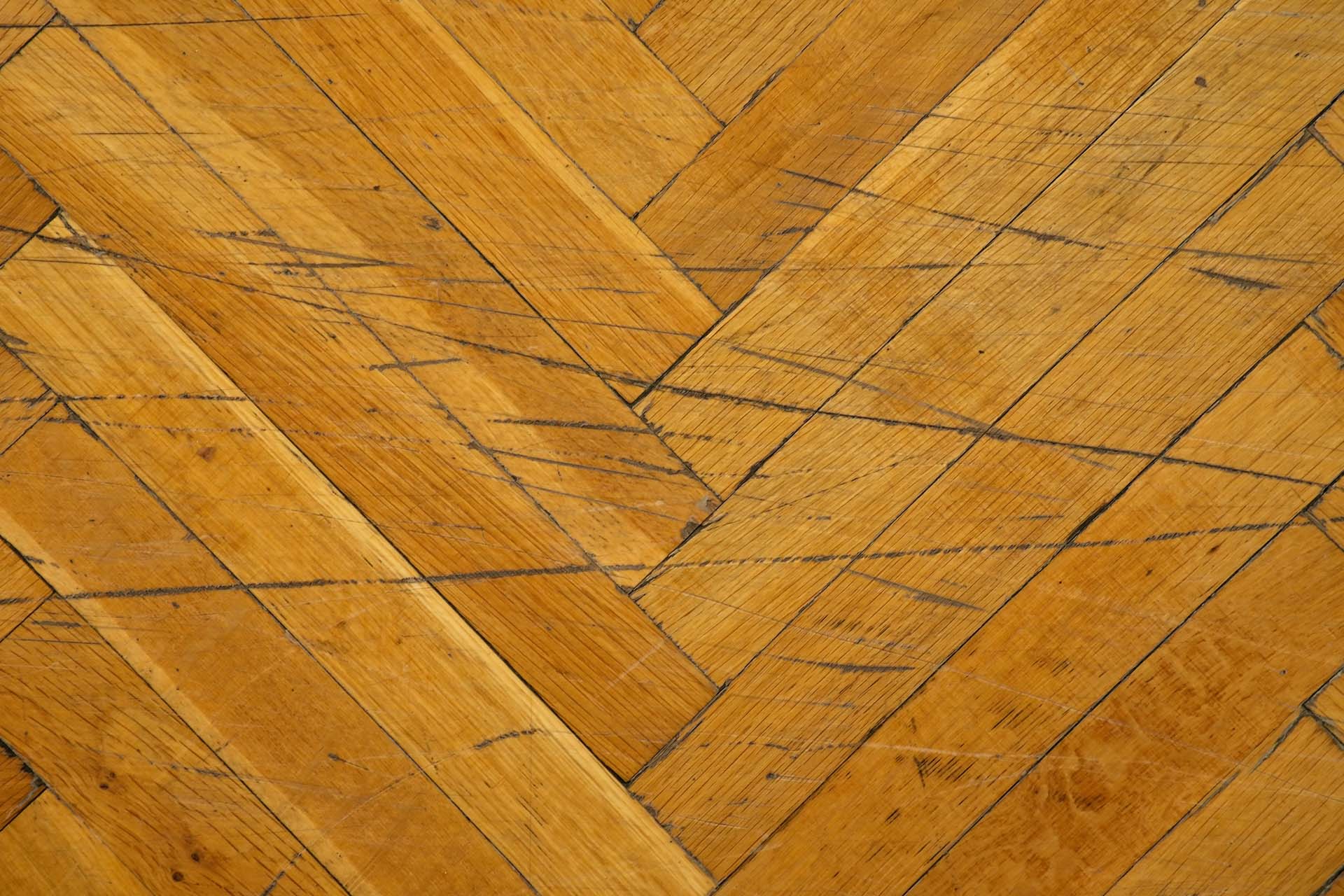 Looking for tips on how to repair a scratched wood floor? Whether you have hardwood, laminate or wood effect vinyl flooring, here's our guide to keeping them looking fresh.
The floors in our homes put up with a lot of wear and tear with daily use, so it is only natural that in time a wooden floor may need repairing. Heavy furniture with feet, chairs that get moved daily and heeled shoes can all be the cause for a scratched wood floor.
What to do if you have a scratched wood floor
Preventing scratches on a wooden floor can be as simple as applying felt to the feet of furniture and chairs, using rugs to cover the floor and implementing a 'no shoes' policy to protect from scratches on your wooden floor. If the damage is already done then there are a few options you can consider that we've covered below. If the scratch is really bad you may need to look at hiring a professional to replace your wooden floor.
Wood floor scratch repair
A scratch on a wooden floor could be something as simple as the result of moving a chair back and forth each day, which will cause a worn finish. Alternatively, you may have dropped a sharp object that a deep sharp scratch that may weaken the wood.
Before attempting any kind of wood floor scratch repair it is important to know the type of finish or treatment your wood floor has had, to know how to restore this finish. If you can, speak to whoever laid the flooring, or contact a specialist for them to take a look.
See the tradespeople we've checked and recommend for your job
How to fix scratches on a wood floor
To start, clean the area by vacuuming and brushing with a soft cloth and use a special hardwood floor cleaner with a neutral PH. This will stop any further damage to the wood and help you to see the full extent of the damage.
To fix scratches on a wood floor you can use a special blending pencil for light scratches. Before using these make sure that they are at room temperature as this will make them easier to use. Use a series of pencil strokes to build the colour that you need.
Finish restorers can also be used to treat scuffs and minor scratches. This is good for covering larger areas to bring back the overall appearance of your wood floor. These products tend to be in a liquid form with different finish options for a more glossy or matte look.
How to repair a wood floor
If you have more obvious scratches that are larger or deeper, these can often be treated by re-coating or refinishing the floor. This type of floor repair is good for wooden floors that have previously been finished with oils. As this is a more specialist type of wood floor scratch repair this is a job best left for the professionals.
Deeper or more widespread scratched wood floors may require professional sanding and refinishing. If there are deep gouges in the wood floor then some gap filling may be required. This is when a flooring specialist uses a mix of resin and sawdust to repair the damage.
Even though a scratched wood floor might seem simple enough to repair, it can be easy to make an expensive mistake so don't experiment and always consult a professional. If you've got wooden floors throughout your home find out more about wooden floor restoration costs.
Laminate floor scratch repair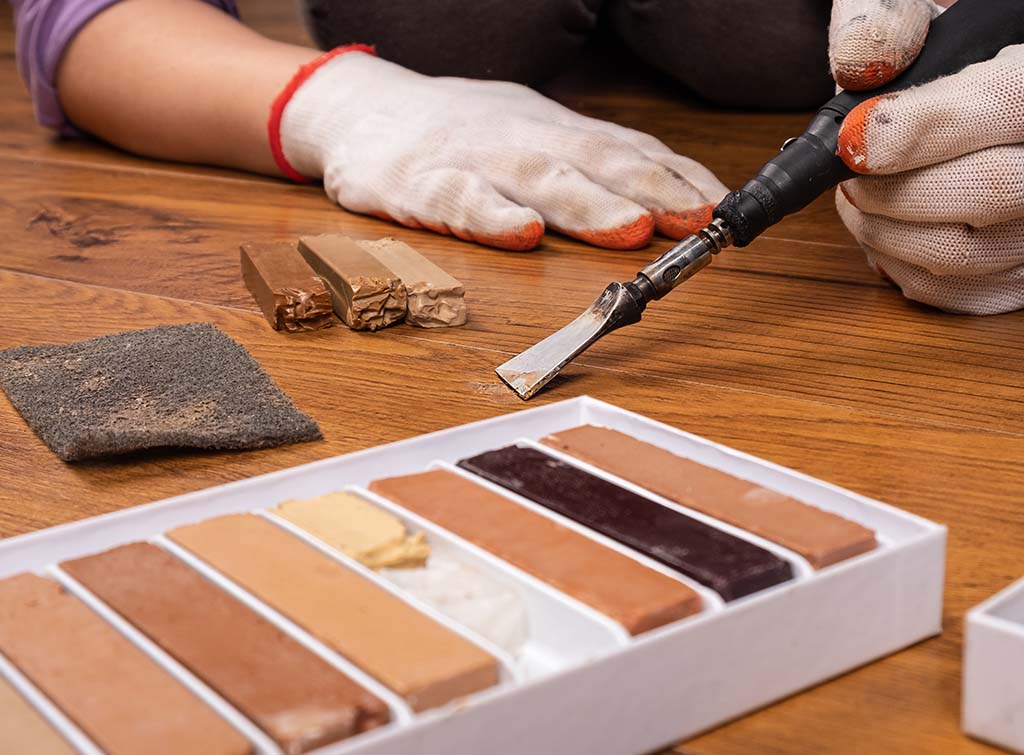 As with a hardwood floor, if you're attempting to get scratches out of wooden laminate flooring, always make sure the floor is clean and dry before attempting a repair.
Touch up markers and pencil kits that are ready to use products are available, and some flooring manufacturers have their own kits that you can buy. These laminate floor scratch repair kits normally come with two or three colours to help imitate the wood grain – it's a bit like colouring in!
This is a quick and efficient method for repairing a scratched laminate floor but it isn't a permanent solution as the touch up may fade over time.
How to get scratches out of laminate flooring
Another option for a scratched wood floor is to use wood wax. Again kits are typically available from manufacturers.
If you're using wax, you will need to heat it up and use the special applicator that comes with the kit to apply it. This method can be fiddly and requires a lot of attention and patience. For the best finish, use a putty knife to create a flat surface to make sure the repair blends in.
Similarly, you can use 'burn in' sticks. These are similar to wax but are designed for deeper scratches. The sticks need to be heated and are then applied like a filler. Again this requires patience and needs to be left to dry.
For deep scratches, you may need to use coloured putty. This putty is available to buy but does require a certain level of skill as it is hard to remove dry putty without causing more damage to the floor. After applying the putty, make sure the area is smoothed flat for the best finish.
If the initial scratch is really bad it might be past the point of repair and you might need to replace a plank. In this case, it's best to reach out to a professional for advice. For more details on cost take a look at our laminate floor fitting cost guide.
See the tradespeople we've checked and recommend for your job
Repairing a scratched vinyl floor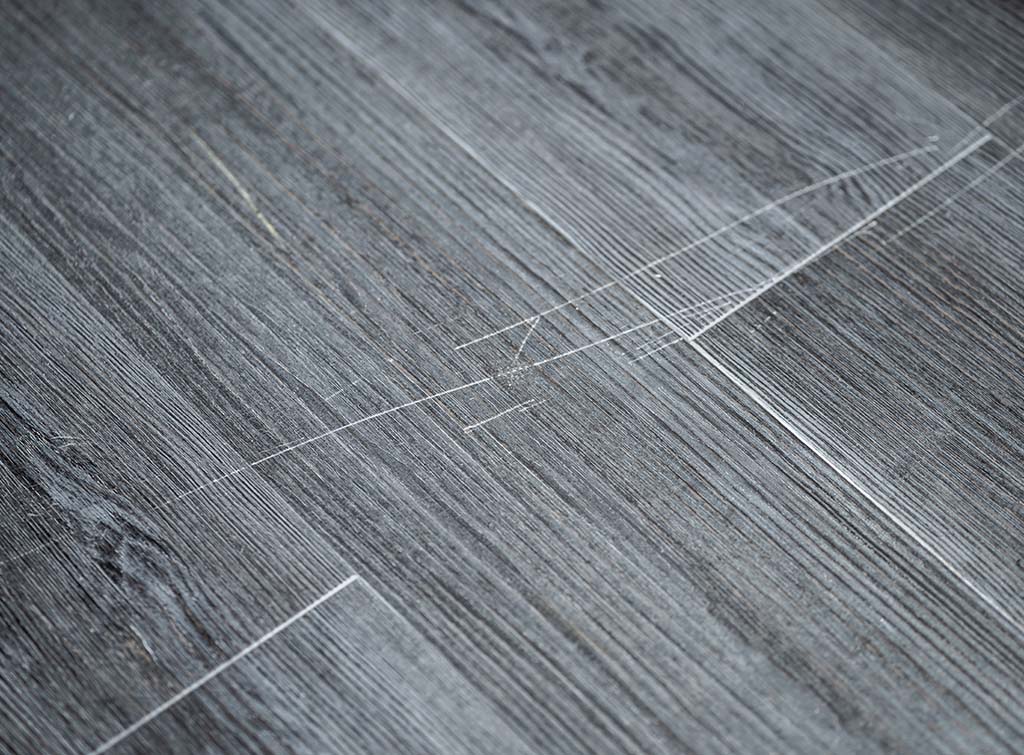 Vinyl has come a long way and some wood effect vinyl even has a raised grain that looks really realistic. Vinyl can be more prone to scratches though, so here are some tips if you've got a scratched vinyl floor.
Clean the area with mild detergent and a soft cloth.
Use 2-3 different grades of sandpaper to smooth any rough edges. Go from courser to finer (P320, P500, P800) and rub gently in circular movements.
Clean again to remove any dust.
Apply a good quality wax to finish. Use a small amount on a clean cloth and use small circular movements.
Wipe clean with a clean dry cloth.
Other products such as a PU cleaner or a repair pen are also available to touch up smaller scratches. It's also possible to fix deep vinyl floor scratches with liquid sealant.
If the damage is extensive to your scratched vinyl floor you might require a partial replacement, and if this is the case then seek advice from a professional to get a seamless finish. Get an idea of costs in our vinyl flooring cost guide.
Scratched wood floor repair costs
If you require the services of a flooring specialist to repair your scratched wood floor, sanding and varnishing will cost between £150 – £650 per room, depending on the size of your room. If you have deep gauges on your wooden floor then gap filling will cost from £40 – £750 depending on the size of the job. In addition to these costs, you will also need to pay for the labour charge which you can expect to cost £250 per day on average.
A flooring specialist may advise that your wood floor needs replacing rather than just a repair, and if this is the case the costs for removing a wooden floor are approximately £200 per room, plus potentially the cost of rubbish removal. For a detailed look at the cost of a new wooden floor, see our wooden flooring cost guide.
Hopefully, this has given you some options to consider if you need to repair your wood floor. If in doubt, always contact a flooring expert to get their advice.