What are window mullions and muntins?
Houses have a lot of features with strange names only architects understand. So, if your search includes 'what are window mullions?' or 'what is a muntin?,' you're not alone. Keep reading for our expert advice.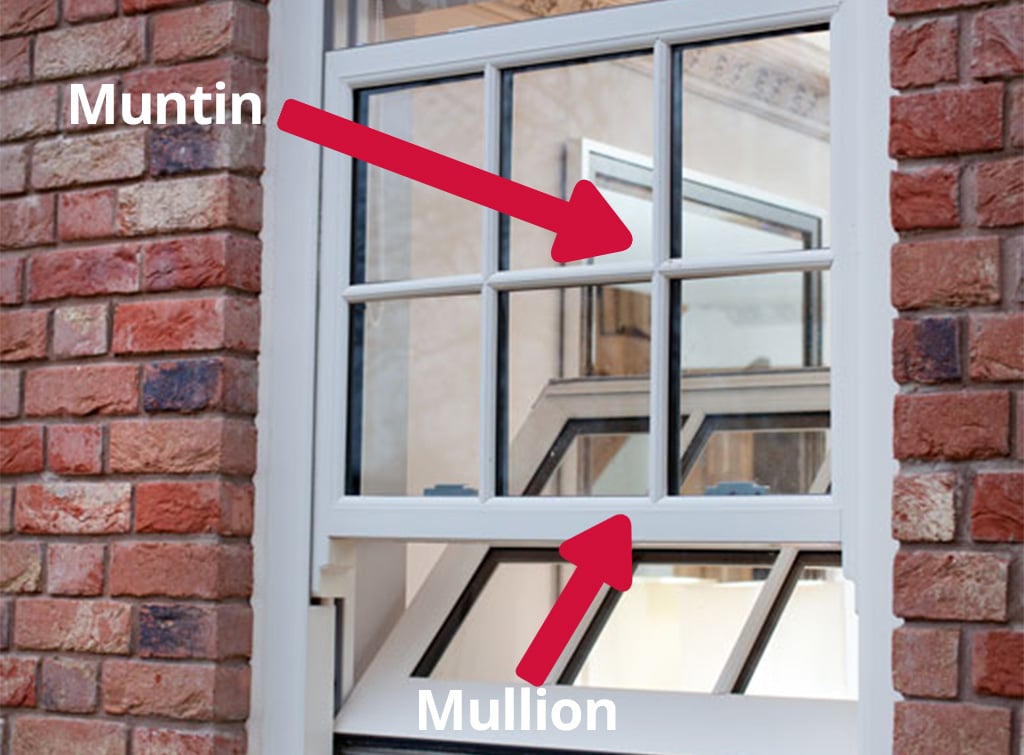 Some interesting names to describe window elements include jambs, lintels, architraves, transoms, and stiles. So, it's no wonder you've searched 'what are window mullions?' and landed here.
Thankfully, we have the answers to complicated questions like 'what's the difference between a mullion and a muntin?'
Have you ever looked closely at a window and noticed small strips of material running vertically or horizontally between the glass panels? These are called muntins, and they're an important function for designing windows and splitting them into sections.
Similarly, mullions are the vertical bars between window sections. They're typically used decoratively or for structural support.
In this article, we're going to explore exactly what window mullions and muntins are, their types and functions, and how they impact the aesthetic of your windows.
See the tradespeople we've checked and recommend for your job
What are window mullions and muntins?
Mullions
Mullions are typically made of wood, vinyl, aluminium or steel. They provide structural support when separating window panels. They're also used decoratively and as a division between double doors.
When someone asks if you want a mullion, it's probably not someone from Birmingham offering you a life-changing amount of money. It's likely your window designer checking if you want a vertical element that forms a division between your window units or screens.
Muntins
On the contrary, muntins (more commonly known as grilles) are decorative strips that separate panes of glass. Placed at different intervals to create various window designs, they also offer some structural stability and support.
You often find muntins in double-hung and casement windows. However, they're also found in large picture windows, bay windows, and other speciality windows.
Related: Aluminium vs uPVC windows – what should I choose?
What does a mullioned window look like?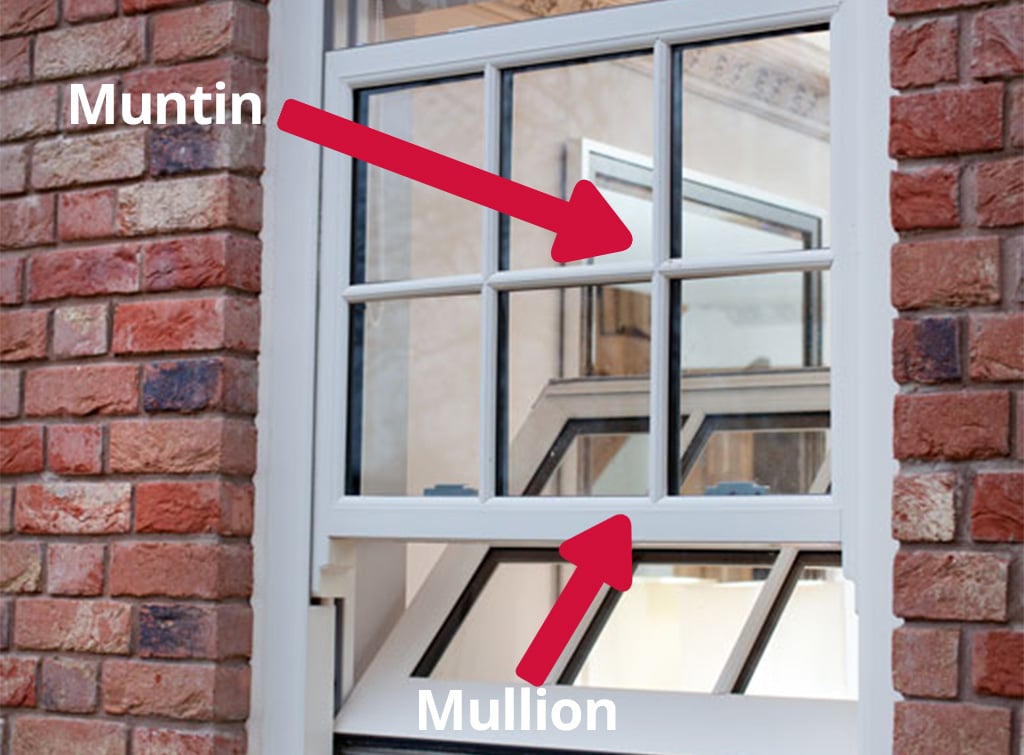 Types of window muntins (aka grilles)
Let's take a look at the most common types of muntins and their unique characteristics and benefits.
True divided-lite muntins
These are the most traditional type of muntins. True divided lite muntins are made from individual pieces of material such as wood or aluminium. They're assembled to create a grid-like pattern that separates each pane of glass.
Simulated divided-lite muntins
Designed to look like true divided-lite muntins, they're actually made with a single piece of material. The simulated divided-lite muntin is attached to the exterior and interior of the glass panes. This creates the appearance of a divided-lite window without the need for several separate pieces of glass.
Between-the-glass muntins
Between-the-glass muntins are built into the glass unit itself. Sandwiched between two panes of glass and made of wood, vinyl, or aluminium, they're popular for their clean and seamless look.
What is a flying mullion?
Although it sounds like a cool circus trick, a flying mullion just describes the mullion that separates a moving window panel from a stationary window panel. They're designed to slide or move out of the way to create a larger opening in a multi-panel window.
For example, in a multi-panel window such as a sliding or folding door, each panel has its own mullion.
You'll typically find flying mullions in large openings, such as those found in sunrooms or conservatories opening onto a patio.
When the windows or doors are closed, the flying mullion provides structural support and helps prevent air and water from entering your home. However, when the panels are opened, the flying mullion slides or folds out of the way to allow for a larger and unobstructed opening.
You can operate flying mullions manually or with a motorised system, depending on the size and weight of the window panels. Some flying mullions are completely removable, which gives the option of an even larger opening.
In addition to creating a larger opening, flying mullions can also enhance the aesthetic of your windows. This is because they provide a clean, unobstructed view when the panels are open, and a sleek, modern look when they're closed.
What are the functions of mullions and muntins?
Mullions
Mullions serve several important functions. They provide structural support for windows, keeping them stable and secure, and also help to distribute the weight of the window evenly, which reduces stress on the frame and its individual components.
Muntins
Muntins divide large window panes into smaller sections, which can help improve a home's energy efficiency credentials. Divided-lite windows also reduce the amount of heat able to escape from your home, which helps to keep it warmer in the winter.
Muntins are also decorative and can improve your windows' aesthetics. Used to create various designs, from simple grids to more intricate shapes and patterns, they're a fun feature for designers to play with.
What is the difference between a mullion and a transom?
Transoms are horizontal bars that sit above a door or window (as pictured above) and support some types of windows (e.g., casement). They're either openable or fixed depending on the design of your windows.
Where a mullion is a vertical structure, a transom is a horizontal structure. However, they both offer practical structural support and decorative benefits.
Related: What types of windows are there to choose from?
Cost of stone mullion windows
You can typically find stone mullions in Cotswold village homes, period properties, and churches. However, they're not super practical or easy to maintain/replace. Even so, if you're looking to renovate your stone mullions (and only your stone mullions), you're looking at around £4,000 + VAT.
However, this will depend on your specific requirements and the type of renovation you're looking for. That's why it's best to ask a few professionals for a quote on your stone mullion window, which will help you work out a more accurate figure for materials and labour.
Related: Window sill replacement cost
Did you find this blog on 'what are window mullions?' helpful? If so, check out our blog for more expert advice and helpful guides.
See the tradespeople we've checked and recommend for your job