What types of windows are there to choose from?
There are as many types of windows as there are types of houses. As homes have evolved over the years, so have window designs.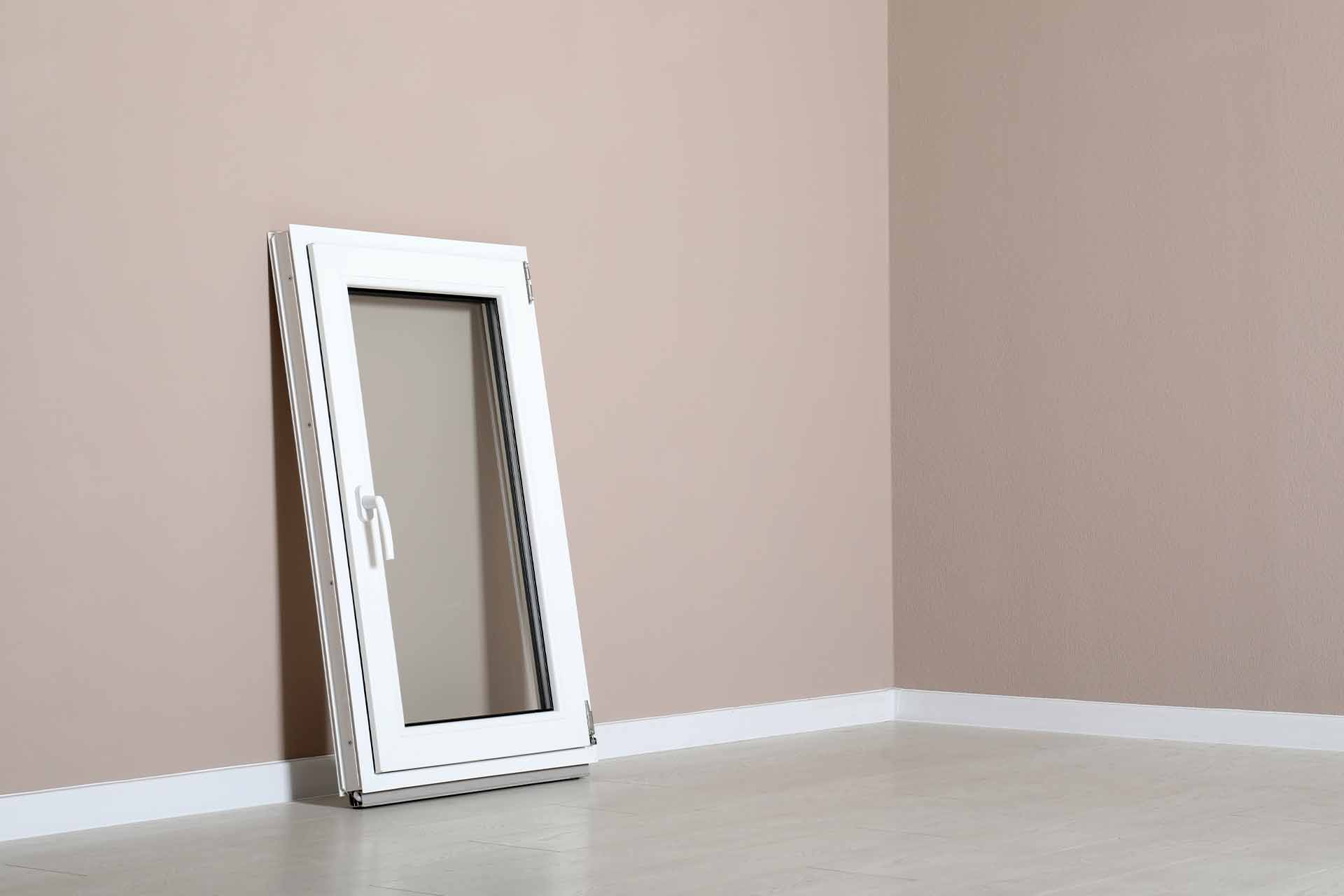 There are as many types of windows as there are types of houses. As homes have evolved over the years, so have window designs. Homeowners have several options to choose from when it comes to their window style. However, how do you know what window design to choose? What's the difference between bow, bay, and transom?
Thankfully, we have you covered. In this article, we're going to discuss the various window styles on the market, how they work, and the benefits of each.
Casement windows
Casement windows are versatile and easy to install and have therefore been around for a long time. They work by opening outwards on hinges using a crank arm, which means they work in almost any home environment. They can also fit any size window frame with one or numerous panels.
The options in terms of openers are also versatile, meaning homeowners can choose to have them added on one side, opposite sides, or the entire frame depending on the level of ventilation required. They're made to shut tightly to maximise insulation and energy efficiency.
Types of casement windows
Side hung casement windows are the most common, with the opener swinging outwards.
Single casements are often side hung with a single frame.
The double frame (or french casement) windows are when two casement frames are put together side by side with handles in the middle (on the central mullion). These handles open outwards to create a wide opening.
Top hung or awning windows are hinged at the top and open at the bottom. They're particularly beneficial for wet weather as no rain can enter the room. This means you can enjoy some fresh air without getting wet.
Bottom-hung (or hopper) windows are hinged at the bottom and open from the top. They're great for high-rise properties such as flats on higher floors. They're much safer whilst providing plenty of ventilation.
Flush casement windows are when the window and openers sit flush to the frame for a seamless aesthetic. It's a popular finish for most contemporary homes.
Sash windows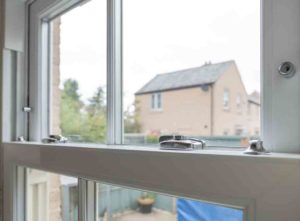 Sash windows are often favoured by homeowners because they're attractive and aesthetically pleasing. They can often add value to a home too.
Sash windows are often found in period properties such as Georgian townhouses, listed buildings, and conservation areas. They're often comprised of two framed panels that cross over horizontally by sliding up and down in the outer frame. (However, sometimes the bottom frame is fixed because of safety requirements).
When they're not fixed, they allow ventilation at both the top and the bottom, which draws air effectively well. All in all, sash windows are a smart design that worked before modern installations like fans!
Aged sash windows can be a pain to maintain, as their cords can fray and no longer work and gaps can mean they rattle or shake in windy weather. They can also warp, which makes them stiff and hard to push open. Modern designs are installed with spiral balances to combat this, which make them far easier to open and close. They offer the same aesthetic with none of the issues; however, you'll have to pay the price for this, with timber sash windows costing upwards of £1,500 each to install.
If you already have sash windows that need restoring, take a look at our sash window refurbishment cost guide, or our replacing sash windows cost guide.
Single-hung sash windows mean that one pane will slide with the other is fixed.
Double-hung sash windows allow both windows to slide and ventilate from the top and bottom.
See the tradespeople we've checked and recommend for your job
Sliding windows
Where traditional sash windows open and cross over each other vertically, sliding windows open and cross over each other horizontally. This tends to allow a bigger surface area for a brighter room. They're also space-saving, which makes them great for small conservatories or in kitchens that lead onto small gardens or patio areas. Large sliding windows are most often found in contemporary homes, giving people the opportunity to have lots of light at the back of their properties.
Bay windows
For anyone who likes to delve into the pages of a good book, a bay window doubles up as a reading nook. Often found in Victorian or Edwardian homes, they jut out from the exterior wall to create a hollow inside the house. This curved area is where people often place a bay seat –  for lounging, storage, or general aesthetics. It also creates a nice panoramic view of the outside world and encourages better air circulation (as was their original purpose).
Due to the design of bay windows, homeowners looking to install one will likely need planning permission (unless you build one at the back of your property).
Types of bay windows
A single-end bay includes two windows, one edge, and varying degrees of depth.
Splay bays resemble half hexagons with three windows and angled edges.
A circular bay has five windows (or more) to create a circular effect.
Square bays have three windows with square edges.
Bow windows/garden windows
Bow windows are often confused with bay windows. However, a bay window requires the wall brickwork to be extended, whereas, for a bow, only the window extends outwards, leaving the brickwork where it is. This creates a 'floating effect.' They're wonderful additions if you're green-fingered and fancy adding a shelf of plants. They also offer the same benefits as a bay window in terms of view and light. What's more, they don't require planning permission.
Skylight windows/roof windows
When it comes to installing windows on your roof, you can consider Velux windows or skylights.
Skylights sit flush to an angled roof and are often found on extensions (e.g. kitchens, bedrooms, dining rooms.) They're perfect for angled ceilings or rooms that need some extra light, and they often open out on a cantilever fixture.
Transom windows/fanlight windows
Transom windows are so-called because of the 'transom beam' that runs along the top of a door to separate it from the glass that sits at the top. They're also known as fanlights and were originally used for air conditioning (before the days of electric fans!). They opened to draw warm air from the fireplace and coax it upstairs. In the summer, both transoms would be opened to create extra airflow through the house, which cooled it down. These days, they're a decorative feature that homeowners opt to keep or install for aesthetic purposes.
Awning windows
Awning windows are basically casement windows that are hinged at the top. They're great for homes in warm and wet conditions because they open out to allow airflow but don't let any rain enter. Alternatively, a window that's hung from the top (top-hung) is a cheaper option and often easier to operate. However, they're not as aesthetically pleasing.
See the tradespeople we've checked and recommend for your job
Types of window glass
When it comes to window frames, most homeowners opt for timber, vinyl, uPVC, aluminium, or composite. However, when deciding on the type of glass, there are several to choose from.
Insulated glass is used in most homes for double or triple glazing. It's great for energy efficiency and minimises the risk of condensation forming on the outside of your windows.
Low-E glass is great for reflecting thermal radiation. It's worth considering for homeowners who want to reduce their energy bills. This is because Low-E glass reflects heat away from the house in summer and reflects heat trying to escape in winter back into the house.
Tempered glass is another popular option for homeowners due to its strength and impact resistance.
Obscured glass is used in bathrooms or front doors to 'obscure' the view and maximise privacy.
Laminated glass is a safety glass used predominately for high-rise buildings or those in high-risk hurricane areas.
Float glass is often used on windscreens. However, it can also be used for interior design and fire safety measures.
Check out our window glass replacement cost guide for more information.
Did you like this blog? If so, we have more where this came from. Check out our blog for more expert advice, how tos and inspiration.