Where can I point my CCTV cameras?
Ever wondered where you can point your CCTV camera? Explore our handy guide to positioning your cameras. Keep your neighbours happy while staying safe.
Protecting your home and family is incredibly important, so installing CCTV cameras around your property is a great choice. They can help to monitor hidden areas of your home, deter criminals and can even be useful for identifying intruders after a break in. If you're wondering where you can point your CCTV cameras, then you're in the right place.
This article is designed to teach you the best way to position your cameras, what the law surrounding CCTV camera says and whether or not you need to display CCTV signs.
Haven't found a security camera yet? Then view our guide on the best home CCTV cameras.
Where can I point my CCTV cameras in the UK?
If you're planning to install security cameras around your property, it's important to be aware of the laws surrounding the recording of others. Your neighbours certainly won't be happy if you record them without permission and any footage will be subject to the Data Protection Act.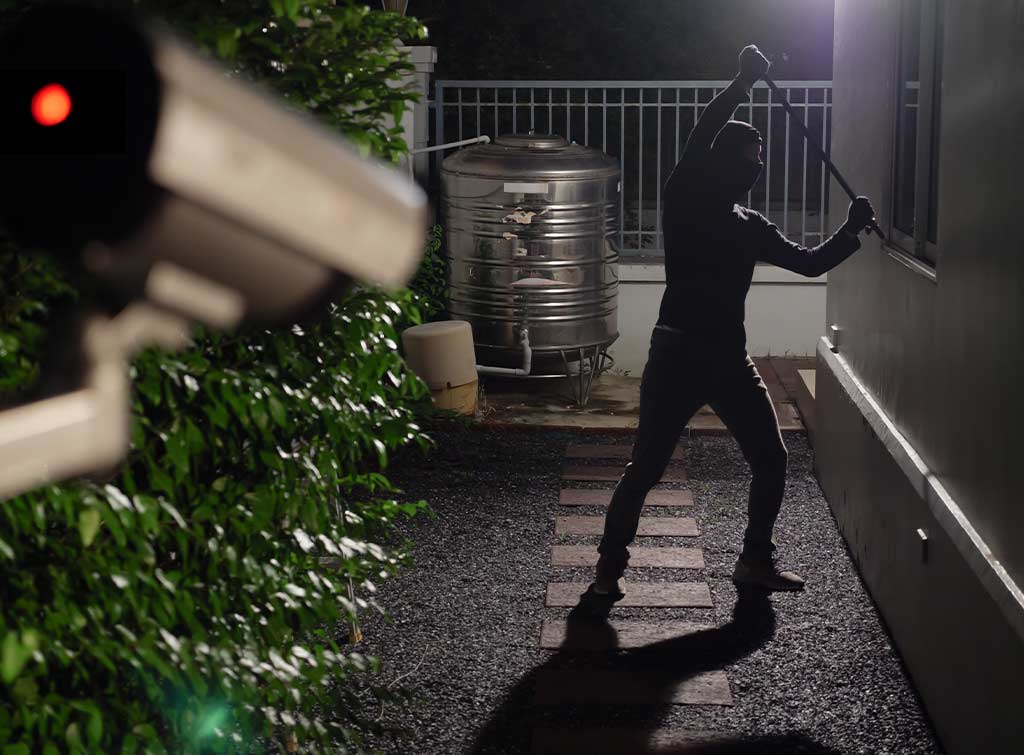 This means that you can only record videos for justifiable reasons and any data of others you record will need to be dealt with as set out in the Data Protection Act.
As such, it isn't surprising that many people are unsure where they can point their CCTV cameras. Well for starters, try to avoid pointing them towards your neighbour's gardens or the street outside your home. Not only is this common courtesy, but you can also avoid issues with the Data Protection Act and storing information.
Generally, the best places to position CCTV cameras include your front door, your back door, any windows that are away from the public eye, your garage and you can also add some internal cameras. Remember to position then high enough that they can't be stolen and at the right angle.
Can I point my CCTV at a neighbour's home?
As we mentioned above, it isn't the best idea to start recording your neighbours without their permission. Firstly, you need to consider the Data Protection Act and secondly, you need to consider how your neighbour will feel. Nobody wants to be recorded while they are relaxing at home and many people will feel this is an invasion of their privacy.
Thankfully, it's usually not necessary to point your CCTV cameras at your neighbour's home. You really want to capture different angles around your home, particularly in hidden areas. It's always a good idea to record different entry points into your property, including the back and front door. This way you can see any visitors approaching.
See the tradespeople we've checked and recommend for your job
Do I have to display CCTV signs?
Now you know where you can point your CCTV cameras, you need to consider signage. If you plan to position your cameras at an angle that captures footage of people walking past your home, you'll need to not only have a justifiable reason, you'll also need to display specific signage. This informs any passers-by that they may be recorded.
Your sign should be easy to read and understand as well as give important details about who will be operating the CCTV system. Always ensure your signs are large enough that people will notice them and keep them from being obscured by plants or trees. This also acts as a deterrent for would-be thieves.
How many CCTV cameras do I need?
Once you've decided to secure your home using CCTV cameras, you need to decide exactly how many to install. This will usually depend on the size of your home as well as how much access it has. For example, entry points like doors and windows are great places to position security cameras, so the more doors and windows your home has, the more cameras you'll need.
You can also add extra CCTV cameras in areas of your home where valuables are stored, in any outhouses you own and along any winding driveways.
I'm ready to protect my home
Choosing to install security cameras will help to keep your possessions and family members safe from intruders and criminals. When you're ready to begin upgrading the security of your home, the first step is to talk to a professional about installation. Using our free search feature is an amazing way to find hard working, local experts.
With the assurance that your new CCTV cameras will be installed to the highest standards, you can relax. Our trusted professionals will also be able to answer any questions or help with any issues you have.
Alternatively, you have the option of completing the installation yourself, although the results may not be as good as they would have been if you hired an expert. Why not check out our how to install security cameras guide for step-by-step instructions and so much more.
How much do security cameras cost to be installed by a professional?
While installing new security cameras may be one of the best ways of staying safe in your home, it does come with a cost. A basic four camera CCTV system will cost an average of £800, plus you will need to pay installation costs of around £75 per hour. If you'd like to learn more about budgeting for your new security system, our CCTV installation cost guide is the perfect resource.