How to build a swimming pool
Learn how to build a swimming pool quickly with our step-by-step guide. Covering indoor, outdoor, and cheap swimming pools.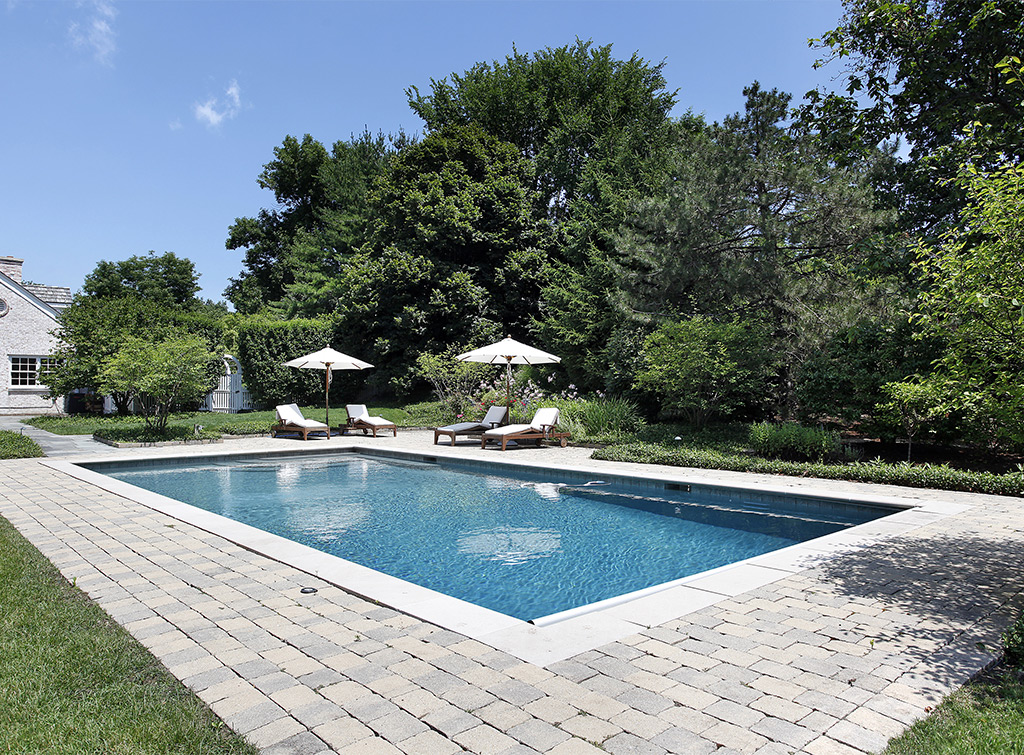 The health benefits of swimming are vast, with both mental and physical advantages. Swimming can help to reduce anxiety, strengthen your body, and even improve your cardiovascular health. Owning a swimming pool is a dream for many homeowners so why not make this a reality and learn how to build a swimming pool at home?
Today, we'll be covering the steps for building a swimming pool in your garden, plus tips on how to build a cheap swimming pool. We'll even be looking at the costs of building a pool. So, keep reading to make your dream a reality.
The benefits of building your own swimming pool
If you're lucky enough to have the space, building your own swimming pool will help to enrich your life in a variety of different ways. In addition to health benefits, owning a swimming pool is a fantastic way of adding value to your home and building something that will benefit every member of your family.
Below are some of the brilliant benefits of building your own swimming pool:
Save on the cost of labour: If you plan to build your own swimming pool you'll save on the cost of labour.
Great for relaxing: Swimming is ideal for unwinding after a hard day. It helps reduce mental stress and muscle tension, allowing you to relax.
Good exercise: Perfect for anyone who struggles to exercise on land, swimming doesn't put a strain on your joints like other types of activity. In fact, swimming can help you to reach a healthy weight, tone your muscles, strengthen your heart, and increase your endurance.
Fun for parties and socialising: What better backdrop for a party than owning your own swimming pool. You can socialise with your guests while exercising together or even playing games in your pool.
Keeps the kids entertained: Any parent knows the challenge of keeping kids busy during school holidays. Having a swimming pool gives them a constant source of entertainment while keeping them fit and healthy. Just make sure they're always monitored for safety.
Great for cooling down on a hot day: During the summer there's nothing better than cooling off in your own swimming pool.
Preparation for building a swimming pool in the UK
The first step when learning how to build a swimming pool in the UK is planning. First, you'll need to choose a perfect location. This can be anywhere on your property that's clear of trees and bushes, is flat, gets the right amount of sunlight, and is easy to access for excavation vehicles.
Next, consider the size and shape of your new pool. Decide how deep you want the pool to be, where you'll place exits and pick a size and shape that fits well within the space.
You'll also need to choose what material your pool will be built from. You can choose from concrete, fibreglass, and vinyl lined options. However, bear in mind that concrete pools take the most time to install.
It's also important to know the risks of building a pool. This is not a job for a DIY beginner, in fact, you could cause damage to your home or garden and injury to yourself if you don't know what you're doing. We'd always recommend hiring a professional to tackle the more challenging parts of this project like operating heavy machinery and large vehicles.
See the tradespeople we've checked and recommend for your job
How to build a swimming pool step-by-step
Unfortunately, swimming pool construction is not a quick, easy job. The whole process can take anything from weeks to months, so be prepared for this when starting your swimming pool journey.
Wondering how to build a swimming pool step-by-step? Below are the main stages to follow:
Mark out the shape and size of your swimming pool.
Dig a hole to the correct dimensions of your pool. You'll need to use an excavator, which we wouldn't recommend operating yourself if you don't have prior experience and training.
Even out the bottom of the hole you've just excavated by adding a layer of washed gravel subsoil and raking, then flattening it down.
Use steel supports to create a grid covering the sides and base of the hole.
Lay out the plumbing required for your swimming pool. This includes filtration, circulation systems and drains.
Add the electrics that will power your pool. Working with electrics is very dangerous so hiring an electrician is the safest option here.
For concrete pools, pour the concrete so it covers the walls and base of your hole, then grade and flatten while wet.
For fibreglass pools, position the structure using a crane, then fill in the area around the pool with concrete and soil.
For vinyl lined pools, first, pour the concrete as described in step 7 then lay the sheet covering the space. The vinyl will need to be stretched to allow a smooth covering, then tacked into place before any air is removed using a vacuum.
Finally, fill your new pool with water, then add chlorine and any other essential chemicals to keep it clean and kill any bacteria.
Considerations for building a swimming pool in your garden
When considering how to build a swimming pool in your garden, you'll need to look at how this addition will fit into your outside space.
You'll of course need to sacrifice a large portion of your garden, so this may not be the best choice for smaller outside spaces. Having said that, installing a pool can hugely enhance the appearance and usage of your garden. You can even build a deck around the pool with loungers, making this a stunning feature.
Advice on building a concrete swimming pool
Now we know how advantageous a pool can be, let's look a little closer at how to build a concrete swimming pool.
Concrete is a great choice for your pool as it's durable and long-lasting. It can also be poured into any shape you desire. One of the downsides of using concrete is the time it takes to install. It's likely it could take up to 12 weeks for your pool to be finished.
How to build a cheap swimming pool
While swimming pools are a luxury not many can afford, it's possible to learn how to build a cheap swimming pool. For those on a budget who want all the benefits owning a pool can bring, the following ideas should help you realise your dream while saving money:
Surround a large paddling pool with raised decking to give the appearance of an inground swimming pool.
Build a natural swimming pool by digging a hole in your garden and filling it with water. You'll need to line the sides and base of the pool with clay or another type of liner so the water stays in place.
Buy an old shipping container or skip and once it's thoroughly cleaned, coated and cushioned, just add water and a ladder and enjoy.
Purchase an above ground pool then dig a hole large enough to fit the pool in your garden. You can then position your pool in the hole, creating the effect of an inground pool.
See the tradespeople we've checked and recommend for your job
How to build an indoor swimming pool
Building an indoor swimming pool is a little different to an outdoor pool as this will be built into the floor of your home. It's essential this is done by someone with the proper training and experience to prevent issues down the line.
Below we've outlined how to build an indoor swimming pool:
Excavate a hole in the right shape and size to accommodate your new pool. Choosing the right position is vital to ensure you don't damage your home's foundations and structural integrity or any pipes and wiring.
Lay out steel supports to reinforce the walls and floor of your pool.
Add any plumbing and electrics such as lighting, filtration, heating and circulation.
Cover the sides and base of the hole with concrete and allow it to cure.
Add a layer of waterproof coating to the concrete.
Lay tiles covering the walls and floor of the concrete base to create a smooth surface for swimming.
Finish by adding water and chemicals.
How to build a deck around a swimming pool
The best way to enhance your new swimming pool is to build a deck around it. This will give you space to add loungers and tables for relaxing and holding drinks, as well as helping the pool fit seamlessly into your garden.
If you'd like to know how to build a deck around a swimming pool yourself, the below articles will guide you through the process. They also have guidance on professionals who can help:
How much does it cost to build a swimming pool?
If adding a swimming pool to your property sounds like a brilliant idea, you'll need to know how much to budget. Whether you choose to save the money first or take out a loan, swimming pools are not cheap to install. If you're on a tight budget, jump back to our 'how to build a cheap swimming pool' section.
Otherwise, check out our swimming pool cost guide. It's flooded with information and advice plus a range of different prices.
Looking for average costs? As a rough guide, the average indoor swimming pool installation cost will be £115,000 and the cost of an outdoor pool will be £85,000.
Which tradesperson should you use for the job?
When it comes to building an outdoor swimming pool, you'll need to either hire a swimming pool installation company who'll take over the entire project, or you could hire separate tradespeople. If you go down the second route you may save money, but this also comes with the hassle of working with a variety of professionals and project managing the work.
You'll need the help of an electrician, a plumber, a contractor… the list goes on. So, to save time, use our free request a quote feature which will instantly send your enquiry to three local specialist tradespeople.
Time to take the plunge
Making the decision to hire an expert to install your pool is a brilliant choice. In addition to saving you weeks of work and a lot of energy, using a professional is the best way to guarantee a high-quality finish. You'll also avoid any risks and dangers involved with doing the work yourself.
One of the best ways to find a tradesperson you can trust is to search our website. All our members are fully checked, giving you the confidence you're hiring a reliable tradesperson for your project. Plus, you can view past customer reviews before making your decision on who to choose.
As you'll need the services of a range of professionals, a great time-saving solution is to use our request a quote feature. Simply post your job and we'll do the hard work for you, sending it to three tradespeople who are recommended by your neighbours. They'll then get in touch, either asking for more information or sending you a quote.
Another excellent way of getting support and advice when building a swimming pool is to use the HomeOwners Alliance website. There you can get guidance on finding the best tradesperson as well as learning more about different home renovations.