How to build a wardrobe
Making the most of space and storage in your bedroom is a lot easier when you have fitted wardrobes. In this guide we look at some top tips for how to build a wardrobe that will free up space and organise your belongings.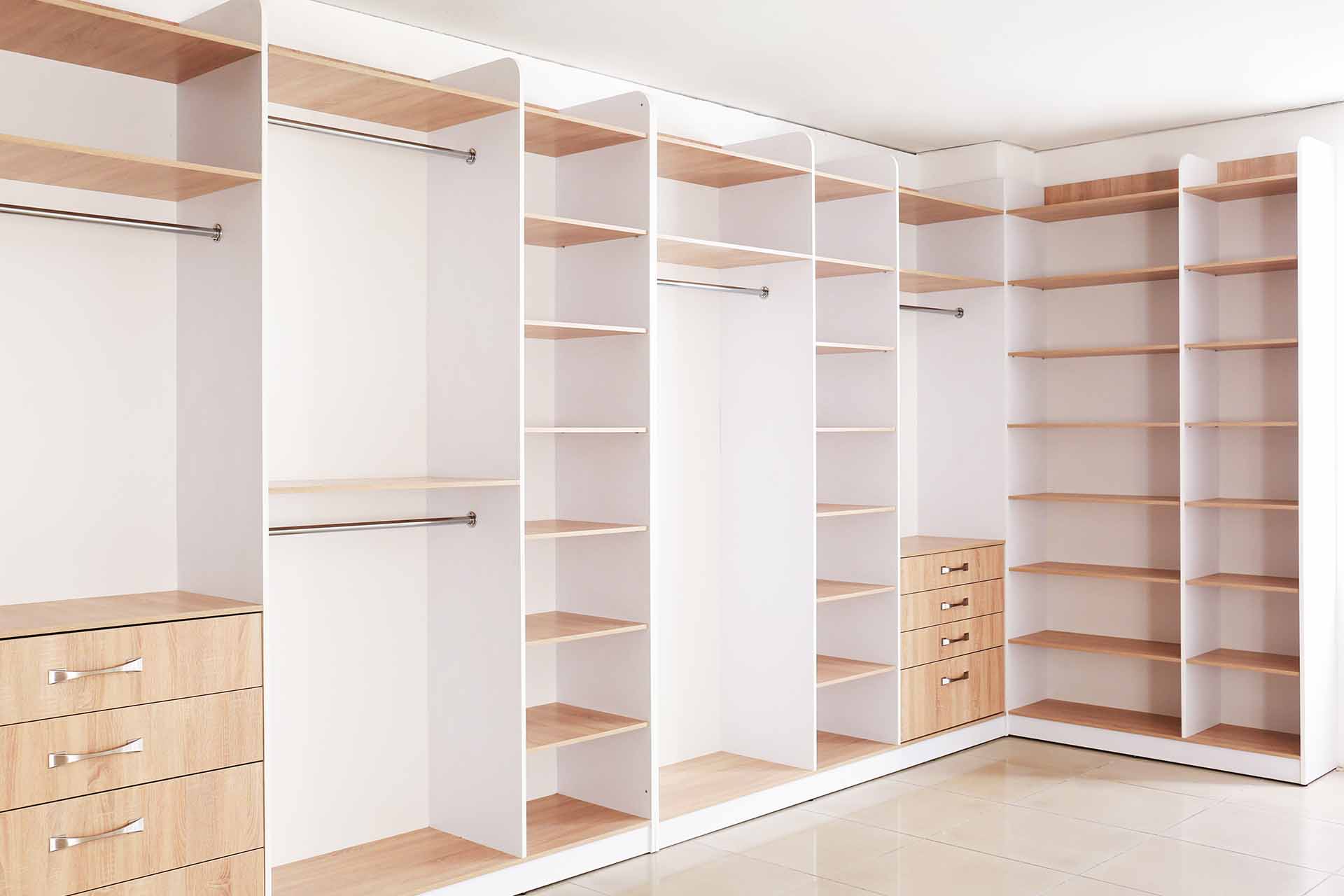 Fitted wardrobes are a great way to organise your belongings and make the most of the space and storage in your bedroom. In this guide, we look at some top tips on how to build a wardrobe, so you can free up some much-needed space and make your bedroom a relaxing haven.
As with most home improvement projects, preparation is key when building a built in wardrobe. We've pulled together the top things you need to consider when planning your fitted wardrobes, including how to get the most from your new wardrobe and looking at what wardrobe materials you'll need.
Planning how to build your own fitted wardrobe
Planning how to build fitted wardrobes for your home? Here are our top tips to help you understand how to make fitted wardrobes:
1. Choose the location of your wardrobe
In some bedrooms, it's obvious where you would build a fitted wardrobe due to either the layout of the room or the presence of doors, windows, radiators or other fixed objects that will dictate where the wardrobe can fit. In other bedrooms, you could have a number of choices for where you'll be building a built-in wardrobe. If that's the case, think about what would work best for the flow of the room.
2. Get your measurements right
Once you know where you're going to build your own fitted wardrobe, the next (and arguably most important) step is to make sure you have all the measurements for the space. Take your time to measure up accurately and make note of all the details, including any alcoves, corners or unusual room layouts that might affect the structure of the wardrobe.
3. Decide the layout
There are a number of questions that you can ask yourself that will help you plan the structure and layout ahead of building a fitted wardrobe:
Do you want swinging, folding or sliding doors?
What are you going to store in the wardrobes – will it just be clothes, shoes and accessories, or do you plan to store other items as well, such as suitcases?
What type of storage do you need for your belongings, i.e. hanging rails, shelves, drawers, hooks, etc?
Do you want to include non-storage features, such as a dressing table or surface to iron clothes on?
Do you need to consider features to help you access the top of your new wardrobe, such as pull-down hanging rails?
Once you have a good idea of what you want and need in your new fitted wardrobes, it's often a good idea to draw a rough sketch of how you see it looking on the inside.
Top tip: When building a fitted wardrobe, use the project as an opportunity to cull clothing and belongings you don't need or like. Make sure you're planning a wardrobe for only items that you love so that everything in your new wardrobe makes you happy.

Looking for some inspiration? Check out our fitted wardrobe ideas.
4. Choose your wardrobe materials
Depending on where you're planning to buy your wardrobe materials from, you'll need to decide which materials you want to use. Your options will be dictated by your budget, the layout and features you want in your wardrobe, and your own personal taste.
Speak to your local fitted wardrobe suppliers for their professional advice and to find out more about the different wardrobe materials that are available.
Top tip: Order samples before you place an order. You want to make sure you're happy with the look and feel of the wardrobe materials before you spend money on the big order.
See the tradespeople we've checked and recommend for your job
How to build a walk-in wardrobe
In large homes with ample space, building a walk-in wardrobe is a great way to repurpose an underused or empty room. Who wouldn't want a walk-in wardrobe?
Here's a quick overview of the process if you're thinking of building a walk-in wardrobe in your home:
Plan the space – Decide on where the walk-in wardrobe will be and how you'll use the space
Prepare the room – Pull up any carpet and underlay, strip the walls, replaster if needed and make sure that the space is in good condition to install wardrobe units.
Add structural support (optional) – If you plan on having long rails or sections of your wardrobe to store heavy items, you may need to add structural support
Build the walk-in wardrobe – Units will need to be assembled and installed in line with your planned layout
Add the finishing touches – Some of the most impactful features of a walk-in wardrobe are the finishes, such as the lighting and seating.
How much do fitted wardrobes cost?
The cost of a fitted wardrobe can vary massively, depending on the size and complexity of the wardrobe design. Here are some average fitted wardrobe costs you could expect to pay:
3-door standard fitted wardrobe – £3,200
3-door sliding door fitted wardrobe – £2,650
6-door wide fitted wardrobe – £4,800
2-section custom built fitted wardrobe – £3,200
The average daily rate for a carpenter to work on your fitted wardrobes is around £200 per day.
How to make wardrobe doors
If you want bespoke wardrobe doors for your fitted or walk-in wardrobe, we would highly recommend hiring a good local carpenter. Experienced carpenters are skilled in working with wood and similar materials to make bespoke wardrobe doors, among many other things.
Find the best local carpenters near you with our quick and easy online search.
See the tradespeople we've checked and recommend for your job
FAQs
What is the ideal built-in wardrobe depth?
As a general rule, the optimum depth for a built-in wardrobe is around 670mm deep – from the back wall to the front of the interior units. Anything less than 610mm deep will mean you won't be able to use a wardrobe like you normally would, with horizontal hanging rails.
What are easy fit wardrobes?
Easyfit is a brand of made-to-measure wardrobes that offer fitted wardrobes and accessories for a wide range of budgets. They're particularly popular with homeowners looking for fitted storage solutions for loft conversions and small or awkward spaces.