How to clean walls: The ultimate guide
Wondering how to clean walls? Like any pro-cleaner will tell you, it'll all depend on the scenario. Thankfully, these expert tips will take you through every potential issue and the best ways to deal with each of them.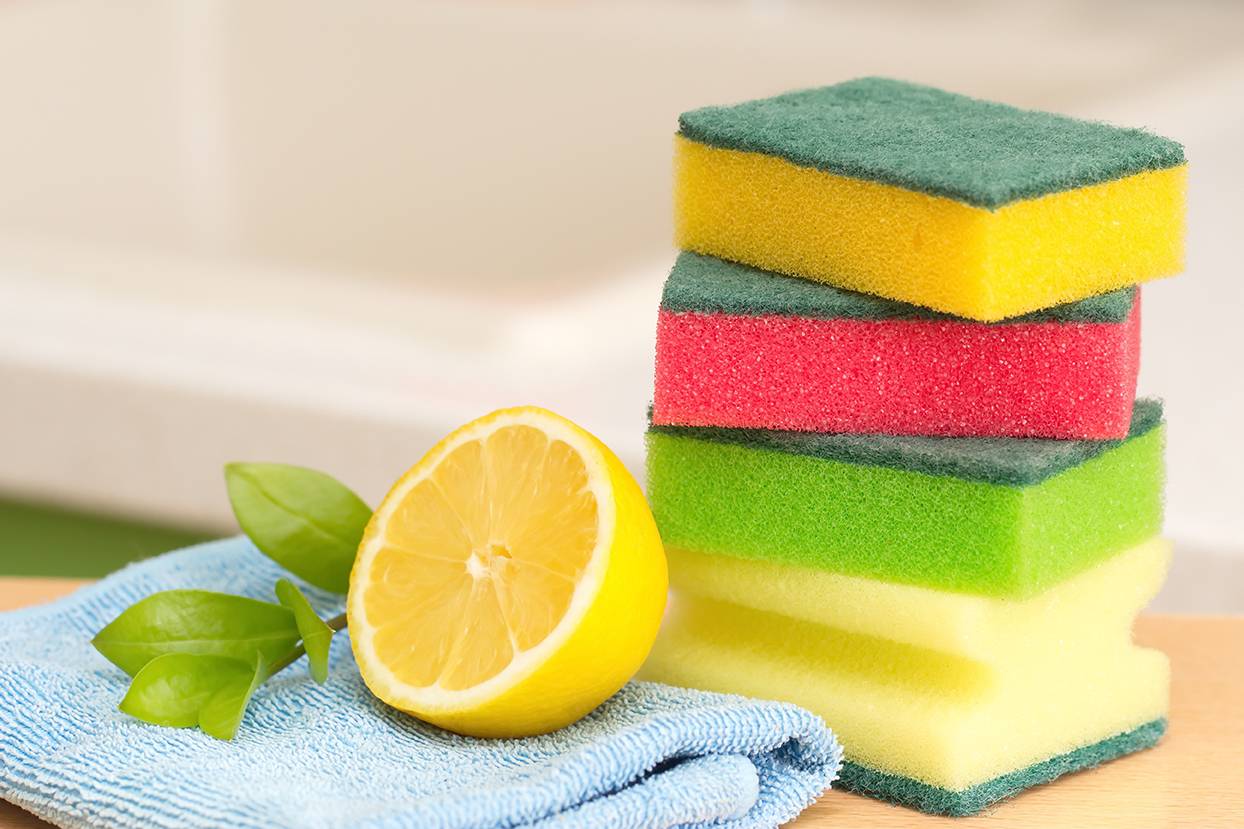 Knowing how to clean walls without destroying your wallpaper or recent paint job is something our experts understand.
Want to know the easiest way to wash your walls? Keep reading! Need answers for removing stubborn smoke stains? We've got you covered.
Our expert advice takes a deep dive into the grimy world of dirty walls, offering you the ultimate guide on how to keep your walls squeaky clean in some common scenarios.
What is the easiest way to wash your walls?
Depending on the current state of your walls, what's already on them, and how much cleaning is required, the easiest way to wash your walls differs. Here are three tried and tested methods for cleaning your walls.
How to clean walls with sugar soap
Sugar soap is one of the most popular ways to clean your walls. Not only does it sound sweet, but it's perfect for washing large areas and renewing their shine and lustre.
Contrary to its name, sugar soap isn't a sweetened dishwasher. It's actually a gentle chemical compound that's crystallised to look like sugar. Its main use is on bare walls to help the coat of paint adhere better. However, it can also be used on painted walls to clean them up.
Here's how to use sugar soap:
Lay down protective sheets to avoid soaking your floors, and cover any furniture you don't want to get wet.
Wipe down your walls with a duster to avoid dirt congealing and smearing.
Use a baking soda paste (equal parts soda and water) to remove any stains with a clean microfibre cloth. This works on painted walls as long as you don't rub too hard.
Once the walls are dry, put on your protective gear (goggles, face mask, gloves etc.).
Fill a spray bottle with sugar soap and warm water as per the instructions on the bottle, and mix until the sugar dissolves.
Mist your walls with the sugar soap mixture and leave it on for around half an hour. Do this in sections from top to bottom.
Use plain warm water and a soft sponge or microfibre cloth to rinse off the solution in gentle circular motions.
Pat your walls dry with a soft tea towel, some strong kitchen roll or a dry microfibre cloth.
Top tip: This method also works wonders on your skirting boards.
How to clean walls with vinegar
Vinegar is a natural paint stripper, especially for water and oil-based paints, so this method is only suitable if you want to clean non-painted walls in preparation for a new lick of paint.
To clean your walls with vinegar, follow these steps:
Mix 5 litres of warm water and 3 tablespoons of white vinegar in a clean bucket.

Soak a colourless sponge or cloth in the solution and wring it out so it's damp (this stops streaks).
Wipe down your walls from top to bottom in circular motions until your walls are thoroughly cleaned.
Dry with a microfibre cloth.
How to use baking soda to clean walls
Baking soda is an ethical cleaner's dream. Readily available in the home and a wonder in the kitchen (whether it's for baking or cleaning!), baking soda is a go-to product for removing stains and marks in several scenarios. What's more, it's gentle enough to use on wallpaper as well as paint!
Just follow these steps for the best results:
Mix a cup of baking soda with half a cup of water to form a paste (think 'toothpaste' consistency).
Using your finger, rub the paste on the stain you want to remove.
Leave for around half an hour to an hour to let it do its job and 'lift' the stain.
Wipe down with a warm and damp cloth or sponge to remove the paste.
Dry with a clean tea towel or microfibre cloth.
If the stain still hasn't lifted, add some washing-up liquid to the paste and repeat the above steps.
If the stain is particularly stubborn, you may need to use hydrogen peroxide. However, prepare to repaint or repaper the area!
See the tradespeople we've checked and recommend for your job
How to clean walls before painting
A good foundation is imperative for a good paint job. Painting onto dirty, mouldy or pockmarked walls will negatively affect the end result. Therefore, it's good to prepare your walls before painting them by making sure they're as clean as possible.
Dust and vacuum your walls to remove dust, loose bits of plaster or dirt, and any cobwebs. Your paintbrushes will thank you!
Strip your walls to remove any old paint or wallpaper. A paint stripper or wall steamer respectively will do the trick.
Remove any newly-revealed stains or mould with a baking soda paste, hydrogen peroxide, or a chemical mould-killing solution (for more serious concerns).
Clean your walls with our sugar soap method above. This will remove grease, fingerprints and any doodles your toddler has been practising!
Read our guide on how to treat damp walls before painting them for more comprehensive advice.

How to clean walls without removing paint
For anyone who's ever lived in a rented flat, you'll know that just breathing too hard on your walls can result in scuffs and stains. Matt paint is 'flat paint' that doesn't reflect light. However, it's also notoriously difficult to clean without removing it.
Here is our best method and technique to avoid accidentally stripping your walls because you looked at them funny.
How to clean walls with flat paint
Before you begin, tell your walls you mean no harm. We're not suggesting you sing to them, but it can't hurt.
Take the softest sponge or cloth you can find and soak it in warm water. Rinse it out so it's merely damp, and then lightly rub the stain until it disappears. If you're lucky, it'll come off easily.
If your wall whispering didn't work, try adding a small amount of baking soda or vinegar to the cloth and rub that on the stain, using gentle circular motions until it disappears.
If you're still stuck with a stain, purchase an eraser sponge and try that instead. They're often gentle and effective and shouldn't damage your walls if you're careful.
Hopefully, this does the trick and your flat/matt paint is still intact. However, if not, another option is a foam cleanser and the ability to follow the manufacturer's instructions exactly.
For stains refusing to budge, the only other trick we can offer is diluting some washing detergent with warm water. Add a tablespoon to around 4½ litres of water and dip the softest cloth you own in it. Gently wipe the stain and pray your efforts aren't in vain.
We're going to be honest: if you've tried all these steps and there's still paint on your wall, you're a cleaning deity with secrets we'd like you to impart. However, if you're a mere mortal like the rest of us, you likely need to touch up the area with some leftover paint from its original coat. If you don't have any, we highly recommend repainting your walls with a more durable product.
So, what's the best way to clean walls?
To summarise, the best way to clean your walls is to use gentle products and techniques if your walls are already painted or wallpapered. To prepare your walls for a new lick of paint, the best way to clean them is by dusting them, followed by steaming them, and then finishing them up with a sugar soap scrub.
The best tools to clean walls
Add these to your wall cleaning arsenal and never suffer from dirty walls again.
Liquid hand or dish soap
Baking soda
Vinegar
Hydrogen peroxide
The softest cloths or rags you own
Microfibre cloths
Tack cloths
Soft and clean tea towels
Access to warm water and a clean bucket (or two)
Top tip: Avoid abrasive instruments or ammonia-based products. As you're cleaning a large area, you want to avoid breathing in too many chemicals.
For more expert advice like this, read our home maintenance tips and get your home winter-ready!
See the tradespeople we've checked and recommend for your job
FAQs
Should I steam clean walls for cigarette smoke?
Steam cleaning your walls is one way to remove nicotine stains and cigarette smoke. However, the best cleaner on the market for this job is any product with TSP in it (trisodium phosphate). Although it sounds like a serious chemical, it's actually an all-purpose cleaner you can pick up from most local home improvement stores.
How to clean walls after sanding
Sanding is dusty work, so the first thing you need to do after cleaning your walls is to vacuum! Once you've removed as much of the dust as possible, wipe down your walls with a dry duster and vacuum again. Next, apply a sugar scrub solution (see method above), rinse off, and leave to dry.
How to clean walls and skirting boards
Sugar soap is a great method for cleaning both walls and skirting boards alike. Other popular methods of cleaning walls include using vinegar or baking soda. Just watch out because vinegar is a natural paint stripper!
How to clean walls without leaving marks
The only way to clean walls without leaving marks is to use gentle products and gentle circular motions. Avoid anything with ammonia as this will strip the paint from the walls. Likewise, using too much force will result in buffing off the paint.
What can I use instead of sugar soap to clean walls?
There are several sugar soap alternatives on the market, such as:
Baking soda and water (mix equal parts to form a paste) – leave on for a minimum of 30 mins.
White vinegar – great for degreasing.
Washing up liquid – just make sure you rinse it off thoroughly.
Tea-tree essential oil – perfect for removing mould.
We hope you found this article helpful. For more expert tips and ultimate cleaning guides, read our blog for the latest advice.