How to get rid of fleas
Learn how to get rid of fleas in your house quickly & effectively. Including natural and chemical methods for dealing with fleas in carpets, beds & gardens.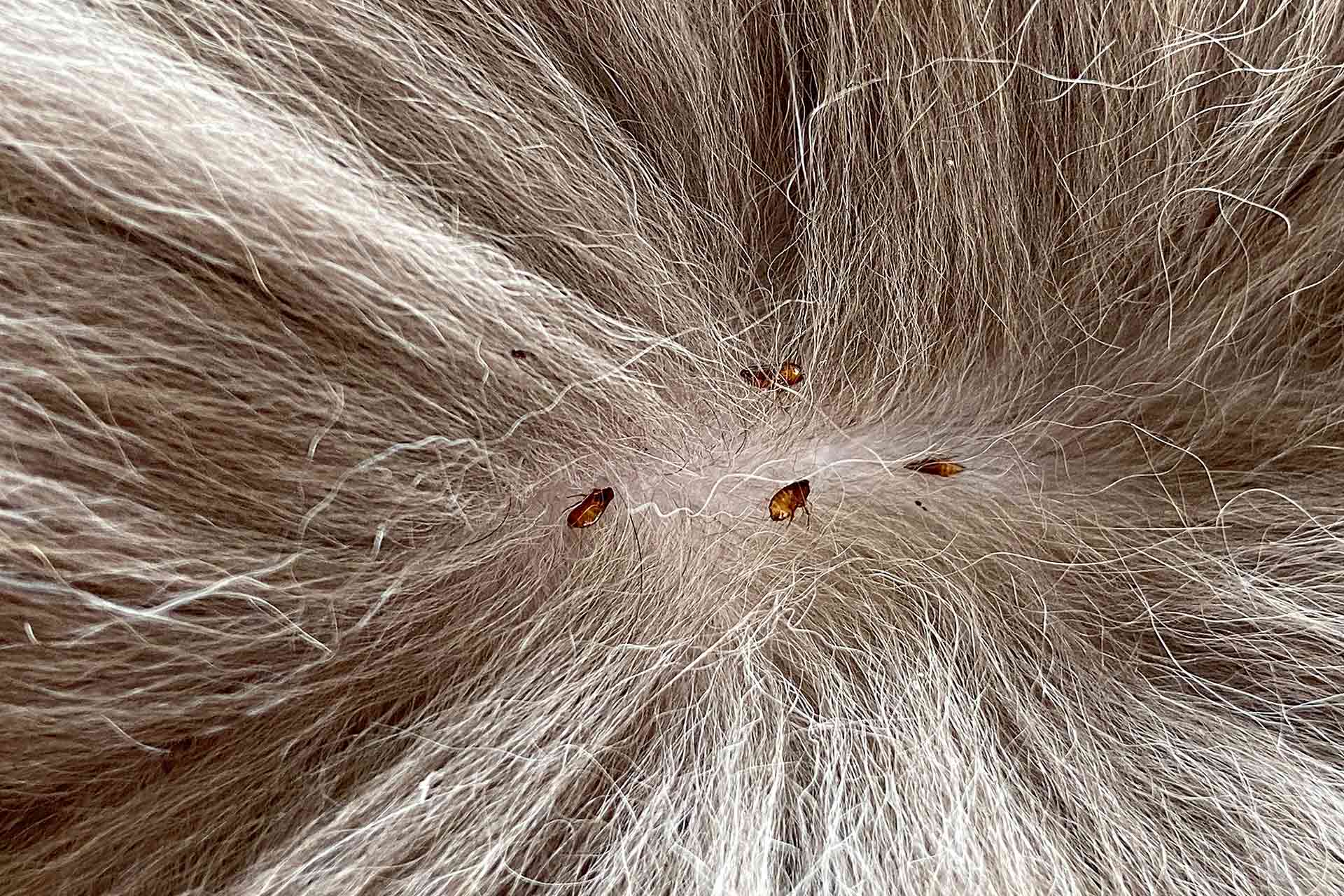 Fleas are irritating and tenacious and have a bad reputation for a number of reasons. Not only are they an unwanted nuisance, but they can also spread diseases. While many of us believe our furry friends are the main source of fleas, in fact, only around 5% of your flea infestation is found on your animals, the rest is scattered throughout your home.
In addition to this:
Fleas latch on to your pets, biting them and drinking their blood. The saliva of fleas can cause itchy bites and even allergic reactions in animals. They can also carry tapeworm eggs and can infect your family pets.
While fleas prefer to live on your animals, they can also bite humans making itchy red marks.
Fleas are adept at escaping your clutches. They are small and can jump up to 13 inches, making them hard to catch.
You may be surprised to know that fleas can live in your home for up to a year, and in that time, a female flea can lay up to 50 eggs a day. Trust us when we say don't do the math, the results are shocking.
So, if you are wondering how to get rid of fleas, this guide is the ideal resource for you. With sections covering how to get rid of fleas naturally, how to get rid of fleas in your bed and even how to get rid of fleas in the garden, we have you covered.
See the tradespeople we've checked and recommend for your job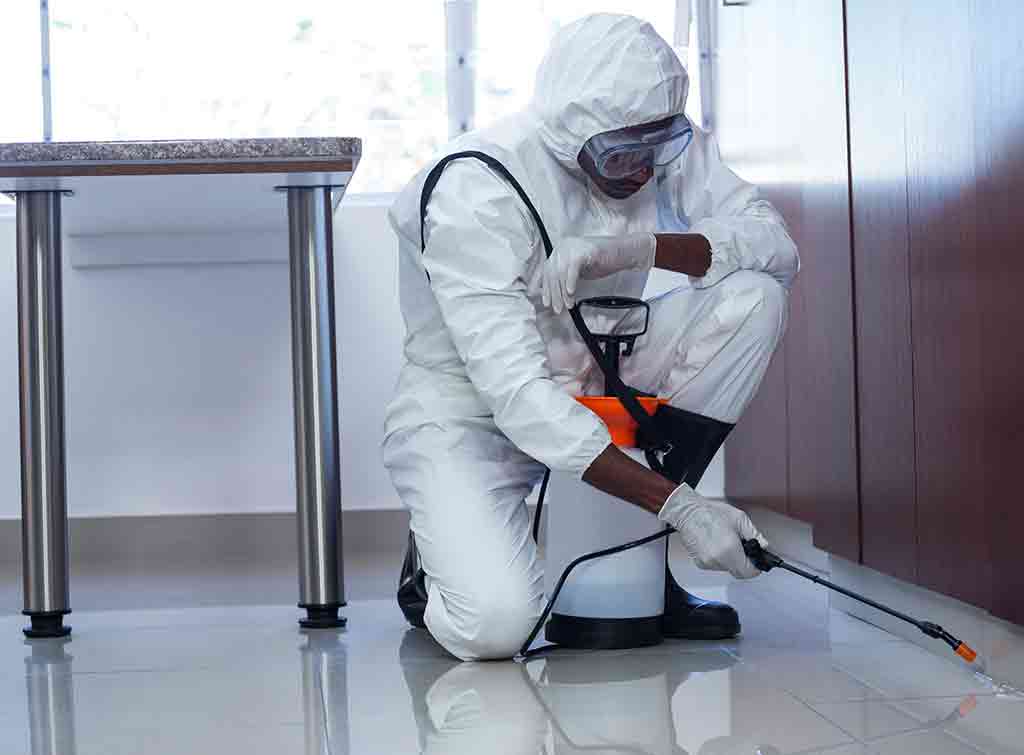 Signs you may have fleas in your home
We know fleas are such unwelcome guests in our properties, so let's look at the common signs you may have fleas in your home. It's always useful to keep an eye on your pets' behaviour and their well-being as this is often the easiest way to spot fleas early on.
Watch out for the following:
Your pets scratching themselves more than usual.
Red or bald patches on your fur babies.
Tiny black specks are seen when parting your animals' fur.
Itchy insect bites on your own body.
Visible fleas jumping around your soft furnishings.
See the tradespeople we've checked and recommend for your job
How to get rid of fleas in the house fast
Fleas that stealthily sneak into your home may remain unnoticed for a while. During this time, they will be breeding and rapidly multiplying in numbers. So, when you do spot evidence of these pesky intruders, the infestation may have already spread throughout your home.
Once you have spotted fleas on your pets you will likely be wondering how to get rid of fleas in the house fast. There are a few ways to instantly reduce the severity of the flea infestation in your home, but it is likely you will need a longer-term method to get rid of them for good.
Why not try:
Picking up any clutter and mess, preventing any fleas from hiding.
Using a strong vacuum on any soft furnishings, flooring and beds (including pet beds). After vacuuming, ensure you throw away the dust in an outside bin.
Wash pet beds and any bedding at a high temperature.
Hire or invest in a steam cleaner then target your carpets, pet beds, sofas, cushions, rugs and any other soft furnishings.
Shampoo your pet using special flea shampoo to instantly kill fleas living on your animal.
Don't put off flea treating your pets either with flea collars or medication. Fleas will be attracted to your pet and killed when they try to bite your furry companions. This can be irritating for your animal and you will still need to treat your home as well.
Consider using chemicals like aerosol sprays or foggers to kill any fleas in the vicinity. You must remove all animals and children from the space you are treating, including fish and reptiles as these chemicals can be toxic to your pets.
For really quick and effective results, you could even consider hiring an exterminator (more on this later).
See the tradespeople we've checked and recommend for your job
How to get rid of fleas in bed
There is nothing worse than waking up covered in itchy red flea bites every morning. You may not have been aware you even had any fleas in your property up till this point so quick action is essential to stop the fleas from spreading.
If you are unsure how to get rid of fleas in your bed, follow the below steps:
Strip your bedding as well as your pets bedding and thoroughly wash both with hot water.
Use a powerful vacuum to suck leftover fleas out of your mattress and headboard.
If your infestation is particularly bad, you may want to consider throwing away your bedding.
Consider getting a professional in to deep clean your mattress. Find out more about the prices to get your mattress cleaned in our handy guide.
How to get rid of fleas naturally
While chemical treatments can be very effective in the war against fleas, it is possible to learn how to get rid of fleas naturally. Here are a few solutions:
Use a flea comb to carefully remove fleas from your pets' fur. You can then kill any fleas removed in hot, soapy water.
Use a steam cleaner, as well as a strong vacuum to help to kill and remove fleas and their eggs.
Baking soda and salt can eliminate fleas. Simply spread these powders over your carpets and leave them there all night. You can then hoover the next morning to remove dehydrated flea eggs and larvae.
Certain plants can even repel fleas, consider using lavender, mint and chrysanthemums.
See the tradespeople we've checked and recommend for your job
How to get rid of fleas in carpet
While fleas may be introduced to your property by pets, they will quickly make themselves at home in your carpet and other soft furnishings.
Wondering how to get rid of fleas in your carpet? Use the below tips:
Remove any mess or dirt from your home (fleas love to hide in clutter). Then steam clean the carpet.
Make sure you are using a strong vacuum every other day to thoroughly remove fleas.
If your flea problem is severe, you can also use a bug bomb to quickly kill any stubborn creatures. Remember to ensure your pets don't come into contact with any dangerous chemicals.
Consider hiring a professional carpet cleaner. They will have all of the equipment to deep clean your carpet and remove any signs of fleas and bacteria. Find out more about carpet cleaning costs.
How to get rid of fleas in the garden
Fleas love to inhabit neglected gardens waiting to jump onto your pets and be carried into your home. That is why keeping fleas out of your outside space is essential.
If you are unsure how to get rid of fleas in the garden, why not:
Frequently mow and rake your lawn.
Clear away dead leaves, sticks and other debris to reduce hiding places for fleas.
Consider using cedar chips spread around your garden to repel fleas. The places your pets sleep are great spots to use these chips.
Use plants that put off fleas, including rosemary, lavender, mint or catnip.
You can also check the fleas are gone from your garden by wearing white knee socks and walking around your outside space. You should be able to see any fleas that jump on your white socks, meaning you still haven't fully dealt with your flea infestation.
Top tip: Hire a gardener to keep on top of the little jobs in your garden.
Professional flea removal
If you are unlucky enough to have a flea problem, it can be tricky and time-consuming to completely banish these irritating bugs from your home. Dealing with fleas yourself may mean paying out for chemicals, powerful vacuums and new bedding, which can add up.
What's more, if you have used our tips for how to get rid of fleas but are still struggling to contain the growing infestation, it may be time to speak to an expert. In general, a flea exterminator will charge from £80 – £140 for a one-bed property. This will of course rise for larger homes. For further guidance, please see our pest control cost guide.
Not only will a pest control professional be able to quickly deal with your fleas, but they will also have the knowledge and experience to know the best treatment option for your home. Interested? Use our handy search feature designed to instantly connect you with trusted tradespeople in your local area.