How to lay turf: Keeping it green
If you're reading up about how to lay turf, then you're obviously looking to keep things green in every sense of the word. However, are you aware of the benefits that come from laying turf?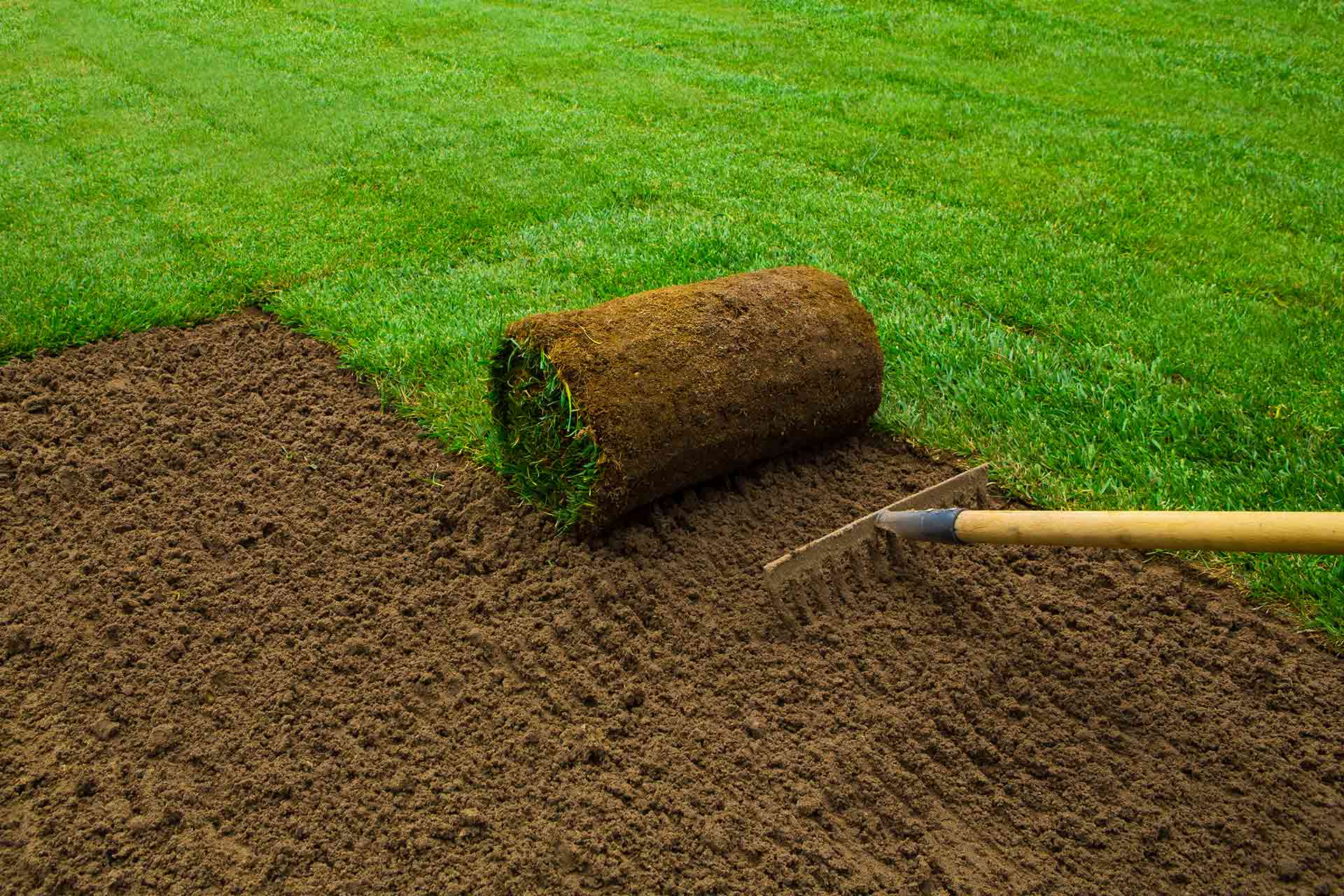 If you're reading up on how to lay turf, then you're obviously looking to keep things green in every sense of the word. However, are you aware of the myriad of benefits that laying turf offers? Read on to find out the benefits of laying turf and how to lay a lawn.
What are the benefits of laying turf?
Reduces rainwater runoff, which means it acts as a natural barrier to prevent pollutants from entering our water system.
Prevents soil erosion, which is an increasing issue due to industrial farming methods.
Replenishes our air in the same way all plants do. Turfgrass also reduces pollen production and traps dust and airborne allergens within their strands.
Reduces fire risk by acting as a natural barrier to hinder spread.
Reduces injury when it comes to recreational activities due to its soft foundation.
Regulates soil temperature for better growing conditions.
Supports bioremediation by offering a place where harmful hydrocarbons and heavy metals can be broken down by microorganisms.
Sequesters carbon and helps store it below the ground within its roots, which helps manage global warming risks.
Helps to reduce noise by as much as 10 decibels.
These are just a few of the incredible benefits of turfgrass. So, now you know why it's such a great option, how do you lay it?
Tools required for the job
To get started, you'll need to add the following tools to your arsenal:
Sturdy wheelbarrow
Large rake
Long knife or old hand saw
Gardening spades or forks
Scaffolding planks
Garden hose and sprinkler head
Extra tools you'll need if you're replacing an existing lawn:
Turf cutters
Weedkiller
A rotovator
See the tradespeople we've checked and recommend for your job
How to lay turf step by step
Plan your design
Before getting to work, it's worth considering what you want your lawn to look like. Consider the size and shape, how much turf and topsoil you'll need, and whether you'll need a skip to remove excess debris. It's also worth noting that laying turf is incredibly time-sensitive. It's a perishable item that needs to be laid as soon as it's delivered.
Top tip: If possible, we recommend laying turf in the spring or summer. Although some turfs can be rolled out in autumn and winter, it's a risky move not meant for novice turfers.
Prep the area
Step one: How to prepare for laying turf
Taking the time to create a perfect foundation for your turf will help ensure a happy and healthy lawn for years to come. If you have old turf, this needs removing first. So, use your turf cutters to lift it up and either discard or reserve to create compost. Alternatively, use a non-selective weed killer to help prevent new weeds or grasses from coming through the new layer.
Note: Using weed killer means leaving it to do its job for around two weeks.
Step two: How to prepare soil for turf
When you're free from weeds, the next step is to check you have at least 100mm of topsoil, raked and levelled to what's known as a 'fine tilth.' Consider using a turf and lawn seeding topsoil or a soil improver to ensure the area is prepared for the best results.
Step three: How to level the ground
This is one of the most important steps for aesthetic reasons. So, to make sure you do it as professionally as possible, follow these steps on how to prepare soil for turf:
Dig or use your rotovator to loosen the soil
Remove all stones, weeds, debris or other obstacles
Walk over the area to lightly compact it
Break up heavily compacted areas with your fork
Rake the surface to create a fine tilth and make sure it's level
Water your soil a couple of days before your turf arrives
Quickly rake again when the turf arrives
Use seeding topsoil or pre-turfing fertiliser
Your turf is now ready for installation.
See the tradespeople we've checked and recommend for your job
How to lay new turf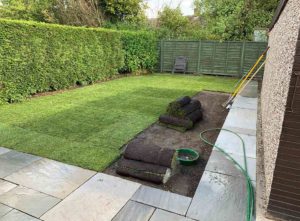 It's imperative you lay your turf as soon as it's delivered to ensure the best results. Lay the turf in rows along a straight edge that extends vertically from your house. Follow a brickwork pattern.
Next, bed in the turf using a piece of wood or the head of your rake to create good contact between the soil and the turf. Fill any cracks with light soil and tamp it down. Then, cut the excess edges with a knife, saw or cutting spade to shape the turf around trees, paths or flower beds. Consider using an edging system for a neat and attractive finish.
Once the turf is down, cover the edges with a light soil to stop them from drying out. You can remove this as soon as the turf is happily bedded in (usually after a few weeks).
Top tips
For circular lawns, start rolling the turf from the centre point outwards. Also, always roll the turf across a slope, not down it.
Use planks to walk on your newly laid turf as you bed it in. This maintains a consistent level during installation.
Never stretch your turf into a joint. Always push it in.
Water your turf regularly. Don't let it dry out.
Dress your garden
Once your turf is firmly established, it's time to dress your garden and create the botanical oasis of your dreams. Check out our garden landscaping ideas for a hit of inspiration!
See the tradespeople we've checked and recommend for your job
FAQs
Should I hire a professional?
Not everyone has 'the green-fingered touch.' And when installing turf is so precarious, the benefits of hiring a gardener to lay your turf for you outweigh the initial costs. For maximum results, we always recommend hiring one of our professionals to do it for you. It will save you a headache in the long run.
How much does it cost to lay turf?
The cost of laying turf depends on the type and amount of turf you're looking for. You also need to take into account any tool and labour costs, which is why hiring a professional to help you pays off in the long run. Check out our gardener prices and garden landscaping cost guide for more information.