How to make a courtyard garden in 5 steps
Want to liven up your dull and shady courtyard garden? This guide suggests ways in which to create a wonderful secluded oasis you'll love spending time in.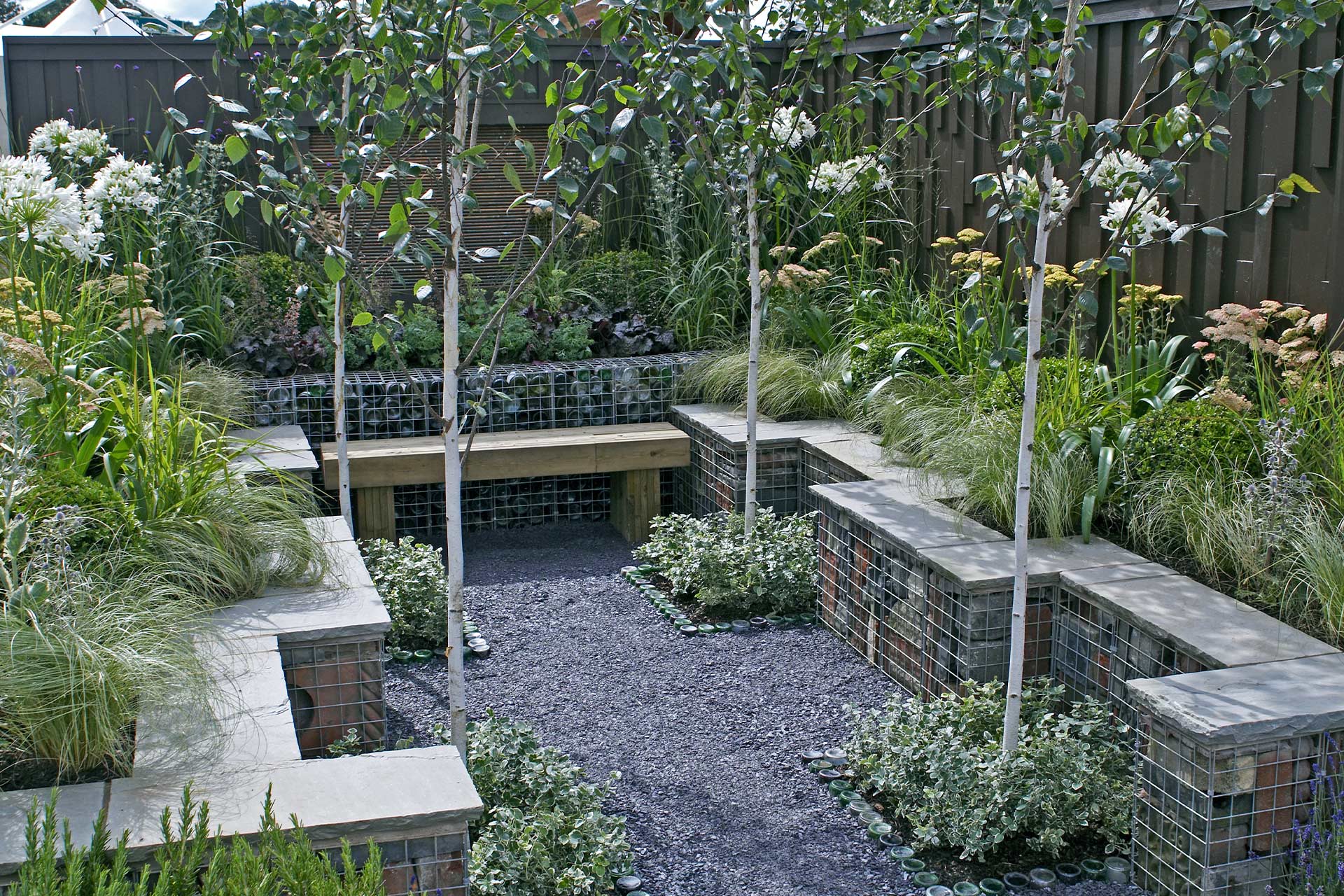 Despite some of the challenges that come with a courtyard garden, these bijou outdoor areas also have plenty going for them. They offer a secluded, private and sheltered spot that's warm and absent of high winds.
What's more, as the whole of a courtyard garden can often be seen from indoors, it offers a wonderful opportunity to create an 'outdoor room' as an extension of the house. By adding comfy seating, outdoor lighting, and maybe even a fire pit, your courtyard garden can be used all year as another entertainment spot.
Let's look at how to create the perfect courtyard garden, and if you're keen to find out how much it will set you back, take a look at our garden landscaping cost guide too.
5 steps to creating a courtyard garden
It can be extremely hard to work out how to create a relaxing outdoor space when you're courtyard garden is surrounded by hard surfaces, windows and maybe even tall walls. The secret to success is a clever design.
Follow these steps and you'll be on your way to a fabulous outdoor space in no time:
1. Keep the courtyard garden scheme simple
Just like a small interior space can feel busy if decorated with too many colours and style ideas, a small courtyard garden can also appear cluttered if filled with a jumble of materials. It's a common mistake made by those with a courtyard. Imagine how you will be using your courtyard and how guests will fit into it.
Try to stick to just one or two materials on the 'floor', and likewise with the boundary, so that your courtyard encourages a simple and cohesive feel. 
2. Soften the edges with plants
Just because a courtyard garden may be small and devoid of a lawn and borders, it doesn't mean it can't be an oasis of outdoor plants. The key is to pick low groundcover plants that will soften any hard surfaces or paths, and narrow, upright plants that will help disguise any unsightly boundaries without taking up too much space.
Plants in pots are also a great idea so you can move them around when you feel like a change.
3. Decorate it like an outdoor room
Treat your courtyard garden as another room and decorate it with comfortable outdoor furniture, such as a sofa, armchairs, rug and coffee table. Then, to cosy it up even further, add layers of comfort with cushions, blankets, and festoon lights for added atmosphere.
4. Add hidden storage
Let's face it, you're likely to accumulate outdoor paraphernalia, such as a few gardening tools, outdoor cushions, bbq etc, and this all needs to be stored somewhere. Consider incorporating clever, storage solutions, like the space under steps or under built-in bench seating. Make sure there's a place for everything and your small courtyard garden will always feel calm and relaxed.
5. Create a focal point
If your courtyard garden doesn't have the prettiest of views, creating a distraction with an eye-catching focal point is a great solution. A water feature, for example, will not only create a lovely feature but will also add tranquil sounds. Or, perhaps a sculpture or beautiful plant in a large pot could be your focal point.
Whatever you choose, position it where it can be seen from indoors too, so you can draw the eye away from the not-so-nice-views.
See the tradespeople we've checked and recommend for your job
How to make the most of a courtyard garden
As courtyard gardens can be on the small side, the key to making the most of the space is to zone it a bit like you would an open plan room. Start with an area for the plants, which could be in raised beds around the edges or pots in clusters in the corners. Then, if you have the space, divide the area into a cosy seating zone, a dining spot and somewhere to put the bbq.
To make your courtyard garden useable all year round, consider adding a pagoda for shelter and even outdoor heaters. Then you can use it in the evenings and through the cooler months.
Best plants for a courtyard garden
Courtyard gardens are typically shady with limited sunlight, yet they can also be relatively warm spaces sheltered from high winds. With these common factors in mind, look for perennials that thrive in warm, shady areas, such as large, sculptural ferns, which will add interesting shapes and textures to your garden. Also, to maximise the sense of space, choose plants that grow upwards rather than outwards, such as bamboo and climbers, which you can train to cover unsightly fences and walls.
Another good tip is to avoid small plants in small pots that will emphasise the tiny area, and instead, go for large scale architectural plants that will add drama and help create the illusion of generous space. The following plants are big bold choices that all tolerate shade:
Fatsia japonica
Aucuba japonica 'Japanese Laurel'
Tetrapanax papyrifer 'Rex'
Pseudopanax laetus
Pittosporum tobira 'Japanese Cheesewood'
Trachycarpus fortunei 'Windmill Palm'
Need courtyard garden inspiration?
Eager to inject some comfort and interest into your courtyard garden and would like some more inspiration? Spend some time scrolling through our courtyard garden ideas and you'll find all sorts of suggestions for outdoor flooring, furniture and planting.
If you're still unsure about what to do in your courtyard, speak to a Checkatrade landscaper – they will be full of ideas!
See the tradespeople we've checked and recommend for your job
How to design a courtyard garden
To get yourself started, take some time to work out your budget and planning what you'd like from your courtyard garden. Is it just for plants, or do you want to entertain there? It's always worth sketching out your garden design so you know what look you are going for. Follow these guidelines to get started:
Do some research on garden styles and layouts by reading garden magazines, visiting professional gardens and stately homes, and having a look around other people's gardens.
Use Pinterest to create boards on courtyard garden styles.
Visit garden centres and ask their professional gardeners for help with choosing the right kind of plants for your space.
Draw a scale plan of your garden before beginning and work out rough costs of any works and planting so you can try and stick to your budget.
Who can help with my courtyard garden?
If you're unsure on what professional you need to hire for your courtyard garden, then we recommend a gardener for 'lighter' work, like tidying up, weeding, planting etc. Or a landscaper if you're going for a full rip out of the existing courtyard and renovating it.
See the tradespeople we've checked and recommend for your job
FAQS
Should I hire a professional gardener?
Even the smallest of courtyard gardens can be hard work to landscape and plant up. Hiring a professional gardener or landscaper can take the stress and pressure away from you doing it yourself. And, if they have years of experience, they will be able to offer the best advice on how to make the most of your compact space and what plants will thrive in it.
For the cost of a gardener or landscaper, check out our gardener prices guide.
How much do professional gardeners typically cost?
If you are eager to enjoy your courtyard garden as soon as possible, hiring a professional gardener or landscaper will get you fantastic results quickly. Lucky for you, we've done all the hard graft and compiled a garden landscaping cost guide, so you have all you need to know at the touch of a button.