There's a myriad of gorgeous courtyard garden ideas just waiting for your perusal. Create a calm, relaxing space to sit outside and bask in the sunshine using our top tips. Courtyards are wonderful, secluded spots that work well whether they're bursting with life, toned down and minimalist or decked out with the latest garden furniture.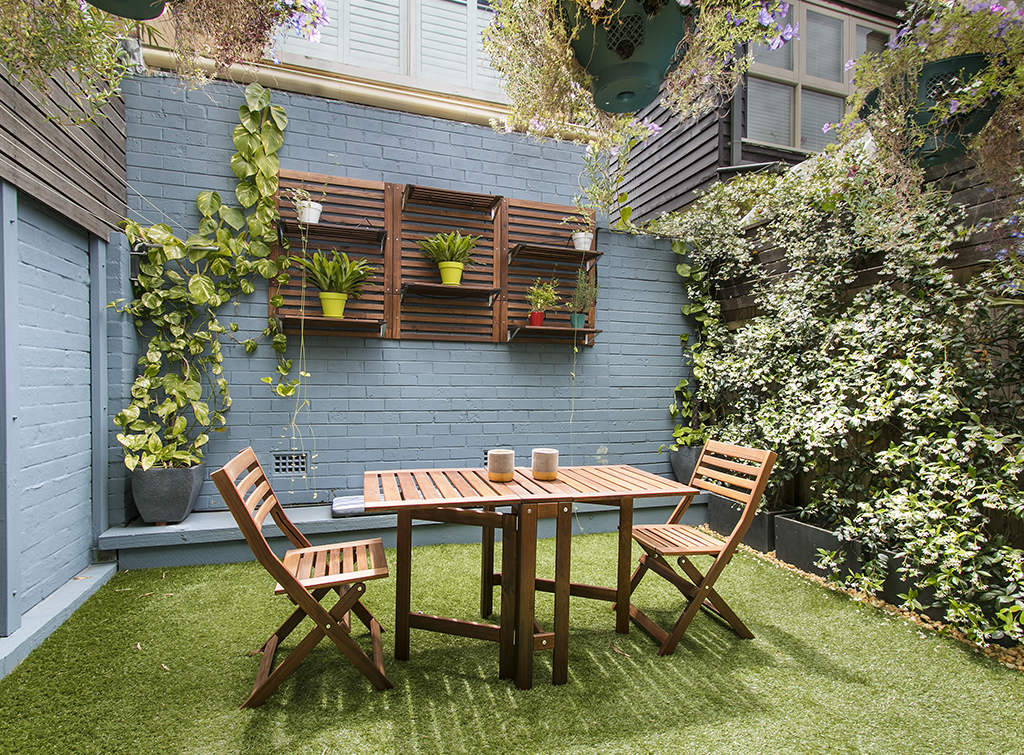 How do I make my courtyard garden look good?
Grow some shade-loving plants
Incorporate a feature for maximum impact
Consider clean lines and patterns for tranquillity
Build upwards, not outwards to maximise the space
Add a trellis to a feature wall and plant creepers
Scatter potted plants for a low maintenance finish
Easy to tidy rattan furniture is perfect for summer evenings
Why not consider a water feature?
Be sure to check out the below carousel for some visual inspiration!
See the tradespeople we've checked and recommend for your job
Like what you see? There's more where this came from. Check out Checkatrade's blog for more tips, ideas, how-tos, and inspiration.
Courtyard garden ideas just for you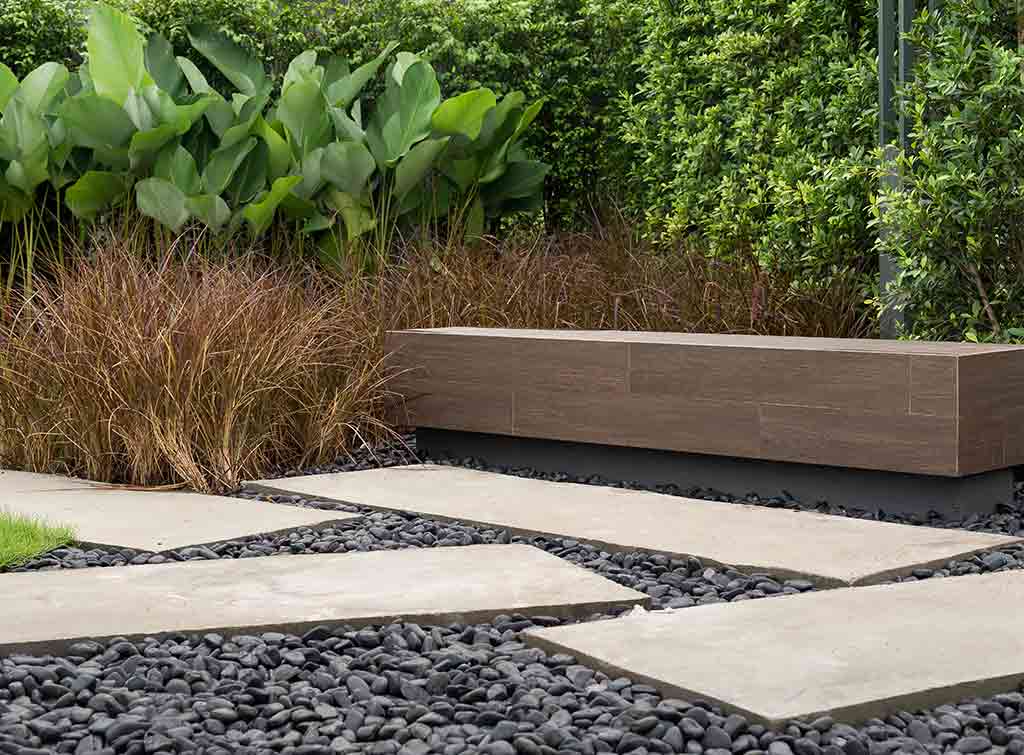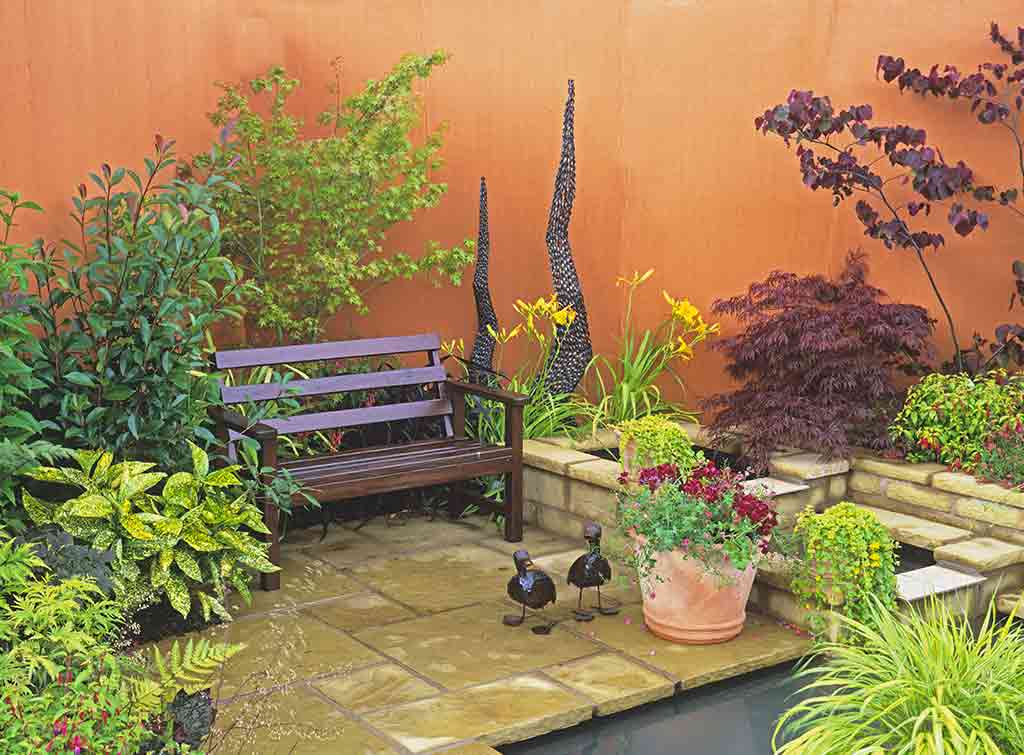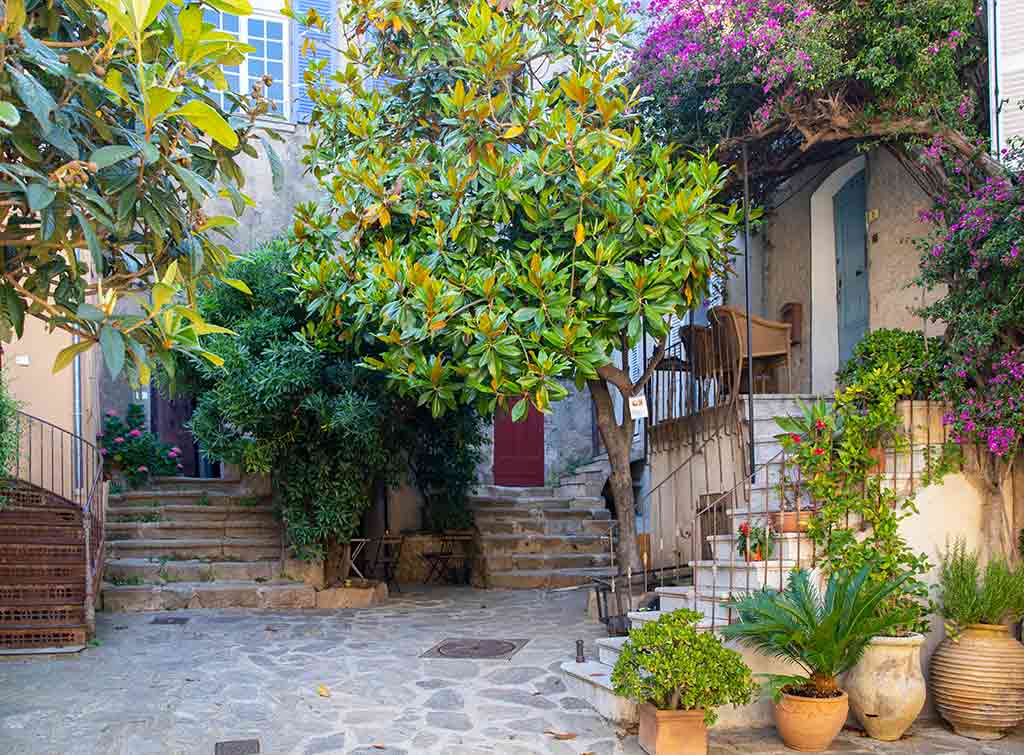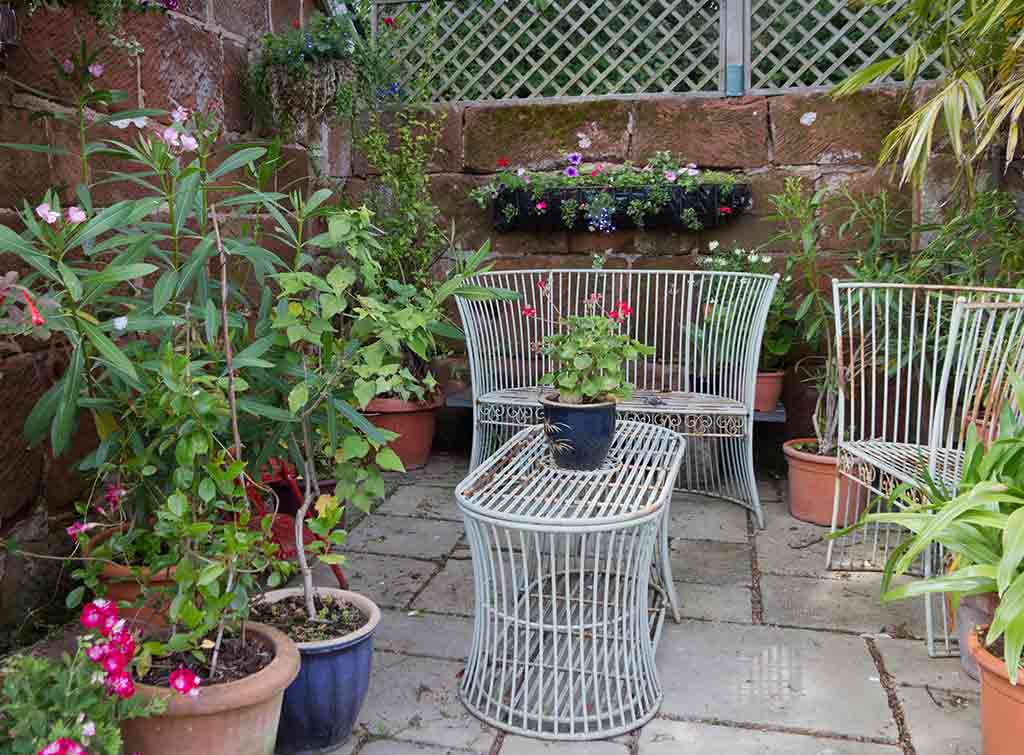 Courtyard design inspiration
Using symmetry and patterns in your courtyard creates areas of interest that lead the eye nicely. Why not incorporate a fun feature like this checkerboard plant patch for maximum 'wow factor?' Not only does it purify the air and create a hiding place for wildlife and other types of biodiversity, but it's also lovely to look at while you sit on the bench and watch the world go by.
We really like the brown mosaic tiles that border the plant patch, which contrasts the brightness of the perennials perfectly. Finished with thick bushes and shrubs to create privacy and shade, this is a courtyard that invites you to kick back and relax.
Garden design courtyard ideas
This contemporary-chic courtyard incorporates lots of interest and character with the array of materials used. Bordered by tall bushes for privacy, the landscape is split into a low maintenance gravel patch and lawn area.
Rectangular concrete stepping stones bridge the two spaces, placed at various angles for a unique design aesthetic, while the plain brown bench offers a low-key spot to sit and relax.
The calathea cigar plants at the back of the garden are tall and vibrant, with large leaves that add some extra excitement to this clean and contemporary courtyard.
Small courtyard garden ideas
Turn your courtyard into your own personal oasis by incorporating a pond and water feature. Not only are ponds great for biodiversity, but they're also a tranquil and relaxing feature that turns any space into a haven away from the world.
This gorgeous pond uses slate stone bricks around the periphery, while a jug feature in the centre is surrounded by water hyacinths for a burst of colour. Two complementary sun loungers offer a spot to bask in the afternoon sun, while the potted roses finish off the 'secret garden' look perfectly.
Cottage courtyard garden ideas
The first thing we notice when admiring this cottage-chic courtyard is the chevron paving stones. It's an easy way to make even the smallest of spaces ooze with character and style.
These keen gardeners have opted for a stripped back and natural courtyard, with lots of wildflowers and shrubs that flesh out the area. A simple carved wooden bench finishes the look, which curiously makes us want to sit there and read for hours and hours…
Why not get the look by hiring one of our keen gardeners?
Walled courtyard garden ideas
For those of you with a walled courtyard, there's one very easy way to make it pop.
Paint it!
Opt for warm colours such as terracotta, green, teal, burnt orange or violet. These colours are regularly found in nature and will naturally complement almost any garden aesthetic.
These courtyard designers opted for an integrated pond that incorporates a waterfall running the length of the far wall. However, they didn't waste any space and filled the gaps with raised flowerbeds and lots of colourful botany. The purple Acer trees are a wonderful courtyard addition, characterised by their hardy nature and rich purple leaves.
As always, the look is finished off with a bench, which invites the occupants to sit and take a load off after a long day glued to their desks.
Shady courtyard garden ideas
Gabion baskets are hugely on-trend this year. Hardy, stable and versatile, they can be adapted to any garden and any style. This courtyard has topped its gabion baskets with seating planks and filled them with large boulders of varying shades.
Two rows of Himalayan birch trees intersperse within the gabion basket patterns, creating easy symmetry for a clean and aesthetically pleasing finish. They're each bordered with foliage to protect their roots, while the peripheral planters house agapanthus, grasses and achillea.
What can you do with a small courtyard garden?
There is so much you can do with a small court garden. From paving slabs to plants, to trees, to steps, to water features, to seating areas – courtyards are versatile and perfect for all seasons.
The key things to consider when designing your courtyard are the following:
Due to the shadier nature of courtyards, be sure to plant perennials that are happier in areas with less light
Bold and creative courtyards require careful planning to avoid overpowering the space
Build upwards and use all the space available to create a usable courtyard fit for a gathering of 6 or more
Consider festoon lighting, firepits or floor lanterns that allow you to use the courtyard after dark
Water features are an instant showstopper, so consider installing one for an easy design hack
Benches, arbours, furniture packs, living walls and potted plants are just some of the features you can incorporate into your courtyard design
If you're still not sure, hire one of our professional landscapers to help you out!
What can I plant in a courtyard garden?
There are several plants that love courtyards, but the most common are the following:
Big leaved plants such as cigar, Japanese aralia, hostas and bear's breeches.
Climbing plants such as ivy, wisteria, clematis vines and rambler roses
Hanging baskets with colourful plants like box balls, tangerine hibiscus and trumpet creepers
Window boxes with wildflowers that will attract and support the declining bee population
Just be sure to water your plants regularly to avoid wilting leaves.
See the tradespeople we've checked and recommend for your job
Tell us what you think
What others think of this article:
Need More Information?
Related posts