How to plumb in a washing machine
Don't want to pay for washing machine installation? No problem, our guide will teach you how to plumb in a washing machine and answer all your questions.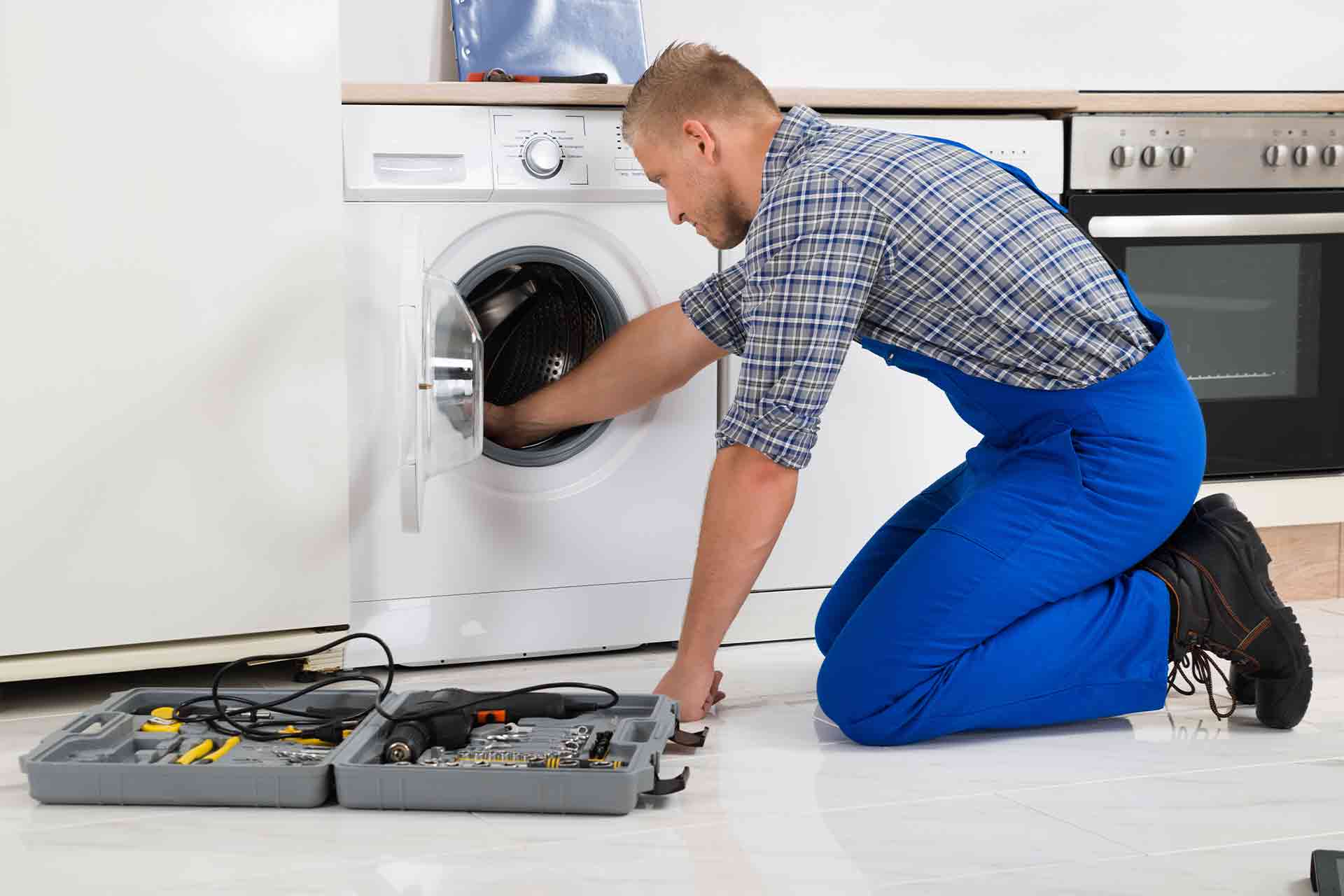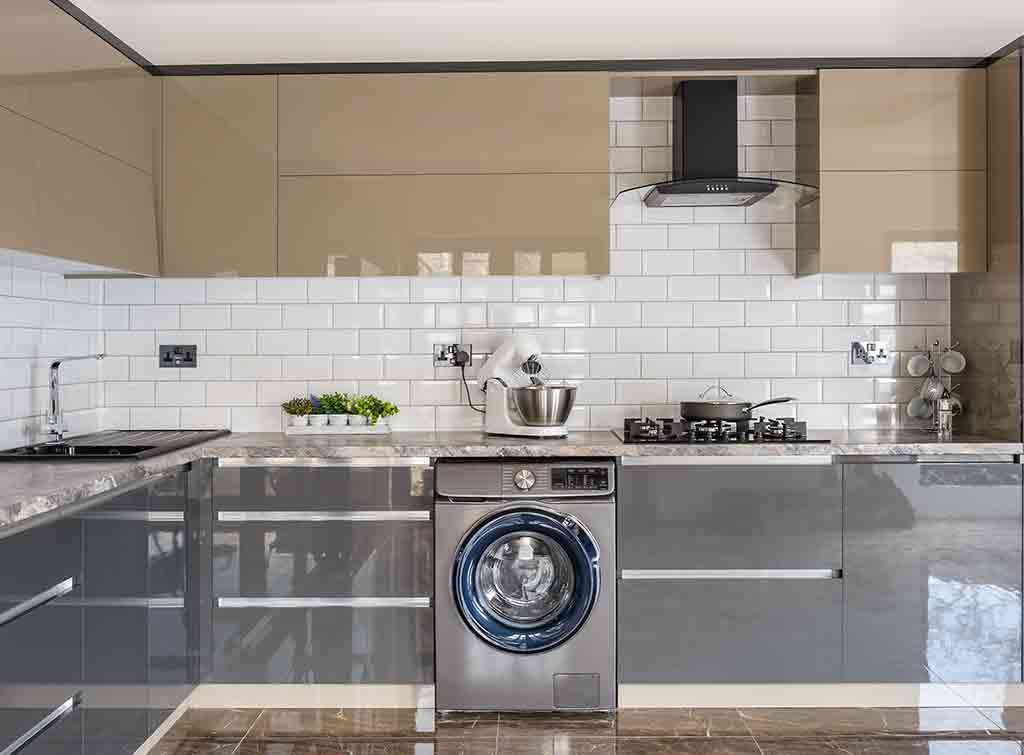 Washing machines are incredibly handy and can save you endless trips to the laundrette. In fact, these shops are becoming less common as more people are lucky enough to now own their own washing machine. Many people, however, have no idea how to plumb in a washing machine.
What's more, the installation of these machines can be quite costly. This article aims to answer all your questions while teaching you how to install your own washing machine.
We will also look further into how to plumb in a washing machine waste pipe, how to plumb in a washing machine under the sink and more. So, keep reading to learn skills that will last a lifetime.
How to plumb in a washing machine
First, choose where to position your washing machine
Carefully consider the best location for your new washing machine, it should be somewhere convenient with easy access and close to a water source.
Below are a few tips to bear in mind when choosing where to position your new machine:
It should be on a level, hard surface.
Keep your washer away from heat sources including radiators, fireplaces, boilers etc.
Make sure it is in an area that will not freeze.
For convenience, it should be positioned near to a hot and cold-water source.
Always check that the washing machine will fit into the space you choose before beginning installation.
Preparation
Your new washing machine will arrive with packaging and this will need to be removed before installation. Plus, preparing the space where your new machine will sit is essential. Sweep and clean the area to ensure your machine will last for years to come.
Safety
Please note that working with electrics and water can be dangerous to you as well as your home, so make sure you are confident in every step of the installation process. In addition, remember that washing machines are large and heavy so take care and use assistance when moving the machine.
See the tradespeople we've checked and recommend for your job

Step-by-step guide
Firstly, ensure your old washing machine has been fully disconnected and removed before starting. Now you are ready to begin, follow the below steps to discover how to plumb in a washing machine properly:
Your washing machine will need to be level for it to properly function. Adjust the feet by twisting them counter-clockwise to raise the washer, clockwise to lower it. A spirit level can be placed on the washing machine's top, to ensure it is a level surface (use the spirit level in both directions; front to back and side to side).
Tighten the nuts on the adjusted legs to lock the machine into place.
If your old hose is in excellent condition you can reuse it but it is usually a good idea to switch to a new hose. Please note, do not over tighten the hose or you will probably end up with a leak.
Connect the water supply hose (ensure the hose is long enough and never over stretch it). It is worth following the manufacturer's guidelines to ensure you are connecting your hose in the correct manner.
Make sure there are no leaks before continuing.
Now attach the drain hose and plug the machine into an electrical socket.
It is important to note that when using a sink waste or standpipe to connect your machine, you should not connect directly into a standpipe unless is it bigger than the drainage hose.
How to plumb in a washing machine waste pipe
Your washing machine waste pipe will need to be connected to let the dirty water after washing escape into the sewers. Learning how to plumb in a washing machine waste pipe can save you money on hiring a tradesperson to do this for you.
You will need to connect the waste pipe to the foul water sewer instead of the rainwater soakaway. To install the waste pipe, cut a hole in your wall just bigger than the width of the pipe. This will usually be 4cm but could be smaller.
There are three ways of connecting the waste pipe, as follows:
Push fit waste: Simply join the connecters together after removing any burrs.
Compression waste: Cut and sand the pipe, then use a rubber washer and nut to connect the pipe.
Solvent weld waste: Again, cut and sand the pipe. Next, use solvent cement to attach the pipe to the fitting.
How to plumb in a washing machine under the sink
A great place to start is by reading the manual that comes with your washing machine. It will guide you towards the best way to install the washer.
Unsure how to plumb a washing machine under the sink? It is actually very similar to installing a washing machine normally.
You will need to locate the hose connections under your sink and should switch off your water supply before beginning. Connect the washing machine as described in our 'how to plumb in a washing machine' section, and it is worth keeping the drain cap under your sink for any future washing machine installations.
How to plumb in a washing machine in a caravan
The great thing about owning a caravan is that you can completely plan the layout and what you wish to install. Using a portable washing machine is a brilliant choice in a caravan where space is at a premium.
Many people search for 'how to plumb a washing machine in a caravan' but actually these portable washing machines are generally smaller and easier to connect. You will need to attach your washer to a source of water, for example under the sink or the caravan itself. Next, plug the power cord into an electrical socket. Congratulations, your washing machine is ready to use.
See the tradespeople we've checked and recommend for your job
How to plumb in a washing machine and dishwasher together
Owning a washing machine and dishwasher will save you a lot of time and energy as opposed to washing clothes and dishes by hand. Wondering how to plumb in a washing machine and dishwasher together? Our top tips below will help you with installing these handy little machines:
Check whether your washing machine requires hot water to function. Some models only need a cold supply so you will not need a hot water connection.
Dishwashers will normally just need a cold-water supply.
If the hose from your machines will not reach the current pipes, you will need to switch off your mains water. Now it is possible to install T-fittings and use branch pipes to connect to the machines. Attach the hoses from the machines to a mini stop valve. This will allow the individual machines to be isolated even without turning off your water supply.
Next, connect the washing machine's waste hose to a standpipe that has a P-trap. Then attach the dishwasher's waste hose to the same standpipe.
Turn the water supply back on and make sure there are no leaks.
Your new machines will also need a power connection. This is usually done by plugging them into an adjacent power socket.

How to plumb in a washing machine drain hose
In the first instance, read your washing machine instruction manual to check for installation tips. Unfortunately learning how to plumb in a washing machine drain hose can be quite confusing for a DIY beginner. But in general, you will need to connect your drain hose to a standpipe usually under your sink.
Ensure the lip of the standpipe is 30 inches from the ground. To finish, it is a good idea to either install a non-return valve or hook your drain hose up and under your worktop.
Hiring a professional
This whole project can be quite complex, especially if you need to add new pipes. You may begin the process of plumbing in your washing machine only to find you have no idea where to begin. It is never worth trying to muddle through a job like this as it will only lead to issues down the line.
Always be confident you know what you are doing and if you become lost at any point do not hesitate to call in a professional. In fact, finding an approved tradesperson in your area couldn't be easier, just use our free search feature.
If you are considering hiring a professional, you can relax knowing your job will be done efficiently and to a high standard. In general, a plumber will charge the below prices to install your washing machine:
Replacing an existing machine with a new washer:
Installing a new washing machine with no existing plumbing:

£20 – £40 per hour
£20 – £25 for supply and feed fittings
£10 – £15 for waste fittings
It is always worth getting three quotes to get the best price for your job. For more information, please see our plumber cost guide, full of tips and up to date prices.
See the tradespeople we've checked and recommend for your job

FAQs
How long will my new washing machine last?
It should last on average 10 – 12 years if properly installed.
How much would a professional charge to fit a washing machine?
Plumbers on average charge £50 per hour and installation will take roughly 1 – 2 hours. For more information, read through our plumber cost guide.
What should I do if I have a fault?
Browse our guide to common washing machine repair issues, which is sure to help.
What should I do with my old washing machine?
You can take it to your local recycling centre or if it is in good condition you could sell it. Please note, when hiring a professional they will often offer to dispose of your old machine, although this will likely come at a cost.