How to repair damaged bricks
Worried about damaged bricks causing serious structural issues? This how-to guide offers hints and tips on repairing crumbling and cracked bricks and how to prevent it from happening again in the future.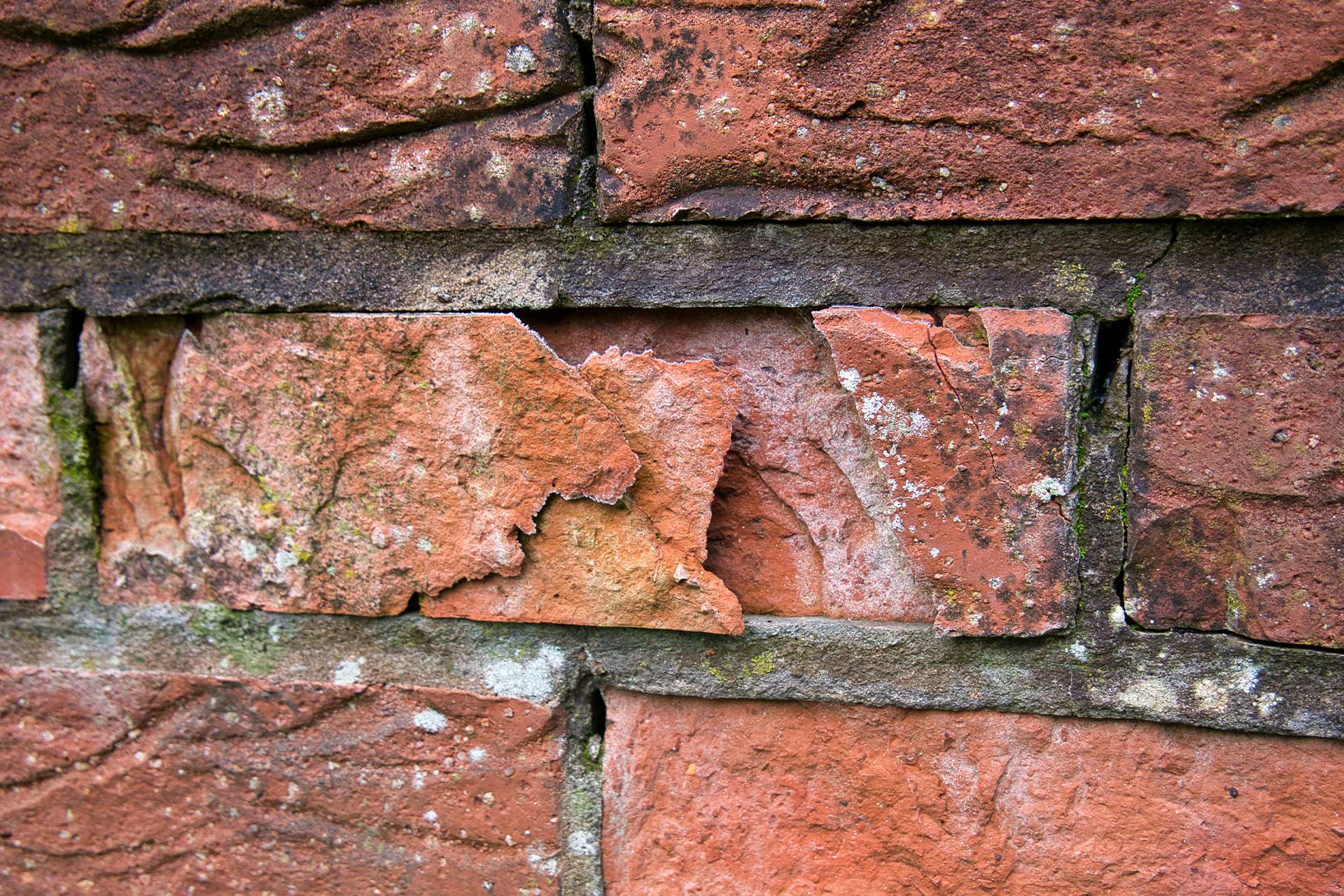 Brick has been bringing charm to the UK's period properties for hundreds of years, and also many new homes too. However, despite its durability, brick can deteriorate over time, losing the ability to repel the elements such as rain, snow and frost, and becoming far less effective in preventing damp.
When single bricks start to break down or crumble, this is known as 'blowing' or 'spalling'. This is usually down to the damage caused by water getting in. Water can cause havoc with bricks, seeping into cracks or damaged pointing, and resulting in flaking brick that will eventually fall away.
You have two options – attempt to repair the damaged bricks yourself using this handy how-to guide or call in a professional bricklayer who has years of experience and will do a good job. Patching small areas yourself might seem like a fairly easy job, however you run the risk of creating a messy look if repairing large areas.
If you're looking to find out more about repointing, then take a look at our repointing cost guide.
See the tradespeople we've checked and recommend for your job
How to repair damaged house bricks in 5 steps
If your house bricks are flaking, crumbling or falling apart (also known as spalling), you'll need to remove them and replace them with a new brick so your home can stay protected from the elements. Here's what you'll need:
Safety goggles
Dust mask
Work gloves
Ladder or stable platform to stand on
New bricks that match the colour of your existing ones
Hammer
Power drill with a masonry blade
Cold chisel
Wire brush
Level
Narrow pointing trowel
Brick
Ready-mixed mortar
Step one
Before repairing your brickwork, ensure you've solved the source of the water damage as there's no point mending the wall if the water damage will still occur. Once you've done that, create a safe and stable ladder or platform to work from if your bricks are high up. If anything feels unsafe or you don't feel confident working from a height, then it's time to call in a professional who can do the job safely for you.
Step two
If you've established a safe base, you can now start removing the damaged brick. Use a chisel, hammer or power drill with a masonry cutting wheel to remove the damaged brick.
Caution: This is a skilled job, particularly if power tools are involved, and if you're not a confident or competent DIYer then it is best left to an experienced bricklayer to do the job. You wouldn't want to make things worse and damage your wall further!
Step three
Once the brick is out, chisel out the old mortar around using a chisel. Then, using a wire brush, carefully clean the area removing dust and debris ready for the new brick.
Step four
Prepare your ready-mixed mortar according to the instructions. Then, using a trowel, butter the back and side of the new brick with your mortar and slide your brick in the hole. Apply additional mortar around it, smoothing the joints with a trowel and removing any excess mortar from the brick's surface. If the brick is at the top of a wall, use a level to ensure it is straight and in line with the rest of the bricks.
Where people go wrong: Sliding your new brick into the hole is probably the most difficult step in the process, and people often find it difficult to get the additional mortar cleanly around the new brick as this really does require skill. If you want a professional, seamless finish, call in a professional bricklayer.
Step five
Finally, cure the mortar by gently misting it for the next three days.
See the tradespeople we've checked and recommend for your job
How to repair frost damaged bricks
As we mentioned before, the biggest culprit in damaged bricks is water, and if this occurs during winter, the water has the potential to freeze, causing it to expand and lead to cracking and crumbling brickwork.
To identify frost-damaged brickwork, look out for spalling, cracks or damp patches that cause discolouration. If there are only small cracks visible, you can prevent more water from entering by adding a high-performance water repellent seal suitable for brickwork. This will deliver a durable and long-lasting seal, helping to negate the possibility of spalling, staining and other frost damage.
However, if it's too late for your bricks, and they are already spalling or crumbling, you'll have to replace the entire brick by following the steps above.
Seek professional advice from an experienced bricklayer if you are unsure of how frost-damaged your bricks truly are.
How do you fill cracks in bricks?
It is possible to fill a crack ranging from 3-10mm wide with an injection mortar. This will make the wall look new again and also prevent the crack from becoming bigger and therefore causing larger structural issues. Injection mortar is administered via a nozzle so it can fill deep cracks and offer strong adhesion. The grout is applied by syringe-delivered pressure injection into cracks ranging from 3-10mm wide. Here's how to fill the crack in 3 easy steps:
Remove any loose debris from the crack. A good way to do this is vacuuming the crack.
Mix the injection mortar according to the instructions and add it to a caulking cartridge that is fitted with a nozzle to fit the crack.
Where people slip up:  It's so important to follow the manuf­ac­turer'­s instruc­tions and mix the adhesive correctly as it can only be applied within a short time of being prepared. If you don't have everything ready before this stage, you risk wasting the filler.
Top tip: The key to a seamless crack is to make sure that you select an injection mortar that can be colour-matched to your wall.
See the tradespeople we've checked and recommend for your job
Top tips on repairing damaged house bricks
Repairing old bricks
If you have really old house bricks that are beyond repair, consider rendering the house instead of trying to repair them (we recommend having a specialist take a look to best advise you). Adding a long-lasting weatherproof coating over the top of your severely damaged bricks can protect your home from serious structural problems, while also creating a beautifully neat and smooth finish that will last for many years.
Obviously, you're going to want to know how much rendering a house costs so you can weigh up your options. You should allow £30 – £60/m2 (of facing wall) for a rendered wall (which includes painting). So a typical three-bedroom semi-detached home with around 90m2 of walling might cost in the region of £2,700 – £5,400. The job might typically take up to two weeks, and you should allow £500 – £800 for scaffolding costs.
Find out more in our rendering walls cost guide.
How to clean fire damaged bricks in 5 steps
Smoke damage on the surface of bricks can be cleaned in a jiffy. Here's how:
Firstly, protect yourself, furniture and fabrics from the distribution of soot. Wear gloves, mask, and protective clothing and cover everything, as well as opening windows to increase ventilation.
Using a brush or vacuum, remove all loose layers of soot from the bricks.
Using a dry cleaning sponge, remove any further soot by wiping gently rather than scrubbing.
Prepare a soap solution with a few squirts of washing-up liquid and a bucket of warm water. Then wash the brick with a rag or sponge, using a broad wiping motion, rinsing the rag or sponge as you go.
Finally, rinse the cleaned brick thoroughly with water or you can use a hose or power washer on exterior surfaces. If stains still remain, prepare a scrubbing paste of 1/2 cup baking soda and two tablespoons washing-up liquid, and apply with a stiff brush. Don't forget to rinse the brick again after using the scrubbing paste.
See the tradespeople we've checked and recommend for your job
FAQs
Can crumbling bricks be repaired?
It depends on the severity of the damage. If the crumbling is a small amount, scrape away all the crumbling mortar, and then fill the gap with a ready-mixed mortar that matches the colour of the wall. Use a narrow pointing trowel to reduce mess, and work on a warm day to improve drying time. It's advisable to speak to an experienced bricklayer to determine the source of the moisture damage, so you can fix your crumbling wall for good.
When should I be worried about cracks in brick?
Even the tiniest of hairline cracks must be filled to prevent bigger issues from occurring down the track. If in doubt, speak to one of our professionals who can offer the right advice.