Last updated on November 15th, 2022
Repointing cost guide
In this guide to repointing costs you'll discover the average price for a range of pointing projects, as well as cost factors and how to find a pointing specialist.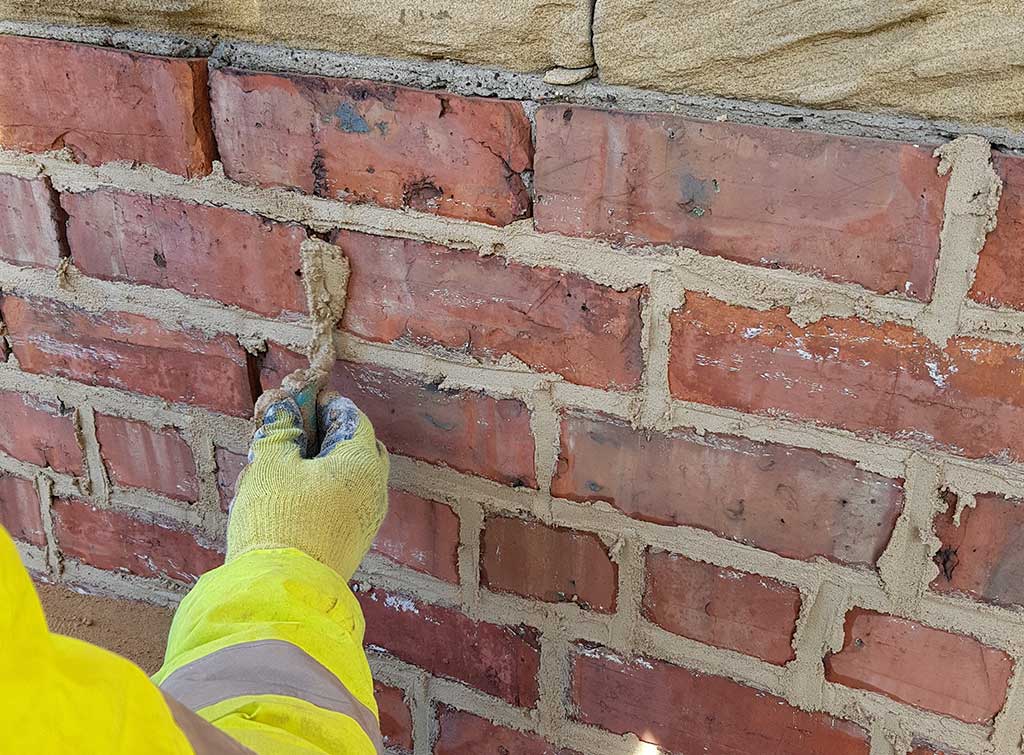 Fast Facts
Average repointing costs are £50 – £60 per m2
An entire small house may take a week to repoint
Raking out costs around £20 – £50 per m2
What is repointing?
Mortar holds bricks, stones and blocks together, so it is essential for maintaining your home's structure, as well as defending against water and damp. If it's allowed to weaken and get worn down, then the integrity of your home could be at risk.
Repointing is the process of removing and replacing this mortar. It's an excellent way to fix any damage and wear and tear on your property as well as to improve the look of a home. It's especially good for older homes, where new mortar can be used to reduce damp and improve the durability of the walls for all weather conditions.
How much does repointing brick walls cost?
As you'd expect, the size of your wall and the number of walls to be completed affects the cost of repointing brick walls. As a general rule of thumb, the repointing price per m2 is around £50 – £60 including clean up.
For a breakdown of each cost, we spoke to the online estimators at My Build Estimate – a professional estimating company monitored by the Royal Institution of Chartered Surveyors (RICS). This guide features the estimated average repointing costs they provided.
| Typical repointing costs | Unit | Price range - low | Price range - high | Average UK cost |
| --- | --- | --- | --- | --- |
| Repointing a brick wall (including clean up) | Per m2 | £50 | £60 | £55 |
| Repointing a stone wall (including clean up) | Per m2 | £60 | £100 | £80 |
| Cost to add raking out | Per m2 | £20 | £50 | £35 |
| Repointing – front or side of a house | Per property | £1,500 | £2,200 | £1,750 |
| Repointing a semi-detached house | Per property | £4,000 | £5,000 | £4,500 |
| Repointing a Victorian terraced property | Per property | £3,000 | £4,400 | £3,700 |
| Repointing a chimney | Per chimney | £500 | £1,000 | £750 |
| Repointing a roof | Full roof | £500 | £2,000 | £1,250 |
| Repointing a patio | Per m2 | £10 | £20 | £15 |
| Scaffolding hire | Per m2 | £15 | £25 | £20 |
See the tradespeople we've checked and recommend for your job
How do I know if my walls need repointing?
Mortar erodes over time as a result of extreme weather, so all homes will need repointing eventually, although a good quality job can last over 50 years. Telltale signs you need to repoint your walls include soft and crumbly mortar, wet bricks, damaged brickwork and holes in the mortar.
If you discover a white powdery coating appearing on your bricks, known as "efflorescence" this can often be fixed through repointing.
If in doubt a surveyor can confirm the quality of your mortar and any changes needed.
The steps involved in repointing
Check the weather forecast. If it's raining or below freezing, then any repointing work should be postponed.
Find troublesome areas that need replacing.
Cover the ground. Then clean the wall and remove any plants.
Remove current mortar from top to bottom (this is also known as raking out).
Spray the wall with water to stop the mortar from drying too quickly and cracking.
Prepare mortar so it matches the existing colour and is the correct strength.
Apply new mortar into gaps, taking special care to fill all gaps and any air pockets.
Remove the excess with a wire brush and smooth everything out.
How long does repointing take?
The time it will take to repoint your wall depends on the size of the area, the damage to existing brickwork/mortar and the type of pointing style you'd like. We cover these areas in more detail below, but in essence, it could take as little as a day to do a small section of wall and seven days or more to do an entire house.
See the tradespeople we've checked and recommend for your job
What affects the cost of repointing?
Raking out: Unless you're just touching up small areas you will need to rake out the existing mortar. This process involves using power tools or a hammer and chisel to take out a section of the old mortar, usually to a depth of at least 15 mm. Raking out costs around £20 – £50 per m2.
The condition of the masonry: If there are extensive issues with your brickwork this will result in the bricks needing to be repaired or replaced as well. This could be due to damp or bricks being chipped away over time. These cracks can be repaired through brickwork stitching, so not all bricks have to be replaced.
Materials: For older buildings, lime-based mortar is recommended, whilst for more modern buildings cement-based mortar should be used. Lime mortar is slightly more expensive.
Scaffolding and accessibility: For upper floors and roofs, scaffolding or mobile work platforms will be required. This generally costs between £15 – £25 per m2. Whilst the scaffolding is up this can be an excellent opportunity to do other work at the same time (such as replacing roof tiles or repairing chimneys).
Pointing style: Depending on how you'd like the mortar to look and how weatherproof you want it to be, the cost will vary. For example, tuckpointing – which is when the mortar is lined up exactly with the brickwork – is very time consuming and requires a considerable amount of skill. But it's visually stunning so may be worth the extra time and cost if that's the style you'd prefer.
Waste disposal: Lastly, any waste needs to be removed from the site, so check if this is included in the cost.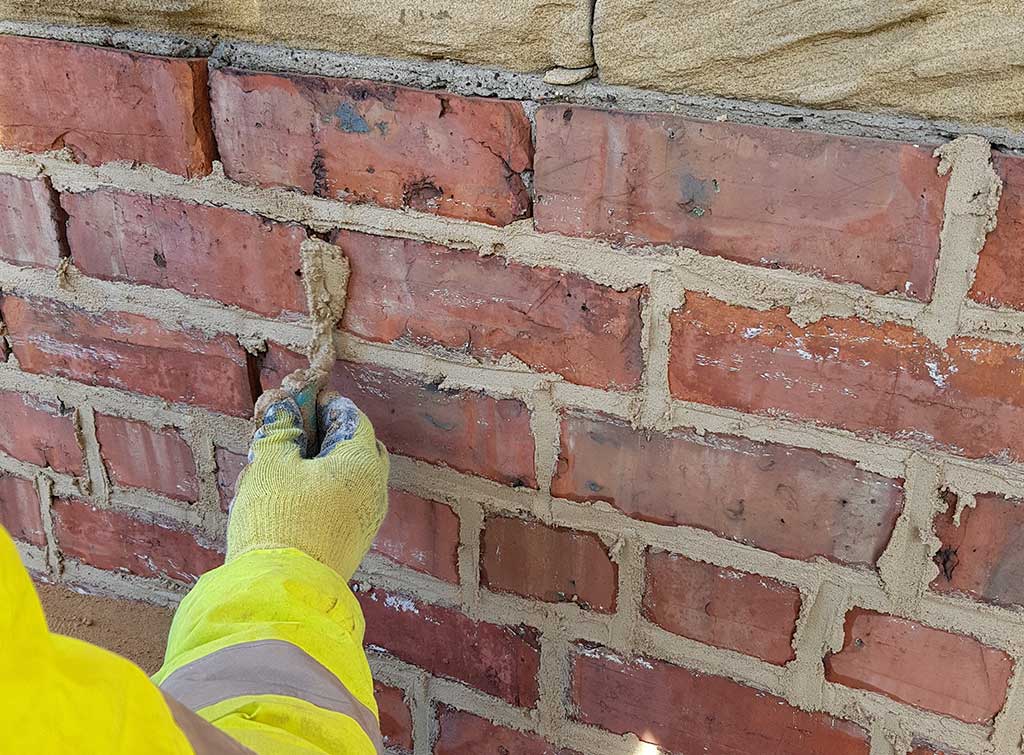 See the tradespeople we've checked and recommend for your job
Cost of repointing a house
To repoint an entire home is a considerable job with a large amount of labour, materials and access equipment required. As we've shown above the size of the area, the number of accessible walls and the condition of brickwork will play a role.
The cost also depends on the number of walls that need to be completed. Here are a few examples:
Repointing a single wall – such as at the front or side of a house – costs £1,500 – £2,200.
Repointing a semi-detached modern house costs around £4,000 – £5,000.
Repointing a Victorian terraced property costs around £3,000 – £4,400.
Chimney repointing cost
Because chimneys are so exposed to the elements, they tend to have mortar that needs replacing first. Using a stronger mortar mix doesn't solve this problem entirely, due to the increased risk of cracks, so instead, waterproofing is recommended. Waterproof sealants are relatively cheap so add very little to the cost given the extra life they give to your brickwork.
To find out more, take a look at our dedicated guide to the costs involved in repointing a chimney.
Repointing a chimney costs £500 – £1,000, plus scaffolding hire.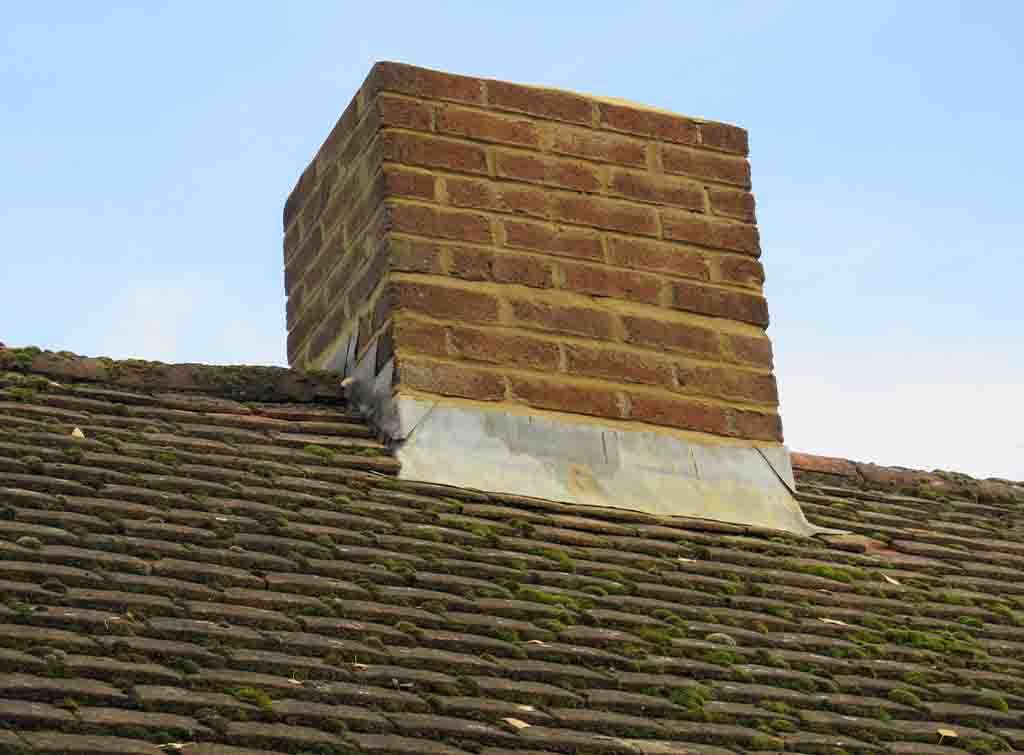 Repointing patio cost
Repointing a patio or driveway stops weeds from getting through and fixes cracks in the existing mortar. Much like with brick walls, the mortar is removed, the space cleaned, and refilled. Usually, this is done with a resin or polymeric mortar.
Repointing a patio costs around £10 – £20 per m2.
However, if paving slabs are loose and moving around then the patio will likely need to be re-laid, rather than repointed.
Repointing stone wall cost
Where stones have been laid similarly to bricks, then the cost to repoint stone walls is roughly the same as brick walls. However, when the stonework has a more haphazard layout, such as using rubble stones then the cost of repointing stonework will rise due to the increased time it will take to remove the existing mortar to a greater depth and apply new mortar in lines that are not straight.
If you're looking for tuckpointing stone instead, the cost might be higher than standard pointing. Tuckpointing is a specific style of pointing that uses two different colours of mortar in order to alter the appearance of mortar joints. For accurate costs of tuckpointing stonework, speak to your local stonework experts.
The average cost of repointing stone walls or pointing stonework is about £80 per m2.
Roof repointing cost
Roof repointing can range from replacing a few tiles, repointing ridge edges and all the way up to replacing entire sections. Much like how mortar holds bricks together in walls, it also holds concrete tiles in place and can need replacing over time.
Repointing a full roof can cost between £500 – £2,000.
Repointing cost calculator
To calculate the cost of repointing, you'll need to factor in the type of brickwork that needs repointing (e.g. chimney vs wall), the extent of the work required and the cost of labour for the tradesperson to carry out the work. Generally speaking, the more complex the repointing project is the more it will cost to complete.
Repointing hourly rates
The average hourly rate for repointing brickwork is around £25 – £45 per hour – depending on the individual tradesperson, their experience and the complexity of the repointing work needed. To get accurate prices in your area, speak to local repointing experts and ask for a breakdown of their costs.
Repointing quotes
We always recommend obtaining at least three quotes from our trusted tradespeople. Our request a quote feature is perfect for getting quotes – you post details about the job you want doing and we'll send it out to local tradespeople in your area. Try it out!
Can I repoint my house myself?
Repointing may sound easy but it's also not difficult to do a shockingly bad job that leaves your wall looking worse than when you started. From poor quality finishing and cracking, to accidentally filling in vital weep holes and even risks of making moisture and damp problems worse, repointing is no simple job. Get it wrong and you can even lower the value of your home.
Repointing is a skilled job and needs to be done correctly. As such, we recommend you hire a qualified professional.
How to choose a professional for repointing
Whether you're looking for a surveyor or a bricklayer, we can help. To find a local, reputable, tradesperson in your area and get a personalised cost to repoint your home, roof, chimney, or patio, use our free search feature.
See the tradespeople we've checked and recommend for your job
Key takeaways for repointing walls, homes and chimneys
If repointing is done well, it can last you over 50 years.
Raking out the existing mortar and the condition of your existing masonry can add a lot to the cost of repointing if your current wall is in poor condition.
In addition to walls, roofs, chimneys and patios can also be repointed.
If repointing isn't done professionally it can lead to long term damage and structural issues.