How to seed a lawn
A luscious green lawn can be a stand out feature in any home, but all lawns have humble beginnings. In this guide, we show you how to seed a lawn with the best expert practices.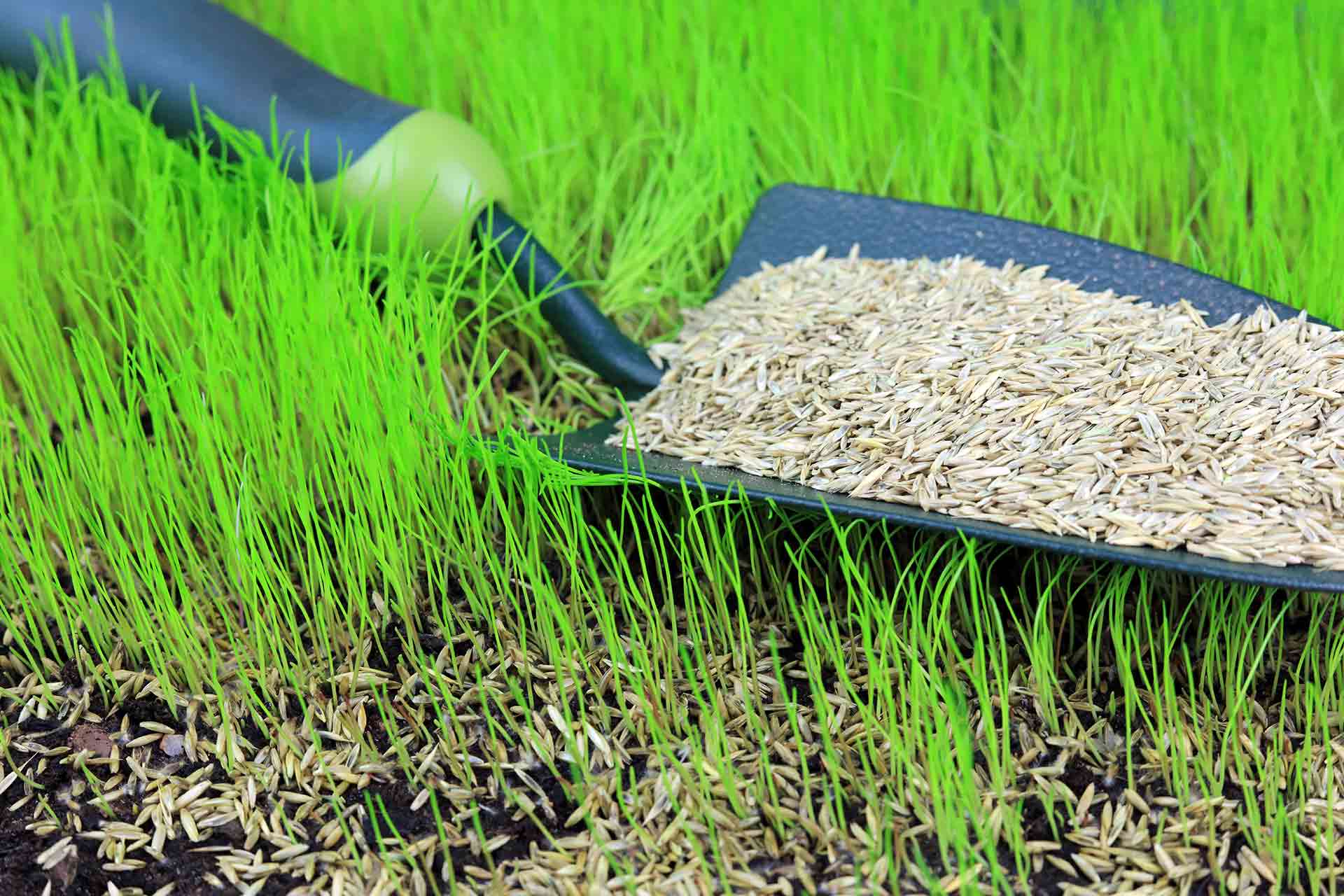 A luscious green lawn can be a stand out feature in any home, but all lawns have humble beginnings. In this guide, we show you how to seed a lawn with the best expert practices.
Whether you're creating a new lawn or reviving an old patch of lawn, keep reading to find out the best way to seed a new lawn and achieve a beautiful grass feature for your home.
How to seed a lawn from scratch
Planting a new lawn from seed is a great way to add some green to the outside space of your home, though the job isn't for everyone, as it involves constant care and attention over a period of time.
If you don't have the time or inclination for planting a new lawn from seed, then speak to a local professional. A professional gardener will know exactly how to grow a lawn from seed and will have all the tools and supplies to successfully do the job.
So, if you're ready to grow a healthy patch of grass, here's how:
Step 1 – Prepare the ground
How do you prepare the ground for grass seed? First things first, you need to make sure that the ground you plan to use for your new lawn is in fit condition. That means clearing any stones, weeds and other debris from the area. Then dig over the whole patch of ground with a fork whilst mixing in topsoil and/or a soil improver, and make sure you break up any hard lumps of soil.
Top tip: If the area of your new lawn is prone to getting waterlogged then work in sharp sand to enhance the drainage of the soil.
Step 2 – Nourish the soil
You want the soil to be as rich as possible for your lawn seed to grow well, which you can do by adding pre-turf and seed fertiliser. For recommendations of exactly which products to use, speak to your local gardening specialists.
Step 3 – Compact the soil
Compress down all the soil, which you can do with the heels of your boots. Just make sure you're methodical and work your way around the whole area. Once you've finished, gently rake over your footprints and use the opportunity to remove any last rocks, roots or debris.
Your soil is now ready to go, so keep off until you're ready to start sowing your lawn seeds.
Step 4 – Sow the seeds
With your soil prepped, pick a day when there's no wind and start spreading the seed over the soil. As a guide, you should spread roughly one handful of lawn seeds per square metre. You'll be tempted to overseed but don't – it'll cost you more money in lawn seed and will cause seeds to rot and die.
Step 5 – Lightly rake the seeds
To help settle the lawn seeds in the soil, lightly rake the surface to mix them into the soil. Don't go too deep otherwise the seeds won't be able to germinate – they need light.
Step 6 – Roll and water the soil
The final step of physically preparing the lawn soil is to use a garden roller to lightly roll over the soil, and then water the seeds. If no rain is predicted then make sure you water daily for 7-10 days – just take care not to overwater the soil, which can wash seeds away and waterlog the soil.
Step 7 – Protect the lawn and leave to grow
You've now done the hard work, so you want to make sure your lawn has the best chance of growing lush and healthy – so protect it. Keep humans and pets off the lawn until grass is growing strong.
You also want to protect the seeds and seedlings from hungry birds. You can do this by placing a fine netting over the whole lawn area a few centimetres above the ground.
Step 8 – The first lawn cutting
When your grass gets to about 5-8cm high, it's ready to be cut for the first time. Make sure your lawnmower blade is sharp and set the height to the highest setting to just take off the tips of the grass.
Don't worry if your lawn looks patchy after you cut it, the grass will keep growing and fill in the gaps. And pretty soon you'll have a thick, green lawn.
If you're after a faster solution to getting a new lawn, you might want to learn how to lay turf instead of seeding a new lawn.
See the tradespeople we've checked and recommend for your job
How to over seed a lawn
So we've just told you to not overseed a new lawn when you're sowing it for the first time. But, when you're dealing with an existing lawn, overseeding is actually an important part of annual lawn maintenance.
Overseeding basically involves sowing additional seed on an existing lawn, to the same concentration as you would if you were planting a new lawn from seed (roughly one handful of seed per square metre). Follow these steps:
Mow your lawn
Rake away any leaves, stones and matted grass
Spike the lawn at regular intervals using a garden fork
Add fertiliser if your lawn hasn't been fed in over three months
Sow the seeds
Water regularly to keep the soil moist for the freshly sown lawn seeds, and keep people and animals off the lawn for 2-3 weeks.
Benefits of overseeding your existing lawn
Fills in gaps where you may have weak, damaged or worn out areas of lawn
Improves the colour and density of the lawn
Helps reduce the amount of weeds and moss affecting your lawn
How to plant grass seed in bare spots
If you have an established lawn but have noticed bare spots where the grass has become worn out or damaged, you can use grass seed to fill in those spots.
Simply follow these steps:
Remove the grass and topsoil of the bare spots
Lightly fork over the soil
Add fresh topsoil or compost
Spread grass seed over the patch of fresh soil
Cover the seed with a light layer of topsoil or compost
Water the seeds and leave to grow (watering regularly if no rain falls)
Hire a professional to seed your new lawn
Gardening isn't for everyone. Some homeowners love it, and others simply don't have the time or find it enjoyable. If that's you, then hiring a local professional gardener is the perfect way to seed a new lawn from scratch without the time and effort.
To find out more about the costs of hiring a gardener, check out our guides on lawn treatment service costs and garden landscaping costs.
See the tradespeople we've checked and recommend for your job
FAQs
When is the best time to seed a lawn?
To achieve the best results for your lawn, you should sow your lawn seeds in either spring (March to May) or autumn (September to mid-October). This is when the soil is moist and warm, giving the seeds the optimum growing conditions and therefore the best chances of germinating.
Wondering how to seed a lawn in spring? Follow the step in this article and you should see a healthy lawn growing in your garden.
Can you just sprinkle grass seed on a lawn?
Potentially yes, but the quality of the grass that grows may not be the best and could easily die off or become patchy. That's because the seeds won't be well-rooted. If you want a strong, healthy lawn you'll want to follow the thorough steps of preparing the lawn, sowing the seeds, and caring for the lawn during its early weeks/months.
If you don't fancy the work of seeding a new lawn, hire a professional gardener to do the legwork for you.
How do you prepare ground for grass seed?
When planning how to seed a lawn from scratch, preparation is key, so you'll want to make sure you do the following:
Remove stones, weeds and debris from the lawn area
Rake the soil and add topsoil and/or soil improver
Leave the soil to settle for a week or so
Remove any weeds that have germinated
Compress the soil until firm and lightly rake a few times
Will grass seed grow if not covered?
It's unlikely that healthy grass will grow if your grass seeds aren't covered. Lawn seeds need the nutrients from the soil to germinate, as well as warmth and light from the sun. If your grass seeds are just sitting on top of the soil, there may be issues with germination.