How to tile a splashback in 7 easy steps
Learn how to tile a splashback in just a few short steps, and transform your kitchen in no time.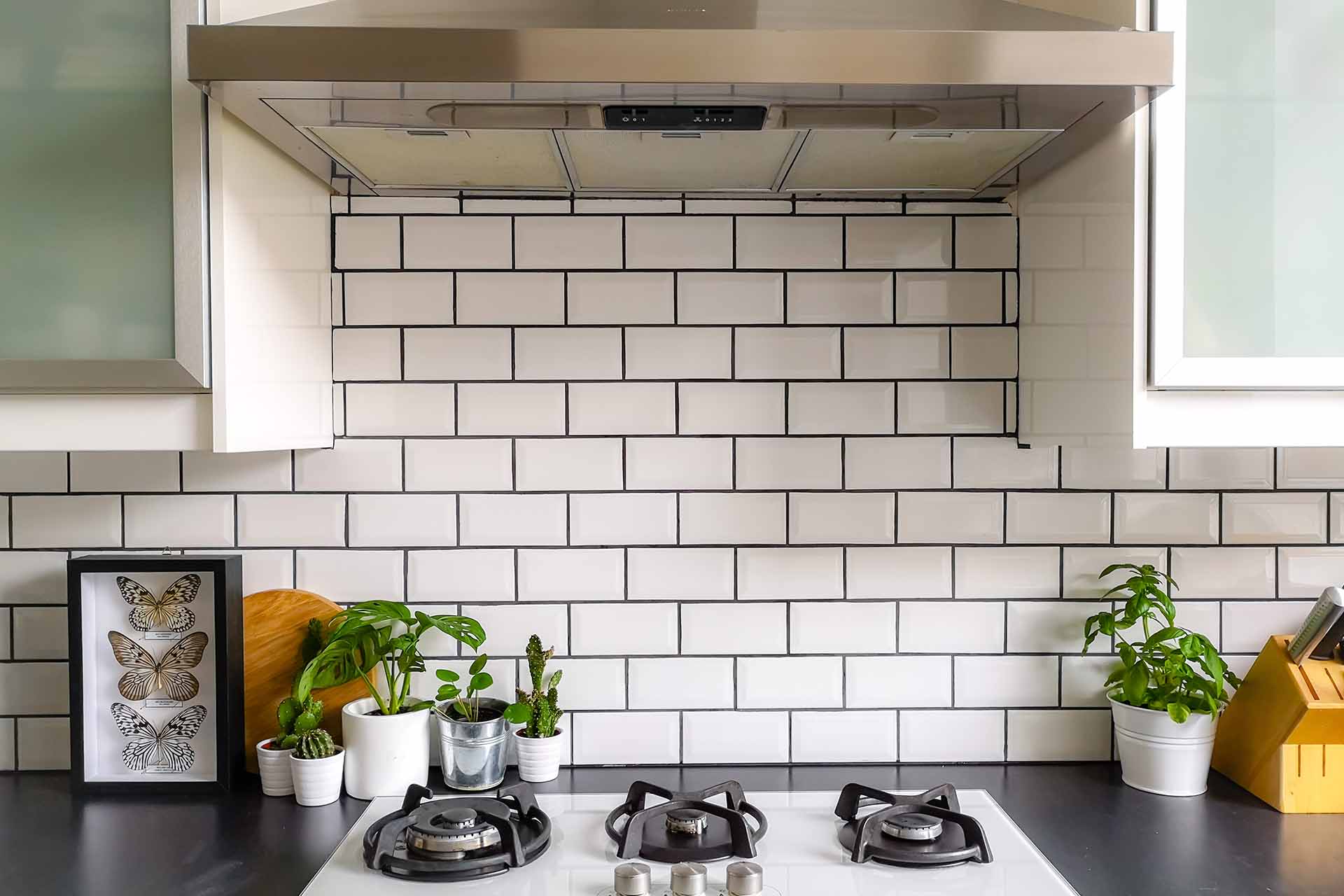 When using the hob or sink, splashes and stains on the wall behind are inevitable. A tiled splashback in the kitchen, bathroom, or utility will help to protect your wall with a waterproof and easy-to-clean surface.
A tile backsplash can be created using porcelain, ceramic, stone, or even mosaic tiles. With the variety of options available, a tiled splashback is a perfect way to reinforce the style of your room.
Want to learn how to tile a splashback? Read on for a complete list of the tools and materials you'll need, and the 7-steps to follow to create your tiling project.
Top tips for how to tile a splashback
Firstly, make sure you've measured the area of your splashback. Then you can calculate how many tiles and how much adhesive you'll need. We recommend you buy a few extra tiles than you need to allow for any breakages or mistakes.
We've produced a handy list of the tools and materials you'll need to tile a backsplash, so you're fully prepared before you get started.
Tools:
Notched trowel spreader
Grout float
Tile cutters
Caulking gun
48-inch spirit level
Tape measure
Materials:
Tiles
Tile trim
Tile adhesive
Ready-mixed grout
Tile spacers
Silicone sealant
A protective floor covering
Protective gloves
Sugar soap
Pencil
Two buckets
Clean sponge
Water
See the tradespeople we've checked and recommend for your job
How to tile a splashback
Step 1: Preparation
First, cover your work surface with protective sheeting. Then use sandpaper to remove any lumps or bumps from the wall surface. Next, use Sugar Soap to make sure your wall is clean before you begin. Wait for the wall to dry.
Step 2: Measure
Measure the width of the area to be tiled and then mark the centre point on the wall. Mark another centre point at the top of your tiled area, i.e. where you want the tiles to stop. Draw a vertical line between the two points. This is your centre line.
Step 3: Adhesive
Make sure you select the correct tile adhesive for the job. For example, if you're tiling a wet area, around a sink or shower, you'll need waterproof adhesive.
Start at the bottom centre of your tiled area. Using a notched trowel, apply a generous and even layer of adhesive where the first horizontal row of tiles will be placed. Use the notched trowel to create vertical or horizontal lines on the wall. Work in small sections as the adhesive will set quite quickly.
Step 4: Lay the tiles

With the adhesive on the wall, place some tile spacers along the worktop to make sure there's a small gap between the work surface and the first row of tiles. You'll caulk this gap later.
Place your first tile on the wall. Working from the middle to the sides, apply the next tiles in the row. Make sure you place tile spacers along the edge of each tile for even, uniform gaps. If using mosaic sheets, you won't need tile spacers, as these tiles are designed to fit together.
If you find there's not enough room at the end of the row for a full tile, you'll need to use a tile cutter. To do this, measure how much you need to cut away (remember to factor in the size of the tile spacer), and mark the tile using a pencil. The tile cutter will score a line along the tile. You'll need to apply gentle pressure to break the tile along this line.
Check your tiles are straight using a spirit level. Then repeat these steps until you've covered your splashback area. Remove any glue residue as you go using a clean sponge. And don't forget to use tile spacers around each tile!
Step 5: Grout
The adhesive will need time to dry, so wait a few hours before you apply the grout.
When selecting your grout, consider whether you'll need a waterproof or anti-mould grout, for example, for use around a sink splashback. There are many colours to choose from.
Mix the grout in a bucket according to the packet instructions. Only mix a little at a time. You're aiming for a good, thick consistency.
Using a grout float, apply the grout to the gaps in the tiles by holding the grout float at a 45-degree angle. Wipe away any excess grout about ten minutes after application, using a clean, damp (not wet!) sponge.
Step 6: Seal
Apply sealant along the edges of your splashback area to make it watertight. Alternatively, you can apply a tile trim (see below). Remember to caulk the horizontal gap between the work surface and the first row of tiles. Some people opt to use a grout sealer to protect the grout against stains.
Step 7: Clean
Hopefully, you've now got an impressive new splashback! Use a cloth to wipe away any smears, and you're done!
See the tradespeople we've checked and recommend for your job
How to tile a splashback with trim
Tile trim will give your splashback a professional, smart finish, while also protecting your tiles. Without it, you'll be left with potentially sharp edges and unsightly exposed sides.
Tips for choosing your tile trim:
Tile trim comes in many different colours, shapes, and finishes. You can match the colour and material trim with your tiles, or go for a contrasting look. Choose the right size and depth trim to match that of your finished splashback. Remember to account for adhesive when measuring the depth of your tile.
Make sure you have enough tile trim for the job. If it's necessary to cut your tile trim, you'll need a mitre block to cut on the angle. Apply the trim using adhesive in the same way you applied the tiles.
How to tile a kitchen splashback
If you're looking for ideas on how to tile a kitchen splashback, you'll enjoy our recent post on kitchen tile ideas.
It covers:
The various types of tile available, including stone, mosaic, and even 3D tiles.
Ideas for tile layout: herringbone and chevron are popular choices right now.
Information about the varying grout colours available.
With so many different styles and colours available, a tiled splashback is a perfect way to complete the 'look' of your kitchen. It's often a cost-effective way to update a tired, old kitchen on a budget, dependent on the tiles you choose of course. Read our guide to the cost of tiling a kitchen or bathroom to help plan your budget.
The size of your kitchen splashback is down to personal preference. Some people opt to tile the entire wall, while others focus on the area between the kitchen worktop and the bottom of the kitchen cupboards. You may simply want a cooker splashback to protect your walls from cooking grease and stains.
How to tile a splashback for a sink
The skills and know-how to tile a splashback for a sink are exactly the same as tiling a kitchen splashback. Use our 7-step guide, above, to help you.
Remember, a sink area needs to be waterproof, so be sure to choose a waterproof adhesive and waterproof grout. You can also buy anti-mould grout for this type of job.
If learning how to tile a backsplash feels like a stretch too far for your own DIY skills, use our handy search function to get quotes from local tilers your neighbours have used and would recommend.
See the tradespeople we've checked and recommend for your job
FAQs
Where do you start when tiling a backsplash?
The best place to start is at the bottom centre of your backsplash area. This will help to make sure you get a symmetrical look as you work towards the sides.
How easy is it to tile a splashback?
Tiling a splashback can be a relatively straightforward DIY job if you have the expertise. If you have uneven walls, sockets, or cabinets to work around, it could prove more tricky.
How do you set a tile splashback?
If you don't have a work surface or countertop to use as support, you can screw a timber baton to the wall to support the tiles while they set. Use a spirit level to make sure it's level before you begin, and don't forget to use tile spacers between the baton and the first row of tiles.
What is the easiest backsplash tile to install?
While not necessarily a 'tile', peel-and-stick tiles offer the easiest route to creating a tiled 'look'. They are self-adhesive with no need for grout.
If you'd prefer the real deal, mosaic tiles are the easiest backsplash tile to install. They come on mesh backing and are easy to trim to size.