When it comes to decorating your black and white kitchen, we have a few ideas up our sleeves. When most people think about monochrome aesthetics, they imagine victorian floor tiles, chequered flags, and chess matches. However, to make this clean and classic design combo work for you, all you need is a dash of vision and a heap of inspiration.
Black and white looks great in classic or contemporary kitchens. It also pairs well with earthy tones such as grey, green, and wood. However, even bolder colours like berry, blush and warm blue can work when incorporated the right way.
The images below feature our favourite black and white kitchen design ideas. Keep reading for a dose of inspiration and a splash of panache. And if you're looking for alternative colour combinations, check out these mood-defining aesthetics.
Black and white kitchen ideas
Keep it simple with modern black and white kitchens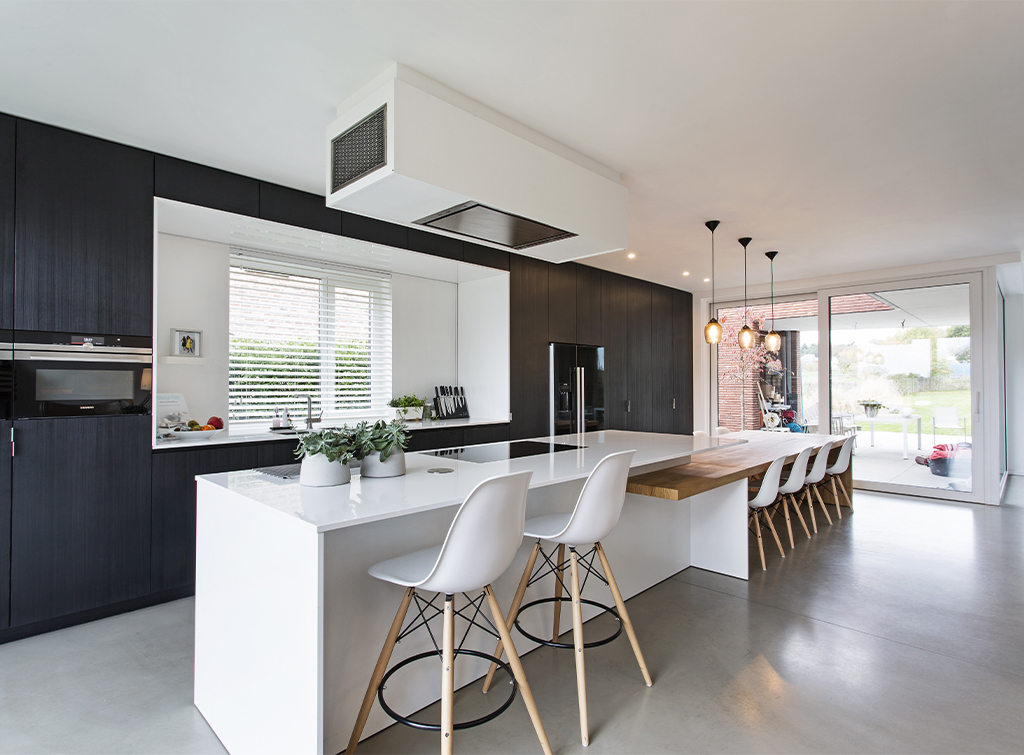 These homeowners have made the most of black and white's design potential in this spacious kitchen. The playfulness between light and shadow creates interest and intrigue with black cupboards and panels across the back wall and a white inset sink and kitchen island.
Coupled with the grey concrete floors and the light wood accents on the chairs and kitchen island, these complementary materials and shades add warmth and sophistication to this minimalist design, helping to tone down the harsh contrast of black and white. Industrial hanging lights are also a nice touch and break up large swathes of space to draw the eye to the 'broken plan' aesthetic.
Consider the type of tiles in your black and white kitchen design

Industrial design meets contemporary minimalism in this gorgeous black and white kitchen design. One way to make the most of this classic trend is to invest in some white splashback tiles with black grouting.
As pictured, this creates a striking aesthetic without overpowering the smaller space. It also ties in well with the black cupboard doors and modern cooker top and oven. Again, warming up the decor with light wood and grey materials helps soften the contrast for a clean and classy finish.
Keep it simple and original when decorating a black and white kitchen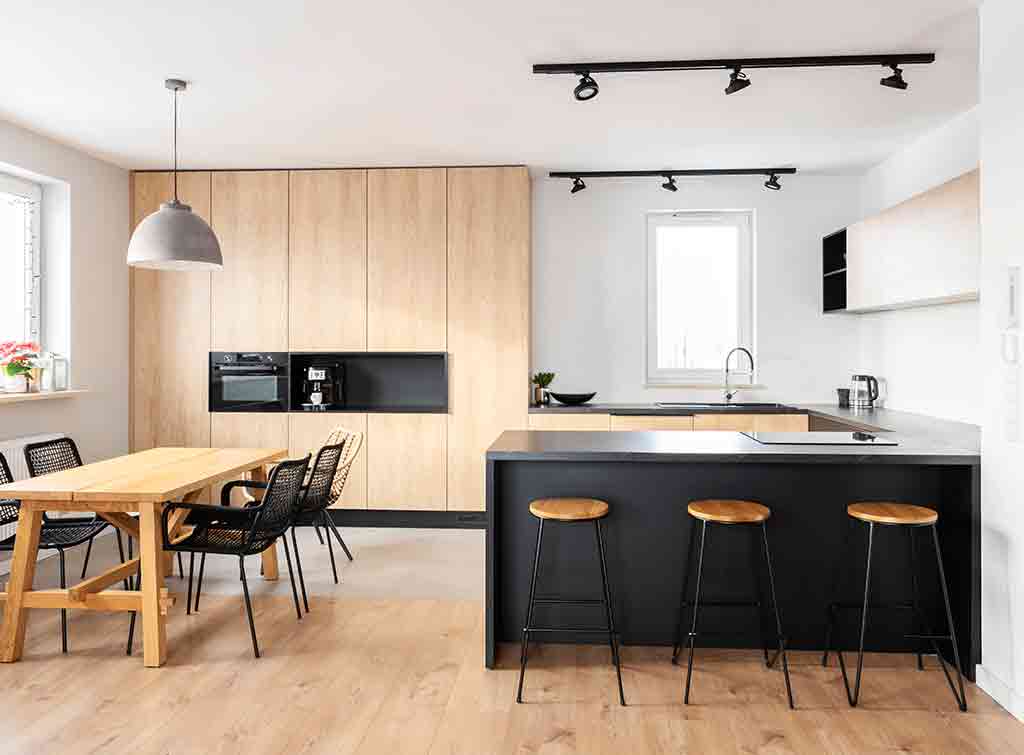 Wood plus black and white go together like ice cream and cones. This transitional aesthetic, which includes Scandi, minimalist, rustic, and Amish accents, is both welcoming and homely in this open-plan kitchen-diner.
These homeowners used black and white to help break up the two-toned wood making up the majority of the design. However, one of the best things about black and white is its ability to create shade and light for alternative points of interest.
For example, the inset cutout in the kitchen cupboards houses an oven and coffee station, which matches the U-shaped countertops. This creates a clear 'kitchen area' separate from the dining area, which is made up of warm wood and inviting wicker chairs for a naturalistic finish.
Looking for some kitchen ideas on a budget? Read this.
See the tradespeople we've checked and recommend for your job
Black and white kitchen design ideas for smaller spaces
Keep the black decor to splashback tiles and accessories

This modern meets nordic kitchen is a perfect example of how to utilise the classiness of black and white to its greatest effect.
It's easy to let black hues overpower smaller kitchens and create a moody room, which is why it's worth keeping the dark hue for splashbacks and finishing touches.
By limiting black to the splashback tiles, handles, and appliances, the white cupboards do their job by opening up the space and inviting the sun to 'lift' the decor. To finish, a grey linoleum floor with matching paintwork above the cupboards subdues the clash of hues, bringing the space together for a clean finish.
Add glass to black units to stop them from overpowering the space

If you want to go big or go home when it comes to incorporating the colour of obsidian into your kitchen, consider including glass where possible to help break it up and invite more light into your moody aesthetic. Not only does glass look striking and elegant when used on your kitchen cabinets, but it also helps reflect real or artificial light for an added layer of interest. This is one of the best ways to incorporate simple black and white kitchen designs into your renovation.
For more tips on brightening dark spaces, read our kitchen lighting ideas blog.
Don't be afraid to add a pop of colour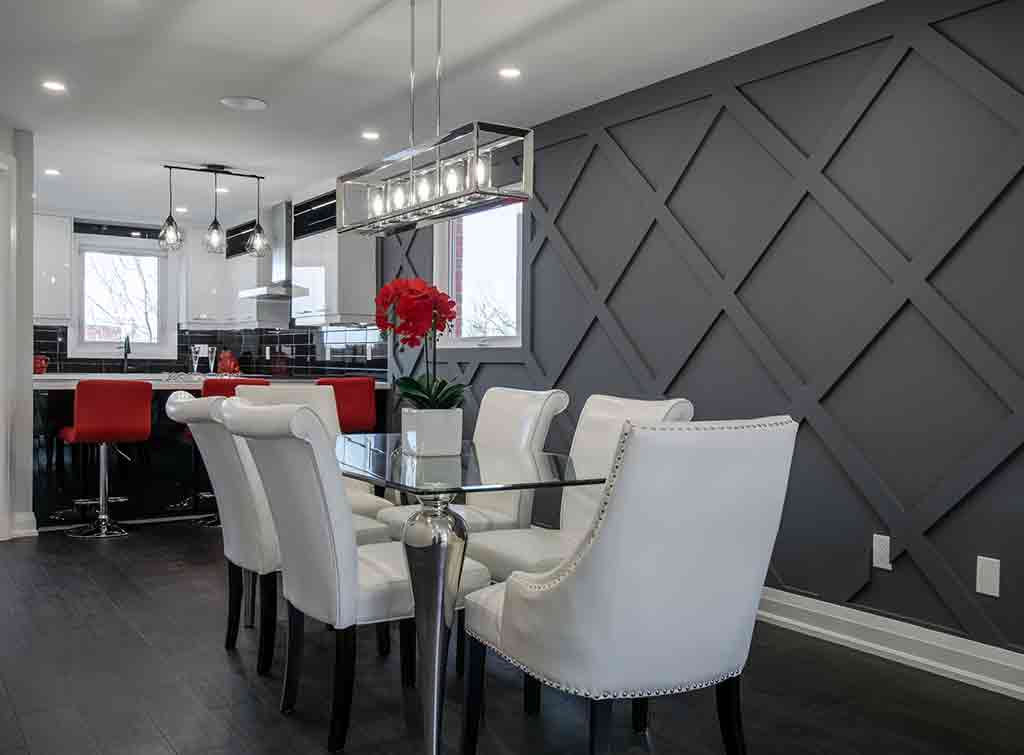 When it comes to black and white small kitchen ideas, our top tip is to embrace the shadow world. Black oozes class, which makes it a versatile hue to play with, whether it's on wall panels (as pictured), inset shelves and units, floors or ceilings, blinds, appliances or faucets.
Black offers several ways to make a statement and turn your kitchen into a talking point. However, temper it with white and bolster it with pops of colour, such as the red chairs and flowers these homeowners opted for.
And of course, metallics like chrome, bronze and copper add some extra class and style to any black and white combo.
For more black and white small kitchen ideas, read our planning guide here.
FAQs
What colour goes with a black and white kitchen?
Black and white work with almost any colour and material. However, earthy tones such as grey, green, and wood look best. However, even bolder colours like berry, blush and warm blue work well when incorporated the right way.
Is there a black and white kitchen in style for 2022?
Although it's making a design comeback, black and white kitchens are so versatile that it's impossible to pinpoint a style to try out. However, consider making it transitional with another aesthetic you like; for example, Scandi, rustic, or industrial.
Are black and white kitchens on trend?
Black and white kitchens are timeless and interchangeable, meaning they're always on trend! The best thing about a black and white kitchen is its versatility. Either keep it simple with fewer tones or go big with metallic patterns and bold colours.
See the tradespeople we've checked and recommend for your job
Tell us what you think
What others think of this article: