Planning your kitchen revamp
Whether you're looking to revamp your old kitchen or completely transform it, our guide has everything you need to know about how to make redecorating as stress-free as possible.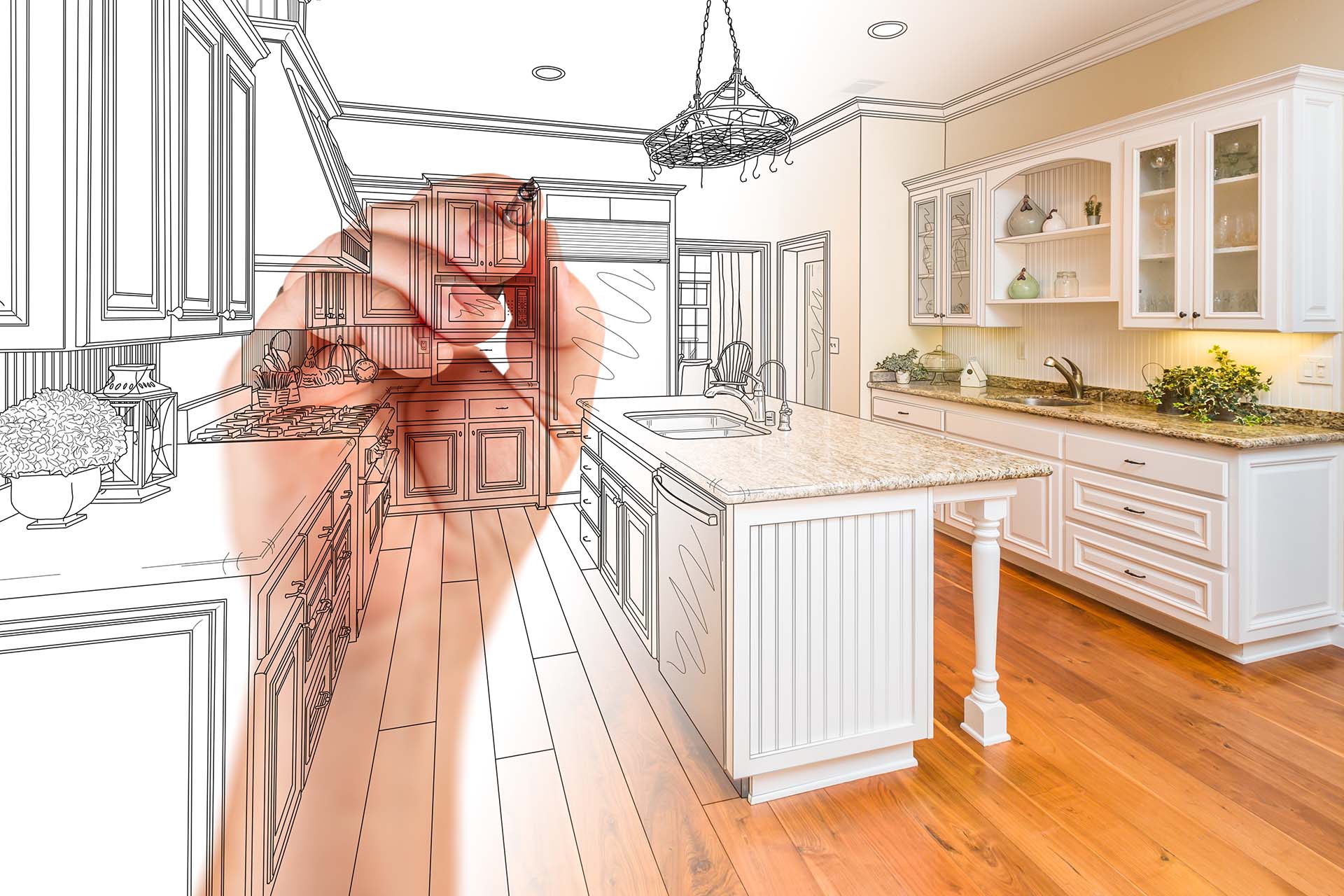 Whether you're looking to revamp your old kitchen or completely transform it, our guide has everything you need to know about how to make redecorating as stress-free as possible.
Over time, your home will naturally suffer from wear and tear, especially in the rooms you use most often. As a result, there may be areas you want to focus on first, such as your floors or cabinets. Sometimes, changing these elements is enough to revamp your entire kitchen; however, if you're bored with your design and want to refresh your decor, there are several things you can do.
This guide is going to go through how to plan your kitchen revamp step by step. Check out our kitchen ideas if you're in need of some design inspiration.
How to revamp your kitchen
Planning is key when it comes to remodelling, redecorating, or renovating your kitchen. This helps you gain a clear understanding of what's available on your budget, the expected timeframes for each piece of work, and the likely finished results.
Step one: Decide on your decor
Whether you're using a kitchen designer or envisioning your finished results yourself, it pays to know what kind of style you're looking for. This helps you relay this information to any tradespeople you hire and also helps you narrow down search results. For example, searching for marble worktops, art-deco faucets or victorian floor tiles will reveal more relevant results.
Read our blog: Cheap kitchen makeover ideas for more inspiration. 
Step two: Create an ergonomic layout
Intuitive kitchens are worth planning. For example, trying to find a mug miles from where you keep your kettle or trekking to the utensil drawer every time you forget your garlic crusher isn't ideal. That's why planning your layout and making sure your workspace, storage units, and walkways all work cohesively.
Step three: Measure the area
Although a designer and/or builder will make sure everything you want fits in your kitchen, it's still worth creating a rough floorplan. This can include where extra power sockets are needed, where the dog bed might go, any island or peninsula you want, and whether any extra storage is required.
Step four: Finalise your budget
Once you've decided on the design of your kitchen, it's time to work out what materials and specifications you can afford. Include extra costs such as labour and any accidental damage. Once you've put together a list with items and costs, use this as a final guide for your kitchen design.
Step five: Hire your team and buy your materials
There are various tradespeople it's worth hiring when it comes to revamping your kitchen. These include a plumber, electrician, handyman, builder, designer, and carpenter. When you hire a Checkatrade professional, you can be safe in the knowledge that they have gone through 12 checks before becoming a member, are reviewed by previous customers and then checked again by us to make sure the reviews are real.
Step six: Let the revamp commence
Now all that's left to do is sit back and see your planning expertise pay off. Be sure to visit the site and check for any snagging issues, such as missing or damaged items. Make a note of these so they can be fixed at a later date. Most renovations will take up to eight weeks. However, for smaller-scale revamps, expect a shorter project completion timeframe.
For more guidance on revamping your kitchen, read our 8 tips on how to plan your new kitchen blog.
See the tradespeople we've checked and recommend for your job
Kitchen revamp on a budget
With the costs of material, labour, and energy prices increasing, revamping your kitchen might be the last thing on your mind. However, there are many ways to breathe new life into the hub of your home on a budget.
Revamp kitchen worktops
For worn, scratched, old, or dated worktops, replacing them can transform your kitchen. For those on a budget, replacing your worktops with laminate can cost as little as £500 per unit on average, rising to £2,000 for granite or quartz for an extra wow factor. Check out our replacing kitchen worktops cost guide for more information.
Alternatively, if you're looking to complete this job yourself, our how to fit cheap kitchen worktops guide has everything you need to know about the DIY method.
Revamp kitchen cupboards
Keeping your kitchen fresh and clutter-free stops your kitchen from becoming dated. Our kitchen storage ideas blog has everything you need to make the most of your space.
Another way to add style and storage is to install a kitchen island. However, if you're on a budget and want to give this a go yourself, check out our how to make a kitchen island guide.
Revamp kitchen cabinets
Over time, cabinets become worn, dented, scratched, and otherwise dated. However, a great way to give them another lease of life is to vinyl wrap them. This can set you back an average of £65 per door or £5,000 for 10 doors including labour. However, compared to an entire kitchen revamp, it's a great way to give your cabinet a makeover and your entire kitchen an overall lift.
If you don't like the idea of vinyl wrap, another option is to spray them. Read our how to spray paint kitchen cabinets guide for more information about this budget-friendly alternative.
Revamp kitchen tiles
Broken, cracked or mouldy kitchen tiles are unsightly and date your kitchen. Whether they're wall or floor tiles, they can make or break your kitchen aesthetic. If your tiles are broken or cracked, it's worth installing some new ones, which will set you back around £100 per m² (including materials and labour). However, if your tiles are dirty or mouldy, they might just need a little TLC. Read our how-to regrout tiles guide to give your kitchen its sparkle back.
For some first-rate decorating inspiration, check out our kitchen tile ideas.
Revamp dining tables and lighting
Sometimes re-accessorising or upcycling is all it takes to transform a space. Your kitchen is no exception. Consider replacing your dining table or sanding it down and giving it a fresh lick of paint. Alternatively, install under cabinet strip lights for a warm aesthetic or dome lights for a contemporary injection. Our kitchen lighting ideas have plenty of designs to choose from.
Kitchen revamp cost
Depending on the specifications, your requirements, and the number of materials required, a complete kitchen revamp can cost you between £12,000 on the budget end and £35,000 on the high-end (including labour). However, there are ways to spruce up your space without spending a small fortune, so it's always worth shopping around for the best deals. That said, we do advise using one of our trusted tradespeople. Using a professional saves you incurring extra costs further down the line due to poor workmanship.