Imagine having a space entirely dedicated to laundry, plus storage for shoes, coats and cleaning products. With our ingenious utility room ideas, you can free up your kitchen and create a unique area for all your utility needs. If you are looking for clever utility room ideas, you have come to the right place.
From storage ideas to shelving options, building a space that works for you is essential. Even the smallest of areas can be converted into a utility room and we will look further into exactly how you can make the most of every space, large and small. Plus, keep reading to also learn about garage and basement utility room ideas.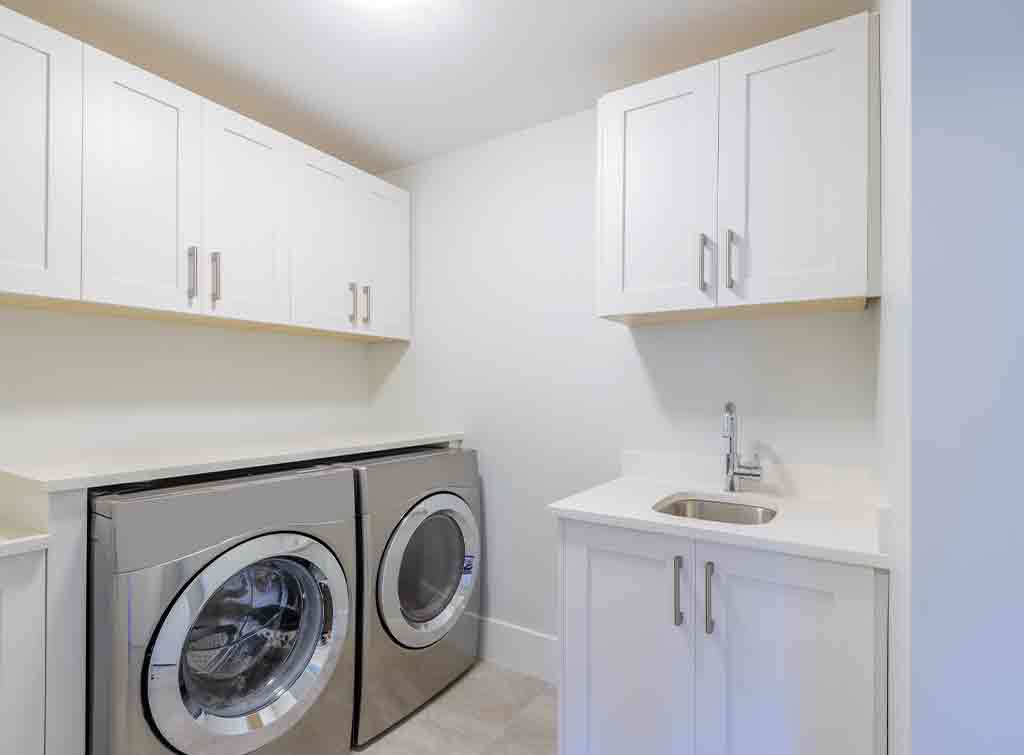 Utility room storage ideas
The best storage solution for you will depend on the size of the space you have available. Having said that, there is always a better way to streamline your storage, even if it means starting from scratch. The following are all excellent utility room storage ideas:
Shelves
Drawers
Baskets
Boxes
Cupboards
Small and compact utility ideas
You may feel like your home is too tiny for a utility room. But our small and compact utility room ideas will help you see that there are so many ways to make compact spaces work for you. One of the best ways to add storage to tiny or awkward spaces is to order bespoke options like shelves or cupboards.
It is even possible to purchase slimline washing machines and tumble dryers to save room. You may have run out of floor space, but have you ever considered looking up? Installing storage higher up your walls can really maximise your utility area, even in tiny spaces.
Narrow utility room ideas
Sometimes the only place you can fit in a utility room is quite narrow. This does not mean there aren't ways of making the most of the area. In fact, the following three narrow utility room ideas are designed just for this situation:
There are a multitude of different storage options like shelving or drawers that come in slimline options. You will still get the width of normal shelves without further encroaching on your limited space.
You can make any area of your home seem larger by keeping clutter tidied away. This is where storage comes into play and making sure everything has its place.
If your space is particularly narrow, you can also create the illusion of space by removing cupboard doors.
See the tradespeople we've checked and recommend for your job
Modern utility room ideas
Modern homes are becoming more and more popular but keeping up with modern utility room ideas may be a little confusing. That's why we have summarised the best ways to design a modern, sophisticated area below:
Work with shades of white, grey, and black to create a monochromatic design theme. You can also consider adding small pops of colour to brighten up a modern laundry room.
Use sleek storage solutions to complement a modern utility room. Choose those with silver or glass components to further enhance your utility room.
Minimalism fits perfectly with a modern room. Ensure you use storage to keep everything clean and tidy at all times.
Garage utility room ideas
Free up space in your house by installing a new utility room in your garage. In fact, if you are looking to convert your garage please see our handy garage conversion cost guide. You can create a functional, dedicated space with our garage utility room ideas, including:
Install washing machines and tumble dryers near to each other to save space. Without these noisy appliances, your home will be much more peaceful.
Personalise your storage by shopping around to find options to enhance your new utility area.
Consider adding a drying rack for clothes that cannot be dried in a tumble dryer.
Basement utility room ideas
Having a utility room in your basement brings a wealth of benefits. For example, you won't need to go outside to your garage on cold or rainy days and it frees up valuable space in your kitchen.
Considering converting your basement? Check out our helpful guide on cellar conversion costs.
If you are looking for basement utility room ideas, consider the following:
Utilise the extra space by adding a mud room where you can store coats and shoes to keep your home looking clean and tidy.
Make space for your ironing board and iron in your new utility room. Add a radio or TV in your basement to create a cosy room where you can iron in peace.
Install a sink to aid hand washing and complete your utility room.
Utility room ideas for all spaces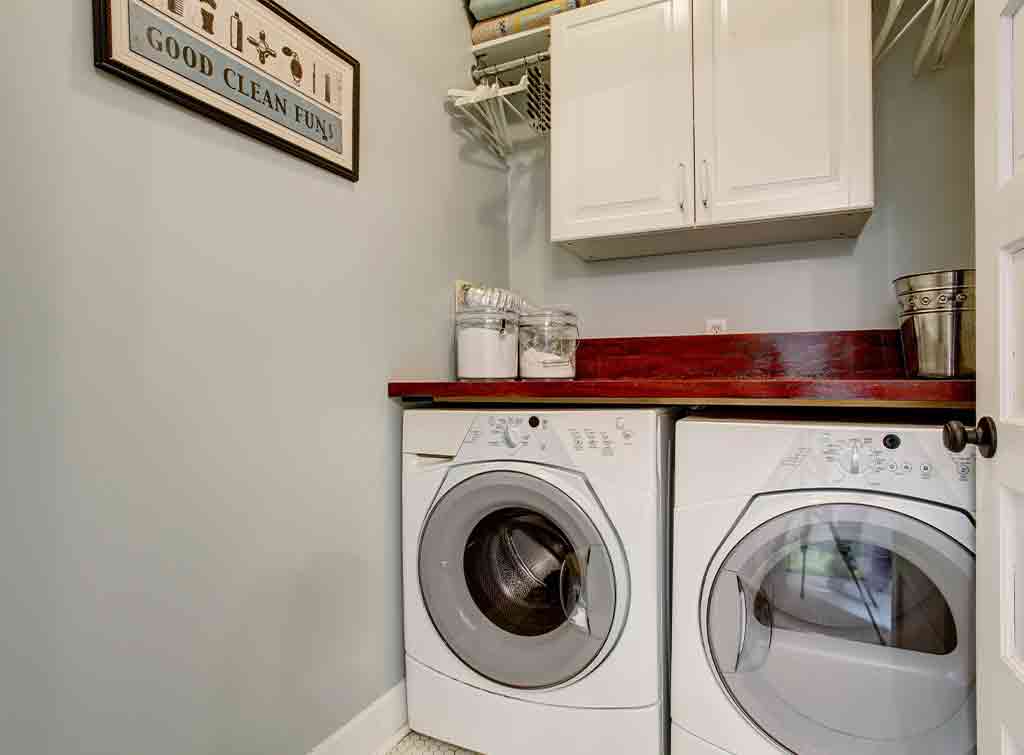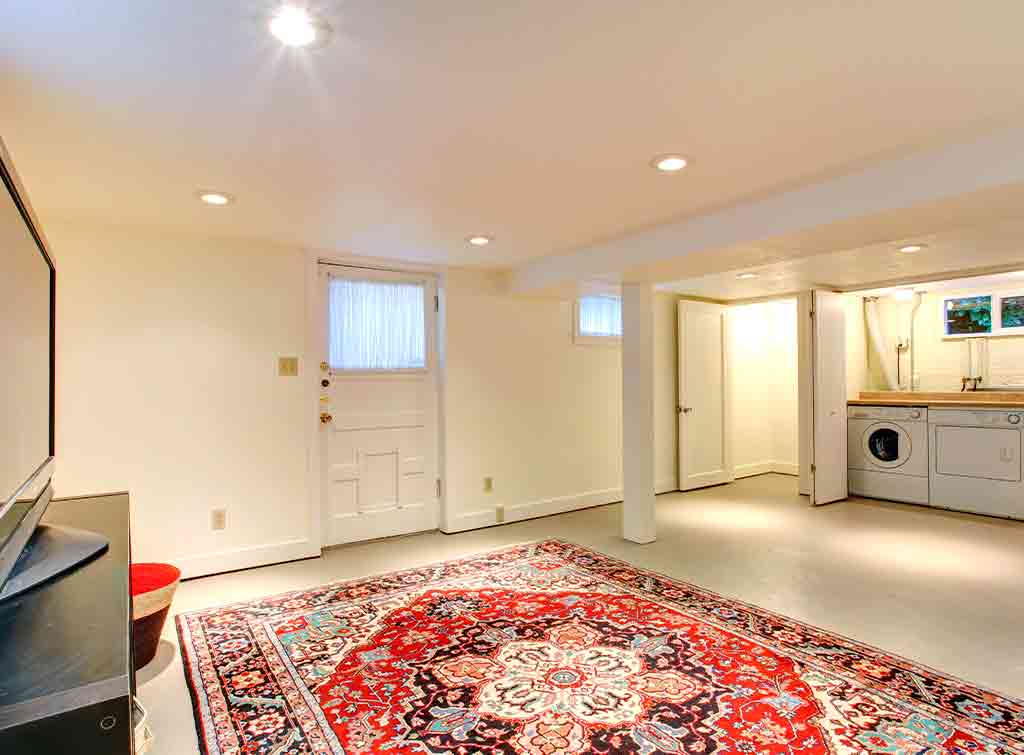 Ingenious small utility room idea
This picture shows how a utility room can fit into a tiny space that at first glance may seem too small. A washing machine and tumble dryer fit perfectly under a shelf that can be used to sort washing out.
As well as a cupboard – great for storing cleaning products – twin railings have been installed to hang up clean clothes. Light coloured walls contrast well with the burgundy shelf, creating a peaceful room.
Sleek utility room with a modern finish
A contemporary and modern room, this utility space is designed with clean, sleek lines. The grey cupboards and doors complement the white walls and flooring making for a stunning room. Storage is here in abundance with multiple cupboards and drawers, perfect for hiding away washing products and much more.
As well as a washing machine and tumble dryer, a sink has been fitted for hand washing and there is space to add a mud room.
Converted garage with utility room
This garage has been beautifully converted into a fully functioning utility room with endless potential. A stunning water feature adds tranquillity and practicality, while the pebbles and a wood false wall only serve to further enhance the space.
What's more, a unique floor to ceiling storage unit houses both machines while adding extra storage to this incredible room.
Spacious basement with utility room
Converting a basement into a utility room is not only convenient but also gives you the space to completely personalise the area to your requirements. This basement is extremely spacious and as well as a practical utility room, a television has been added, perfect for long hours ironing.
The basement is designed in creams and whites, creating a soothing space with a beautiful rug added for a fantastic pop of colour.
Stunning farmhouse laundry room
If you are lucky enough to have the space, creating an incredible utility room like this is a dream for many homeowners. As well as the usual washing machine and tumble drier, this laundry room has two washing baskets for different types of clothing.
The blue built in cupboards add a beautiful vibe to this traditional farmhouse, utility room with light wooden fixtures and white walls. A few inspirational quotes provide levity to this stunning room.
See the tradespeople we've checked and recommend for your job
Tell us what you think
What others think of this article:
Need More Information?
Related posts