Last updated on August 25th, 2022
Dog shower cost guide
If you have a dog, you'll know the pain of muddy paws traipsing through the house all too well! A dedicated dog bathing area can solve that, but how much does a dog shower cost?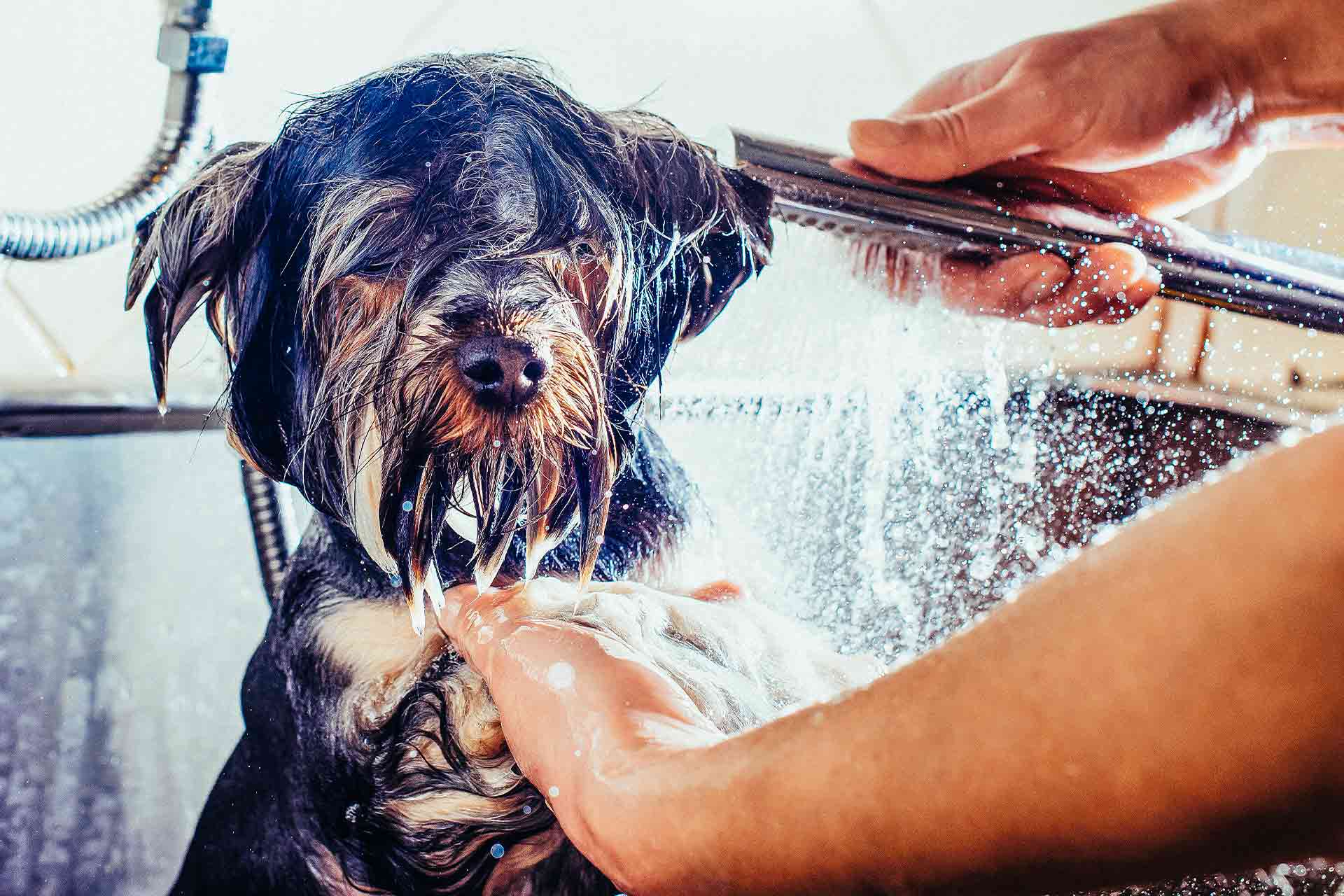 Gone are the days of muddy paws in the bathtub. And gone are the days of flooding the kitchen floor as your pup splashes around in the sink. You can now keep the mud away from the rest of the home with a designated doggy shower.
Olivia Bowen (Olivia Buckland) from Love Island is just one home influencer who's taken the plunge. And we just love the results. So, how much will a dog shower like hers cost you?
Build your own dog shower like Olivia Bowen
Olivia Bowen designed and built her pups' dog shower from scratch, and we have to say that it's definitely one of the most stylish we've seen.
It's raised off the ground and features a detachable showerhead, drainage system and slick tiles by Ca' Pietra – the perfect combination of pretty and practical.
Where to build your dog shower
If you have a utility room, why not take a leaf out of Olivia's book and build your dog shower there? Tucked away from the rest of the house and without the need to traipse your muddy dog upstairs, it might just be the perfect spot.
Other great options include your kitchen or a downstairs bathroom. Ultimately, you'll want to choose somewhere:
Spacious
Easy to wipe down (e.g. with hard flooring)
That already has plumbing installed (to save costs)
If you're not sure where to build your dog shower, don't worry. A qualified tradesperson will be able to advise you on the best space and designs for your home.
Cost to build the dog bathing station
The cost of your dog shower will vary depending on its design.
| Cost provided item | Materials cost - low | Materials cost - high | Average cost of labour |
| --- | --- | --- | --- |
| Electric shower | £60 | £200 | £200 |
| Mixed shower | £50 | £150 | £150 |
| Power shower | £100 | £500 | £350 |
| Thermostatic shower | £120 | £200 | £250 |
| Digital shower | £350 | £600 | £400 |
| Tiling - labour (per hour) | - | - | £40 |
| Tiling - labour (per day) | - | - | £320 |
| Carpenter - labour (per hour) | - | - | £31.25 |
| Plumber - labour (per hour) | - | - | £33.75 |
To build it like Olivia's, you'll need to factor in:
Building a custom frame: A joiner is likely to charge around £31.25 per hour.
Fitting a shower and drainage system: You'll be looking at around £33.75 per hour for a plumber.
Buying tiles: Prices average at £75 per m2 for mosaic, stone or marble tiles, or £100 per m2 for Victorian patterned tiles.
Getting the tiles fitted: Expect to pay around £40 per hour for a tiler, or around £320 per day.
Any other materials needed.
Cost to fit a shower for the dog bath
A handheld showerhead is a must if you're hoping to get those muddy paws clean. But its cost will depend entirely on the shower you choose to go with it.
If you're on a tight budget, a mixed shower could be a good option. These tend to range in price from £50 to £150.
Or, if money isn't a barrier, you could go for a digital shower. These usually cost between £350 and £600. Of course, there are lots of other options in between.
Don't forget to factor in shower installation costs as well. These can range from £200 to £400, depending on what kind of shower you're installing.
Building the dog shower
If you're toying with the idea of leaving the dog showers to the celebrities, don't worry. Building a dog shower isn't much different from getting a regular bath or shower installed. So, it's super achievable.
Here are a few tips and ideas:
Remember to factor in fixtures, such as tiles, shelving and a showerhead.
Save time by using a bathtub or sink rather than building your dog shower from scratch.
Choose cheaper materials to save on costs.
Dog shower styles
Every dog is different, so consider what style of dog shower would best suit your pup.
If you have a big dog, why not opt for a step-in shower? Or, if you have a small dog that can be easily lifted, perhaps an elevated tub would be more practical.
If you really want to pamper your pooch (or make your life that little bit easier) we love the idea of building stairs or a ramp to help your dog make their own way up. The options are endless!
FAQs
How will I know what size to build?
There are two main factors to consider when you're measuring out your dog bathing station:
The size of your dog
Your height
Remember, the last thing you want is to strain your back leaning down (or reaching up!). To be sure, just ask a professional plumber and bathroom fitter for help with sizing.
What type of shower should I choose to install?
Don't forget that a dog can't let you know if the water temperature changes. That's why we'd recommend a thermostatic shower if you have the option.
They cost between £120 and £200 and use a system of internal valves combined with a sensor to detect changes in water temperature, so you don't have to worry about scalding.
See the tradespeople we've checked and recommend for your job