Top tips for attracting new customers for your business
Attracting new customers is key to success when you're starting up a business (and when you're established too!). Find out our top tips for finding new customers for your business.
In this article, we'll cover:
Knowing how to build a client base for your business is a skill that is arguably just as important as honing the skills you need for your specific trade.
When you're starting out, attracting new customers can seem challenging, so let's take a look at some of the ways you can get clients for your new business.
How to build a customer base from scratch
When attracting new customers, getting found easily is the name of the game.
In today's world, it's important to have a physical and digital presence to give your business the best chance to stand out in the crowd.
Both digital, local and physical marketing efforts are key to getting clients for your new business.
Website
The majority of people who are looking for a tradesperson do their research online. This means you need to have an online presence to be found amongst your competitors.
A professional looking website that is easy to browse is a must-have. There are all sorts of easy to use platforms that you can use to build simple websites to showcase your work without needing to spend thousands, or learn how to code!
Once you have your website, the next step is to make sure that your ideal customers can find you. SEO optimisation is the process of making sure that the content on your website is a good match for what your ideal customers are searching the internet for.
You can choose to employ a professional to help you with SEO for your website, but it is something you can do yourself. For more info on SEO, read our blog how to boost SEO.
The tick people trust
8/10 people would choose a trade endorsed by Checkatrade, compared to one which isn't*
Sign up today
Directory
A great way to build your customer base and get noticed online is by becoming a Checkatrade member.
Once you're a member, you can personalise your business profile with information about the type of work you carry out, details about your business and add photos of previous work.
Previous customers can also leave reviews, so it's a great way for potential customers to see from others how good you are.
Once you have your profile up and running, we will do the hard work for you and make sure you're found when people are looking for tradespeople in their area.
You can also use the trusted tick in your marketing. 8 out of 10 people would choose a tradesperson we've checked over one we haven't*.
Social media
As well as having a website or a listing on an online directory, another way to attract new customers is through social media.
Social media, particularly Instagram is hugely popular for people who are renovating their homes to look for tradespeople and to take inspiration from them.
Often these renovation accounts also tag the contractors they use which is a way that your business could be found. Take a look at our top Instagram business tips.
Don't forget Facebook too, and make sure you keep your accounts up to date with contact information and high-quality posts.
You can also set up a Google My Business account. By setting up a free profile on Google My Business, people will be able to find you when searching for a local tradesperson.
Your Google My Business account acts like a mini-website where you can add contact details, opening hours, share reviews and photos of your work.
Print marketing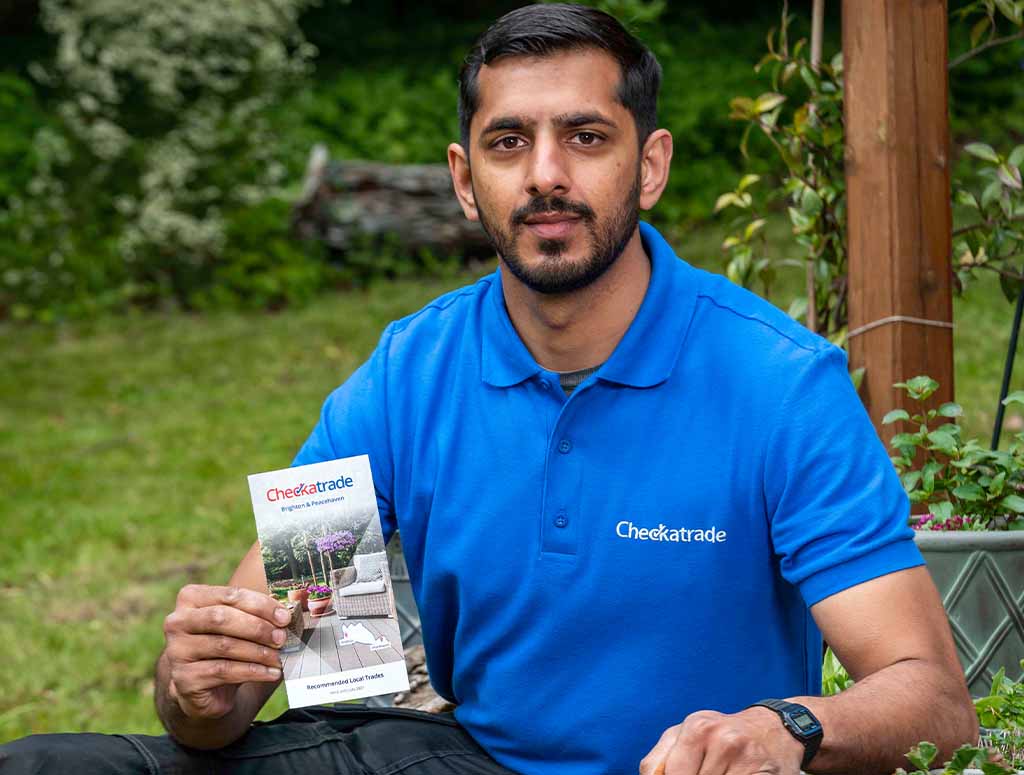 Digital marketing has huge benefits but you can't forget print marketing.
More 'traditional' methods such as van wraps, newspaper adverts or leaflets on noticeboards are still an effective way to attract new customers.
Whether you place signage boards outside properties you are working on, or have your work vehicle wrapped with branded graphics, being seen in high traffic areas will help to spread the word.
Print marketing definitely isn't dead. It can be harder to track the effectiveness but physical print marketing should definitely be part of your plan to attract new customers to your business.
Top tip: Become a Checkatrade member and feature in the trade directory that is delivered directly to homeowners around the country.
Having a sales strategy
A sales strategy will help you understand your market and will make decisions – such as where to spend on advertising, which jobs to accept and reject and who to hire – a whole lot clearer.
A sales strategy should cover:
Clear priorities – where is the low-hanging fruit and how can you grab it?
Simple outcomes – what should happen if you do what you say you will?
Guidelines – how should people act to get where you want to go?
Goals – after doing all the above, where should you be in a year's, or three years', time?
To learn more about this topic, read a snippet of the free Accelerate! eBook here?
Or download – for free – the whole eBook here.
How to find new customers
In addition to more formal 'marketing' tactics, you can also leverage your existing customers to help you to find new customers.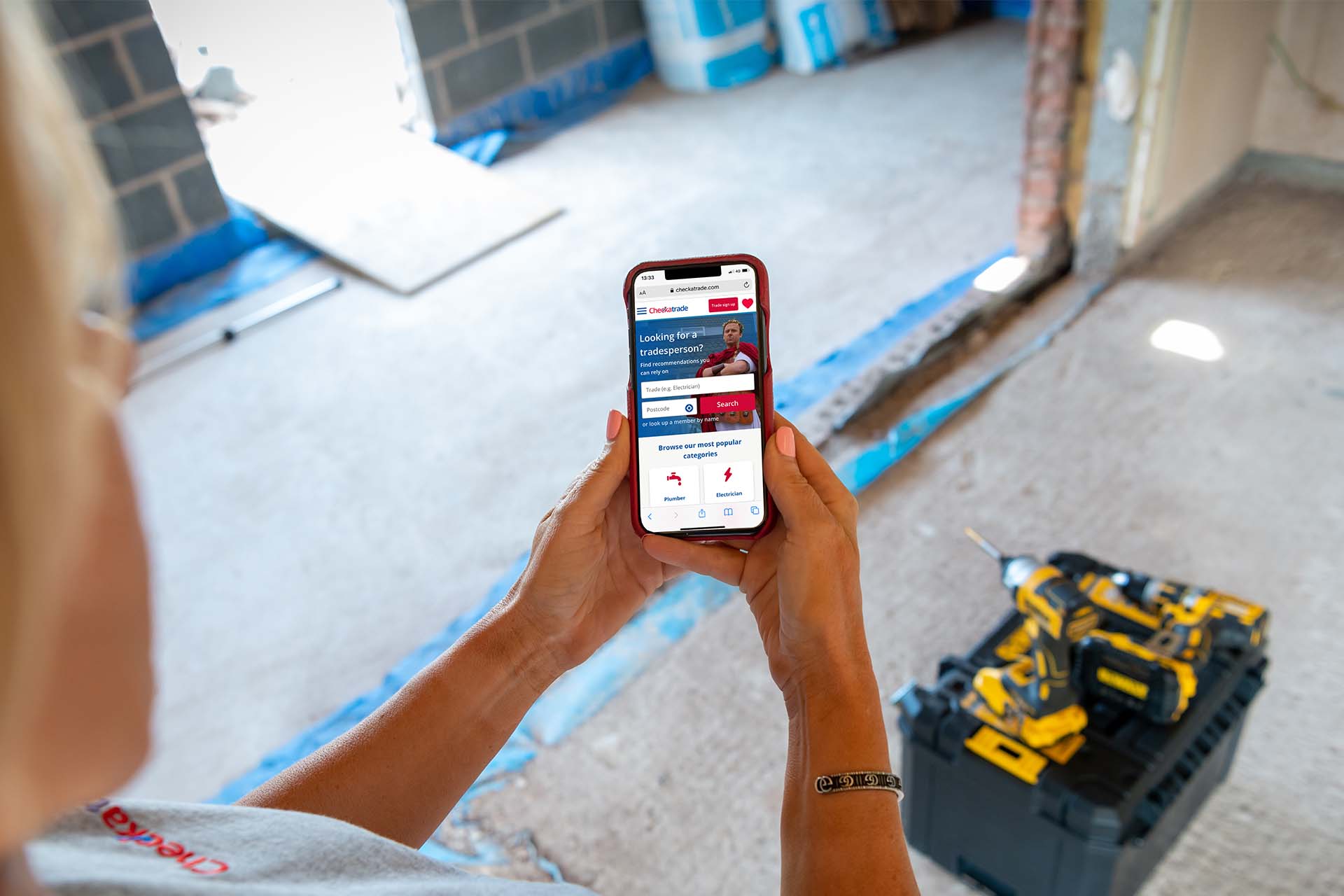 Word of mouth recommendations
So many businesses attract new customers through word-of-mouth recommendations. Ask existing customers for recommendations and leave them with a few business cards.
You could also consider the business case for offering referral rewards such as vouchers or discounts for word-of-mouth recommendations.
Reviews
Customers are always looking for a tradesperson they can trust. By collecting reviews, you can show potential customers what they can expect from working with you.
Being a Checkatrade member means that people can read reviews from previous customers on your profile. The Checkatrade Trades App also helps members to collect reviews quickly and easily.
Promote your startup
Starting out can be tough but getting visible and being contactable are the most important things. You can promote your startup and attract new customers by using various advertising methods.
Some of these options you will need to pay for and others are free.
The tick people trust
8/10 people would choose a trade endorsed by Checkatrade, compared to one which isn't*
Sign up today
Paid promotion
Pay-per-click advertising (PPC) is a type of digital advertising that helps to increase your visibility.
In a similar way to SEO, your ads need to use the right language or imagery that matches what your ideal customer is searching for. These digital ads link to your website, bringing potential customers to your virtual shop window where they can then contact you.
To learn more about PPC read our blog how does Google PPC work?
If you have social media accounts (and we highly recommend you do) you can pay to promote specific posts. These posts can show off your work as well as offer a promotion for new customers.
Online directories and memberships are also another way to get your business seen. Paid memberships are often helpful as some provide additional benefits, advice and guidance to help you make the most of your membership to help you attract new customers.
Free promotion
In the beginning, paying for promotion can be a challenge so it's important to make the most of free opportunities. These include:
Posting on social media
Setting up a Google My Business listing
Getting permission to place ad boards outside properties you are working in
Regardless of the balance or mix of marketing methods you use, always put your customer first. Think about who your ideal customer is, how they would describe the problem they have that needs solving and where they might go, look or spend time to try and find the answers they need.
For more tips on attracting new business read our guide to growing your trade business.
*Deep Blue Thinking 2021 Trade Perception Survey. Compared to a trade that isn't endorsed