How to make the best first impression with customers
Making friends and influencing people is an art. You don't need to be a scintillating conversationalist or smooth talker to make a great first impression. Let's break down how customers really want to be treated and what matters to them the most. Keep reading for our top customer-pleasing tips from fellow tradespeople.
In this article, we'll cover:
Like a cold pillow in winter, it takes time to warm people up. Not everyone makes the best first impression. In fact, as most people say, they make a better second or third impression, it's a wonder anyone has any friends.
Also, sometimes life happens and gets in the way of our usually stellar social skills. We can't always put on a smile and skip to each job singing in the rain.
Even so, setting the best first impression with customers goes a long way to building trust and loyalty.
So, how do you guarantee a warm reception every time? We didn't guess. We asked our customers for their opinions.
Keep reading for our top tips on setting a good first impression, even when you're running on 5 hours of sleep and 8 cups of coffee.
Being a Checkatrade member sets the best first impression
8/10 people would choose a tradesperson we've checked over one we haven't*.
Why join us?
How to make the best first impression as a tradesperson
Respond to enquiries in a timely manner
Most of our members agreed one of the best ways to make a great first impression was to respond to requests or enquiries for work in a timely manner. No one likes being ghosted!
"I find just being contactable and reliable sets you apart from others. Although, I prefer the written message aspect as opposed to phone calls where possible because it allows me to lay out all the terms and conditions in writing rather than being "misunderstood or misheard."
Turn up to your appointments on time
Despite the great British tradition of queuing, people don't like waiting. If you've said to your customer you're going to be somewhere, try to make sure you turn up on time.
Punctuality not only suggests professionality, but it also proves you value your customer's time and stick to your word. Even if you turn up rain-soaked and miserable, your timeliness is a subconscious tick for your customers (who are hopefully waiting with a cup of tea).
"It starts from that first visit. Build into every moment how the work will be done using the best products and best practices."

Try to build an instant rapport
You don't have to show a keen interest in their stamp collection or pretend you're obsessed with cats, but finding common ground is a nice way to build rapport.
For example, smiling when you introduce yourself and showing a genuine interest in your customer will eradicate those first impression jitters. It will also put your customer at ease in your company, which makes working together a more positive experience overall.
We get not everyone is great at small talk, so here are some tried and tested openers:
You have a lovely home. I really like your [pick a nice feature]
This is a great area. How long have you lived here?
Have you seen the latest episode of [popular show]
Hello, I see you have an awful lot of cats – what are their names?
Sorry I'm soaked; the weather is atrocious. I can't wait for summer! Got any nice holidays coming up?
"Generally, I'm a chatty person so get to know the customers while on site! Providing as much information as possible is key and shows the client your extensive knowledge to gather trust in your abilities too!"
Listen to concerns and desired outcomes carefully
It's said that good communication starts with good listening, but listening is only one part of the 'good customer journey.' You also need to answer any questions, ask your own follow-ups, clarify any doubts, and reassure concerns before acting on your agreed promises. Listening is an action, after all.
Furthermore, interrupting your customers or rushing them through a conversation shows impatience and denotes a lack of respect. Although you're likely on a tight deadline, try to block out enough time in your diary to cover your visits and conversations. If your customer does decide to get out their stamp collection, you can always politely explain why you can't stay longer.
"I find that the first CRUCIAL step is to respond to an enquiry with a telephone call (rather than message, WhatsApp or email). This helps the customer to ask questions, get a 'feel' for me as a person and professional, and builds confidence."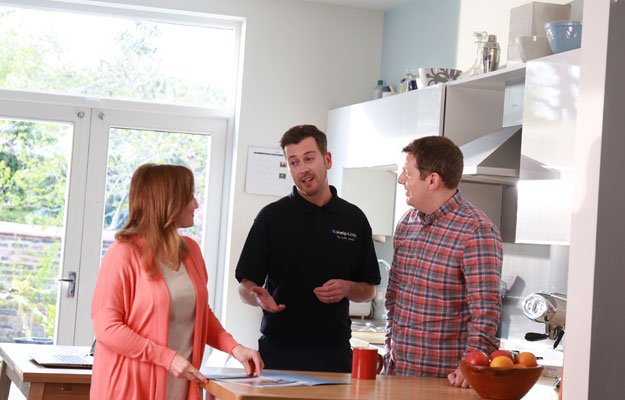 Think like a homeowner
Your customers aren't going to think well of you if they have to clean up your muddy footprints after you've traipsed through their house. Of course, they might not care, in which case, keep those boots on! However, at least check before marching through their front door come rain or shine.
Furthermore, be sure to clean up after yourself when you've finished your job/the work for the day. This shows you respect your customer's house and aren't going to leave your work gear lying around whenever you clock off.
"Remove your shoes when entering someone's home, shake their hands, be polite, and explain the process of the work. If a client has entrusted me to decorate whilst they are on holiday, I will even empty their bins, feed their cat and put milk and bread in their fridge."

– Wayne de Wet
Provide a detailed quote for the agreed work
"Having a written quote protects you and the customer. They know exactly what work you are carrying out and what the cost will be."
No one likes surprises – especially when they're related to money! So, to establish trust with your customers, provide a fair and transparent written quote. Make sure it covers the work needed, the materials required, and the estimated costs. Also, try to add contingency funds and explanations for why certain milestones might go over budget. The more information you can give, the better.
Not only does this help your current working relationship with your customer, but it also doesn't hurt your word-of-mouth recommendations. You'd much rather your customers say things like 'they did a great job and kept to the agreed budget' instead of 'the job wasn't bad but I had to remortgage to pay the invoice.'
"I always finish off by discussing how I want to be paid. Explain that it will not be a problem if they change their mind midway – as long as they know that it will involve additional costs which will need signing off before any work commences."

– Wayne de Wet
Related: Read our guide on how to agree on a payment schedule for more information.
Complete the work on time and to the expected standard
It goes without saying that the best way to make a good impression is to do a good job. Of course, mistakes happen and things go wrong from time to time, which is why owning it and offering a quick solution or fix will go a long way to maintaining a good relationship.
For larger or longer projects, one way to make sure you stick to your schedule and get the job done well is to create a timeline of milestones. By using a job sheet template, you'll save yourself lots of time and effort. They also give you a way to put your and your customer's mind at ease, allowing you to tick off targets throughout the project.
"Saying thank you to clients for the work is a small thing to do and it's very much appreciated. Managing my client's expectations and often exceeding them instills confidence and repeat business."

– Wayne de Wet
Follow up after the job
Follow-ups might feel like extra work after you've completed the job. However, they go a long way towards showing your customers how much you value their feedback. It also shows your commitment to delivering an excellent service.
What's more, follow-ups are the perfect time to ask for a review/testimonial/recommendation and take on any constructive criticism.
We're always learning and evolving, so asking your customers for feedback and taking the time to address any concerns will help you establish a long-term relationship. Even if they're unhappy with your work, your understanding and willingness to rectify your mistake will (hopefully) stop them from leaving a negative review!
"I ensure my customers are updated and engaged all along the customer journey, right up to where I have completed, then I kindly request a Checkatrade review."

– Mark at S4G Drones
Conclusion
Setting the best first impression with your customers includes turning up on time, being approachable, professional, and attentive, including a transparent billing process, and showing a willingness to learn from/rectify your mistakes.
Establishing a positive relationship with your customers will ultimately lead to more repeat business and referrals. Remember: a good impression isn't just about the quality of your work. It's also about how you communicate and engage with your customers. If you leave people feeling good about themselves, they'll feel good about you.
We hope you found this blog helpful. For more advice like this, head over to our trade blog and search for a topic of interest.
Being a Checkatrade member sets the best first impression
8/10 people would choose a tradesperson we've checked over one we haven't*.
Why join us?