Project management software for tradespeople
As a tradesperson, you need to manage multiple projects at once, and software can really help you to keep on top of it all. This blog, written by Benjamin Dyer, CEO of Powered Now, looks at some of the different possibilities available to you.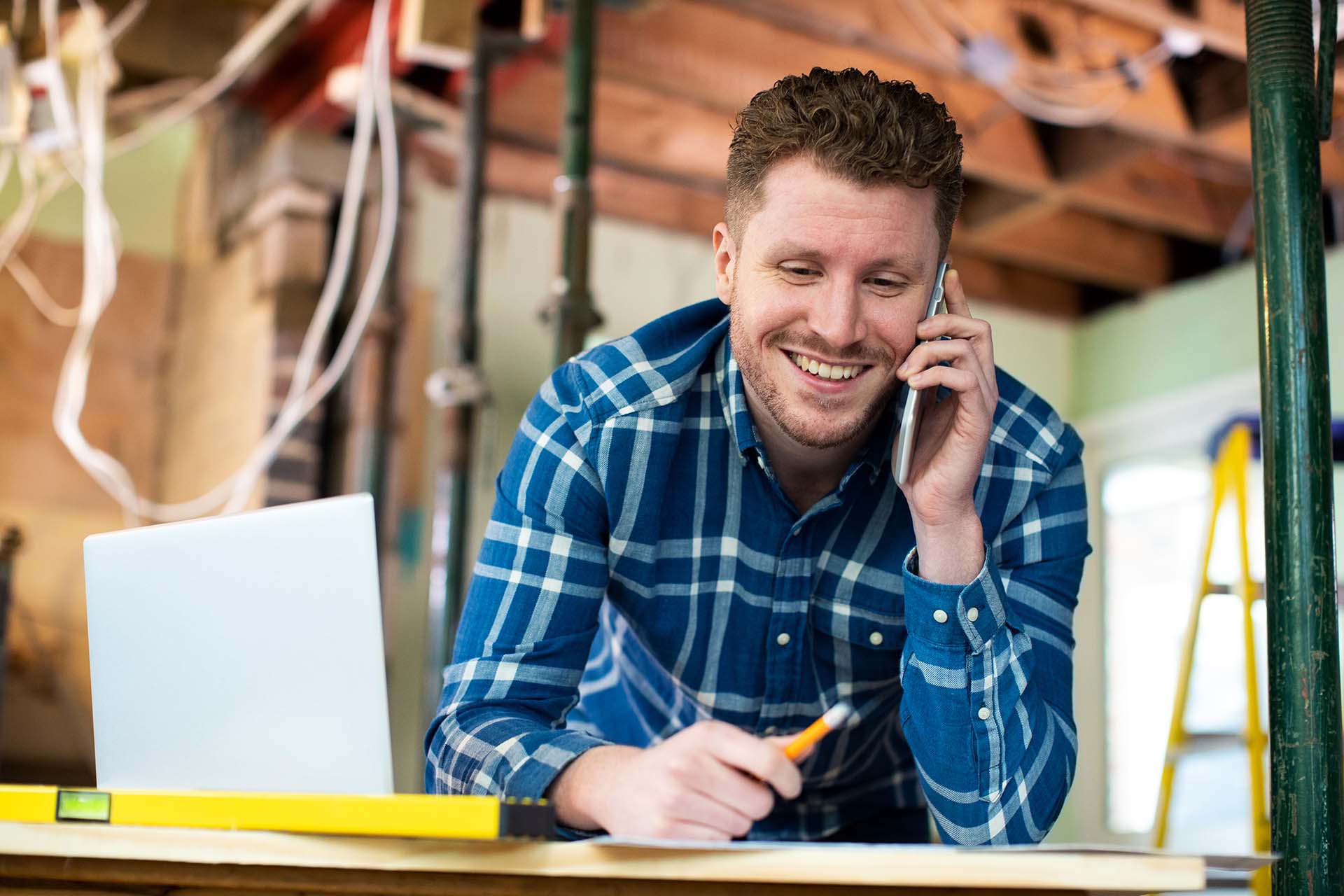 Buying software is not easy, but there is one aspect that you have to understand before you can even start your search: scale and complexity.
To illustrate the point, let's use an analogy that shows the problem.
If you're wondering what vehicle to buy for your business, there's a big range. But it's not just that there are lots of different vans, there is also the question of size.
If you were a big contractor doing major road construction, you wouldn't be thinking about a four-wheel lorry that could move 9 tonnes at a time. It would be an eight-wheeler that could shift 16 tonnes that you would want. And both are a lot different from a small van even though they are all commercial vehicles that move stuff around.
The same applies to software. The project management software used for Crossrail is not the same as that needed for a single house rewire or a new boiler.
The two extremes are probably represented by software products Procore and software from suppliers like Powered Now (where Checkatrade trades get a 1 year free subscription).
Between these two extremes sit products like Monday.com and Asana, that can organise multiple project tasks, build Gantt charts and more. There is a right solution for each situation.
Why Powered Now for tradespeople?
Powered Now is specially designed for tradespeople in the UK.
Powered Now makes it easy to keep your customer records and notes centralised. Everything is stored in a project so you can keep an eye on the important details.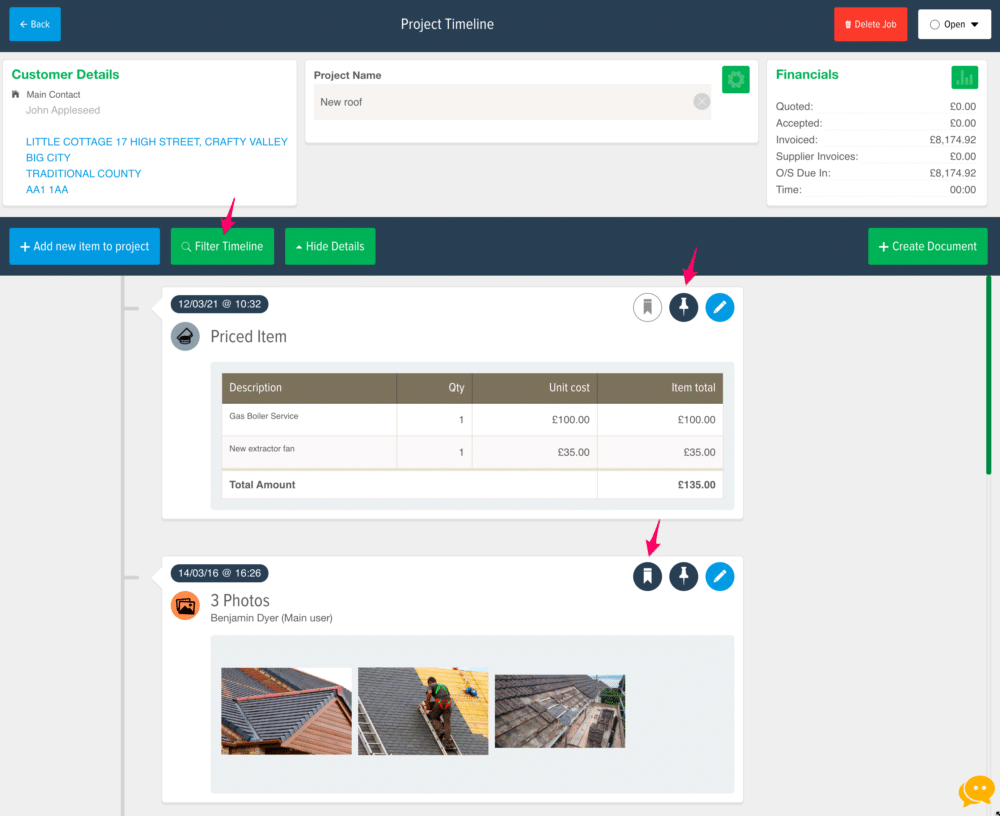 If you open up a project using Powered Now you can see all the information associated with that project, including any quotes and invoices you have created. This means the next time you want to reuse any of this you can do it quickly and easily.
With support for commercial, domestic, landlords and sites, Powered Now customer features are really easy to use and powerful.
You can watch this video to learn more about Powered Now's Projects feature and the benefits of using them:
Checkatrade tradespeople get Powered Now for free
If you decide to use Powered Now, as a Checkatrade member, you would get the first year for free. Saving you £180!
Find out more
If you're already a Checkatrade member
Head on over to your Offers and Discounts in the Members Area.
High-end products
The first thing that you notice about top-end products is that no price is ever quoted.
That's not just because they don't want to give the readers a heart attack, it's because all software suppliers at this end of the market are strong proponents of "benefit-based pricing".
Essentially, they want to assess the benefits their customers will get from using their product and then base their cost on this.
Customers can always afford the price they quote because the benefits will, by definition, outweigh the costs. They can't quote the cost upfront because they don't know what benefits will be obtained until they speak to their prospects.
Procore
Procore is one of the leading high-end project management products for construction. Typical of this type, Procore won't give you a price until they know more about you. Then they will provide a custom quote.
They say on their website that "Procore manages your projects, resources, and financials from project planning to closeout. The platform connects every project contributor with the owner and general or specialty contractor."
So, Procore is entirely focused around the project. There are a variety of other things required in a project, like invoicing and time recording, but Procore doesn't do these in its core software.
Procore is designed for large projects, not ones that can be completed in a few days. So, it's not particularly suitable for domestic rewires, boiler installations or projects of a similar scale.
The centre of Procore is documents. As well as the usual architectural drawings or more detailed specifications, there is an area for meeting minutes, to give just one example. Similarly, there is support for the project budget, the project change orders and much more.
Their customers like their offering, and one typical comment is: "My overall experience has been extremely positive. I used to keep all my projects, reminders, and other data in Microsoft Office. Using Procore means I don't get overwhelmed when I am working on more than one project at once."
Procore has over two million users around the world. That's not the number of customers, most will have many users within their one organisation.
Autodesk Construction Cloud
Autodesk Construction Cloud is probably Procore's biggest competitor and deserves an honourable mention. Described as "connecting workflows, teams and data at every stage of construction to reduce risk, maximise efficiency and increase profits", it is slightly less popular with its users than Procore.
Middle-level products
Not all projects are multi-million pound affairs with many different parties involved. Some can be quite significant but are for hundreds of thousands of pounds rather than millions. They might only involve two or three subcontractors.
If your business is doing lots of these types of projects, a mid-level project management tool may be useful.
Monday.com
Typical of the mid-level project management products is Monday.com. It claims to be able to cover many fields outside construction and the trade such as creative and design, IT, marketing, HR and operations. Its own self-description is, "a platform built for a new way of working".
Unlike the high-end products, prices are fixed per user per month but vary according to the features available.
The central plank of Monday.com is breaking each project into a list of tasks which can be grouped together. Each task has an owner and an associated status. The presentation is very visual and you can see a task list or a Gantt chart.
The interface is attractive and modern with good use of colours. Work can be re-ordered by dragging and dropping tasks and everyone can see what needs to be done. They can also see each task status, which can be updated as necessary.
Mid-level alternatives to Monday.com are Airtable and Asana.
Integrated products
Products at the lower end of the market are suitable for smaller builders doing things like extensions. They also work for trade businesses where jobs take from half an hour to a few days.
At this end of the market, project management does not need to be as complicated. Therefore, many more business areas can be supported in a single software package, including quotations, invoicing and diary management. This type of "all-in-one" solution can be very convenient for businesses.
Because the list of project tasks is not too long or complicated there is no need for lots of details on these tasks or "critical path" style scheduling. The main project management role is to keep everything related to the project in one place. The other task is to track the overall project status.
So, for each project, notes, quotes, invoices, client communications, worksheets, relevant pictures, miscellaneous documents and more, all in date order, can be stored centrally and easily accessible by everyone. Powered Now is an example of a product that does this and there are other similar products.
Summary
No one project management solution is suitable for all types of business. It makes sense to first assess how sophisticated the project management software needs to be.
Having too powerful a product when you don't need it will mean higher cost and an unnecessarily steep learning curve.
At the same time, if you are responsible for managing truly large projects, trying to shoehorn this into something not designed for the task is a mistake.
As always with software, it's horses for courses.
Benjamin Dyer is CEO and co-founder of Powered Now. Powered Now's mobile app aims to take the pain out of paperwork for electricians, plumbers and builders as well as other field trade businesses.
Checkatrade tradespeople get Powered Now for free
If you decide to use Powered Now, as a Checkatrade member, you would get the first year for free. Saving you £180!
Find out more
If you're already a Checkatrade member
Head on over to your Offers and Discounts in the Members Area.