Self-healing concrete – the potential and pitfalls
We're going to take a look at the advantages and disadvantages of self-healing concrete, including how it works, the types available, and its average cost.
In this article, we'll cover:
Self-healing concrete sounds like something out of a sci-fi film. However, instead of futuristic building techniques like nano-bots or augmented reality, self-healing concrete is the newest and real-life kid on the block. Of course, like all new smart technology, there are advantages and disadvantages when it comes to including this new material in your construction methods.
This is why we're taking a deep dive into everything you need to know about self-healing concrete, including its uses, types and average cost.
How does self-healing concrete work?
Compared to other building materials, concrete is renowned for its poor tensile strength and susceptibility to cracks. However, its useful properties, such as its durability and shock absorbency, make it a popular construction material.
As a result, the main issues that arise from using concrete are the dangers associated with cracks and instability. Although concrete self-heals autogenously to a certain extent, scientists discovered a way to maximise this natural process, for example, through the introduction of bacteria and other compounds.
Types of self-healing concrete bacteria
Bacillus pseudofirmus
Bacillus balodurans
Bacillus cohnil
Bacillus paterurizing
Bacillus spaericus
Escherichia coil
What each of these bacteria does is create spores that are activated when the concrete cracks and moisture enters the holes. The spores react by expanding and growing 'extremophile microorganisms,' filling the gaps. They're able to withstand heat, cold and drought and consequently, maintain the stability of the concrete and construction without the need to repair or replace it.
This makes self-healing concrete an environmentally friendly alternative that is more durable and lasts longer.
Add our good name to yours
Get found and be seen as a trusted tradesperson on Checkatrade
Find out more
Types of self-healing concrete
Self-healing concrete comes in various forms. For example, manufacturers can improve concrete's natural autogenous healing with admixtures like minerals, crystals and absorbent polymers. Alternatively, they can modify the concrete with autonomous self-healing techniques, which include:
Microbiological self-healing
Vascular self-healing
Capsule self-healing
How to make self-healing concrete
The microbiological process is a self-healing concrete bacteria and requires the addition of 'food' for the microorganisms. Vascular uses the concept of a vascular plant system and human cardiovascular system to heal the concrete, whether through glass tubes incorporated into the concrete, high-pressure techniques, or 1D channels accessed from the surface, meaning it can be healed continuously. And finally, capsule self-healing concrete is through incorporating fibres or capsules with adhesive liquids, which break when the concrete cracks and heal it immediately.
Self-healing concrete uses
Concrete notoriously requires regular maintenance. Whether it's on bridges, roads, or pavements, high-traffic areas are prone to cracks and warps. Not only that, but the production of concrete is a huge pollutant, contributing to around 7% of worldwide carbon dioxide emissions. This takes into account the water, energy, and maintenance required to keep the concrete industry running.
In response to these issues, scientists created self-healing concrete. It combats the common issues associated with this construction material by taking away the amount of effort required to detect and repair cracks. By reducing the need for maintenance and increasing the durability and longevity of concrete structures, the cost of materials is reduced, and the environmental benefits are increased, mainly due to its sustainability.
Advantages and disadvantages of self-healing concrete
Advantages
Self-healing concrete has a long lifespan, from decades to centuries, which reduces the number of repairs or replacements required
Filling or sealing cracks in concrete constructions is no longer required
Self-healing concrete is stronger and more durable with improved compressive factors
It's a smart-building technique
The sustainability and environmental benefits are great for the planet
Disadvantages
Self-healing concrete is costly when compared to traditional concrete (around 10-30% higher). However, this can be negated over time
The expertise required to use self-healing concrete is limited due to its newness
There is no standardised method of using and purchasing self-healing concrete
Not all bacterial self-healing concrete is suitable for every environment
It can be a difficult material to source.
It's still being perfected as a smart building material
Cost of self-healing concrete
One of the main questions people ask is: 'is self healing concrete expensive?' And although the longevity and durability of self-healing concrete mean it could save up to half the cost of conventional concrete over its lifetime – mainly due to the lack of maintenance or repairs required – the upfront costs are still higher.
Theoretically, using self-healing concrete with Bacillus cohnii spores could extend the lifetime of structures by up to 200 years, which is the lifetime of the spores. However, when you take into account how traditional concrete methods cost around £100 per cubic metre, bacteria-infused concrete can cost up to 10-30% more, which is quite a jump!
Read how much ready-mix concrete costs per m³.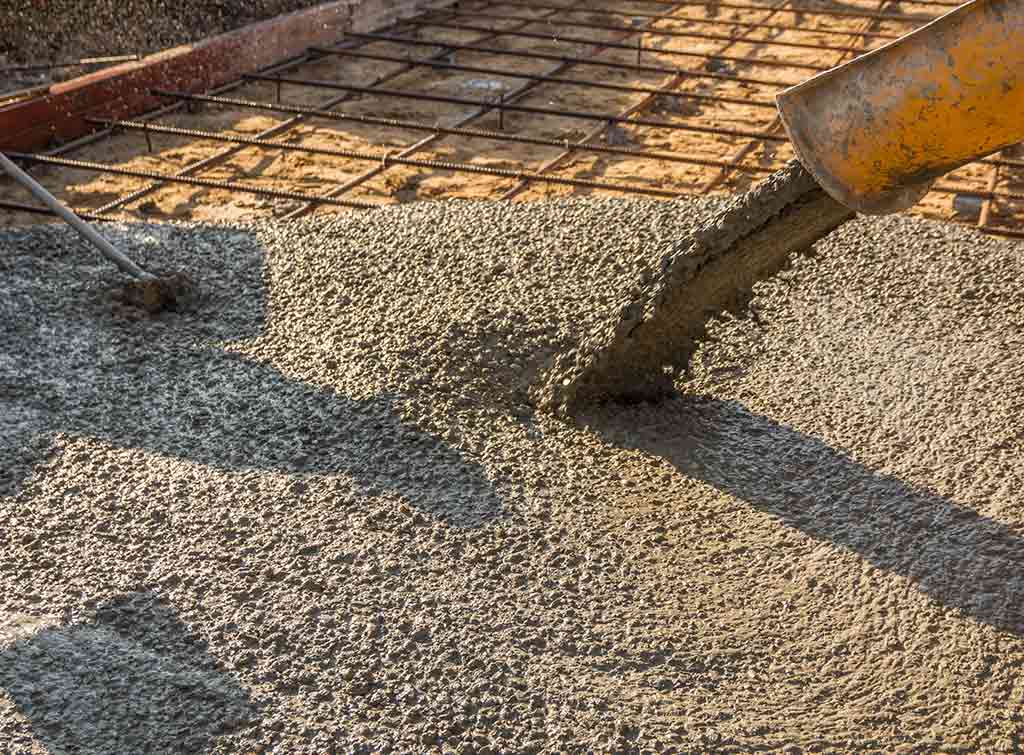 Self-healing concrete manufacturers
If you're looking for current self-healing concrete manufacturers in the UK, here is a current list of some suppliers:
Sensicon
JP Concrete
Basilisk
FAQs
Which bacteria is used in self-healing concrete?
There are several types of bacteria used in self-healing concrete. However, the most popular one is the environmentally friendly Bacillus pasteurii.
Is self-healing concrete being used?
Despite its relative newness, self-healing concrete is being developed and used all over the world. As its benefits become more prevalent and its use grows in popularity, the concrete industry will see a boom in its production.
How long does self-healing concrete last?
Much longer than conventional concrete due to the reduced need for maintenance and repairs. In theory, using bacteria-infused concrete could mean it lasts as long as the spores, which is around 200 years.
How effective is self-healing concrete?
Research on this sustainable product shows an increased durability of up to 30% alongside a reduction in water permeability.
Add our good name to yours
Get found and be seen as a trusted tradesperson on Checkatrade
Find out more