How to start a CCTV business
CCTV has become a normal part of modern life, with home security systems being a constantly growing market. With new innovations and the potential to make a great living, now is the time to learn how to start a CCTV business.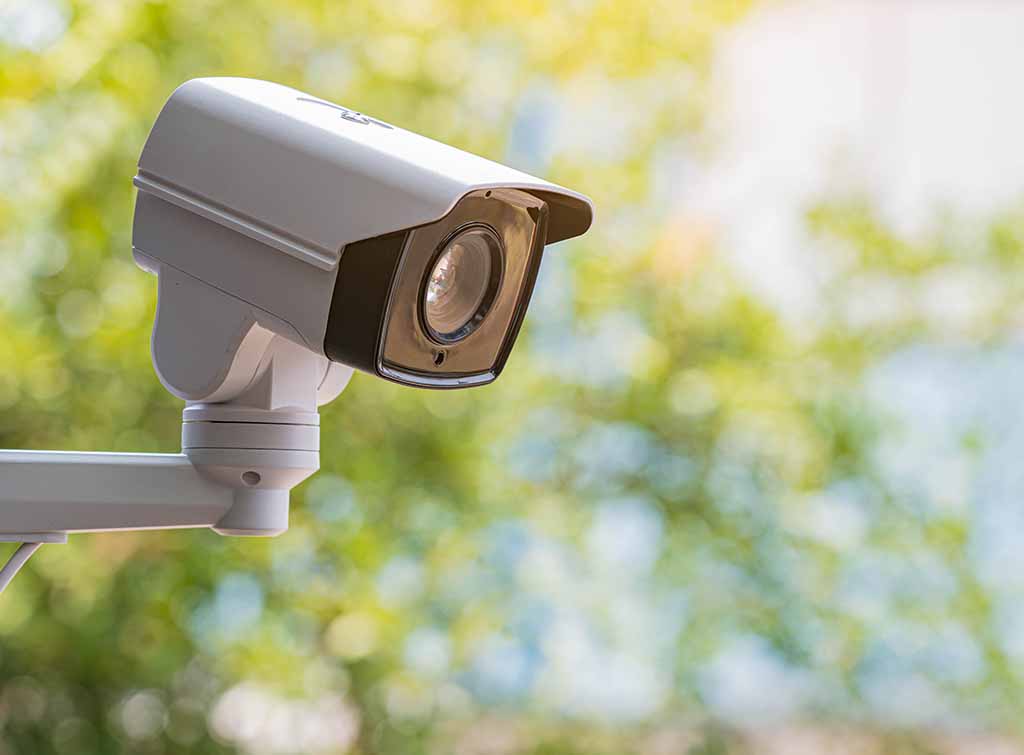 Staring a home security system business is not only profitable, you'll also be keeping your customers safe.
Interested? Read on to discover how to create a foolproof business plan, how to start your CCTV journey, and so much more.
How to start a home security business – First steps
Once you're sure building a CCTV company is the right path for you, you'll likely be wondering where to start. It's no secret that starting a business can be a challenge but using this guide is the best way to hit the ground running.
Wondering how to start a home security business from scratch? No problem, just use the following first steps:
Securing funding: You'll need to cover your start-up costs so the first thing you need to do is decide how you'll fund your business. You could choose to use your savings, take out a loan or even borrow the money from a family member.
Picking a name: In order to start a business, you'll need to register with Companies House and you can't register without a company name. Try to pick something memorable and catchy, you could even use a pun.
Training and regulations: Before you can operate your new business, you'll need to check you have the necessary training and follow regulations (more on this later).
Asking for advice: One of the best ways to get started in a new industry is to ask other tradespeople for tips and advice. Did you know that joining Checkatrade gives you access to our Members Community where you can chat with other professionals and receive support too.
Finding a niche: It's really important to find a way for your new company to stand out over your competition. You can do this by finding a gap in the market or offering services that your competitors aren't providing.
Demand: Make sure there's demand for your services in the area where you plan to operate.
Equipment: You'll need a variety of tools, materials, and equipment to run your CCTV business so it's worth finding a local supplier. Becoming a Checkatrade member also means you'll be able to use our member discounts, making incredible savings on business essentials.
Home Security Consultations: A great way of attracting new customers is to offer home security consultations. This is a brilliant opportunity to get one foot in the door and you can either charge for these or offer them for free.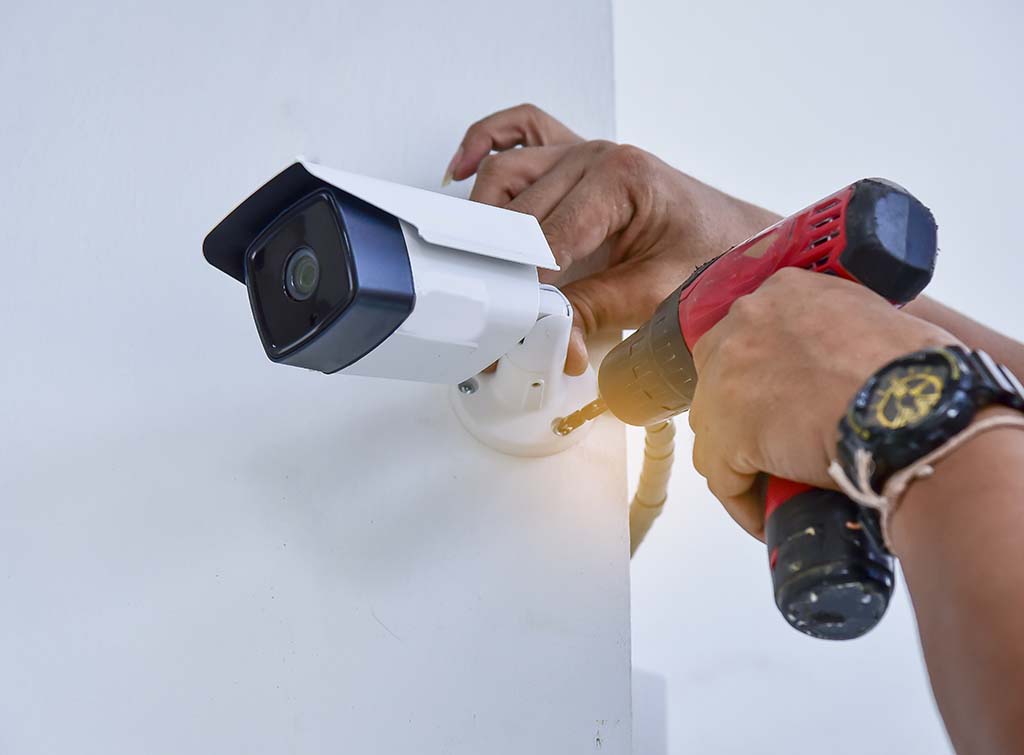 Creating a business plan for a security system company
Having a detailed business plan lays the foundations for your new company. Not only will it cover everything important, you can refer back to your plan as often as needed to check you're on the right track.
So, if you're looking for tips on planning to start a security company, use the following sections:
Financial
Start by considering your company finances. As we mentioned above, you'll need to budget for various start up costs before your business can get up and running.
You also need to consider how you'll make your company profitable. It's important not to overcharge customers but always ensure you're making a good profit.
Marketing
The success of a small business often comes down to how you market your new company. Firstly, you should ensure you're offering the right services to meet the needs of your customers. You'll then need to attract customers to choose your business over your competition. You can do this by offering promotions, putting adverts on social media, or offering new services.
You'll need a steady stream of new customers to ensure you're profitable and joining Checkatrade is one of the best ways to find customers. Depending on how much extra workflow you need, we have a range of membership options to suit all businesses. You can also use the Checkatrade logo to show your customers how reputable your company is.
Want some tips to grow your business? Check out our free 'Grow your business' guide.
Legal
There are a number of legal considerations when starting a business yourself. Once your company is registered with Companies House, you need to sign up for various types of insurance, including public liability insurance. You'll also need to register to pay your taxes and decide whether you'd prefer to start a limited company or be a sole trader.
Logistics
This section of your business plan should cover how you plan to run your company day to day. You'll need to consider the hours you'll work, where you'll operate, if you'll hire employees, what services you'll offer, what customers you'll target and whether you'll offer free quotes to entice new customers.
Get your business started
We've helped thousands of businesses to get off the ground.
Join Checkatrade now
Do I need a CCTV installer licence?
Surprisingly no, you won't need a CCTV installer licence, however there are other legal considerations. When installing CCTV security systems in residential areas, you'll need to ensure the cameras aren't infringing on any neighbour's privacy. Always position cameras to only show your customers' property where possible.
In addition, any recorded footage needs to comply with the Data Protection Licence. Finally, don't forget to remind your customer to register their camera with the Information Commissioner's Office.
How to find a CCTV installer course
If you are looking to start a home security system business you'll need training in how to properly install CCTV systems. You may already have the necessary experience however, if you're starting from scratch, you'll need to find a CCTV installer course. Try looking:
For online course providers
At whether local colleges provide courses
Into training with another company
At apprenticeships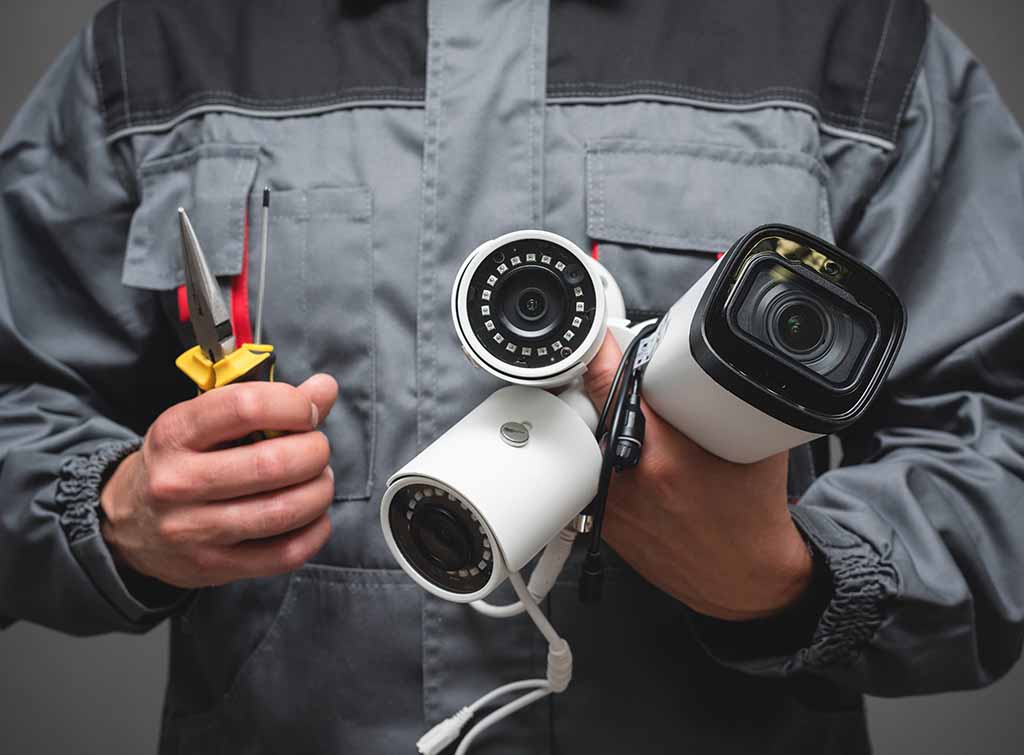 What CCTV regulations apply?
CCTV can be an effective tool in reducing crime but if this is an industry you would like to join, you may be wondering what CCTV regulations apply. Make sure you consider the following points:
There are no regulations as long as you're only capturing images of your customers' property.
If you have no choice but to capture images of neighbour's homes or public paths, you need to ensure your customer complies with the General Data Protection Regulations and Data Protection Act 2018.
CCTV systems are regulated by the Information Commissioner's Office and if they query the positioning of any cameras you install, you'll need to explain your reasoning.
You also need to install signs to make people aware of any cameras that are facing any public paths.
Any footage should be regularly erased, by your customer, when it's not needed anymore.
Remind your customer that if anyone asks for a copy of the camera footage that includes them, this should be provided within a month.
Useful checklist for starting a CCTV business
Starting a CCTV business can be profitable and give you the satisfaction that you're making the country safer from criminals.
Creating a business plan is extremely important to ensure your company gets the best start possible.
There are regulations around CCTV installation so check you are following these and make sure you customers know their responsibilities.
You'll need training before you can install home security systems so consider taking an online course or an apprenticeship.
Joining Checkatrade is the best way to support your new business with free marketing materials, your own profile page where you display customer reviews and fantastic discounts.