How to start a door fitting business
Every building needs doors for coming and going between rooms, entrances and exits. Seeing as they are such a necessity, it's no surprise that door fitting is a service in constant demand. Not just anyone can fit a door correctly either — it's a specialised skill that's highly sought after. With all this in mind,…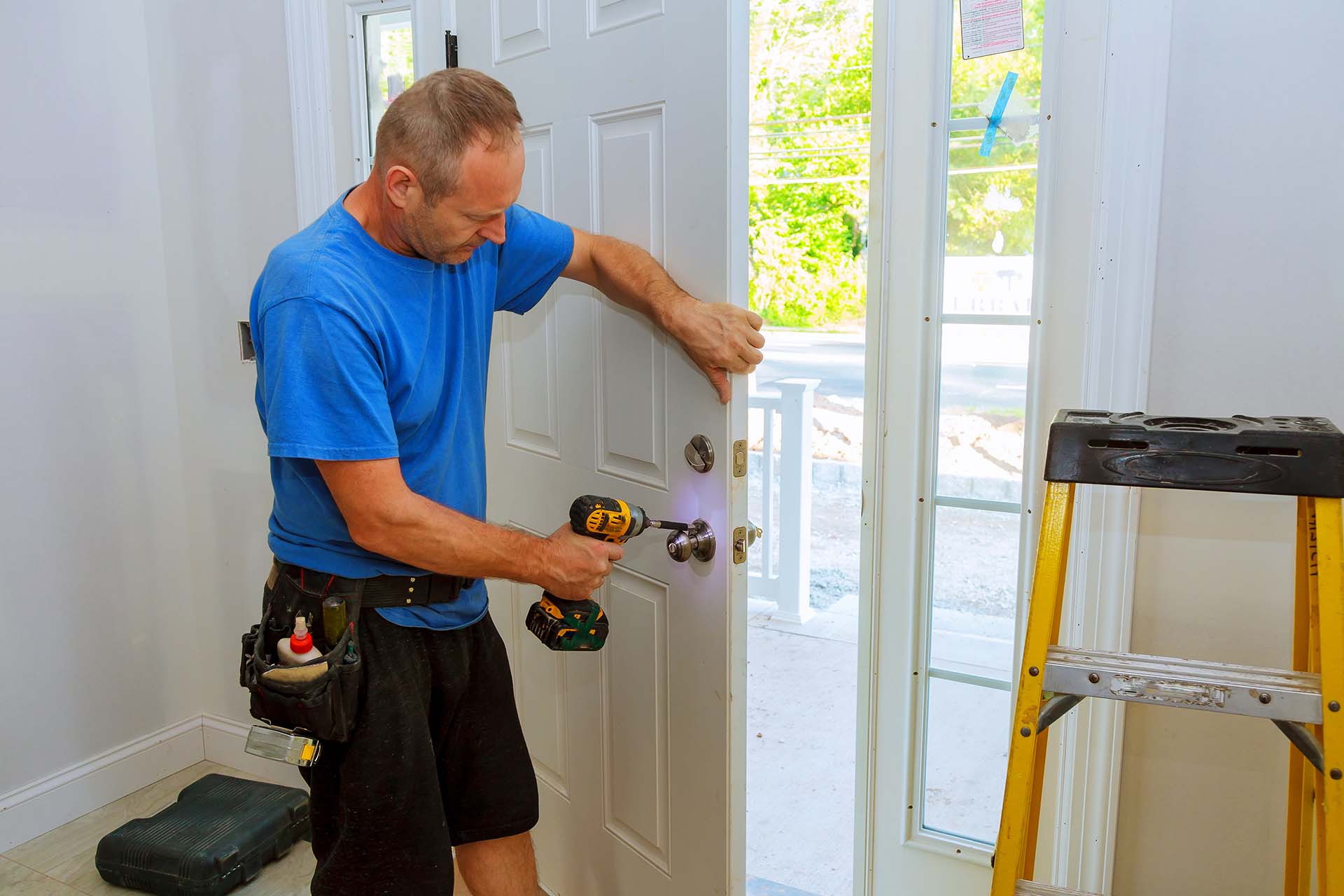 Every building needs doors for coming and going between rooms, entrances and exits. Seeing as they are such a necessity, it's no surprise that door fitting is a service in constant demand. Not just anyone can fit a door correctly either — it's a specialised skill that's highly sought after.
With all this in mind, going self-employed as a door fitter is the perfect opportunity to capitalise on a thriving market and also reap the rewards of becoming your own boss. You'll have complete freedom to choose your working hours, clients and the nuts and bolts of your service. This new level of independence can of course be daunting, which is why this guide will take you through how to set up your own door fitting business and take that next step in your career.
Do I need qualifications to start a door fitting business?
Qualifications are very important when starting a business. Having a solid set of credentials demonstrates to customers that you have gained the professional skills and training required to carry out quality work.
For door fitting in particular, you'll need at the very least some form of carpentry qualifications to show your expertise in woodwork. It would be a good idea to have also completed Pro-fitter Fenestration Training and Certification to highlight your specific skills in door fitting. This can go a long way in making your business stand out from the competition.
What equipment should I have for door fitting?
Turning up to a job underprepared won't reflect well on your reputation, so it's vital that you have a full inventory of tools from the get-go. Approaching your jobs fully equipped helps to avoid delays and slapdash work, making your life a lot easier.
Make sure you invest in high quality equipment too. While you might be looking to keep start-up costs down, poor tools are a sure-fire way to run into problems and end up forking out for costly replacements. Here are the essentials you'll need for door-fitting:
Screwdrivers
Panel saw
Chisels
Plane
Tape measure
Hammer
Sand paper
Utility knife
Power drill
Don't forget you'll also need a van for transporting all your tools between jobs.
What skills are important for door fitting?
Going self-employed means you'll face challenges on the job, but also while running your own business. A wide set of skills will be necessary if you're to overcome these scenarios. Here are the most important qualities to have:
Dexterity for accurate screwing, cutting and planning.
Physical strength for lifting, removing and fitting doors
Basic maths skills for precise measurements and managing your business finances
Interpersonal skills for building both client relationships and your reputation
Attention to detail for inch-perfect installations
Building and construction knowledge for approaching different types of interiors and building entrances
Skilled tradespeople get your business started
Join Checkatrade today
How do I start a door fitting business?
First things first you'll have to register your business with HMRC for legal reasons. When doing so, you'll also need to choose between a sole trader or limited company as the structure for your business. Opting to run your business as a sole trader tends to be the easier route, with less paperwork and admin involved. However, you won't get the same financial security as you would with a limited company structure. These are just some of the pros and cons to consider when making your decision. For a helpful comparison, check out our guide here.
Preparing for success
There's no use in starting your door fitting business without doing your homework first. You should create a business plan that covers the ins and outs of the services you will offer and the type of clients you hope to attract. Here are some door fitting business ideas which you could use as inspiration to help you decide what you want to offer:
Specialise in fitting UPVC doors
Offer door repairs and replacements as part of your service
Provide a 24-hour express service for emergency callouts
Specialise in fire doors and safety testing
Specialising your services helps you to effectively target a specific market which will give you a competitive edge. It's worth researching what local competitors are offering to spot any gaps your business may be able to fill.
Insurance
Public liability insurance – If your customers are mostly homeowners, you'll need this insurance policy in place. It will cover claims made against you by members of the public and covers the cost of compensation for personal injuries, loss or damage to property etc
Professional indemnity insurance – There's always a chance you make a mistake or complete work that a client isn't happy with. This type of insurance will protect you from claims in these situations
Tools insurance – Covers replacement costs if your equipment is lost or stolen as a result of theft, fire or flooding
Pricing
You'll need to assess competitors in your local area and charge similar prices to keep yourself in the competition. You should avoid the temptation to set your prices too low with the intention to undercut the market as you need to cover your day-to-day costs while you become established. However, if you decide to include services which give you a unique selling point, this should be reflected in the prices you charge. For example, you are entitled to charge premium prices if you're working on a complex project that takes longer than normal.
How to run your door fitting business
Once you've set yourself up, there are a few things you'll need to dedicate your time towards to keep your business running smoothly.
Revenue
The only way to check you're making profit, and by how much, is to regularly check your cashflow. You need to stay on top of recording all your income and expenditure to gain a good idea of how your door fitting business is going. It is completely normal to be operating at a loss in the beginning, given all the upfront costs that come with setting up a business. This is not out of the ordinary but if you're concerned you could consider taking out a business loan. In which case, just ensure you understand the terms and can pay the repayment schedule on time. For more information on keeping your books in order, click here.
Taxes
Managing your taxes is another part of the territory when setting up a new business. As part of your finances, you'll need to file your taxes but these vary according to the business structure so check which you should be filing for. If you're struggling to dedicate the time to this task or you're generally unsure about how to document your taxes, hiring an accountant to help could be an option. For more information on employing an accountant, read our guide here.
Digital Marketing
If you want to grow your business, you'll need to get into the habit of self-promotion. Creating an online presence via websites and paid advertising is especially important There are many different marketing strategies you can use to get your name out there but signing up to Checkatrade is best for tradespeople. Upon joining, your business will be visible to over three million monthly site users who could become your customers. Not only does membership raise your online profile, but also lets you showcase images of your finest work and display customer recommendations to enhance your reputation. If you're aiming to offer door fitting as a subcontracted service, membership will also get you in front of other business owners and you can take the conversation from there.
Social media is another tool you should make use of. You can share images and videos of completed jobs, while building rapports with new customers and clients who may be in need of door fitting.
Print Marketing
Though traditional, print is still an effective way to promote your business in a local area. If your target customers are homeowners, you can distribute flyers or leaflets in target neighbourhoods to drum up new business and spread the word. Look out for properties that have land to build on as these will be areas most likely to build extensions.
Should you want to develop contracts with construction companies, business cards are a great promotional tool to hand out to potential clients. You also shouldn't underestimate the power of a phone call.
Your van is also an easy way to market the business. Include your business name and contact details and watch how effective this is for getting your name out there. For more advice on buying vehicle graphics, read our guide here.
FAQs
How much can I earn as a self-employed door fitter?
The amount your door fitting business earns will depend on the volume of work you are able to secure, as well as how much you charge and your ability to complete work on time.
When starting out, a trained door fitter can earn around £26,500
Experienced door fitters can earn up to £45,500, or more
What is the daily rate for door fitting?
The average rate for a day of door fitting is around £120-£200. It will vary depending on the type of door fitting services you offer and what price is considered competitive in your area.
Is door fitting a profitable business?
Door fitting is a specialist craft which requires the expertise of a skilled carpenter with a high degree of skill, judgement and experience. The window, door and conservatory industry is a thriving market with a variety of products and services to offer. As such, there's plenty of opportunity to make a tidy profit.