How to start a window fitting business
Window fitting is a service that'll always be in demand and makes an excellent career choice. If you're thinking of branching out and becoming your own boss you'll need to know what steps to take and how to start a window fitting business. Read on to find out.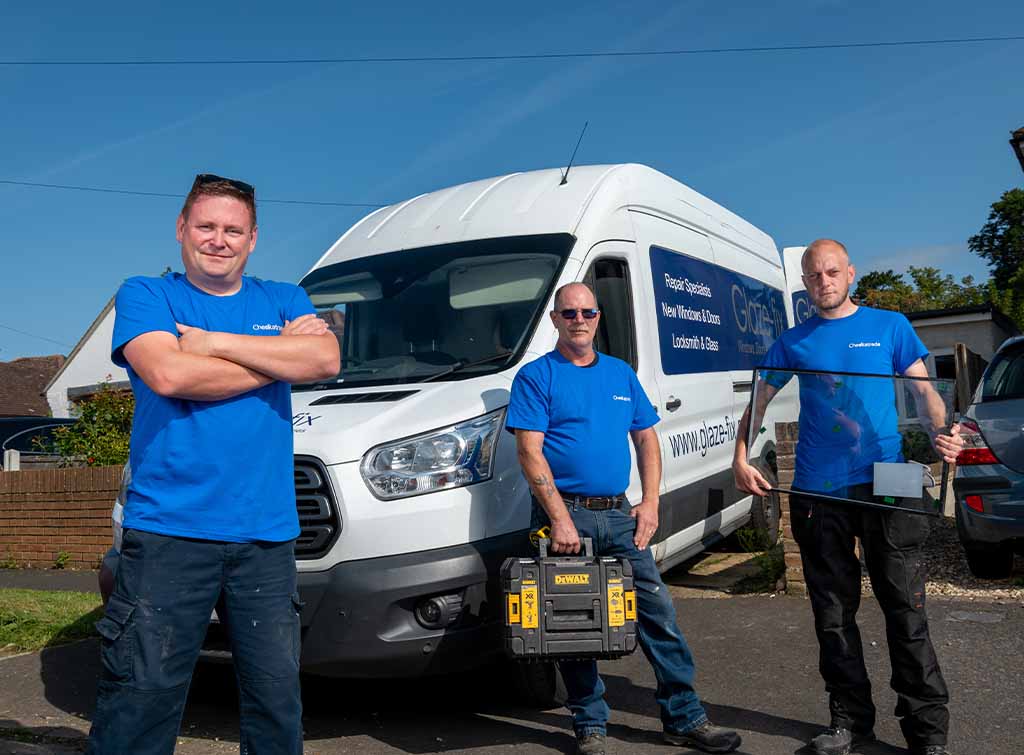 Whether you have experience in this industry or you're a relative newcomer, this guide on how to start a window-fitting business is ideal to support your new venture.
Let's face it, window fitting is an essential service that most homeowners will need at some point in their lives, so there'll always be demand for your skills.
And taking things to the next level in setting up your own window fitting business means that you are in charge of your future career, your diary, and your earning potential.
This guide will show you how to put together a business plan, how to choose a company name, the different start-up costs involved, marketing, business growth, and so much more.
We also include a number of FREE business templates to save you time and give you a helping hand:
A bit pushed for time?
No problem. Come back and digest this later, but for now, why not take one quick action that'll kick-start your new window fitting business immediately?
Sign up for our 'Become the Boss' series for help getting your window fitting business up and running in no time.
You'll receive a series of 8 emails containing actionable tips and top advice from fellow tradespeople who were once in your position. At the end of it all, you could be the founder of your new business.
Simply add your email below to make the most of this free business advice.
Starting a window fitting business
Before starting any new business, it's important to create a business plan. It'll provide the foundations of your company and help you to stay focused and make informed decisions.
How to create your window fitting business plan
Competition in the window fitting business is high, but the reason for this is that demand is also high. To help ensure the success of your new business, take the time to create a business plan.
What to include in a business plan?
Work out your target market. Start by considering who your customers will be and how you'll reach them. For example, do you want to work on residential projects, at retail units, or on commercial offices?
What will your USP be? What makes your window fitting business different from the next? Will you pick an area of specialism to help define your business? Perhaps your point of difference is the materials you use, or your competitive pricing. Try to find a gap in the market that you can fill to give your business a unique selling point
Research your competitors and look for gaps in the market. For example, if there are no other businesses offering aluminium window frames in your area, this is a demand you can fulfil
Funding. Thankfully start-up costs for a window fitting business aren't too high but you'll still need an initial investment plus the ability to keep things ticking over until you build up momentum with your income. Will you save up the funds yourself, take out a loan, take out a credit card or ask for an investment? You also need to decide how much you'll charge for your services and ensure you make a good profit. Once your company is up and running you may decide to offer finance for your customers. This allows them to pay over time which can be a big draw. You can even work with a finance company in a mutually beneficial relationship to support your clients
Experience and training. Do you have the skills needed to get started in this industry? Remember you can always hire workers to actually fit the windows, but you'll need to factor wages into your outgoings
Logistics. Flesh out the finer details of your business: what areas will you cover, what services will you offer, what business hours will you work, and where will you store your materials etc.
Marketing. How will you let customers know about your business and how will you make sure you receive new enquiries on a regular basis?
If you feel a little lost and need extra support, consider joining our Checkatrade members community where you can ask questions and get advice.
Want some help with your business plan?
We have a fantastic guide for how to write a business plan. And a FREE business plan template for you to use. Simply add your email below.
Training and qualifications
There a no formal entry requirements to become a window fitter. But as you may be aware from your experience in the trade, you will need certain skills and certifications.
You will need maths skills to measure and calculate dimensions
You will also benefit from carpentry and joinery experience too
A FENSA certificate shows that your installations comply with Building Regulations and have been registered with the local council. These two aspects are a legal requirement; homeowners are required to show proof of this upon selling their home.
You must also adhere to Health and Safety Executive guidelines for working at height if you plan to use a ladder, or work on commerical properties.
Some commercial premises may ask you to show a general health and safety accreditation before they contract the work to you.
Other useful skills and attributes
It's one thing to have the skills and experience to fit windows, but it requires a different set of skills to run a successful business.
What does it take to be the boss?
Time management to manage your diary and plan your schedule
Leadership skills if you intend to employ others
Excellent customer service skills to build a rapport with your clients
Good organisation skills to keep on top of the paperwork and administration that comes with running a business
Physical fitness is important too
How to set up a window installation business – step by step
So far, we've outlined how to write a business plan and the qualifications and skillset that are required to start a window fitting business.
In this next section, we'll cover the practical steps you need to take to physically set up a window fitting business, including everything from registering your business to cash flow management, getting the right insurance, marketing, and much more.
Business name and logo
Choose a business name and logo that represents your company values and helps you to stand out. Don't be afraid to have a little fun with your business name (within reason!), to make your brand memorable and catchy.
Once you're happy with your choice, you'll need to register it.
Register your business
1. Register your business with HMRC in order to trade legally
2. Decide on a business structure: sole trader or limited company
There are different tax liabilities and regulations for each type of business structure. If you're unsure which structure would be best for your new business, ask a professional accountant for advice.
Window fitting business insurance
Getting insurance is always advised when starting any business.
If you're unfortunate enough to have an accident or make a mistake when fitting windows, having insurance will protect you and your company financially and legally.
For example, imagine one of your panes of glass falls and cascades into a customer's car parked on their driveway. You would personally be liable to cover the cost of repairs and replacement without adequate business insurance.
The following types of insurance are recommended when building your window fitting company:
Glaziers' insurance
Public liability insurance (mandatory for all Checkatrade members)
Personal accident insurance
Employers' liability insurance (a legal requirement if you plan to hire employees)
Checkatrade members get money off with our insurance partner Covéa.
Finances
One of the most important aspects of starting a business is the financial side of things.
Keep track of any financial records (bookkeeping) including money coming in and going out of your account. This will help when it comes to paying taxes and National Insurance.
Keep hold of any invoices or receipts in order to claim business expenses.
Don't worry, running your company finances can be tricky and if that part of starting your business is something you need extra support with, we'd recommend hiring an accountant, undergoing training, or reading online guides for more details.
Take 5 and read about smart money moves for your business
Tools and equipment
If you're thinking about starting your own window fitting business, you'll likely already own a number of the tools you'll need from your experience in the trade.
As a guide, here are some of the essentials you'll need:
Reciprocating saw blades
Multi-tool blades
Diamond blades
Drill bits
Direct fix frame screws
Winbag packer
Expanding foam
Snap off knife
Silicone sealant
Multi wipes
Did you know that you can save money on tools, equipment, and other business essentials with a Checkatrade membership?
Save money setting up your window fitting business
Checkatrade members save up to £470 per year on fuel, insurance, equipment, workwear, and more
Tell me more
Marketing your window fitting business
As part of your business plan, no doubt you thought about how you'd let people know about your business and the services you offer, i.e. your marketing.
With so many marketing tactics available, it can be tricky knowing where to start, or what might be the best option for your business.
There are traditional marketing tactics, such as:
Checkatrade members have the opportunity to feature in our leading trade directory, which is delivered to homeowners around the country.
And also digital marketing tactics, such as:
Many businesses will choose from a selection of different tactics across traditional and digital, to ensure they have various streams of potential new customers.
The marketing tactics you choose will depend on which will suit the needs and the budget of your business, which will deliver on your objectives, and how much time you have available to dedicate to marketing.
Check out this post for further advice on setting up your business.
Save money and time marketing your business
If you're concerned about how much time you don't have for marketing your new business, or you're not sure how to get started, why not try a Checkatrade membership?
8/10 people would choose a trade endorsed by Checkatrade, compared to one which isn't*
You'll get a business profile on the UK's leading trade directory and a search listing in Google, just as a website would, helping to gain enviable exposure to potential new customers
A third of all trade work comes through Checkatrade** Homeowners are looking for your services on our website. Don't be one of the businesses that misses out.
You can manage customer enquiries on the go, directly from the Checkatrade app, helping to keep on top of your admin and deliver outstanding customer service
You can display customer reviews and testimonials on your Checkatrade profile page, which is a great way to social proof your business and encourage customers to choose you
We'll also help you with free marketing materials and don't forget, our members get exclusive discounts on business essentials, helping to save money on your outgoings to keep your profits healthy. What better way to kick-start your new company?
Save money setting up your window fitting business
Checkatrade members save up to £470 per year on fuel, insurance, equipment, workwear, and more
Tell me more
Quick action: Sign up for our 'Become the boss' series
You could get your window fitting business started right away with the help of our 'Become the Boss' series.
You'll receive a series of 8 emails containing actionable tips and top advice from fellow tradespeople who were once in your position. And at the end of it, you could be the founder of your new business.
To get trade business insider secrets sent to your pocket, enter your email address in the form below so we can help you to get started:
How to grow a window fitting business
If you're only just starting out, bookmark this next bit for later. But if you've already established a window fitting business and want some help developing your business, you'll find loads of helpful advice below.
We'll guide you through the process of identifying, setting, and achieving realistic growth targets for your window fitting business and answer any niggling questions you may have.
What is business growth?
Before we launch into this section on business growth, let's just iron out what it means.
You might associate growth with attracting more customers, but this isn't the only way to grow.
You can also grow your revenue by making more sales (or higher value sales), diversifying into different markets with the services you offer, or widening your geographical reach.
Growth can also be achieved by minimising costs and making sure your business runs efficiently in order to maintain your profit margins.
So before you move on, take the time to consider:
What 'growth' looks like for your business?
How will you achieve that growth?
How will you gauge success?
Get your window fitting business off the ground
Join the best trades on the UK's leading trade directory
Start our checks now
What growth targets should you set for your business?
As we've mentioned, there are various growth targets to consider:
Getting more work
Increasing revenue
Developing a bigger team
Expanding your services
Narrowing down your target is the first step. Planning how you'll achieve it is more involved.
Achieving your growth targets
We have a FREE business development strategy template to help you do this, and a really useful article to explain what information to include:
How to create a business development strategy – Free template included
To get you started, we've listed a few ways to help grow your window fitting business, below.
1. Growth target: want more work?
To do this, you need to attract more customers. This largely boils down to your marketing.
Traditional marketing
Digital marketing
Check out our FREE marketing planning guide and checklist to help create a clear list of marketing tactics and responsibilities.
You need a marketing plan now more than ever – Free marketing planning guide included
2. Growth target: want increased revenue?
To do this, you'll need to make more sales and/or increase the value of your sales, while keeping your costs low.
We have some really useful content that'll help brush up your sales tactics:
3. Growth target: want to develop a bigger team?
Struggling to keep up with your workload and need to spread the load? It's time to take on a team.
From a practical point of view, you'll need employers' liability insurance; it's a legal requirement to have this if you employ others.
You'll also need to understand company payroll and learn about holiday pay. Perhaps one of your hires will be a part-time admin officer to help with these tasks, freeing you up to generate new business?
If expanding your team is on your agenda, you'll find these articles useful to help navigate the who, what why, when, and where of hiring employees:
4. Growth target: want to expand your service offering?
To expand your service offering, you could look to enter new markets, either by looking into commercial contracts if you currently work in the residential sector, or researching the potential to transfer your skills to offer complementary services.
Perhaps it's worth your while offering glazing maintenance and repair work too? Or securing work through insurance companies?
Whatever option/s you choose, investing in training and the best equipment you can afford will help you to offer a professional and efficient service.
Whatever growth targets you set, they must be S.M.A.R.T
To help you feel as though your growth targets are achievable, make sure they're SMART:
Specific – what does the task involve?
Measurable – how will you quantify success?
Achievable – is this attainable given the resources, knowledge, and time available?
Realistic – is the target realistic to the confines of your job and your existing responsibilities?
Time-bound – when should the target be achieved by?
Four final considerations for business growth
There are a couple of other important considerations to make when planning your business growth.
For more tips to help grow your trade business, check out this article.
Grow your window fitting business with Checkatrade
Getting your business off the ground, building momentum, and driving it forward takes time and a huge amount of effort. If this all seems overwhelming, consider a Checkatrade membership, so you can work smarter, not harder.
Here are just a few reasons to launch and grow your window fitting business with a Checkatrade membership:
Attract more customers
Checkatrade members receive more than 100,000 leads each week. 3 million homeowners used our trades last year*.
Help to secure more work
Checkatrade is the tick that homeowners trust. As an approved Checktrade member, you'll benefit from our reputation, helping you to win more business.
Save money on business outgoings
Checkatrade members save on average £470 per year each*** on everything from van leasing, insurance, workwear, fuel, and more. These exclusive discounts on business essentials help to keep your profit margins sharp.
Save money setting up your window fitting business
Checkatrade members save up to £470 per year on fuel, insurance, equipment, workwear, and more
Tell me more
FAQs
How much does it cost to start a window installation business?
Every business will require some kind of start-up costs and these will vary from business to business. So how much does it cost to start a window installation business? Well, you may be surprised to hear it's actually quite affordable.
It'll usually cost less than £10,000 but there are a few optional extra expenses you may wish to pay for. You'll need:
A van
Tools
Insurance
Marketing (optional) – Marketing can be quite costly depending on what route you go down.
Training (optional) – If you need extra training to allow you to do your job well, this is strongly advised.
Do you need a licence to fit windows?
It's important that you have the necessary licences and accreditations if you plan to fit windows for a living. Your clients will want to hire a professional who not only provides a high-quality service but also fits windows according to building regulations. It's definitely worth getting FENSA registered so you can self-certify that your windows meet building regulations.
*Claims are sourced from a survey conducted by Deep Blue Thinking on a nationally representative UK sample in November 2021.
**Checkatrade brand tracking survey April 2021
***Year runs from April 21' to March 22'. Saving calculation based on average spend across 12,505 members in 2020/2021/2022. Discounts differ depending on the partner. Products range from low value items to high value items. Some exclusions will apply on products.