Marketing a new trade business – Where to start and a free guide to help you get going
There's an overwhelming amount of articles about marketing a new business online, yet less information about the importance of marketing for a trade business specifically. That's why we're breaking down how to start your marketing journey, how it future-proofs your income, and what tools you need to implement a successful strategy. We're also throwing in a marketing freebie to help you succeed. Because when you succeed, we succeed.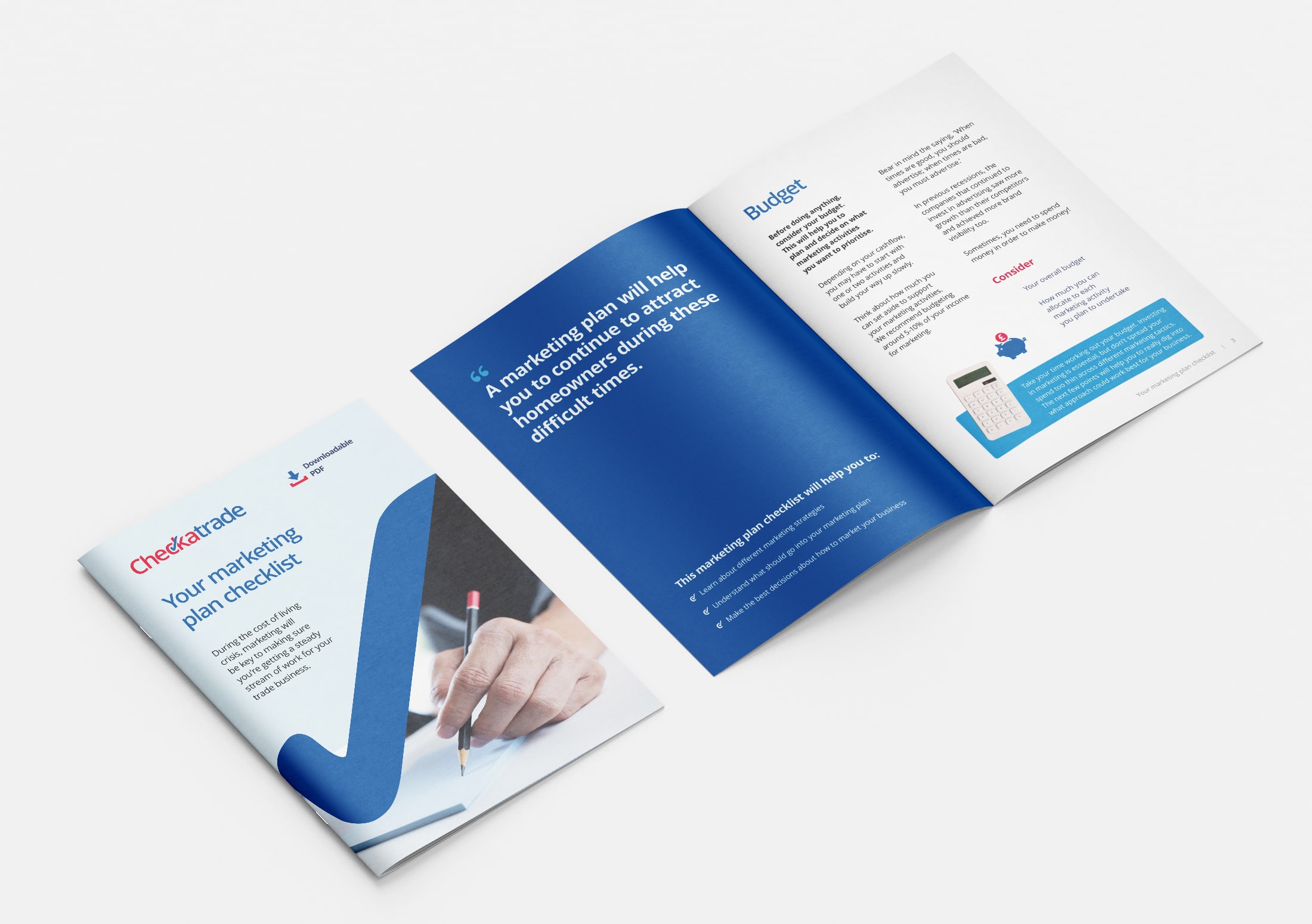 Marketing is often seen as a 'nice to have' for a lot of trade businesses, especially when they're first starting out.
Now more than ever, marketing is an essential investment for any new business. We live in a digital world where customers are more likely to go online to search for a tradesperson. Gone are the days they check the Yellow Pages or flip through their local newspapers.
So, to keep up with the changing times, a varied marketing strategy is essential for securing income, being easy to discover online, and growing your trade business in the long term. It's also important for well-established trade businesses to keep up the momentum between attracting clients and securing jobs.
If you're someone who assumes that having a marketing strategy for your new business is a waste of time, that's a huge red flag, especially if you're serious about growing your business and getting more work.
Keep reading for our expert advice on why this isn't the case and how it's benefitting other trade businesses like yours.
Why you need a marketing strategy for your new trade business
To attract new customers
Although tradespeople speak to customers face-to-face a lot more (compared to other industries), you still need to market what you're selling to attract new clients outside of your current circles. This gives you the opportunity to make an excellent impression, turn new clients into regulars, and boost your chances of getting more work through word of mouth.
If you see marketing as the process of promoting and selling your services, it's clear why getting your name out there is essential for your trade business. You need to stay competitive and profitable to go the distance.
Get in front of your customers by knowing where they're searching for the solutions you offer.
To increase your visibility
As most customers start their search for solutions online these days, if you're able to help them but they don't know you exist just yet, you need to position yourself as the answer to all their problems through your marketing. And that means stepping out of the shadows of online obscurity and waving in their face (figuratively).
There are lots of ways to do this online, with SEO, UX, UI, IR, AI, and *XYZ (*kidding) and other techniques. But if you're asking yourself, "What kind of alphabet sorcery is this?", bear with us.
Making sure potential customers can find your cabin in the woods, buy the concoction in your cauldron, and keep coming back for more is the beauty of marketing. That's why advertising your new business is essential.
Without a good marketing strategy, your potential customers won't care about your cabin; aka, the products or services you offer. If no one can find you, you can't spread the word about your business and its offerings, which is what you need to do to increase leads, sales, and revenue.
To stand out from your competition
Another reason you need to market your trade business is to set yourself apart from the other tradespeople who do what you do.
Many trade businesses offer similar products or services, and without effective marketing, it's difficult for customers to understand what makes you different or special.
Marketing helps showcase your business's unique selling point/s (USP) and communicate why you're the best choice for your customers compared to your competition.
In terms of options for marketing your trade business online, there are several ways you can stand out from the crowd.
Some include improving the design of your site or portfolio, what words you use and the way your tell stories, and even the videos you promote of you on the job (e.g., 'behind the scenes' and 'before and after' shots).
You can also use paid and organic channels (more on that later), which require different approaches and budgets. Although ultimately lead to the same thing: a higher turnover if done right.
To maintain customer relationships
Marketing can help you build and maintain your relationships with customers, especially if you have a resource like a website with reviews and a portfolio they can see and recommend. It showcases what kind of professional you are too.
Furthermore, effective marketing lets you talk to your target audience online, learn about their needs and preferences through surveys and polls, and tailor your offerings to help them specifically.
This can lead to increased customer loyalty and repeat business, which is essential for the long-term success of your trade business. It also doesn't hurt when it comes to getting recommendations through word of mouth.
Related content: Read our guide on growing your business through online word of mouth.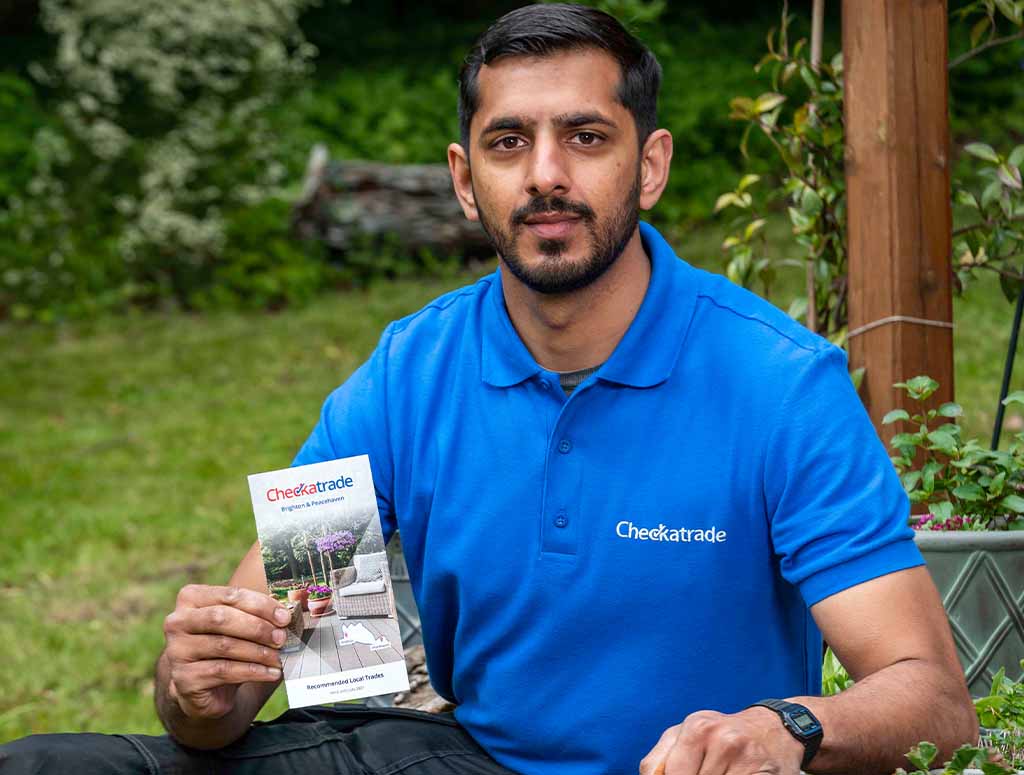 The importance of digital marketing for your new trade business
To stay competitive
Online marketing is becoming increasingly important for trade businesses.
In the past, tradespeople could solely rely on word of mouth to build their client base. Although that's still possible, there's a much faster and surefire way to grow your customer base: through online marketing.
And let's face it, 'word of mouth' today is more like digital word of mouth through online reviews, so, you may as well get on the online game!
More and more customers are turning to the internet to research solutions to their everyday issues. Once they think they have the answer, they dig deeper until they're confident in their decision to enquire about and/or buy a product or service.
As a result, trade businesses need a strong online presence to reach and engage with potential customers, not to mention compete with other tradespeople. This can include having a high-performing website, a social media presence, and a search engine optimisation (SEO) strategy.
To connect with a targeted audience
One of the key benefits of digital marketing for trade businesses is its ability to reach a large and targeted audience. This is important for making sure you're not wasting money advertising or speaking (online) to the wrong people.
In other words, there's no point selling gardening services to people who only have a balcony.
Platforms such as Instagram, Facebook, Google, and online marketplaces or directories (like ours!) offer a vast pool of potential customers. What's more, they're niche-specific.
Social media channels use algorithms to advertise and 'push' content to people who are more likely to respond to it. For example, if Daisy Jones has shown an interest in or used a plumber in London before, the algorithms remember that and show her similar content.
Similarly, homeowners who use directories like Checkatrade to find niche-specific solutions, but they can only find you if you're one of our members.
What this means is you can use these channels to connect with people who are interested in your product or service. The more targeted your efforts, the less money you'll waste and the more money you'll make (win-win!)
To track, measure, and refine results
Another advantage of digital marketing for trade businesses is the ability to track and measure your results. For example, how many people visit your website, how many people view your Instagram page, and how many clicks and sales you get.
Although this sounds data and graph-heavy, what tracking results really offers is the ability to learn what's working and where you can make improvements.
As you refine and improve your digital marketing skills, you'll find your online rhythm and understand what kind of content your site visitors or social media audience likes. (Hint: If they like it, do more!)
Over time, you can build an engaged audience that consistently shares and likes your content. This is the online equivalent of word of mouth.
To interact with customers in real-time
Digital marketing lets you interact with customers in real time, which helps you build strong relationships and foster customer loyalty. For example, through social media posts, reviews, audience polls, live streaming, stories, or reels.
It also gives you the chance to advertise your availability or any deals/discounts you have. Just think, if potential customers of yours are searching online for help, they're in a prime position for you to sell to them. In a lot of cases, customers need help in real-time, which makes them a very hot lead.
Furthermore, platforms such as social media and messaging apps provide your business with a direct line of communication with your customers, which you can use to improve or refine your customer service, gather feedback, and run promotions.
To save money
Digital marketing is much cheaper than traditional marketing methods; for example, print, television, and radio.
Many digital marketing channels, such as social media and email, are low-cost or organic (i.e., free!) As a result, they're extremely accessible for new trade businesses with a limited marketing budget.
In time – and as your income increases – you can try out paid / performance marketing to reach a higher number of people.
However, in the meantime (and while you learn the ropes), we recommend sticking to growing your audience organically.
Related content: Read our guide for more new business digital marketing tips.
In conclusion, trade businesses need to market themselves in order to increase visibility, stand out from competitors, build and maintain relationships with their customers, and succeed in today's digital takeover.
Marketing is a vital investment for trade businesses looking to grow and thrive in the long term.
Start growing your trades business
8 out of 10 people would choose a trade endorsed by Checkatrade compared to one that isn't*
Join today
The best way of marketing a new trade business
Define a content strategy
Content marketing is one of the best strategies for getting your new business seen and heard – especially as you can do a lot of it yourself.
Content marketing involves creating and posting content your audience will like or appreciate. For example, blog posts, photos, articles, infographics, videos, and emails. Everything you share should attract, engage and retain your target audience (e.g., homeowners in Norfolk).
The kind of content you create can include behind-the-scenes photos, how-to blog posts, informative and helpful articles, relevant infographics, 'meet the team' videos, and 'update' emails. The aim is to always 'reward' your audience with valuable, interesting, or entertaining information.
That said, the ultimate aim as a tradesperson is to establish yourself as an expert in your field. This helps set you apart and attract people looking for someone with your expertise.
Utilise search engine optimisation (SEO) techniques
SEO is great if you're a new business that wants to increase its visibility and reach a larger audience. Using it correctly is a figurative 'hello!' to search engines that lets them know you exist.
It involves optimising your website and social content with aspects such as focussed keywords, meta tags and image alt text to rank higher in search engine results.
Network to encourage word-of-mouth recommendations
One of the best ways to market your new trade business is through networking and building relationships.
Even if you're the shy type, we recommend you put on a hat and start attending industry events and trade shows. At the very least, consider joining local business organisations and connecting with other professionals in your industry.
By building a network of contacts and establishing working relationships, you and your shiny new business can gain visibility and credibility. In turn, this throws open the doors of opportunity and welcomes the potential of new customers.
Post consistently on social media
Social media marketing is an easy win for new trade businesses. Platforms such as Facebook, LinkedIn, Instagram, and Twitter offer a fail-safe way to connect with your target market. They're also cheap, effective, and require minimal effort to maintain.
For example, social media apps like Buffer make managing your posts a breeze.
Furthermore, if you implement a relevant social media strategy early on, you'll build a community around your business in no time.
"How in the digital landscape do I do that?" you ask. Well, by creating engaging, helpful or interesting posts, running contests and promotions, and interacting with your potential customers via comments and direct messages.
Top tip: Consistency will encourage the algorithms to help you reach a larger audience. Try and post at least once a week to maintain momentum.
Run email marketing campaigns
Email marketing is a great way to market a new business. By collecting email addresses from current and potential customers, you can send targeted and personalised communications that can help convert leads into sales.
At the very least, keeping your audience updated with your latest news, relevant industry information, availability, and current deals is a nice way to keep them 'warm.'
Understand the potential of print marketing
Print marketing includes traditional methods such as brochures, flyers, business cards, and billboards.
One advantage of print marketing is it allows you to target a specific geographic area, which is particularly beneficial for tradespeople who want to work locally.
For example, you can distribute flyers to local neighbourhoods and hand out business cards at community events.
Join an online directory
By taking advantage of online directories' established marketing efforts, you can gain access to a huge network of potential customers who use the platform. It's a quick and effective way to get your name out there and build a foundation of trust from the get-go.
Most the best trade directories, like Checkatrade, have profile sections where you can showcase your skills and add photos of your previous work. They also let you display reviews from happy customers, which adds to your credibility.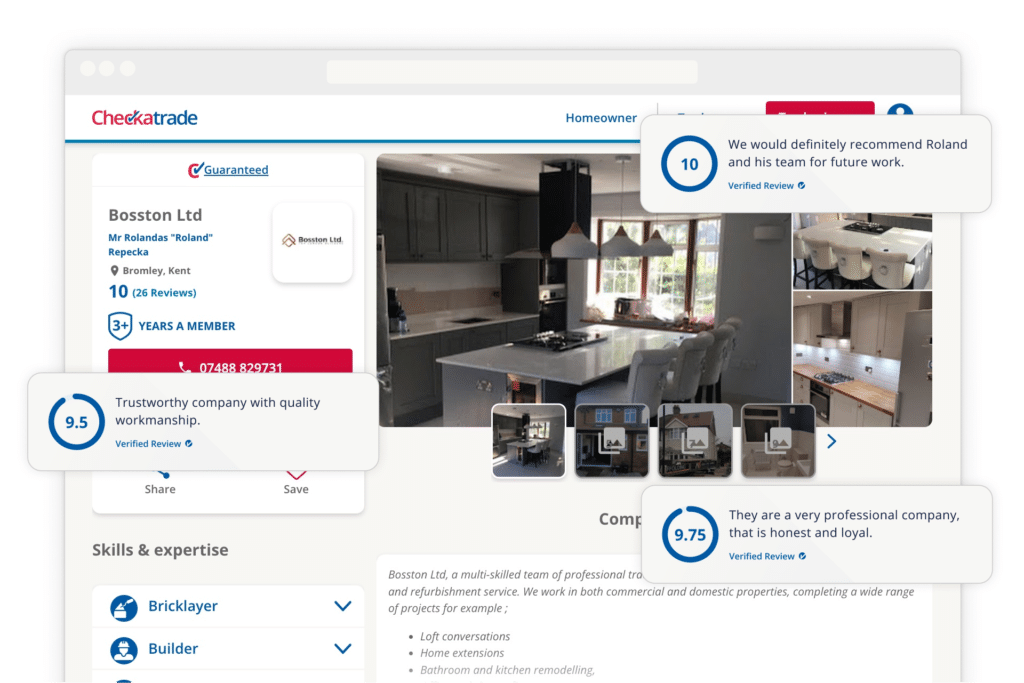 Free marketing strategy for your new business – download
Take a deeper dive into everything you've read above with our free marketing download.
We've packed it with everything we've learned about how to market a trade business. What's more, there are no obligations whatsoever; it's up to you whether you take our advice or not. We've just put it together to give you the best head start we can. We want you to thrive because when you succeed, we succeed.
Fill out the form below if you're interested in accessing this mega-helpful freebie.
FAQs
How do you market a new business?
You use our helpful freebie above and read our free marketing plan template here! We want you to succeed, which is why we've put together all this information for you.
How do I introduce my business locally?
Introducing a new trade business locally is a great way to build a customer base and establish a presence in your community. Here are a few top tips to get you started.
Network and build relationships: Join industry associations, link up with local trade businesses and connect with other professionals in your area of expertise. This helps you establish professional relationships and get extra eyes on your business.
Participate in community events: Get involved in local events such as festivals, fairs, and charity events. This can help to raise awareness of your business and build relationships with a bunch of potential customers.
Offer a special promotion or discount: Consider offering a special promotion or discount to customers in your local area. This is a good way to attract new customers and create a buzz around your new trade business.
Use social media and online directories: When creating a social media presence for your business, make sure your business is listed in online directories such as Google My Business. This makes it easier for people in your local area to find you.
Leverage word of mouth online: Encourage satisfied customers to spread the word about your business. Positive word-of-mouth recommendations are one of the most powerful marketing tools for small trade businesses.
Create a referral program: Encourage your current customers to refer their friends and family to your business. This is a great way to grow your customer base organically.
Partner with other local businesses: Partner with other local businesses to cross-promote each other's services. This lets you tap into a new customer base and increase visibility for your business.
Related content: Our marketing tips for builders guide includes more helpful advice.
Start growing your trades business
8 out of 10 people would choose a trade endorsed by Checkatrade compared to one that isn't*
Join today